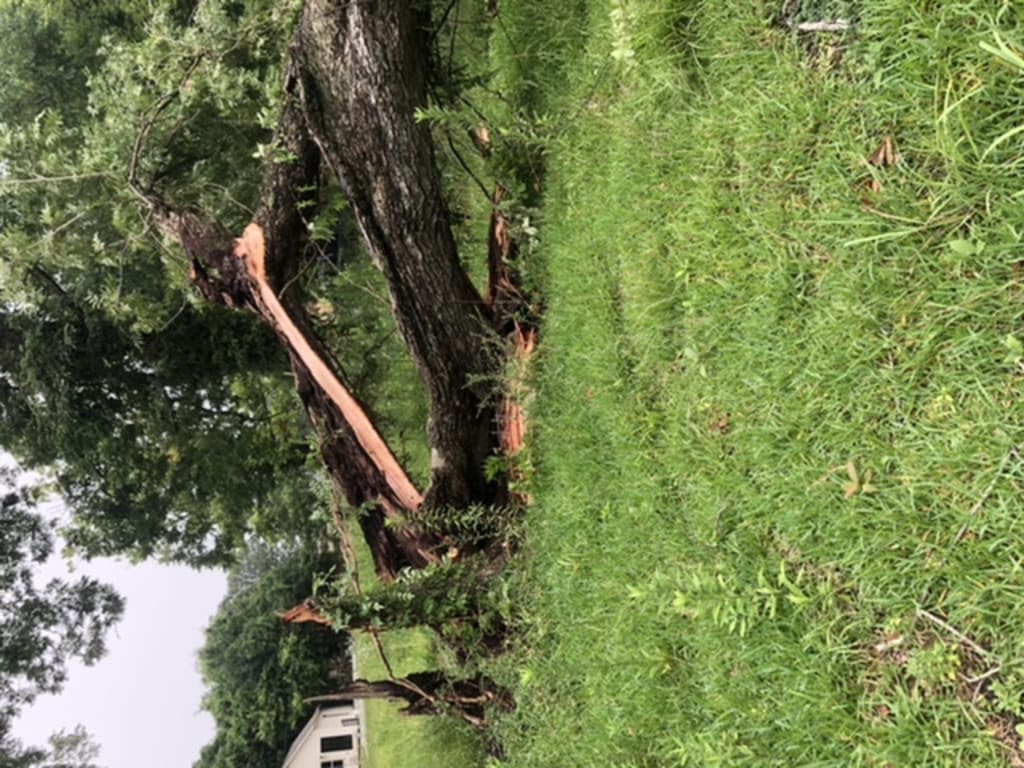 Fallen But Not Forgotten
There was the loudest boom and the vibration of the entire floor , when the tree across from my house fell. The storm that caused this was minor compared to others and still the damage was laying in a pile the next morning. After inspection I see that the entire middle is rotten and that explained the easiness of which it came down. The age of the tree not known to me but I'm guessing that it's about 50 years old and in this area seen more than its worth of crime. The fallen ones of this community are adding up daily. Murder and mischief is well known to this little neighborhood and I have only lived here for less than a year.
Every weekend there's a different memorial party for a loved one lost to nonsense killings. I sometimes fear a stray bullet will strike me and then I remember that I must live. I can't hide away inside especially when numerous bullets have entered my house in the past. I still have the holes to remind me of the close calls. "Black lives matter" is in full of effect and tension between blacks and whites are at an all time high. I'm not going to be someone who says I'm one way if I'm not and I believe all lives matter. If there's a need to specify than so be it. I'm all for the equality in races and sexes. I feel like no one should be forgotten and just like that tree that fell the ones who are rotten and full of decay should fall. It's time to let them be replaced with healthier ones that need to grow. That old tree may not be remembered forever by a memorial but in many hearts and minds it'll be forever thought of.
How many of our friends and loved ones must die before we stop the violence? Will this be the way the world ends? The smallest signs point to the end of times. I have many fears and I don't want to experience anything like what is predicted for the end. Are you prepared? I am most definitely not and I do not want to get ready either. Survival is not going to go to the Just I feel like the strongest will prevail under the most evil terms of survival. What side will you be on? Is there enough fight inside of you to kill others just to live? I have decided that I will not kill unless I am threaten. Whenever the days start to come where you must be armed to feel safe I know that I will not be at an advantage. I can not legally possess a weapon due to past criminal charges but does that mean I should go unarmed? I know the real killers and criminals have guns illegally and they will not be affected by a law that is in place to protect the people. So many reasons that I worry about these days to come.
To be forgotten in the world can be as easy as being overlooked or ignored. The government does not want to be responsible for the little guys. Low income areas and people living below the poverty level do not matter to them. We are an eyesore and a lot of people would rather we go away than to help in many ways besides having to give money. That is not to say some care, they do and they try, but some is not enough. How many people realize that Trump has made it possible for almost anyone to get help due to this pandemic. The extra money on unemployment and stimulus checks all help tremendously. I hope to use the help to at least be stable once it all ends. Easy to say, hard to do.
The pandemic is the first of its kind and I fear the beginning of more to come. Is it released by the government to start killing off the weak? I sometimes wonder how much of the hype that I hear is the truth? Are we going to be threatened by diseases or something else? I don't have the answers to many questions but I am aware! To be kept in the dark is the way the government would prefer us to be. How many white people will stand up for the white people being killed by black cops ? It happens every day all across the country. Does that not make them just as racist? This race war has been ongoing for years and it is only the close minded individuals who are still in that mentality. I stopped seeing skin color and all races are beautiful. I'm only one person who doesn't make a difference in the whole scheme of things but I am able to reach others with my actions. I hope to rub off on the people who are around me. I do believe that a small change is better than none at all.
controversies
I'm a 40 year old woman who is coming to find herself after years of broken promises and good intentions that failed. Writing is an expression of my knowledge.