The Start Of A Passion
My journey towards a fascination for sewing!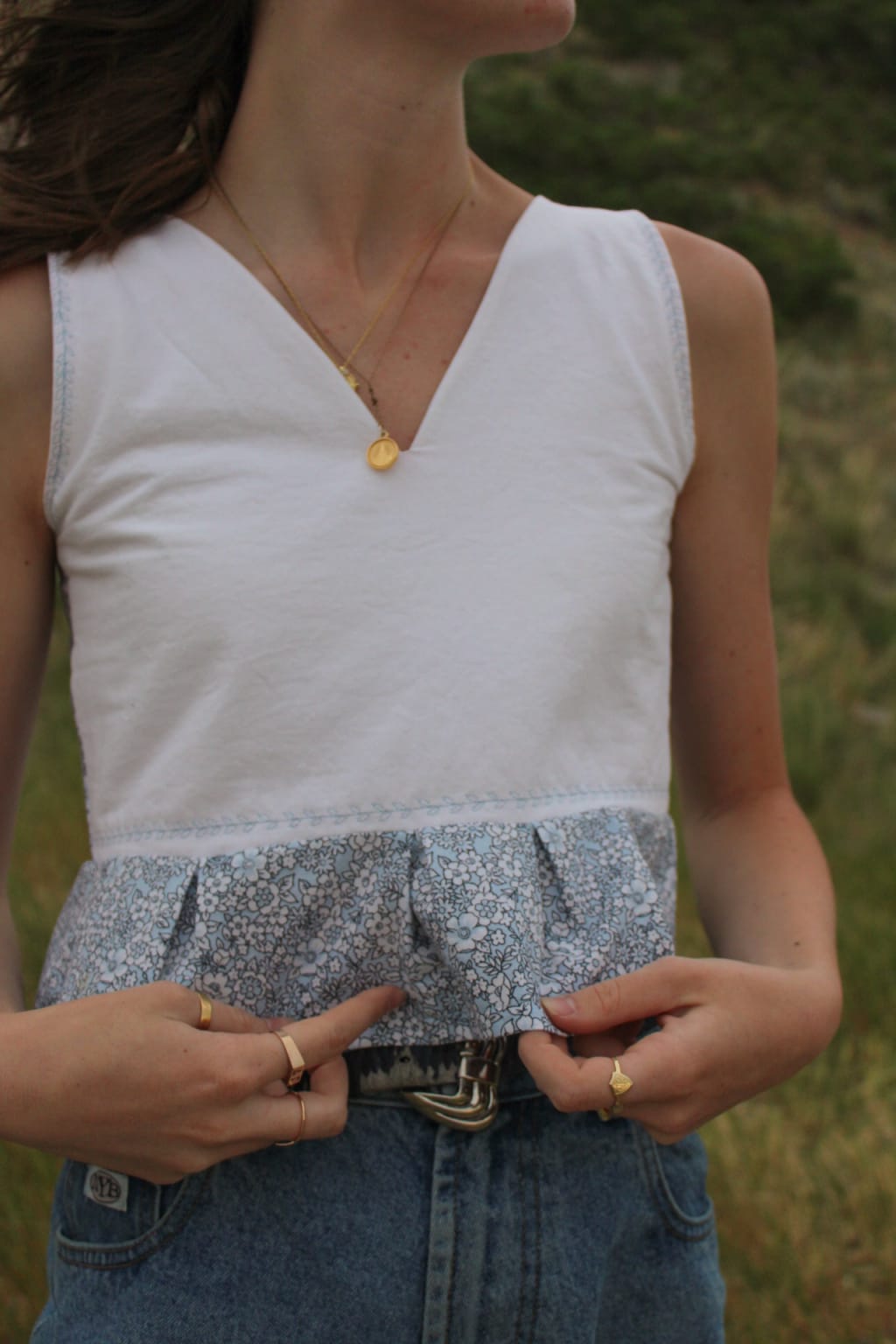 My original designed top made from clearance section fabric.
A year ago when the world shut down, I was left with plenty of time on my hands. Like many others I sought out a new hobby to fill my time. I stumbled across a shirt that I loved from a popular company. While looking at it I said, "that seems easy enough for me to make on my own." With unearned sewing confidence I began. I went through the box of scrap fabric my mom had pulled out of storage to make masks for a local psychiatric hospital . With no pattern, I began cutting and stitching fabric together. The only sewing knowledge I had was from helping my mom with quilts and making toddler dresses for a service project yet I started flying by the seat of my pants sewing my shirt project and, not surprisingly, the completed shirt had many imperfections. But I still wear it to this day and hope that nobody will comment on the raw edges or the curvy hem.
Since then I have looked to further strengthen my sewing skills. I signed up for the sewing class at my high school. I continued to sew small projects in the fall and winter. I was finally scheduled to take the school's sewing class in the spring. I entered the class not knowing any of my classroom peers and having only a basic understanding of sewing. The first project we worked on was designing and sewing our own stuffed animals. The teacher worked with us each individually to help us understand how to make our vision become a reality. Throughout the semester I made pillows, hoodies and a dress. This became one class that I genuinely was eager to attend. The students in the class became my best friends. This was the first time that I felt like I could be 100% myself in school. The teacher and students were so accepting, fun and loving towards me. I believe that this positive environment of people is a major factor that contributed towards my love for sewing. I walked away from this semester with a greater understanding of the proper techniques and possibilities of sewing.
I discovered in my sewing class that I have a particular dislike towards using patterns. When I have something specific to make and I don't even know where to start, then I will use a pattern. Otherwise I prefer to craft something using my own imagination.
School ended a few weeks ago and it's now time for summer vacation. I once again have time on my hands to do what I want and I was itching to start a new project. I grabbed out a piece of paper and I drew out my own "pattern." I took my measurements and transferred them to fit the pattern. Figuring out the way fabric is put together felt like one large puzzle. I had to think through how pieces would be stitched together to create a particular seam.
Once I felt confident in my pattern and construction, I set off to the closest fabric store. My eyes were instantly drawn to the clearance section. I sifted through the various crazy patterns and different fabrics. After much thought and consideration I chose 4 yards of a beautiful pink cotton fabric. I felt confident about my purchase when I walked away from the store with $13 worth of fabric. Instantly when I got home I began cutting and prepping. Luckily for me everything in my homemade pattern came out exactly the way I wanted it to. I now have a brand new dress that I am proud to say that I made without having to be ashamed of any obvious imperfections.
From that point on I seemed to gain an obsession with the clearance section of the fabric store. With this new abundance of inexpensive fabric at the fabric store down the street, I have begun crafting new patterns for designs. I bought a pair of left handed fabric scissors and once again began cutting and sewing with my fingers crossed that it would be exactly what I wanted it to be. My mind was focused completely on executing new designs. Broadway musicals were playing on repeat as I continued to sew. The loft upstairs has become my sewing oasis and I have spent days on end crafting away. I had to think through each step and what would come next. After 3 days of locking myself upstairs I finally descended with 4 new pieces in hand (three uniquely styled dresses and a shirt). These are pieces that I am so proud of because they are completely me and my own. There is something so beautiful about having something you made by yourself instead of buying it. Compliments on these items mean so much more because I can respond with a large smile on my face with, "thank you, I made it myself!"
Fashion was never something that I took too much interest in. Don't get me wrong I enjoy putting clothing pieces together to make a nice outfit but I never thought I would enjoy making clothing of my own. This small act of making clothing items in a room upstairs has grown into a desire to do something so much more. I am excited to make clothing, blankets and other projects for those around me. I have also been working on my skills of mending clothing with a needle and thread. Going through my closet I found many items with holes in them that I easily sealed up with a needle and thread. Suddenly I have gained a new fascination with fashion and the industry. As I go into my senior year of high school I begin thinking more and more about what I want to do in my life and in college. The fashion industry suddenly seems to be my new dream. The idea of being a fashion designer, brand/store owner, or a costume designer would be really exciting. I love making something completely suited for my style. I never would have thought of the large impact making one poorly crafted shirt could have.