Let's Fire Up The Starter Jacket Again!
Time to Bring Back The Swiss Army Knife of Fashion!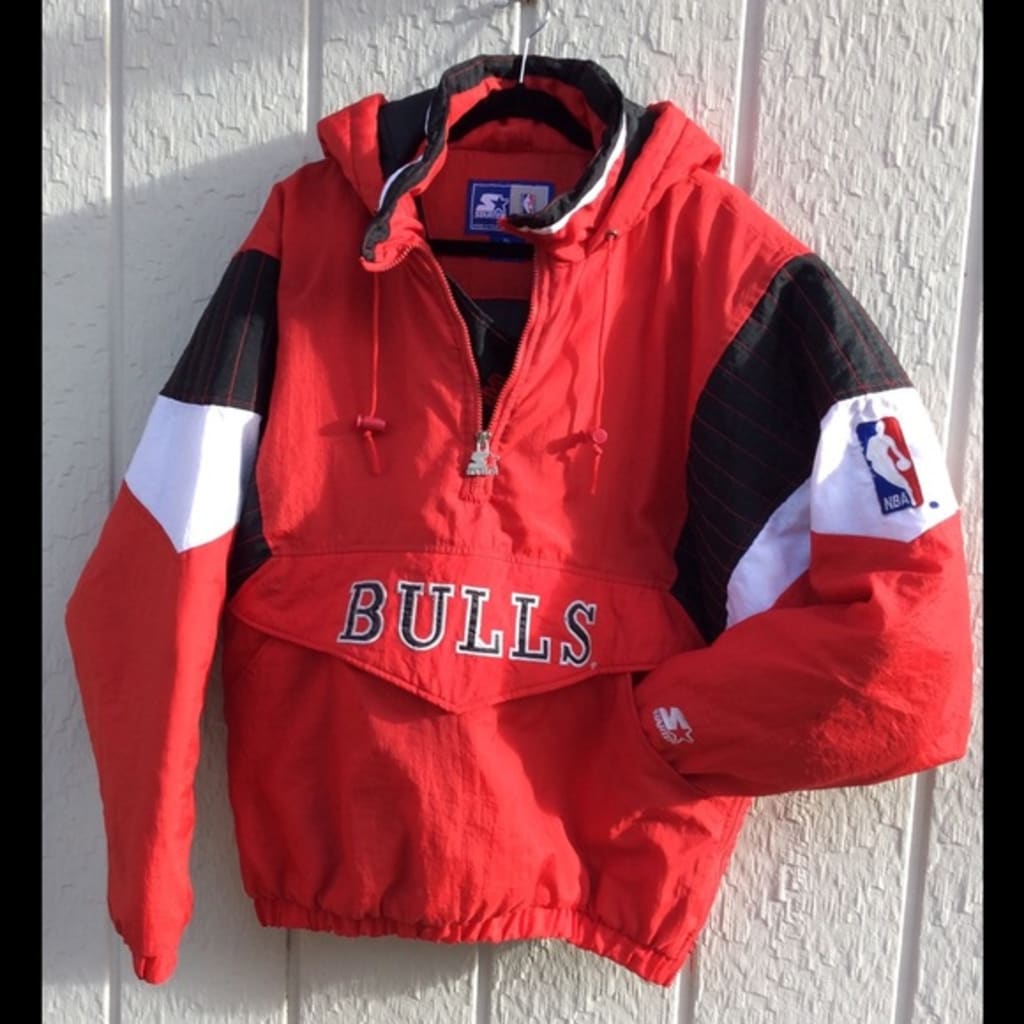 Anyone who was alive between 1990 - 1995 knows about the Starter Jacket craze. They were the cool counterpart to your parent's nylon windbreaker and pants set so you could make glorious swishing sounds with the tiniest of movements as a family.
The jackets repped the hottest professional and collegiate teams of the day. You were elite if you could get your hands on one from the Chicago Bulls or Charlotte Hornets. Since yours truly bought my first one in a mall outside Iowa City in 1991, I had to immediately know something about the Miami Hurricanes because I had the jacket, and part of having the jacket meant you'd get asked about your team.
But what set the Starter Jacket apart from the classic satin team jacket was its versatility. A Swiss Army knife of style, if you will. It's wide half-zipper opening at the neck and sides allowed you to slip it over your head without messing up your hair or baseball cap like a traditional hoodie. Also, with its parachute design, you could wear it year round. Be it a balmy spring day or frigid sub-zero temps, people knew you were willing to shell out $100 for your team. In today's terms, that's about $200 to show the world you were down with the Chicago Bulls.
The piece de resistance of the Starter Jacket design was no doubt it's giant front-zip Kangaroo pocket. For those of us influenced to buy Roos shoes with their little zipper pocket for lunch money in the 80's thanks to Walter Payton; by the 90's we wanted to be able to fit an entire family of five in our pockets. That pocket contained our whole lives.
So what happened to the Starter Jacket, you ask? Like everything that killed what was joyous in the early 90s, a bunch of flannel loving guys with angst and long hair from Seattle made us feel guilty about the bright lights and flash of capitalism. The summer before Freshman year had us trading in sweet sweet parachute material for thrifted flannel and combat boots. We eschewed the branding one trend to become lemmings of another.
How could the Starter Jacket get updated for today? Well, with athleisure's popularity at an all time high, I think it could dovetail right into that along with the resurgence of love for the 90's look. Textiles have also come a long way, so there wouldn't be a need to use the scratchy parachute material that also made a great camping tent.
Now that we carry more essential things on us than ever, the front pocket would be ideal for today's lifestyle. Imagine just throwing your wallet, keys, phone, perhaps lunch, into the front of your jacket! Amazing.
How about the teams? Well, it goes without saying that the hottest teams of the moment would be flying off the shelves along with the nostalgic ones that we will always pledge our ride or die allegiance to. Also, with the growth of women's sports, hockey and MLS in popularity, there would be so many more to choose from. I think I would definitely have to go with an Atlanta United one for sure. Take my money.
Also, Starter is still alive and well as a company! Their partnership with Walmart would definitely bring the price point down quite a bit, not that we shy away from dropping money on the drip these days. It would also be fun to see takes on the jacket from the other sportswear companies. Let's see the Yeezy version of this.
So it goes without saying… if we olds are going to be subjected to the comebacks of such atrocities as Birkenstocks, mom jeans, and crop tops, you gotta bring back the Starter Jacket. For the children.