How to Dress Like a Goth (Without Looking Terrible)
If you want to dress like a goth today, there are plenty of fashionable ways to do so, and all it takes is the right statement pieces.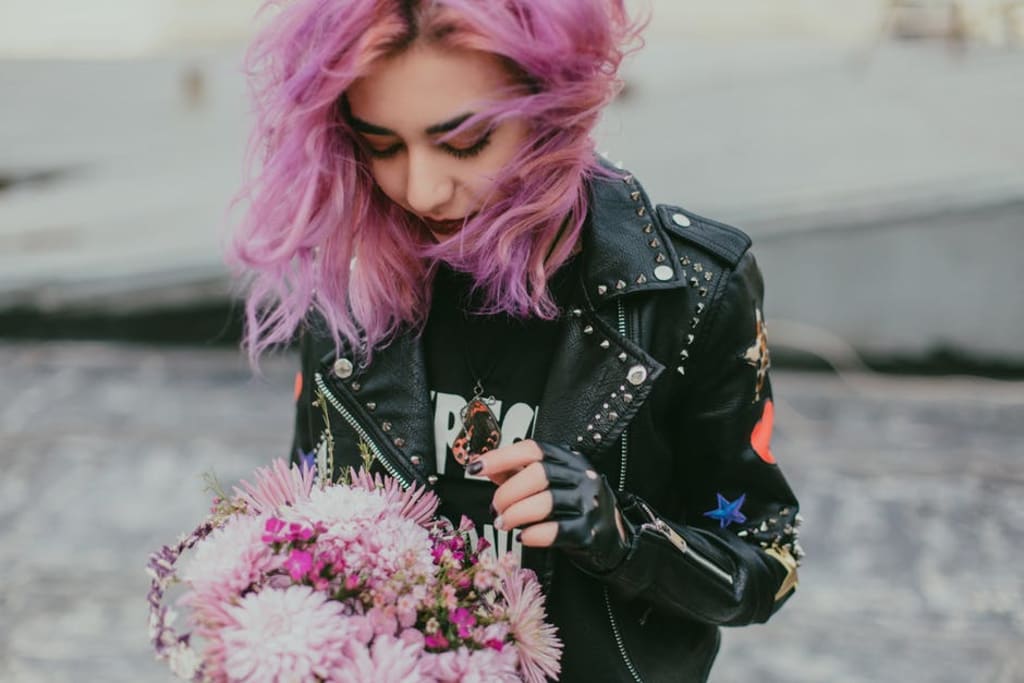 It was only about ten or fifteen years ago that the goth scene was something to be afraid of. Back in the late 1990s and early 2000s, the gothic subculture consisted of people who stood out from society, wore dark and baggy clothing, and shopped at Hot Topic. Gothic fashion wasn't nearly as appreciated as it is now. Today, however, gothic outfits have taken a turn and goth styles have been reinvented on the runway and in the streets. "Goth fashion" has become a statement style of dress inspired by the goth look from years past. All it takes is the proper inspiration and statement pieces to dress like a goth without looking terrible, and you can join in on the goth scene and make a statement all your own!
This beaded tunic from TopShop is the perfect top to include in your wardrobe if you want to dress like a goth. Of course, goth fashion includes black clothing and pretty much black everything for the most part. But this doesn't mean you'll look terrible. This is all part of the gothic style! This beaded tunic is stylish, because it is see-through and will show some skin to contrast the rest of your black look. Pair it with a black tank top or bralette underneath, throw on your headphones, and avoid interacting with the rest of the world by listening to the best goth rock songs.
Leather lace-up pants are a must-have for any goth fashion look. Dressing like a goth means wearing black all the time, but it is possible to wear black in a fashionable way. Whether you get some lace up pants like this or some black skinny jeans, there are ways to keep it stylish and modern with your goth look, as opposed to the baggy pants that gothic outfits used to consist of back in the day.
Black eyeliner is one of the essential parts needed to dress like a goth. Without black eye makeup, you won't get the gothic look whatsoever. You'll just be another girl or guy wearing plain black clothes. The black eye makeup is what solidifies the entire look and represents gothic styles. You'll need dark black eyeliner for this look, and you'll need to put it on heavy.
Black lipstick is a way to take your makeup a step further. Many people don't have the courage to wear black lipstick with normal outfits, so if you wear it, people will know that you're trying to represent gothic fashion. Black lipstick doesn't have to look terrible either. You can make it look really edgy and fashionable with the right outfit and style.
Going with the rest of your makeup look, you need a simple black eyeshadow. Pair this with your black eyeliner and you should be set. If you have black hair, this makeup look will be perfect, but regardless of your hair color, these black features on your face will pop against your complexion and go well with your black outfit as well. The point is to embody the dark, haunted gothic subculture, but add fashion sense to the look.
No gothic look is complete without a pair of combat style black boots. Many people wear combat boots nowadays with normal outfits as well, so a good pair of combat boots shouldn't be hard to find. TopShop has a great pair that will go well with a gothic outfit because they are all black, high tops, and have straps at the top to add to the hardcore style of clothing you're going for. Perfect for draping over the arms of a reading chair in your favorite coffee shop reading any of the best gothic novels ever written into existence.
Moving on to accessories, to dress like a goth and still look fashionable, you'll want to add some statement pieces to your look that are both edgy and chic. This Nessa Beaded Shoulder Bag at TopShop is a great option. It's made out of black and clear plastic beads for a unique look to go with the rest of your black clothing, makeup, and accessories.
When you're trying to dress like a goth, a black leather belt is a great way to add more accessories to your gothic look and really accentuate that dark, edgy vibe. Whether you choose a belt with chains hanging down to bring back that trend from the 90s, or go with a classic black leather belt like this one from TopShop, make sure you stick to black leather with silver accents. The gothic culture included a lot of dramatic silver pieces as well as black colors, so keep this in mind when accessorizing.
Adding some silver to your gothic look is never a bad idea, and the mainstay for this style is usually a gothic cross necklace. The more intricate the engraved design and the lower it hangs, the more stylish it will be. It is a great statement piece for any gothic fashion look. You can also add silver cross earrings to match or a black choker necklace with a silver pendant on the front to accent the black as well as your overall style.
One of the most essential items to any gothic outfit is fishnet black tights. Fishnet tights scream edgy, and they can be worn with pretty much anything. Even if you're wearing ripped black jeans, you can wear fishnet tights underneath for extra texture. If there's one thing you want to remember to buy, fishnet stockings should be it.
There are many clothing items and accessories you can add to this list to make your gothic fashion even more amazing. A leather jacket, for instance, is a perfect piece of clothing for the gothic look. Many gothic looks on the runway take risks with top hats, canes, and other props. This is one form of 90s fashion trends that are back in style where the possibilities are endless. Just know, if you want to take a chance and be edgy, it is possible to dress like a goth without looking terrible.
Reader insights
Be the first to share your insights about this piece.
Add your insights