90s Fashion Trends That Are Back in Style
The 90s are not dead yet! Here are the most popular 90s fashion trends that have made their way back onto the scene and into the stores in 2018.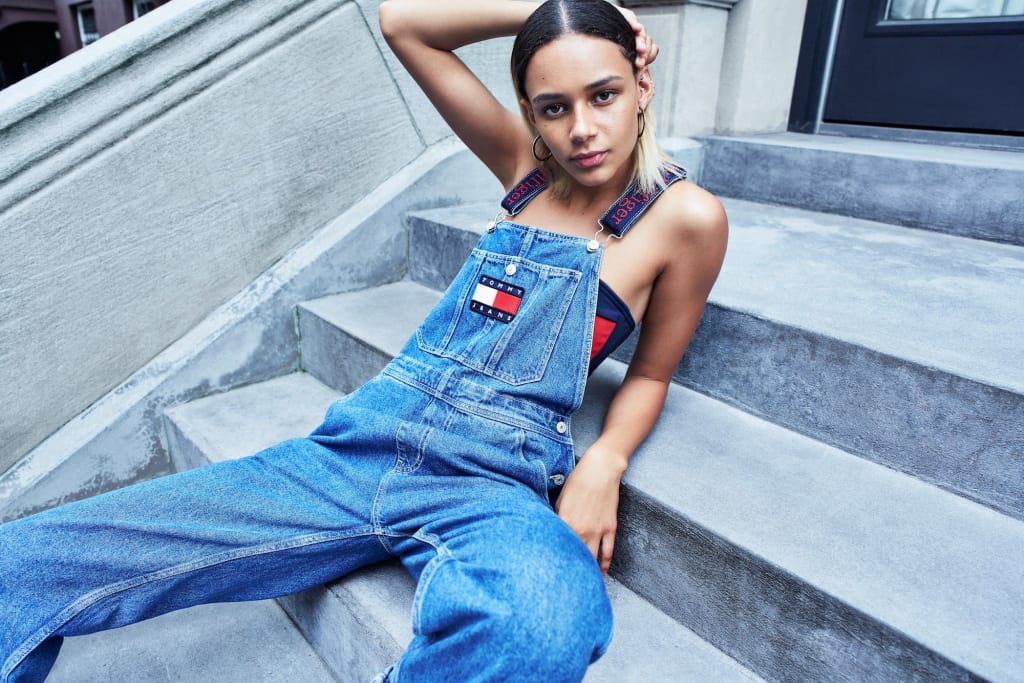 90s fashion is back in style, there is no denying it. From crop tops to fanny packs to crazy hair accessories, the bright colors and flashy materials are making their way onto the streets once again. We see models in New York fashion week rocking 90s trends that we considered awful for about a decade throughout the early 2000s. Though some of these 90s trends have a modern twist to them now, many of them remain identical to the iterations their original glory. Here are some of the top 90s fashion trends that are back in style.
Tube tops are one of the popular 90s fashion trends that are back in style this year specifically. While crop tops have made a comeback over the past few years, tube tops are coming on strong in 2018. Britney Spears, the Spice Girls, and other stars of your favorite 90s music videos used to rock tube tops back in the day, and girls everywhere would imitate this look. Today, this 90s trend is being seen by girls in their 20s as they hit the bar scene or go out day drinking with friends. Tube tops can be dressed up or dressed down for a more casual look.
The slip dress was a popular staple of 90s fashion when it was worn with t-shirts underneath back in the day. This is one of the 90s fashion trends that is back in style with a modern twist, because today, many women are dressing up the slip dress with black leather jackets and other accessories to give it a more sophisticated look. A slip dress can be worn with heels or with sneakers to make it casual or chic. The 90s fashion possibilities are endless here.
Mom jeans have made a comeback in recent years as one of the most popular 90s fashion trends back in style today. Paired with crop tops, mom jeans can be super fashionable and have a very modern twist to them. Mom jeans are appealing to many women, because they make the waist look very slim. This 90s trend is one that will probably be staying around for quite a while. High waisted shorts have also joined the scene as a variation on the mom jeans craze.
One of the newest 90s fashion trends that is back in style is scrunchies. A few celebrities have even come out with hair accessory lines that include scrunchies as the main staple item. Scrunchies can be cute with athletic clothes as well as crop tops and swimsuits. This 90s fashion trend may seem childish, but women everywhere are embracing colorful scrunchies as a part of their daily outfits. They are also much better for your hair, because they don't pull or rip out the hair as much.
Among the 90s fashion trends that are back in style is jean skirts. Jean skirts used to be the only thing girls wore in the 90s, and for a while, they fell off the scene and skinny jeans took over. However, the comeback is strong with longer jean skirts being the 90s trend of the summer season. We also see other miniskirts trending in other materials such as black leather and corduroy. Even in colder weather, skirts have stayed popular, because leggings or tights can be worn underneath them.
In the past few years, chokers have become an extremely popular 90s trend that has made a big comeback. Chokers come in all sorts of variations and can be flattering on almost everyone, because they elongate and slim out the neck. Many women wear black leather chokers as a staple item for nights out on the town. 90s trends that are back in style include chokers because they mesh well with modern clothing and aren't too "out there." A s a result, chokers are a 90s fashion trend that holds up well present-day.
Athletic clothes have made a comeback into the bar and club scene, which was common in the 90s. Nike jackets and track pants are commonly paired with slimmer crop tops and tight pants to create an interesting, yet chic outfit. This 90s fashion trend is back in style for now, but because it is very unique, it may not be around for long. Not many people can pull off this look, because the combination of materials, textures, and looseness of clothing can be difficult. Some of these outfits even include bucket hats and fanny packs in the mix. It's a very Fresh Prince feel, making us seriously nostalgic for classic 90s TV shows. Not so sure about this 90s trend, but we will see how long it sticks around!
Neon clothing is a 90s fashion trend that is back in style, and it is also one of the more unique looks. Men and women are incorporating bright pops of clothing and accessories into their outfits such as neon pink hair accessories, shoes, or a bright skirt or shirt. These staple items get people noticed, but may not be fashionable in the long run, as once they are noticed, they can't necessarily be worn multiple times. Fashion is fleeting; we all know this. Neon is so out there that there's no telling how long it'll be around in this decade.
Bell bottoms made their way through the 70s, the 90s, and now they are back again in the 2010s. If you have the legs to rock this style, then go for it, because bell bottoms are a great piece of 90s fashion. This 90s fashion trend is back in style for a reason, because there's nothing like the perfect outfit with a crop top and a great pair of flare jeans. If you got it, flaunt it!
Many 90s fashion trends are back in style, and one of the last to top our list are sneakers. White sneakers have made an epic comeback in recent years, with brands such as Adidas, Reebok, and Nike being the most popular. The platform sneaker from the 90s fashion world is the new norm on the streets and in the club these days, sealing its place as one of the top sneaker trends of 2018—and they are not being worn for athletics, but for vanity reasons. Alongside comfort-over-function "athleisure" attire, sneakers are in. Who knows how long this 90s trend will last, but for now, they are here to stay.
Which 90s fashion trend are you into these days? Urban Outfitters is a great store for all the latest 90s fashion items. We may be moving at full speed towards the future, but it's obvious we have one eye on the past!