3D Fashion Design Reshapes the Clothing Supply Chain
3D fashion design puts brands on a new path to supply chain management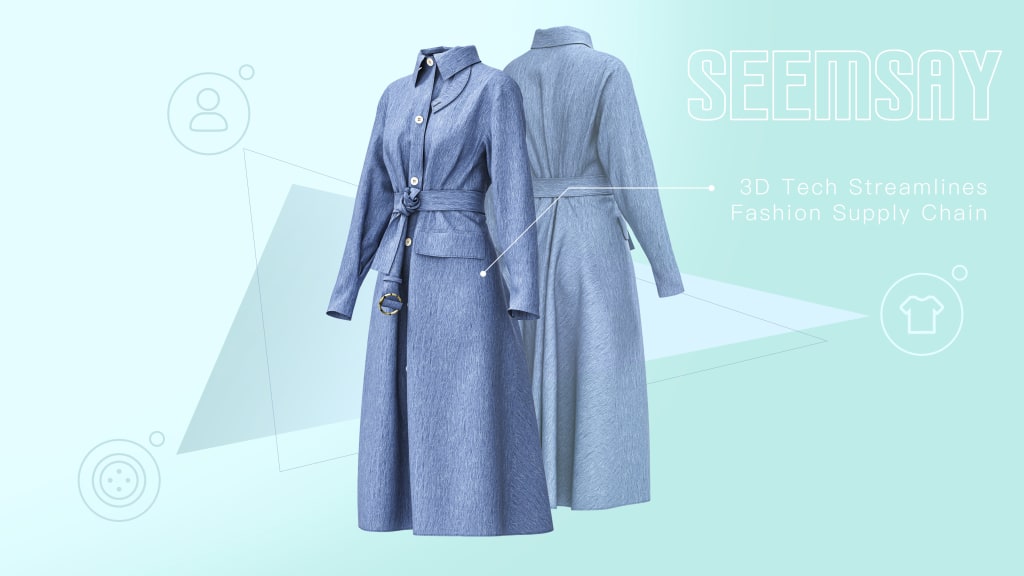 3D Fashion Design Reshapes the Clothing Supply Chain
The clothing supply chain comprises of several processes, including clothes development, fabric & trim sourcing, garment production and distribution. As the manufacturing is generally subcontracted to suppliers located in different countries, shipping and transportation of samples and finished products come as a main factor that affects the garment cost. During recent years, more and more brands are beginning to realize that 3D clothing technology could put them on a path to solving the profit squeeze problem and coping with the industry trend of faster production and shorter product life cycle.
Typically, the cycle time from product planning to garment hitting the shelves is about forty weeks, of which, only a third is for actual manufacturing, while the others is for product development (PD). However, most of the PD time is for waiting, because the old-fashioned PD method depends on creating physical samples. That is to say, each editing or modification may result in heavy manual work, including choosing new fabrics, cutting, sewing, etc.
While in 3D fashion design, all amendments can be reflected instantly on the 3D digital virtual image through adjusting a few parameters. So, brands can get the updated sample within several hours after giving modification opinions instead of waiting for weeks.
Additionally, 3D digital assets help garment developers take and enforce quick decisions about fabric and trim approval. For brands doing PD in the old norm, fabric approval starts from getting physical material samples from suppliers to check the draping and silhouette. In 3D fashion design, fabric sourcing is completed online with the help of digital assets libraries created by 3D clothing software or 3D digital clothing service platform. With digital fabric and trim resources, material sourcing can be changed to searching digital library and contacting with suppliers online, which is much faster than the old way.
Give Consumers What They Want
The impact of 3D fashion design on the supply chain will help brands to catch up with the change at consumer level. Due to the rapid development of social media, the connections between fashion brands and retail consumers is unprecedentedly close, establishing a basis on which the brands can produce garments exactly suited to consumers' taste. Compared to the digitization level of the downstream, the upstream of the apparel industry chain is much less digitized. 3D clothing technology offers brands an opportunity to dig the value of a transformed and updated supply chain.
Unlike creating products in the old way, that is brands develop garments, and consumers choose what they like after seeing the physical clothes, 3D clothing technology let consumers order items based on the 3D photo-realistic image. Furthermore, 3D technology can help consumers find the size and fit they need by letting consumers try clothes virtually. Then fashion brands arrange manufacturers to produce what consumers want. Theoretically, there will be no unsalable items on fashion brands' hand in a digital clothing supply chain.
Boost Integration of Material Supply Information
Successful 3D visualization of fashion designs depends on abundant digital assets. Thus, 3D clothing companies made great effort in collecting apparel material supply information on the market to create digital assets library. For example, digital clothing solution provider Seemsay has its own online 3D fabric and trim library, containing numerous garment materials available on the market and contact information of suppliers. With 3D technology, physical properties of materials are translated into parameters to create digital assets that can be used to render a 3D virtual image of the garment. In digital assets libraries, fabrics are displayed in different positions, and digital trims can rotate by 360 degrees.
The integration of supply information not only enriched the digital assets of the 3D fashion design solution providers, but also provide fashion brands with key supply information along the industrial chain network. Such supply information sharing is conducive to supply chain flexibility of fashion brands and decision making during the product development process.
* * *
Along with the rapid growth of 3D technology, it has been a industry trend for fashion brands to use such advanced technology to optimize all phases of their end-to-end fashion cycle, from design, product development, material procurement and distribution. Attributable to the skill gap and the continuous improvement of 3D clothing technology, many fashion brands turned to partners with technical strength for help, like Tommy Hilfiger's cooperation with The Fabricant. Fashion brands are highly recommended to find professional digital clothing solution providers, like Clo3D, Browzwear and Seemsay, to start their 3D experience.
industry
About the author
We talk about fashion, styles, 3D fashion design and other things related to the apparel and clothing industry. We operates an easy-to-use 3D digital clothing industry service platform.
Reader insights
Be the first to share your insights about this piece.
Add your insights