Five Tips For Fashion Brands to Reduce Time to Market
Is your fashion brand striving to try new approaches to shorten product calendar? 3D fashion design is a perfect solution.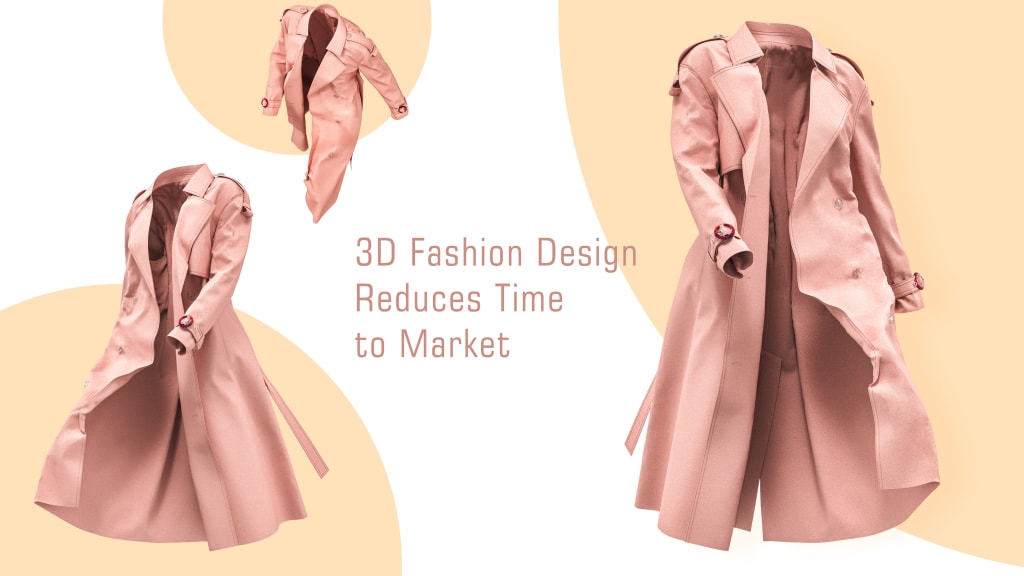 Five Tips For Fashion Brands to Reduce Time to Market
Waiting weeks to receive the first physical garment sample after the initial fashion sketch is no longer the situation suitable for today's fashion industry. Especially, after the rise of fast fashion brands, like Zara, C&A, Forever 21, which generated great revenues through reacting rapidly to offer on-trend products to customers, the concept of "see now, buy now" gained legions of devoted followers. Although there is still a long way to adopt such concept as an industry standard, the requirement of shortening the product calendar is the eternal pursuit of fashion brands.
The fashion industry is a highly season-dependent business, where hitting the shelves in time is a question about surviving or not. Most fashion brands are constantly exploring new approaches to reducing the time to market, and most of them choose to adopt 3D clothing solutions.
Here are the five tips to shorten your product calendar:
1. Choose Suitable Products
Being on trend is the crucial premise for obtaining customers and making profits in the apparel business. That is why fashion brands, especially fast fashions, send designers to fashion weeks to capture the most popular trends. However, there is not a popular style suitable for every brand.
The manufacturing time of each product is different. The production cycle of a complex style or a style with new cuts or manufactured with new fabrics is definitely longer. Considering the limited time for a single fashion season, which is usually three month, and the preparation time used to identify the trend, the fashion brand only has about 40 days to take the products to the market. So, selecting suitable styles whose manufacturing time can meet your production schedule is significantly important.
2. Use 3D Pattern Making
More efficient than traditional paper pattern making, 3D pattern making process can not only save your designing time in virtue of its digital modification, iteration and design review, but also reduce costs in making physical patterns and garment prototype. Digital fashion design CAD tools like Clo3D and Browzwear have built-in block patterns and pattern editing & drafting functions to facilitate the process. 3D clothing service platform like Seemsay offers free digital clothing pattern making services to render designers' fashion sketches into 3D clothing models.
Utilizing those digital clothing tools, all patterns can be confirmed before cutting fabrics, and grading can be done digitally and effectively. Designers do not need to wait for days to review or adjust the physical pattern.
3. Ensure Effective Communication
Effective communication is crucial for any company's success. For garment development and production processes which require various teams' engagement, smooth communication is essential.
3D visualization of garment samples, which can deliver a vivid 3D image showing what the finished product will look like, is a perfect solution for business communication of fashion brands. Instead of delivering physical garment prototype to teams and arranging various teams to discuss product development facing a bunch of patterns and textiles, adopting 3D clothing models accelerates the decision making process and guarantees effective and goal-oriented discussion among different teams. Digital clothing service platform like Seemsay, supports instant online chat with partners all over the world. Compared to sending physical samples via couriers to partners located at different time zones, sharing 3D files to your teams is dead convenient actually.
4. Streamline Supply Chain
Garment prototyping and manufacturing rely highly on the supply chain. A traditional apparel supply chain may stretch out for months on end. It is exciting that the global fashion supply chain is evolving rapidly after 3D clothing tech was in place. With such advanced technology, fabrics and trims can be visualized, with which designers and garment developers can make more informed decisions on selecting materials and shorten the time to market.
Seemsay has its own digital assets library on its online platform, where brands can access to numerous apparel materials. Moreover, Seemsay platform can also be used as a communication tool which provides brands a more effective approach to contact with suppliers and reliable manufacturers.
5. Adopt 3D Visualization
3D tech can easily create photo-realistic garment prototypes. The sampling and fitting processes can be easily operated through adopting 3D clothing technology. With 3D simulation mimicking what the garment looks like when touching human body, the fitting reviews and approvals can be processed digitally without the presence of real human models. For companies impacted by social distancing policies and remote working conditions, 3D clothing solution is a perfect model helping them maintain normal operation and even speed its garment development time.
* * *
The speed of traditional garment production process is usually slowed by inevitable human errors and multiple handoffs. Handling those processes digitally can save several weeks and allow brands to spend more time on creative products and stylish designs.
industry
About the author
We talk about fashion, styles, 3D fashion design and other things related to the apparel and clothing industry. We operates an easy-to-use 3D digital clothing industry service platform.
Reader insights
Be the first to share your insights about this piece.
Add your insights