Vetforce Online Training Program helps Vets Bring Home a Career
Salesforce Gives Veterans an Accessible way into the Workforce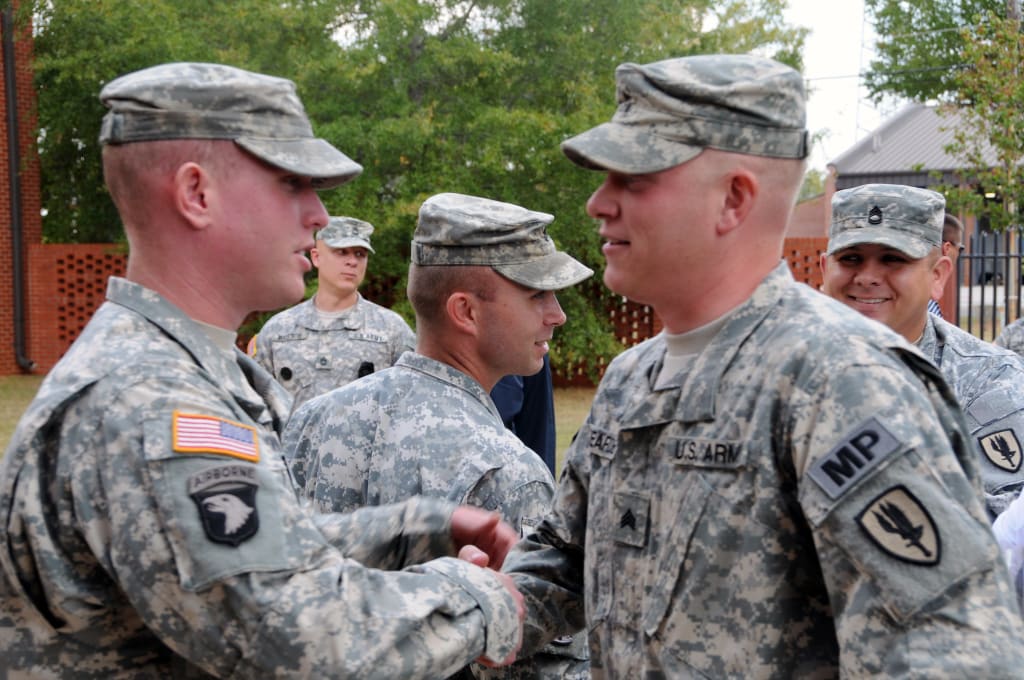 Photo by Fort Rucker
When military enlistment is up and the decision to leave is made, the return home can be pretty abrupt. The same goes for the negotiating the job market. Unfortunately, unfamiliarity on the corporate job search can place veterans into a lingering abyss of doubt and inactivity. Lauren Zolp's three year search speaks directly to the uncertainty. "I wondered what was wrong with me," said the former military linguist. But when she came across a program called VetForce in 2017, her life changed.
A free job training and career accelerator program, Vetforce allows military service members and their spouses to become certified on the Salesforce Customer Relationship Management platform. " On the cloud, you manage all your contacts, your accounts, your business and your leads as well," said Zolp. "It allows you to have an at a glance view of your entire business process and manage it from a central software."
Mastering the Trailhead online training, the Wisconsin resident is now a Salesforce Business Analyst with Ledgeview Partners. On an earlier time table, the potential was readily apparent to Ann Weeby too. "When I first heard about Vetforce, I thought, 'this is it,'" said Weeby who is the Director of the Salesforce Vetforce Program.
At the time, Weeby was representing job seeking vets in the Silicon Valley and was quick to understand that the program could connect talent and employers. "I was there when it first launched in 2014," said Weeby.
Soon after she was hired to run Vetforce and is committed to overseeing the world class training of thousands of veterans and their spouses. Vetforce also knows that vets are not big on maintaining the status quo. After being admin certified, an advanced admin certification is available, and the door opens for vets to become developers, said Weeby.
With over 150,000 customer, the program adds 450 new veterans every month and a $70,000 per year starting salary potentially awaits. But Weeby, like many vets, didn't just leave an 18 month Iraq deployment in 2004 and have Vetforce land on her. "I did a lot of gig work," Weeby said, and went onto run a rock climbing club.
Occupations that let her heal, integrate back into civilian life and leave behind a position in which she managed 40 Iraqi citizens for the 101st Airborne. Once ready to move upwards, Weeby quickly learned that military skills require civilian translation on resumes and interviews. "Often times a veteran's skills don't seem like an intuitive fit for a position or task. I learned early on that you need to do the lift to make the connection for something you think you are qualified for," Weeby said who worked with an engineering unit supporting construction projects
Not everyone learns so fast, though. Former Army Reservist Jesse Grothaus attests how vets can wrongly assume that their skills come second nature to civilians. On an early resume he wrote, "I was the MOB NCOIC for BN and our 4 subordinate companies in support of an OIF rotation."
Of course, Grouthaus never heard back. So teaching resume and interviewing skills is among the tools Vetforce offers. In turn, his service provides a perfect example of how military experience applies if translated properly.
Taking part in exercises the Philippines and the Pacific region, the California resident was a Psychological Operations Specialist. But he's quick to assert that the job was far less dramatic. "We were trying to win the hearts and minds of the people," said Grothaus. "The idea was to make conflicts easier and have the local people in the village on our side."
After completing eight year stint in 2016, the power of persuasion became an asset. Grothaus used Salesforce to help sell Mindbody software.
But as the CEO and Founder of Cloud Pathfinder, he draws on the past at an even deeper level. "We would attach to a unit in an area and advise their commander on strategy and tactics we could use to help achieve their mission. We use those skills heavily now at my company as we come alongside new companies and advise them on how Salesforce strategy and tactics can help them achieve their mission," said the Economics/Finance graduate from California Polytechnic State University in San Luis Obispo.
Still, there's more to it than speaking the same language. "We come from a background where it's not appropriate to brag about the duties we've done," said Grothaus.
So of course, the humble nature of military vets doesn't work well where playing it up is the name of the game. Rotating between service, college and work, self-promoting was easier for him but learning interviewing skills doesn't always even things out.
Interviewers can sometimes bring biases that put vets in the wrong light. For Zolp, she was flat out asked if she suffered from PTSD, but Vetforce training taught her how to address the issue. "You just explain it in a way that challenges the way they think," Zolp said.
However, Vetforce tries to minimize misconceptions by using Salesforce tools to connect with HR departments. "Our Vetforce Trailhead is specifically directed at hiring departments and helps users understand how to interview veterans, identify and overcome potential obstacles," said Weeby.
Nonetheless, Zolp assures that the interview process can still make vets feel like they will come up short. "Vets think that people are going to downgrade their skills," said Zolp.
Fortunately, the technical fluency she learned through Trailhead provided a vernacular to meet the challenge. "Salesforce and Trailhead allowed me to tell my story," said Zolp.
On the other hand, if the lack of a technology background doesn't sound like a story vets can tell, Zolp proves they need not worry. No previous IT experience, she took in the modules and got used to working through the CRM database. "It gives you them in small chunks," said Zolp. "You bite them off at your own pace, and I did all this while my new born was sleeping."
She competed the program in just eight weeks, and afterwards, a job came looking for her. "I was contacted by a startup," said Zolp who served with the Defense Language Institute, Foreign Language Center but was medically discharged after a year in 2015.
Once completing the Salesforce implementation contract work, the bold entry at the top of her resume eventually led to her current post. A crucial aspect of her success, though, emanates from the fact that Vetforce can be accessed by any device.
Her spouse's Marine duty had her moving eight times in five years, and the remote flexibility played right in. Of course vets, reservists and their spouses know this limitation first hand.
So vets kept in play regardless of shifting addresses, returning soldiers aren't the only winners. "Almost 99% of the time, they will be a leader at your company,' said Zolp.
Dedication to handwork, teamwork and demonstrated management of stress are there too. Then dovetailed with Vetforce, veterans are positioned to receive a homecoming that merits their service and America's thanks.
In this, Weeby is proud to do her part. "Having been in the military with a rough transition, I found my dream job," she concluded. "I get to continually send the elevator down for others and bring them up."
Article originally appeared in April issue of Diversity in Action
Please like My Page on Facebook
Author can be reached at [email protected]