Rain or Shine, Somers Celebrates Memorial Day
Must Honor, Remember and Support Our Vets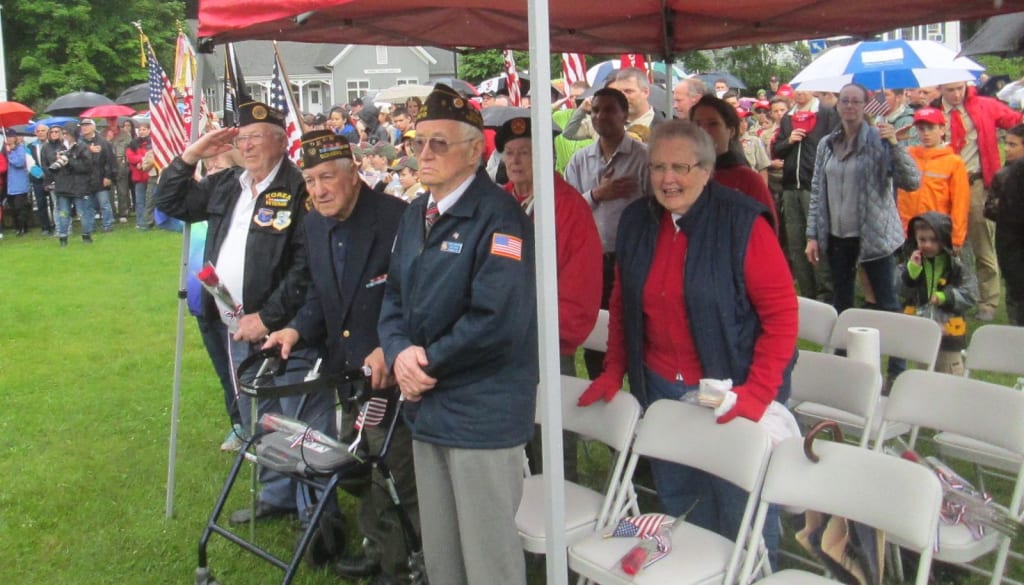 Memorial Day Vets
On Monday afternoon, Somers again remembered the fallen in its annual Memorial Day Parade. A lack of compliance from above did not dampen spirits either and making due was no bother for those in attendance.
"We have to honor them rain or shine," said Maryann Harkins as she attended with her children.
Town Councilman Tom Garrity certainly agreed, and the dis he had for the drizzle did not carry over to the values he was hoping to instill in his children. "They are learning to respect those who served," said Garrity.
Acknowledging the Cause
Fellow Councilman Richard Clinchy also attended to pay homage, but the supreme sacrifice was not entirely what made them exalted. "We have to recognize the causes they died for," said Clinchy.
The acknowledgment let us then double down in case it's sometimes forgotten how we got here. "This allows all of us to reaffirm our fundamental American beliefs," Clinchy said of the annual parade.
The same sentiment applies as time marches on, and we lose the living remembrance of those who have served. "Every year we lose more vets, and the history they represent," he said. "So Memorial Day helps keep the past alive."
The Cost of Freedom
Of course, Memorial Day should remind us that the present can't be put aside either. "We have to recognize that the cost of our freedoms can be very high, and that makes our vets precious," said Jane Riley.
Evelyn Drago could attest first hand to that fact. "My husband was in World War II at the age of 18," she beamed but also lamented his passing ten years ago.
Even so, she could feel her husband's presence. "His spirit is here," she said. "You see it in all these young people, and it makes me proud the example parents are setting."
Drago also hasn't missed the young people who put their lives on the line and hopes their bravery turns all the world unrest into a permanent peace. "Maybe someday," she reflected.
To Honor, Remember and Respect Each Other
In the present, Town Supervisor Rick Morrissey thanked everyone for braving the rain and recognizing "our fallen heroes." He also acknowledged what their sacrifice means to us everyday in Somers. "We honor and remember them for the wonderful life that their service gives us," said Morrissey.
County Legislator Mike Kaplowitz expressed a similar sentiment in giving thanks for "the Norman Rockwell-esque existence that our vets have preserved in towns like Somers. But Kaplowitz broke a bit of new ground to exhibit another way to shower accolades on those who gave all.
Reminding the audience that we are not actually at war with ourselves, he said, "We see our country fractured, and we mistrust each other. But we can do better. We have to recognize our differences. Interact more positively because Memorial Day should remind us what's important—family, friends, community, country, and our humanity."
Maryann Harkins saw that on full display as the spigot took a turn and the rain began to deluge her two children. "Mr. Chinchy put his umbrella over them and left himself completely soaked," she said of the Councilman. "He doesn't even know us. It was so touching, and if that doesn't represent Somers, I don't know what does."
Larry Kaufman, Post 46 commander of the Jewish War Veterans, has certainly done his part in that regard. His resolve for America also gives Somers something to shoot for long after his service ended in the Korean War. "We love our country and will defend it to our last breath," he concluded the day.
Please like Rich Monetti's Facebook Page.
Reader insights
Be the first to share your insights about this piece.
Add your insights