Using Art to Cope with Substance Abuse and Depression
After three years of addiction, I became clean and found my way back. Even though I still face temptations, art has kept me grounded.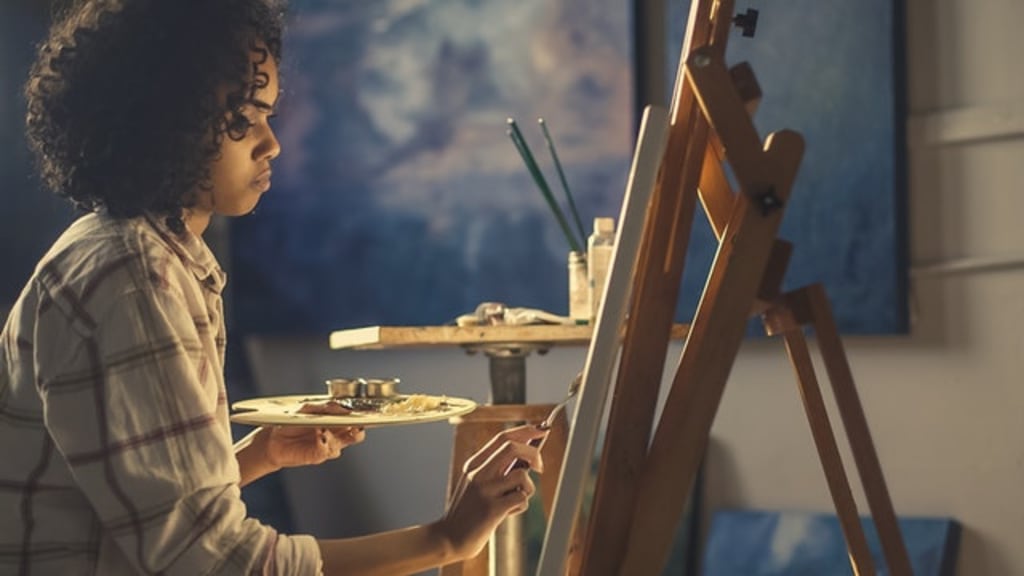 After three years of addiction, I found myself battling with temptations once again. My wife and I were having problems with our marriage. Although she was there during my darkest days, I never realized how greatly my addiction affected our relationship until I returned home after spending time in rehab. My kids, aged seven and three, were more than happy to see me again, but my wife's reaction was not as positive.
A dinner conversation revealed that my wife was seeing someone else. I was furious, I was hurt. And I had a lot of questions. I thought back to all those days when she visited me, and thought that she was really stabbing me in the back. I faced the grim possibility of losing touch with my children. Even during my addictive behavior, I never had that fear.
Once again, my life had become a long and winding road. In terms of my addiction, I know that I may either succumb to using meth again, or live my life with my head up high.
I chose the latter. I did not want to spend every day looking for meth and planning my life around it. So I decided to seek help and decided to live my life without regretting every single second. But losing my family is something I never imagined. To keep my stress in check, foster my will to survive, and keep me grounded, I have developed a newfound passion for drawing and painting.
Choosing to stay clean
Addiction is a complex problem. Life is also complicated, and the two create further complications. During my recovery, I never realized how my situation contributed to my addiction. While I was depressive at times, other times I felt like I was on top of the world. During my recovery, I was diagnosed as bipolar. This condition never crossed my mind, but I was willing to accept it.
Recovery from meth is not easy. The withdrawal phase was the hardest part. I felt overwhelmed by depression and anxiety, and the sleepless nights made everything worse. The only saving grace during those times was the combination of medications and psychological guidance I received. I became friends with some of the people inside the rehab, including my doctors.
One thing that gave me solace during those dark days was a picture of my kids that my wife sent me. I posted the picture on the wall, and found myself sketching their faces on a piece of paper. It was then that I bonded with art. I came to learn how art may be an ally in times of despair. Art became a close friend that saved me when everything else seemed to be gone.
Art and addiction recovery
Art became an escape while I was inside the treatment center. It took my mind off my condition and my yearning for my family. I had a passion for art when I was a kid, but somehow, I lost the will to discover that talent when I was growing up. Now, I rediscovered my adroit hand's ability to create visual renditions of the reality I saw, and it started when I sketched the faces of my kids.
Creating art added deeper meaning to the treatment process, and it stayed with me until I left rehab. Going back to reality after rehab may not be easy. For me, life after rehab felt like entering an alien world where you try to maintain your usual composure in spite of unusual surroundings. You wonder how people will react, and if they will accept you back into their lives. I guess this is something many addicts have to deal with once they leave their facilities.
When you exit the doors of the treatment center, it feels like you are traveling into an alien world. The sun seems to shine much brighter, but you have to restart your life. You will have to relearn many things, including how to be a useful and productive member of society. "How?" was the question always on my mind until I saw my family.
Art removes all the pains in life
I will never compare myself to Rembrandt or Picasso, but I can definitely see where they are coming from. Art and life are intertwined, and art may be a good way of expressing your life, and your life experiences. It has taken me away from my addiction and has continued to support my emotional stability.
My wife decided to end our relationship, and I cannot force myself back into her life. She made her decision, and I have to set her free because she was not happy. Though we live apart, I still am able to spend time with my kids. They are still in my life, and I try to be as good as I can be to them. Life never ends with divorce, and life never ends with any tragedy we face. Recovery comes with a decision to stay clean. And just like art, we cannot be half-hearted about life.
Art therapy during addiction recovery was an invaluable part of my addiction recovery. It is a group-skilled therapeutic element focused on preventing relapse. Recently, I have created a portfolio of paintings that I plan to exhibit in the rehab center and a local museum along with other works created by other recovering addicts from the facility. Actively participating and finding my niche in life has been so rewarding. It surpasses the frustrations I have experienced so far.
Going past life changes
My life has been defined by all the events that have happened, including my addiction to meth. I can say that I have come full circle and know precisely what my flaws and strengths are. I have learned not to dwell on negative and limited circumstances, and instead look at the bright side of everything. My addiction has taught me valuable lessons about life. It is too short to dwell on negativity.
I am living with my girlfriend, and get to see my children every weekend. Life has never been better, and I even work to help recovering addicts develop a passion for the arts. I also sell some art from my collection and spend my earnings to help my ex-wife provide for our kids. Life as an addict is like drifting in a sea of nothingness. You are on top of the world one moment, and then you fall back into guilt and depression. I have gone to hell and back with my addiction and mental illnesses.
Finding a new meaning to life gives you the motivation to go forward despite all the heartaches and frustrations. Art has become a passion, and it is entwined with my life now. Addiction may have damaged my past, but I refuse to let it define who I am in the present. Anyone may fall victim to the disease, and I am just one of the people who are predisposed to it. My art, my children, my new love, and my passion for living a clean life will not be replaced with the momentary highs that I once chased.