The very British Anxiety of Supermarket Shopping
The worst day of my life. A very gay, British story.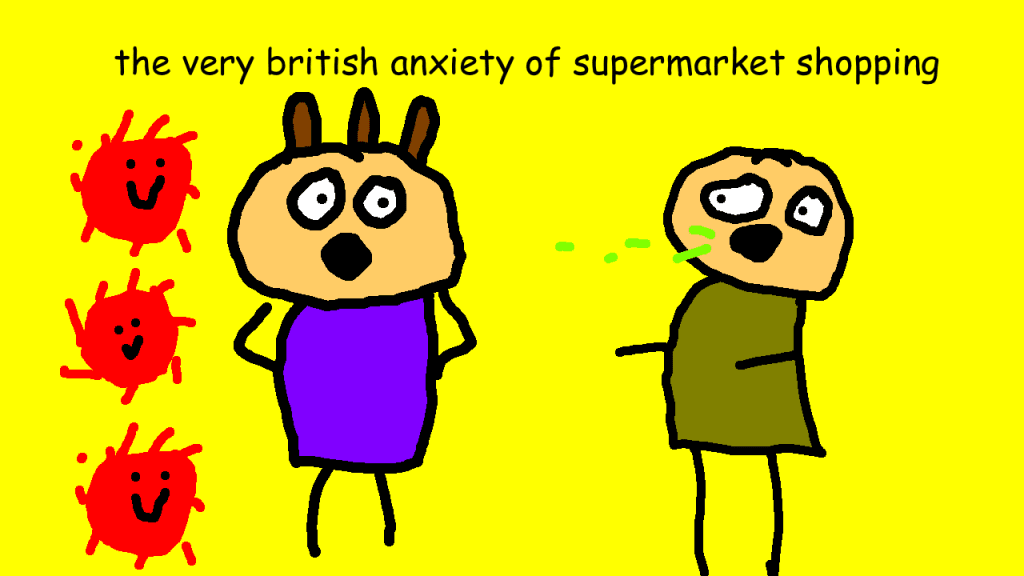 How I almost caught Coronavirus. This is a medically accurate drawing.
I am a very anxious person.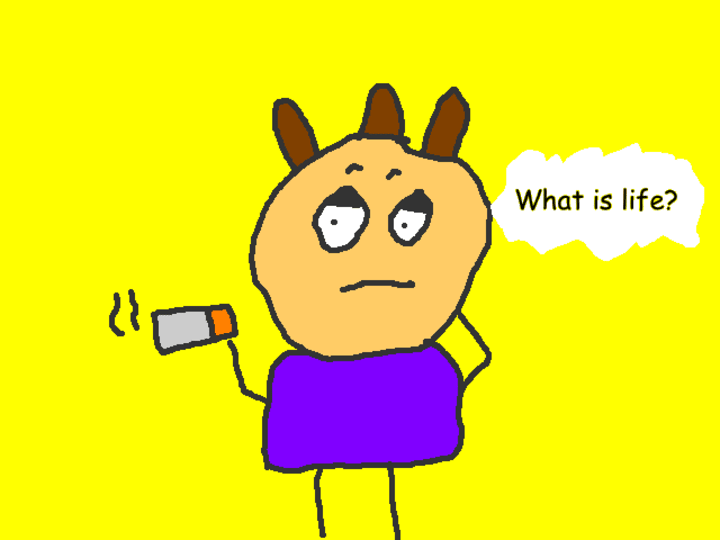 You can see by my eyebrows. They are very anxious eyebrows. They show my deep sense of fear, and are awfully bushy - a tint and thread is due.
It was a late Thursday afternoon and I made the very poor choice of visiting my local supermarket. I am a young, hungry gay man. I can't feed myself on just penis and episodes of KUWTK. We are in the midst of a pandemic, and so you have to queue to get into supermarkets, which only exacerbates my already horrendous anxiety disorder. It is like being surrounded by a pack of fierce hyenas, just waiting to maul your eyeballs out.
This is me, stood in the queue.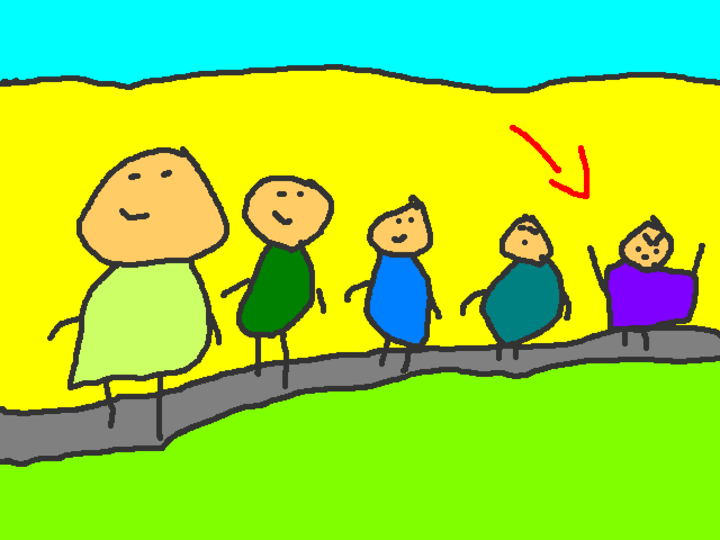 Most people were just waiting patiently, minding their own business, effortlessly avoiding eye contact with everyone around them, yet I could sense they were looking slyly, as if they had a digital ruler embedded in their brain, measuring the distance between them and everyone else, but not me.
As I stood there, chain smoking cigarettes and listening to Doja Cat on repeat to try and calm my growing nerves, there was a man behind me, who was obnoxiously coughing due to the cigarette smoke that was likely blowing back in his face.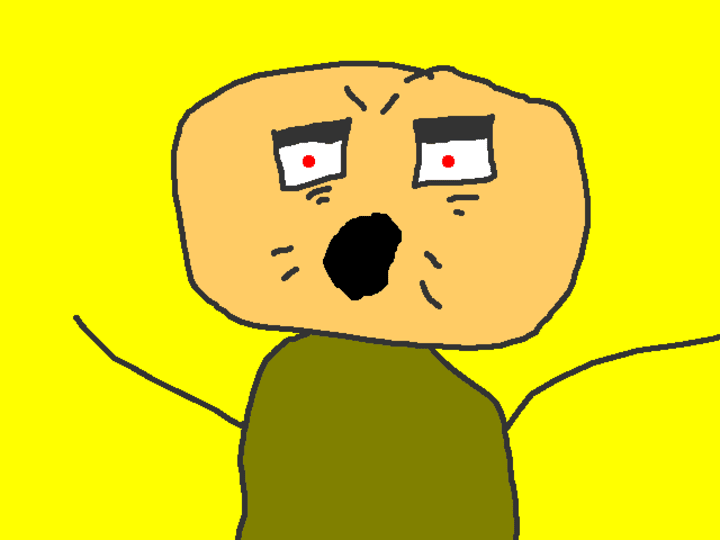 Given the severity of the pandemic we are in, I freaked out that he was coughing. I was completely oblivious to the cloud of smoke that was surrounding us, like sex-deprived gentlemen at an orgy. I could just visualise the Coronavirus particles in the air, mocking me, trying to find a way into my body. Men trying to find their way into my body, yes. A life-threatening virus trying to find it's way into my body, no.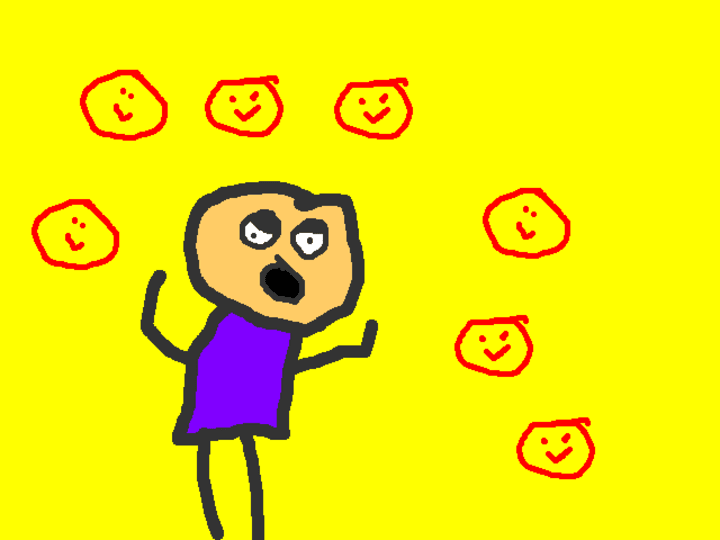 Thankfully, moments after I was gang-banged by Coronavirus particles, the security man at the door said I was allowed inside. I've never ran so fast... well, I've never ran in my life and I can't run to save my life so I sort of galloped inside, like a startled stallion. I'm not sure what a startled stallion would look like, so I'll leave you all to imagine it.
I started shopping as normal, picking up all the basic essentials - condoms, lube, preparation H and tomatoes. Tomatoes are good for the skin. It was whilst I was looking at the gin section that I noticed something... a droplet of sweat dripped from my forehead and onto the ground.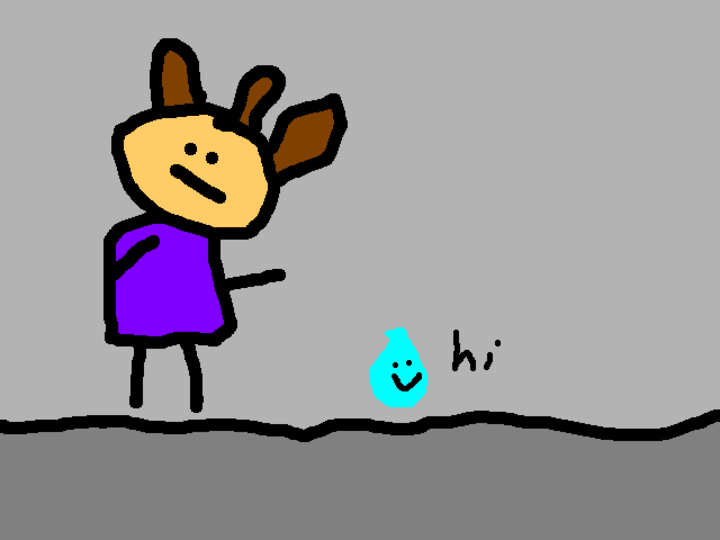 That was just the mere beginning of my downfall in Aisle 7. I felt hot, I felt sweaty. Yes it was 25 degrees outside, but in British terms, anything about 15 degrees, we would consider a package holiday at home. I almost felt like I couldn't breathe and I did not know what to do. I couldn't ask the man who was stocking the granola bars, he would think I was infected with the virus and would probably have me thrown into a deep quarantine device, which I'm sure is kept in the back of all supermarkets.
I had to think on my feet.
Nothing came to mind. Then, I saw coughing Chris again, coming down the aisle.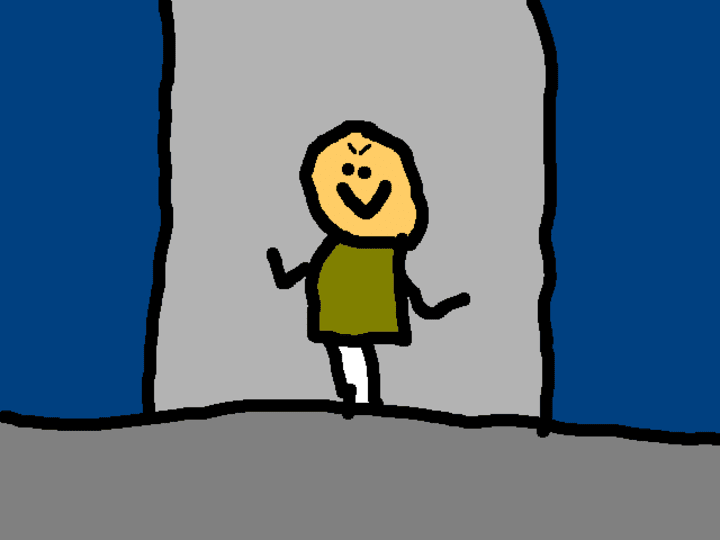 It was as if the devil had taken over a human body and he was following me. I stood as far back as I could, almost guarding the vast array of gin's. I WILL PROTECT YOU!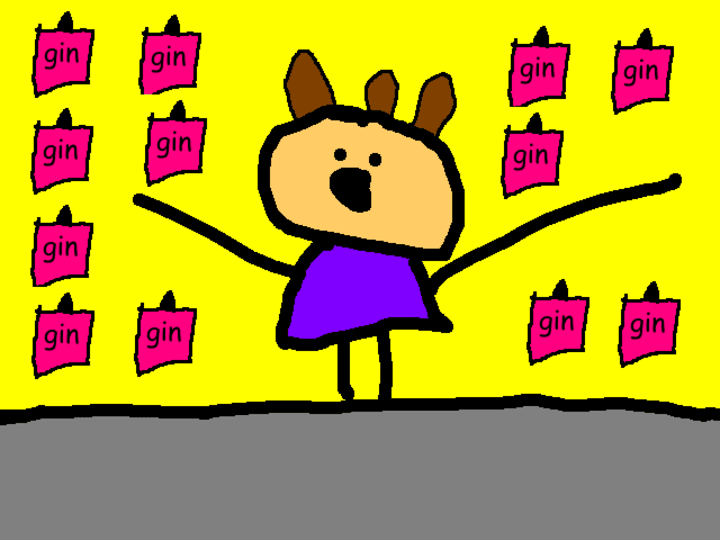 This was it. The end of my life. I couldn't believe that it was all over, no more sleezy hook-up's, no more hours of douching, no more pretending to be a vers bottom... my life was over.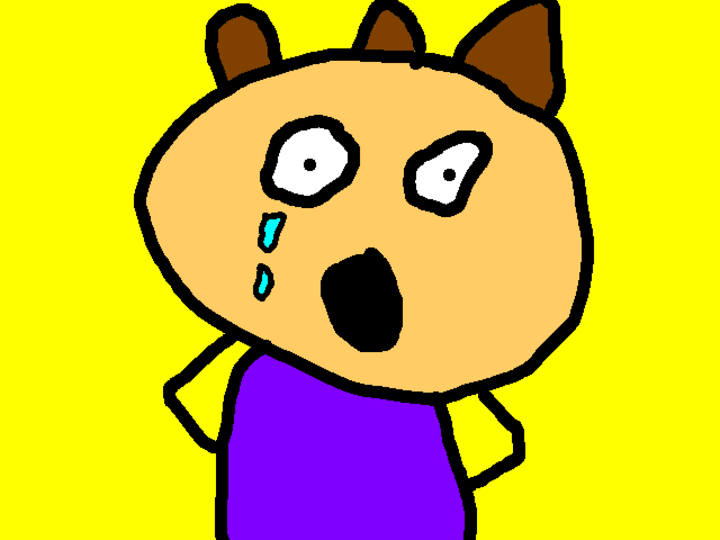 Then...
He walked straight past me.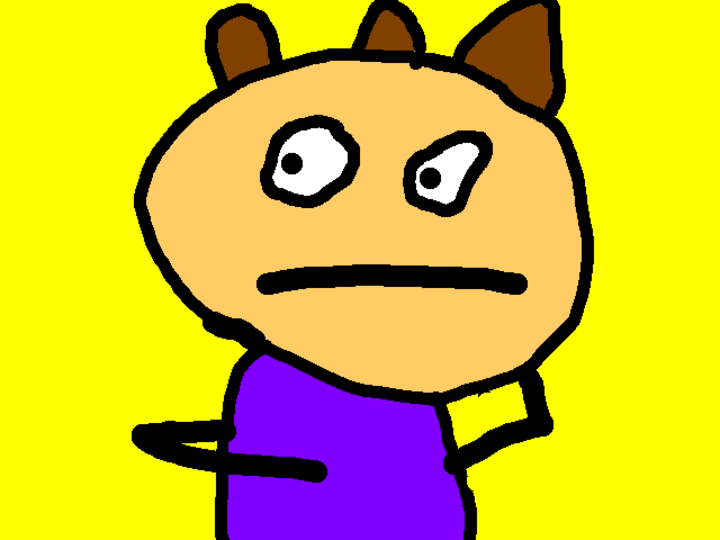 It felt like I had seen someone I had hooked-up with and swore to never speak to again, but it wasn't. It was just a man with a cough. Besides the point, I thought he was going to kill me and he has the AUDACITY to just walk past me and not even give me a second look...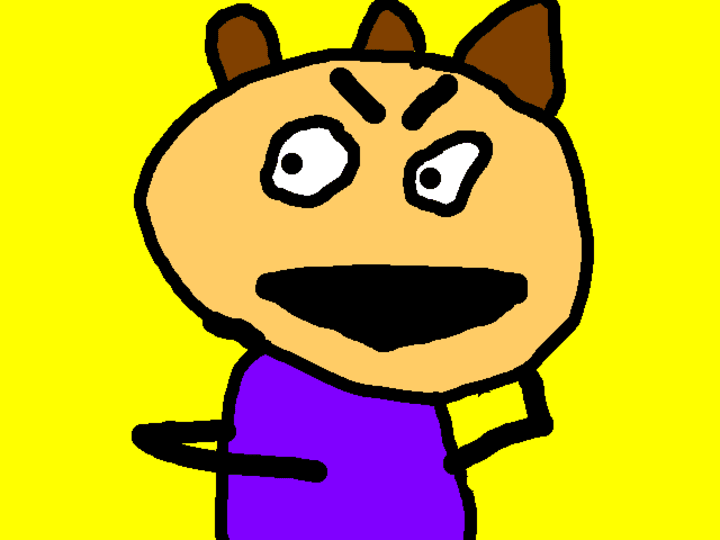 Instead of just letting it go, I decided to reach out to the man, whilst maintaining a 2 metre distance. Now, I'm no Reed Richards but my arm doesn't stretch 2 metres, so at the top of my seemingly under-developed, somewhat feminine voice, I shouted.
Me: Excuse me sir!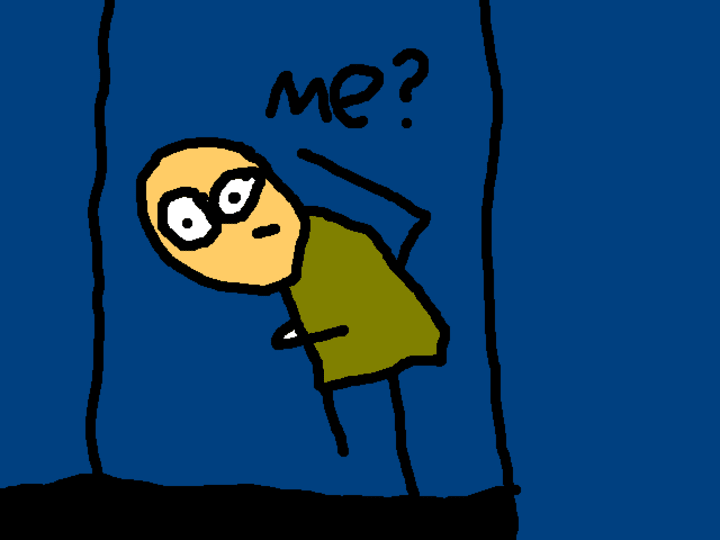 How dare he play dumb? I know how all types of men operate and after he nearly killed me, I was not about to let this one go. He knew exactly what he did.
Me: Yes you.
Him: Can I help you?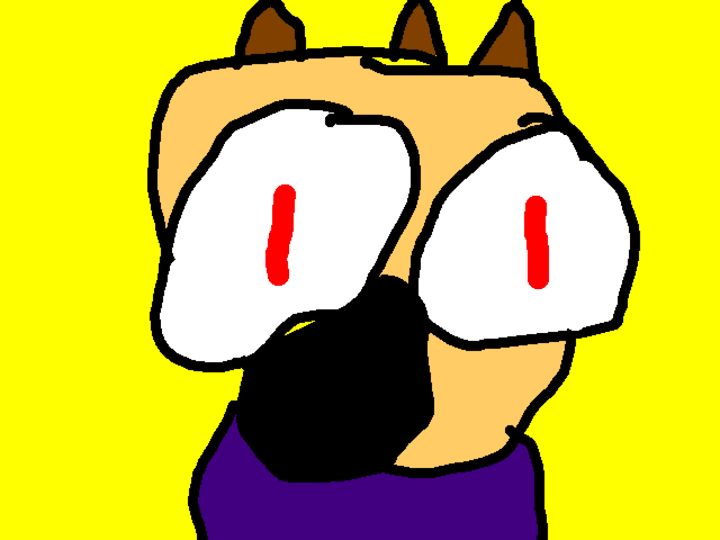 Me: WHO DO YOU THINK YOU ARE? COUGHING NEAR ME IN THE QUEUE WHEN WE ARE IN THE MIDST OF A GLOBAL PANDEMIC. YOU ARE SO SELFISH. I HATE YOU.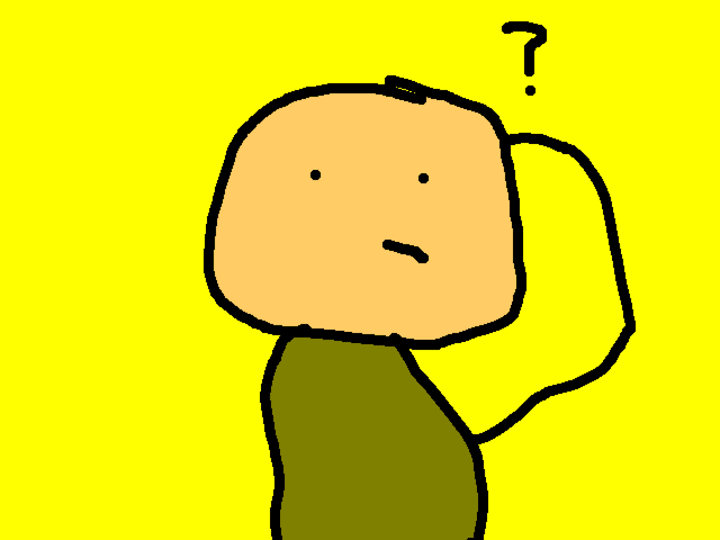 Me: YEAH THAT'S RIGHT YOU TRY AND LOOK ALL CONFUSED AND ACT LIKE YOU DON'T KNOW WHAT YOU DID. I AM OVER IT, I AM LEAVING THIS STORE AND I AM NEVER COMING BACK.
I then proceeded to leave my trolley full of shopping in the middle of the aisle and march to the exit. To make it extra known that I was angry, I didn't even follow the markings on the floor. Does this make me a bad boy gay? I think so.
I think it's fair to say, I handled the situation pretty well.