The Art of Healing, Part 2
One 20-Year-Old's Journey to Recovery from Trauma and Its Effects on the Body and Mind Through EMDR Therapy, Mindfulness Cultivation, and Other Unconventional Methods of Healing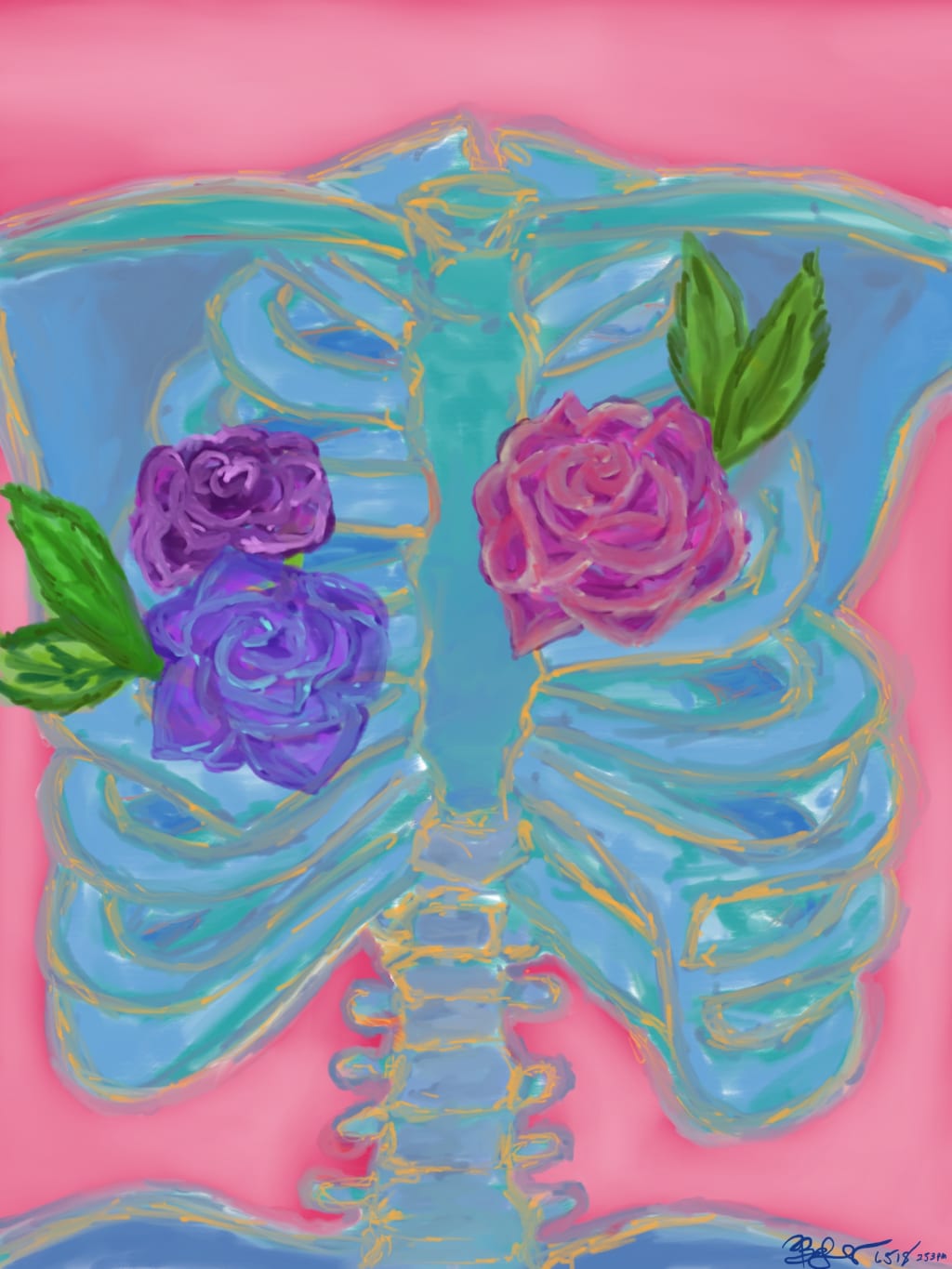 The Art of Healing by Becca Bean on Redbubble
Part Two
You're 19 years old and you're dying. You've been carrying the weight of this trauma on your back alone for years and it has caused you to sink into the ground, to dig your own grave, to shut down. You're 19 years old and your body is failing you. Idiopathic disorders plague you, both in mind and body. You're 19 years old and you are crumbling to pieces, collapsing, and losing yourself inside yourself. You're 19 years old and you're dying.
This is when the healing starts.
My first therapy appointment with K. I am terrified. I have no clue what to expect but I'm ready to recover and so I'm willing to do what's necessary to get there.
I make my way to K's office. The waiting room gives off a nameless, yet pleasant, scent. I am an hour early. I'm always early because I'm always anxious.
K steps out in the waiting room and sees me there, "Becca?" he asks. I nod my head and look at the floor as I follow him back to his office.
Eye contact? Nope. I sit on a cozy couch and scribble furiously in a small notebook. I sketch out tired eyes and wilting roses and a passable rendition of Charlie Brown. The nervous expression on Charlie Brown's face matches my own. K starts the conversation.
We go through my general history. We lightly touch on the trauma. We talk about me. Who I am. (Who am I?) Who I want to be. (Who am I?) Who I can be. (Who am I?)
I feel less anxious because I can sense that K is a soft man. He is tall and lanky and thin. But he is also soft and quiet and comforting. We even share some interests- we're both mountain biking enthusiasts, we both grew up with a skateboard glued to our feet. We enjoy talking about these things. I am not intimidated by K, but still, my eyes look to my notebook. My hand clutching a sweaty pen.
K explains that before we can get into the 'EMDR' (Eye Movement Desensitization Reprocessing) part of therapy, I will first have to go through some preparation stages. K says that if I am not properly prepared to reprocess the trauma, I could become re-traumatized by the experience. We both don't want that.
K and I finish up my first session and he asks if I'm okay having a male therapist, given my past traumas. I tell him that I was uncomfortable at first, but I assure him that I am comfortable and eager to heal now. I leave feeling more hopeful than ever. Back in Montana, I'd had a few bad experiences with therapists. K is unlike any therapist I'd had before. I am eager to begin working with him.
K would go on to teach me so many valuable things that I would have never discovered had it not been for this trauma I have experienced. As I continue on in telling this story, I will be discussing the incredible things I have learned about the human mind and body. These things that I have learned, and continue to learn, in therapy have changed my life and I believe that every person can benefit from knowing what I know. I am eager to share my experiences with you all.
I was 19 years old and I was dying. I was headed down a path that would surely result in suicide. But this first meeting with K sparked the smallest flame of life within me. And that small flame led to the wildfire of life that I have inside now.
Part Two End—Part Three Coming Soon
therapy
• I'm just a twenty year old who is learning the art of healing, and through the art of healing, I am learning the art of life • Part-time human being, full-time dreamer •