Sleeping Pills: To what extent are they right and when dangerous?
Sleeping on a regular basis, exercising regularly , not taking nap during the day and avoiding caffeine, alcohol, nicotine and heavy food , keeping stress under control, etc. can relieve you from sleep disturbances.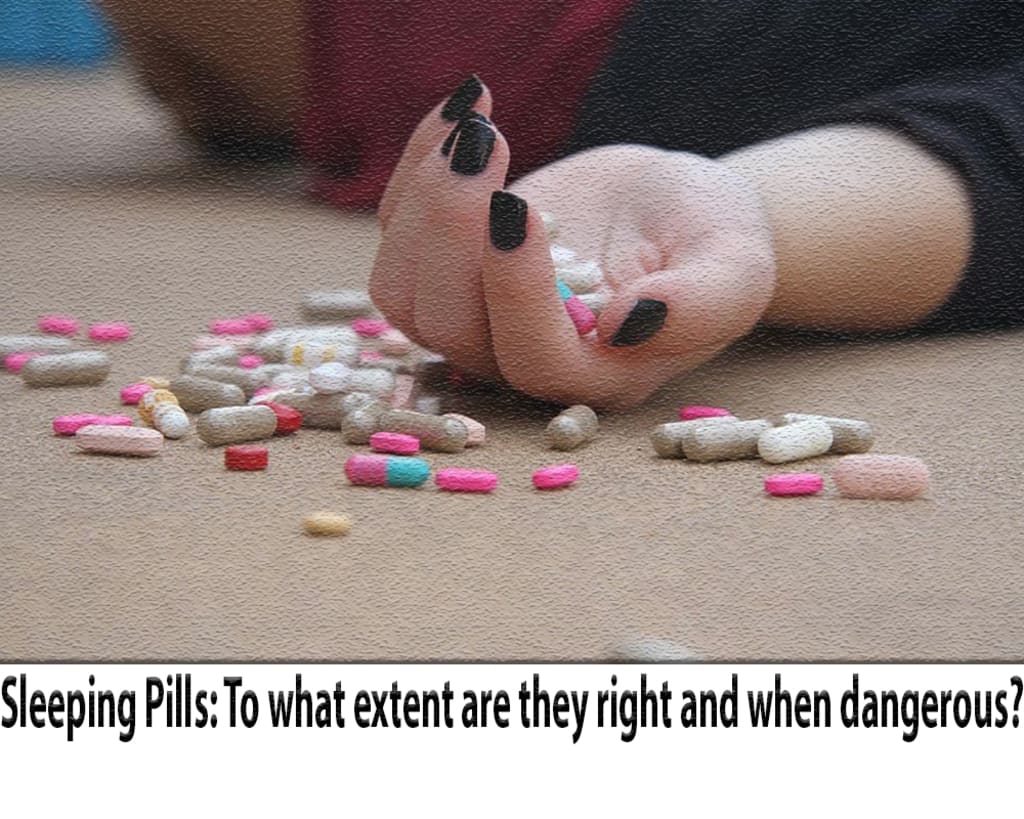 Why need sleeping pills?
In today's run-of-the-mill life, people are seen struggling with sleep problems. They start taking sleeping pills (sleeping pills, sleeping pills) without improving their lifestyle. But they do not know that if they start making slight changes in their life, then they can get solution from this problem. With this help, they can avoid taking sleeping pills and their side effects.
Why need sleeping pills?
Sleeping on a regular basis, exercising regularly , not taking nap during the day and avoiding caffeine, alcohol, nicotine and heavy food , keeping stress under control, etc. can relieve you from sleep disturbances. But, it happens many times that apart from these things, the doctor prescribes you sleeping pills for some time. But, how perfect are these sleeping pills for you? Learn in this article
When sleeping pills start causing damage
Some people start eating sleeping pills i.e. sleeping pills due to stress or other reasons. These pills can provide relief for a short time. However, making these sleeping pills your habit can prove dangerous. If you long to cause insomnia such so disturbing behavioral therapy (behavioral therapy) proves to be the best treatment. If you are struggling with sleep problems regularly , contact your doctor. Treatment of this problem depends on what causes your insomnia. Sometimes, due to medical condition or any other reason, you may have trouble sleeping . Processed sleeping pills By taking sleeping pills you can sleep easily and for a long time, but the disadvantages of these pills are more.
For the best prescription sleeping pills you should-
*Tell your sleep patterns to the doctor.
Tests should be done to understand any internal conditions.
Discuss the options of taking prescription sleeping tablets , including how often and when to take the medicine and in what form, such as tablets, oral spray or dissolving tablets.
Take a sleeping pill for a limited period, stating the benefits and disadvantages of prescription sleeping pills.
Have you ever used a different prescription sleeping pills before , if you have, then complete its course first.
Sleeping pills side-effects
Always ask your doctor about possible side effects before taking sleeping pills. Depending on the type, side effects in sleeping pills may be the following:
Feeling dizzy or weak
Headache
Gastrointestinal (gastrointestinal) problems , such as diarrhea and nausea
Prolonged idling because the medicines you are sleeping
Allergic reaction
Memory problems
Antidepressant, with sedating effect
Sometimes the use of medicines mainly used to treat depression helps in reducing insomnia . Although it is used heavily, it is not approved by the Food and Drug Administration for insomnia . If you are struggling with both insomnia and depression , then antidepressants are helpful in both cases.
examples include:
1. Amitriptyline
2. Mirtazapine
3. Trazodone
Antidepressant side effects, with sedating effect
Antidepressants with sedating effects may have the following side effects such as:
1. dizziness
2. Headache
3. Prolonged sleepiness
4. Dry mouth
5. Nausea
6. Irregular heartbeat
7. gaining weight
8. Memory failure
9. Constipation
Take precautions:
Pregnant women, lactating women, and the elderly are not at all safe to take any prescription sleeping pills (and even some non-prescription sleeping pills), as well as some antidepressants. The use of a sleeping pill can increase the risk of falling at night and injury to the elderly . If you are an older person, then your doctor prescribes only low-dose medicines according to your problems, so that you do not suffer any kind of harm.
Sleeping Pills
The most prominent side effect of a sleeping pill is to dizzy head or feel sleepy the next day. If you take a sleeping pill in the middle of the night, the chances of this happening increase manifold. Apart from this, you can also wake up in a state of unconsciousness, which can be dangerous.
Sleeping Pills & Some Health Conditions
You cannot use prescription sleeping pills at all during many diseases. For example, kidney disease , low blood pressure (Low Blood Pressure) , heart problems (heart problems). Also, if you are already taking any medications, do not use any prescription sleeping pills with them without medical advice. Follow your doctor's advice only.
This is how the sleeping pill is chosen
The choice of sleeping pill depends mainly on the cause of sleeplessness. The right medicine can be selected based on the reasons for which a person has a sleep problem or the type of sleep pattern he has.
Take care before taking sleeping pill
All prescription sleeping pills, other than those with certain medical conditions, carry a risk. Always consult your doctor before trying any new treatment for insomnia . Along with this, pay special attention to your routine to reduce the problem of sleeplessness .
medicine
I am a varsity students, like to read articles of medium.com and so others magazines of different country. I also like very much to write articles about many of topic like health, tech etc. I am here want to enjoy my writing career. Thanks.