It seems like an odd time to count your blessings, when the world is focussed on counting its afflictions, punctuated by 20-second choruses of Happy Birthday To You as we dutifully rinse the plague from our hands. But this has been the year of counter-intuitive, unintended consequences.
Think how half a century of truly global trade and travel have paid us back in economic reversal and complete restriction of movement. See how simple social transactions of handshakes and hugs have become health hazards. Note how we've gone from face-to-face to FaceTime and liberty to lockdown; our world has inverted by its own norms.
Hoisted by our own pétard, where once we wished to break down all the walls, it turned out that we only managed to blow ourselves up in the process. To anyone that has become overly familiar with the four walls of their lockdown location, the consequences are richly ironic.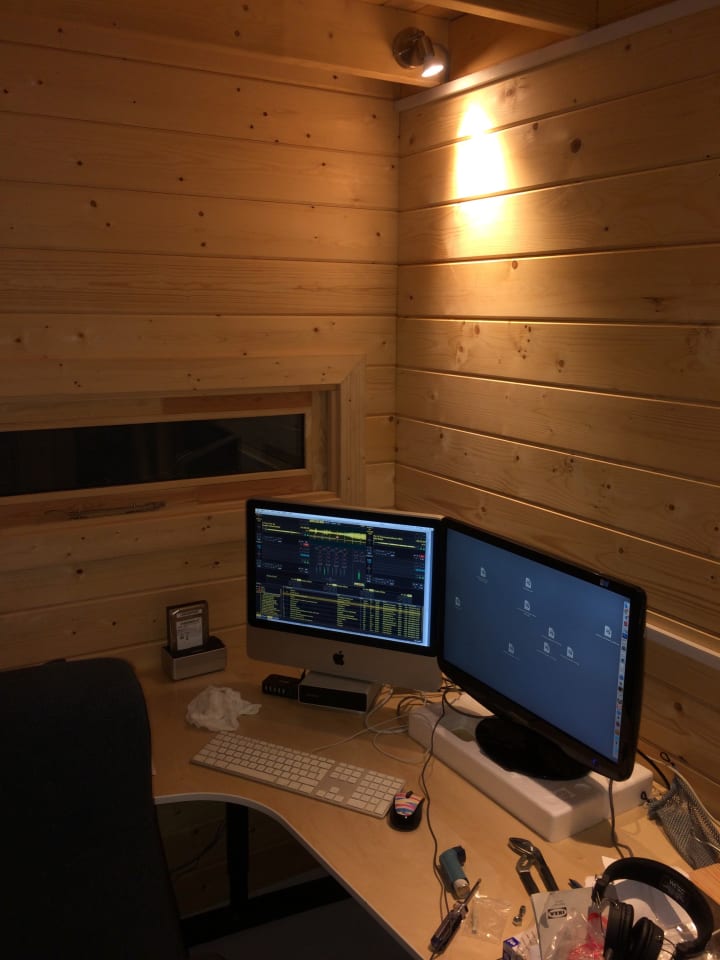 I have become very familiar with my own lockdown location - a garden room measuring six feet by eight known to all as 'Ian's Shed'. It's reasonably well appointed for a shed; it's double-glazed, partly-insulated and enjoys power, light, heat and gigabit ethernet. I am grateful that my garden office provides me with a bolthole, not least because I am classified - by dint of severe asthma and chronic obstructive pulmonary disease - as 'clinically extremely vulnerable'. In short, if I catch this terrible disease, the odds are not in my favour.
The Government advises that I should shield at home. But it also advises my children should go to school. Between them, they figuratively rub shoulders with about 350 other children a day. In a normal year, I would expect to catch a few interesting, harmless coughs and sneezes from them but, with COVID in the frame, I did not want to burden them with the dreadful guilt of bringing something accidentally into the house. So I went and camped in the shed.
Among friends of the family who keep in touch, there was some worry about my predicament, but I was grateful for the small mercies. And while the consequences that trailed in the wake of the virus' various waves and surges were unintended, those small mercies were most welcome, if a little unexpected.
One of the most unexpected and definitely counter-intuitive little mercies of the pandemic was a moderate improvement in my mental health.
I have been living with acute anxiety and depression for around a decade. Like COVID, it comes in waves and like the virus, it has the potential to break me beyond the reasonable chance of repair. At times, I have been unable to function or contribute in a useful way to anything at all and the desperation to stop trying was sometimes overwhelming.
As a dysfunctional neurotic, part of improving your mental wellbeing requires you to become acutely aware of the state and direction of your mind at all times. So, I found myself tracking my mental health, subjectively, as a sine wave and noting where I was in comparison to the previous week, month or year. I always knew whether I was above or below the line and how far.
When it came to something that actually seemed sensible to be anxious about, you would think, as many around me did, that my mental health would nose dive, but it didn't. You might also think that confining me to a shed - however luxuriously appointed - would send me into a flat spin, but it didn't. Indeed, I noticed a lengthening of the wave over the course of the pandemic and even a slow and steady elevation in my ability to cope.
I seemed to be getting happier and I swear I wasn't drinking the hand sanitiser.
So why did I seem to be getting better as the world went into its own nose dive? Was it a comparative thing? Was it narcissistic Schadenfreude? Could it be that someone who lives in a more or less constant fluctuation of mania, distress and panic is uniquely equipped to handle a global manifestation of the same?
It could be that the pandemic has pulled the focus from my own maladjusted thoughts for an extended period and has released my self-obsessed, serotonin-starved central nervous system on something of a busman's honeymoon; a gap year for the empty, the ultimate staycation melancholiday.
Or perhaps there is another cause to be grateful. My improvement in mood and stability, when other have fared less well, may be an effect of overwhelming gratitude in the face of everything. Gratitude pays the bearer as much as the borne. It is as inspirational to appreciate as it is to be appreciated.
I found gratitude for the selfless spirit of so many in this world who reach out to support those in trouble. Gratitude was, in itself, something to be grateful for. It is life-affirming in all meanings of the phrase. It means that I am grateful for the ability to gauge my worth as a living, breathing - though also wheezing - human being. I am thankful that I need nowhere near as much heroic redemption that an anxious, depressed alter-ego would demand just to right the balance.
I am grateful for the plain, level fact of my life and all the wonderful things that go with it; my family, my friends, my community.
Thank you.