How Bullet Journaling Helped My Mental Illness
And Why You Should Join the Craze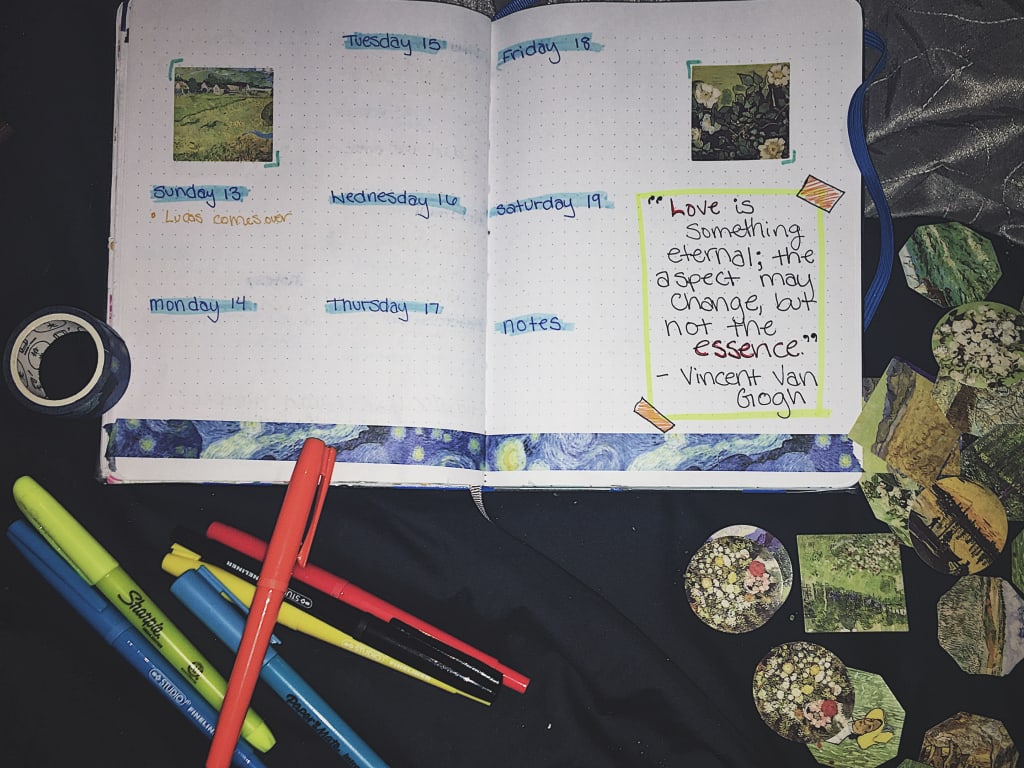 At the beginning of the year, I was in Michael's and I saw a sale section for bullet journals. Having seen a lot of buzz about the hobby on social media, I thought I'd give it a try.
At first, I will admit, I didn't love it a whole lot. I felt as if it took too much time to complete and really was a waste of energy. I didn't complete the whole month as I had hoped I would. The problem was I was making it too complicated. I really didn't have any clue of how to start a bullet journal, so I had looked online for inspiration. I tried to track myself day to day, which got too complicated. I had a page for each day of the month and had spots to track my mood, habits, and what I was grateful for that day. This all sounds like a good idea until you actually try to do it. Tracking myself like that got to be too much. So I decided to attempt a different approach for the next month.
Instead of a page for each day, I did a weekly spread over two pages. This made the month seem simple and short. I could easily see the scheduled tasks for the week on one page. I also dedicated two pages to a "month habit tracker," on which I would track things like my sleeping habits, step count, and mood by putting either a dot or box on the square corresponding to the day.
By simplifying how I went about tracking my day to day life, I became more excited in filling in my bullet journal. It helped me look at how I was feeling day to day, but also gave me a spot to express how I'm feeling. It's a good way to relieve stress, frustration, anger, or even express happiness. And I can look back and see how many days out of the month I was happy, sad, angry, etc. This shows me if I had a good month mentally or not.
I got more into bullet journaling as time went on, I even went online and began buying cute stickers and washi tapes to help me create themes for each month. A lot of websites are very inexpensive and usually have lots of great sales. I can spend $25 USD on 11 different items (such as sticker packs, tapes, sticky notes, etc). Its hard these days to get so much stuff for that price. I never feel guilty buying journalling supplies as I do for other hobbies.
Bullet journalling has definitely helped me work towards being a happier person. I recommend it to anyone looking for a way to improve themselves mentally for a low cost.