Get Hooked
A look into how I developed a meditation practice through learning to crochet for stress relief, after being diagnosed with anxiety disorders.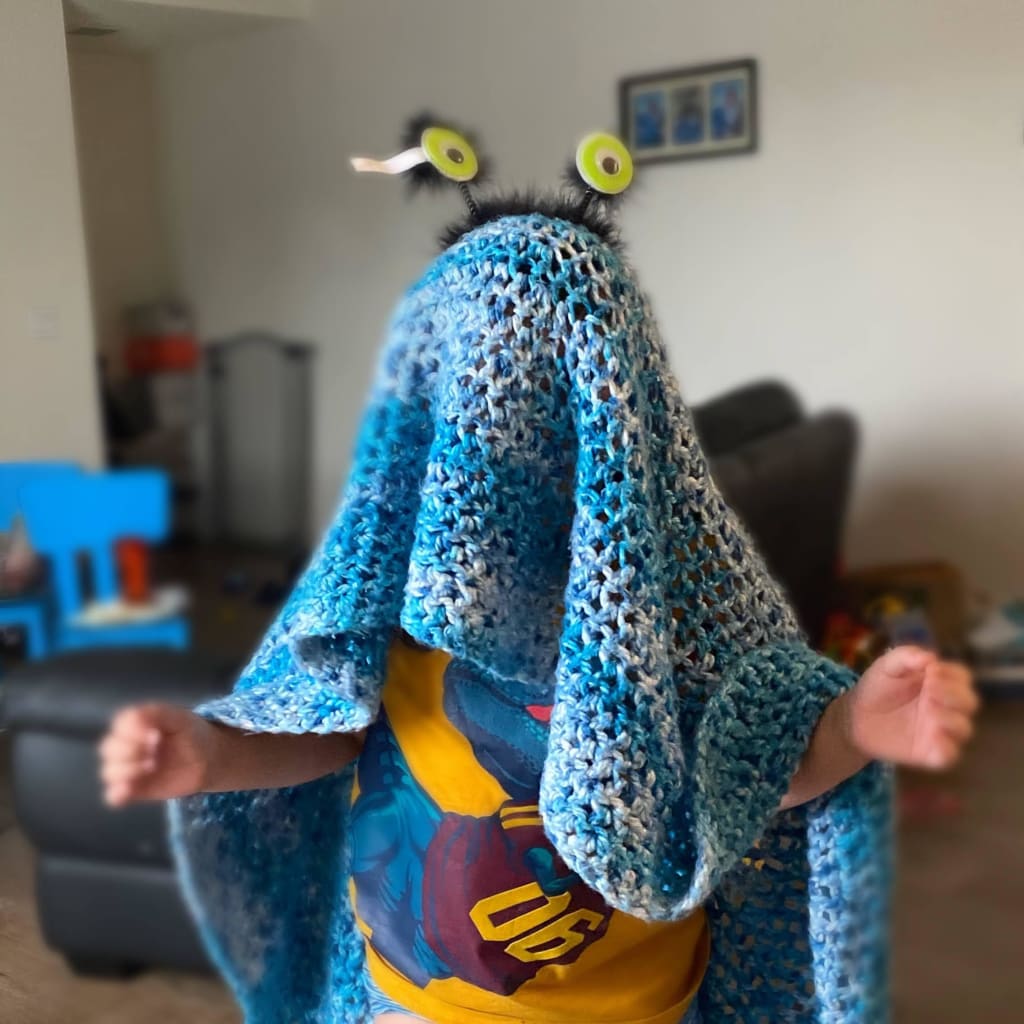 For 17 years I lived with anxiety disorders. I have spent nearly all of my adult life surviving and fighting to overcome. I often get asked about the details of how I healed myself. People are naturally interested in the end result. The thing is, I have gotten so familiar with anxiety that I know there is no end game. I know there is no guarantee of it being gone forever. There is an opportunity however, for constant growth and change.
I have found that when looking at extreme worry it is important to give yourself as much protection as possible from the opinions of others. Having anxiety show up in your life is not your fault. It is NOT your fault. You are beautiful and wonderful, and you live every day overcoming fear. Most people avoid fear, and you are a spiritual badass who faces it and overcomes it daily if not hourly!
Anxiety demands your attention and your constant focus to survive the moment. Not only is it exhausting but, it can take up so much space you can't fully absorb moments that are happy and create joyful memories. When you are exhausted things take time to get done because you're tired and bonus, if you are not enjoying anything fully you don't want to keep overcoming to experience something that wouldn't create a happy memory anyhow.
So, my first advice that I give anyone who asks me about what I have learned in overcoming anxiety comes in two equally important parts. Seek advice from a team of professionals from medical to holistic, seek tips and encouragement from those who understand your struggle and allow those who want to listen and encourage you to enjoy those moments that your work so hard for, and allow yourself to laugh with them. Let everyone else's advice and opinions fall away. The second is that there is no doubt in my body, mind or soul about the fact that anxiety hates quick and obvious solutions. You must choose to accept that healing is a journey. Journeys can be long; change is present at every corner, and you are always wiser than you were before you took that first step.
Knowing that it takes time to heal means, you have to take your time with activities that alleviate stress to allow your brain the break it deserves. I am really passionate about helping people discover benefits of creative stress relief. I can't take the credit for discovering what has helped me, because my family doctor suggested it over 19 years ago. I however, can pass it along to you with my favorite tips!
Crochet.
Crochet anything, at any technical level.
Crochet for any reason, whether a project or simply to relax your mind.
Before I really get into why crocheting can help ease stress, I have to admit something. I took this advice, to crochet, and I drove myself as fast as I could to the closest store in town with the most options. I spent most of my take home pay for the week on yarn, crochet hooks and books with patterns. I went home and I took my already known knowledge of a single stich, which my mom taught me when I was a child, and I sat down and began creating the most beautiful blanket in the world. I chained out the longest row ever because I wanted the best winter blanket anyone has ever seen.
Crocheting a huge blanket takes commitment, dedication and tons of patience…. It takes real passion to crochet and continue to finish a winter blanket in Los Angeles on 80-degree days. I was surrounded by talented people. They are gifted at knitting arts, fine arts, cooking arts and more. I felt like I had something to prove. You see, I couldn't "just breathe" my anxiety away or "just relax" like they wanted me to, and I felt that in order for people to take my lack of control over my anxiety seriously, I had to make the most beautifully crocheted blanket ever. I wanted them to see that even if I followed the advice, it wouldn't be a magical cure for the battle I was fighting. If they were impressed with my efforts, then I would be respected, and they would lean back a bit on judging my progress with healing.
Crocheting for stress relief is not about the biggest most technically driven project. It is about getting your body aligned with your breath and having a moment of clarity to share yourself within your peaceful mind. When you crochet you have to be aware of how many stiches you make and know when to start the next row in order to expand. As you begin counting your stiches, focusing your attention on the accuracy, your breath naturally realigns steady. The repetition makes the act become second nature. Mundanely allowing your hands to work when you are restless has huge benefits. When you are putting all extra energy that anxiety and stress into creating with your hands, your brain gets a break from overthinking. It's just you, your hook, your yarn, your count and repeat. It clears your mind similar to how running clears minds for people who enjoy running. I hate running.
Listen, over the years I never finished that blanket. I did go on to make a ton of cute things and gift them to people. I keep a yarn basket in my home at all times and when I know I will be traveling I take a bag with yarn in it with me. I took time to find and invest in a cute small tote bag with an octopus on it, because I love sea creatures, and looking at it makes me happy. I use a fun zippered pouch for my hooks. I only buy yarn when I run out or when I am making an intentional crocheted gift for someone. I only buy yarn that feels good and is visually appealing. I let go of any ideas that I think the yarn might become. Ok, I try really hard to do the latter.
Take time to get to know your tools. Take note of how you feel after crocheting while softly playing a sound bath in the background. Meditation is not easy for everyone. But crocheting and listening to a sound bath is meditation. I may not have anxiety disorders anymore, but I have stress. There are days that I cannot sit and mediate and I know that I can find comfort in a simple stich for a few moments of time to clear my head and allow me to recover a bit after going full steam all day.
It took me 19 years, moving around 20 plus U.S. cities, healing my anxiety and moving back home… But just before he retired, I had the opportunity to thank the doctor that introduced me to intentional stress relief though art. I promised him that I would continue sharing my journey and love for creative ways to reduce anxiety and stress and I hope that you will find some yarn that you love and possibly get hooked.

Tonka Fiamengo
Tonka is a professional psychic medium & life coach. Owner of MermaidLunaTarot in Los Angeles. She is a kick-ass boy mom to an amazing 5-year-old. She loves writing, the beach and helping people, especially through creative exploration.
See all posts by Tonka Fiamengo →