Brittle Bones: Indio, California
An Excerpt From Audrey Anderson's Life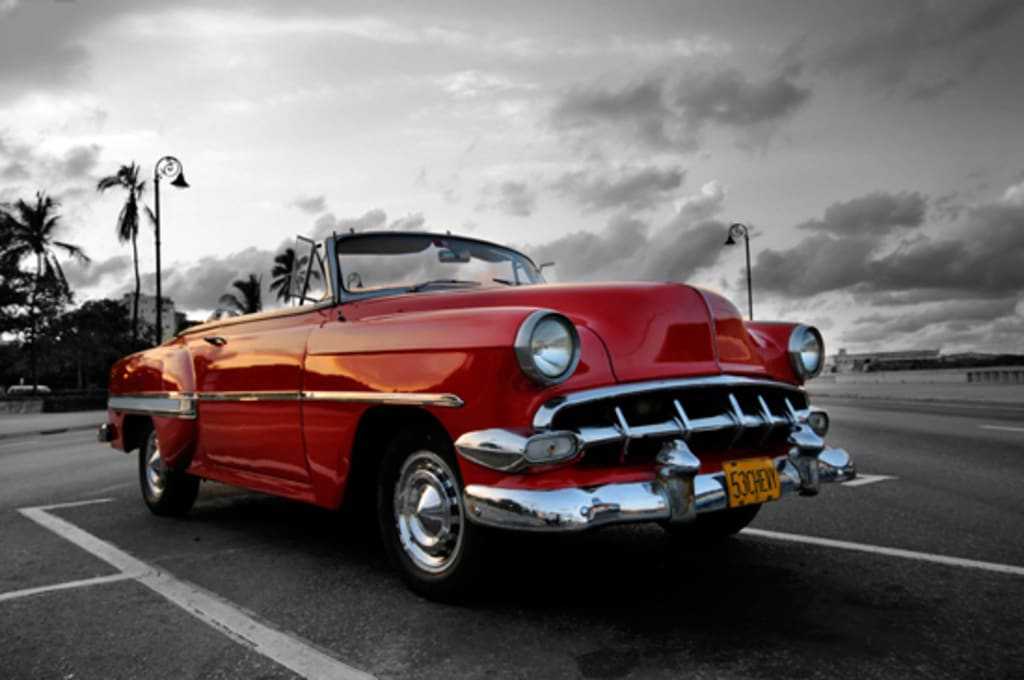 Photo credit "Old Red Car in Santa Monica, CA"
Abstract: The following excerpt is from my fictional coming-of-age novel about Audrey Anderson's life, a girl from a small made-up town of Tribuca, California, an aspiring musician. This excerpt is an interlude of my debut manuscript.
***
"So, what happened?"
Audrey Anderson, with fresh tears streaming down her cheeks and make-up smeared all over her eyelids, frantically shook her head.
"I don't know. We were on stage, we just wrapped up the show and dad was...gone."
She shook her left knee and gripping tightly to her hoodie sleeves, looked around the room. At that particular point, she was doing everything she could to avoid eye contact.
Anything.
Try to focus on the stupid posters on the wall.
The clock on the wall kept ticking, the pendulum swing on the desk kept swinging swiftly.
Maybe this is why they call it the 'shrink's office'. I literally feel minuscule in size…
The therapist leaned over and handed her a box of Kleenex. Audrey grabbed one and thanked her.
"Look, it's not like I'm not trying here. I just don't believe in any of this...stuff."
"Ms. Anderson, what exactly are you referring to?"
Audrey sighed heavily and uncrossed her legs.
"Therapy. I don't believe in whatever this is, I don't believe in its effectiveness. I just don't...buy into this post-modern medicine crap."
As soon as the words escaped her mouth, she instantly regretted it. She felt as if she was echoing her mother's beliefs.
"Ms. Anderson, we haven't given you any medicine yet."
As soon as she finished that sentence, two men in white scrubs came in carrying two needles, rushing over to place Audrey in a strait-jacket.
Audrey jumped up from the couch, but was already cornered in. One man put the needle in her right shoulder as Audrey let out an inaudible scream…
"Ahhhhhhh!"
Drenched in sweat, Audrey woke up completely shook up. This was one of her many recurring nightmares since her father's passing.
Maybe it was a subtle metaphor for feeling trapped, confused, misunderstood by her colleagues at UCLA. She was often frustrated with herself for leaving her mother back home and committing to staying at a dorm. When the university had offered her a full ride scholarship, Audrey had to jump at the chance.
Audrey's grandmother, J, moved in with them soon after the family's second loss.
"I think you've done all that you could for her, sweetheart. I think it'd be a good idea for you to take this opportunity and go."
"J, she doesn't even know. How am I going to face her? How am I going to break the news that I'm leaving Tribuca for the next 3 to 4 years? She'll be crushed."
"She is crushed. Look around. She's not even here. We all need to heal in our own ways. This is yours."
Tribuca, California, was just 3 miles away from Los Angeles; it was a place where Audrey grew up, took her first steps, learned how to play her first guitar, played her first show, went to school and ultimately met the love of her life, Aaron. Leaving Tribuca, though, was the best thing she could have done for herself. J gave her the push that she needed. While it was a place of amazing memories, it was also a prominent place of melancholy.
This is where she had to watch her mother undergo depression after her father's sudden passing, keep her house in order and raise Amber. Her mom refused therapy. She didn't believe in it even though her world was falling apart.
Audrey was the head of her father's estate which meant that the responsibility of funeral preparations, legal work, and paperwork were left to her own devices.
Then, she had to say goodbye to Amber after a kidney transplant had gone horribly wrong. Amber was only eight years old at the time. It poured rain at the funeral. Their mother never showed.
Audrey didn't want to echo her mother's beliefs in regards to the topic of therapy. She believed in the power of it having an impact. Mental health is such an immense part of her college life now...especially after the tumultuous summer of 2013.
This is the first time that she had allowed her emotions get the best of her and turned to drugs for solace. She and Aaron were on a break at the time. She lashed out, he snapped and drove off with a deafening screech of his Cadillac's tires. She needed him. She refused to say it out loud. Her mind went blank.
Live music was always something that helped her find her way. After all, she was a musician. She called up her former bandmate, Travis, and decided to hit the road for Indio, California.
Just like in a swift pop music video, as Travis pulled up, Audrey jumped swinging her tiny purse behind her, taking a look one last time before she had bid this place ado. They hugged and exchanged kisses. It's been a while since they've hung out. They jammed to some tunes and embraced the open road. As Travis pulled up to fill up a gas of tank, Audrey moved to the driver's side as she was waiting for him to get back. She looked down at her lap examining the crystallized powder in the pills she had picked up earlier. Yes, this might not have been the best way to cope, but it's the only way she knew how.
So, this is MDMA, the happy little pill. She cackled as Gorillaz "Clint Eastwood" came up on the radio. Audrey put her feet up and turned it up.
"I've got sunshine in a bag...I'm useless, but not for long..." she sang along.