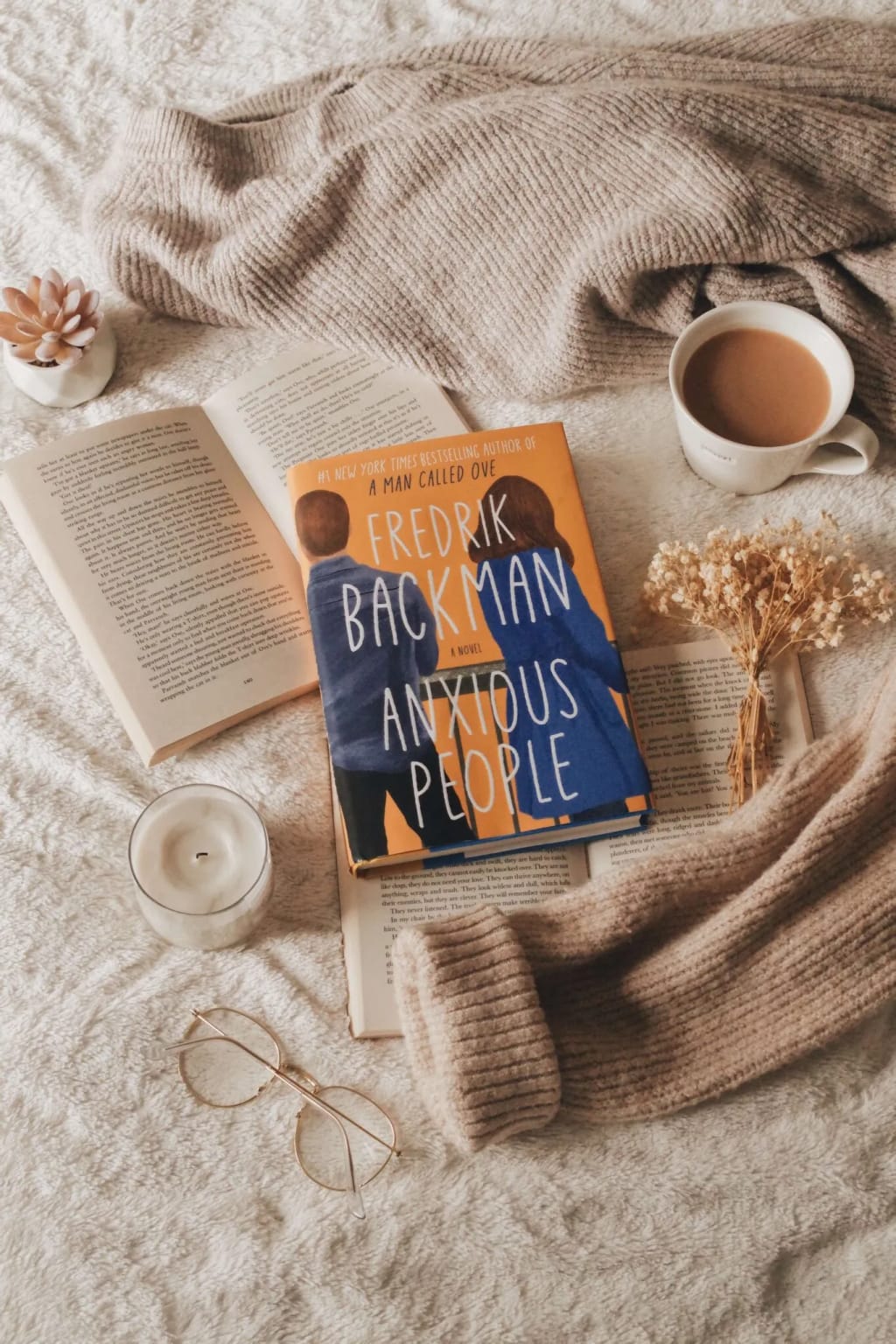 Well, the book "Anxious People" by Fredrik Backman, is one of his greatest. One of his best-selling books didn't work for me. But I had a good feeling about this one, and I've been anticipating its release since I saw the cover reveal.. And yes, this book is going to be adapted as a TV series! I mean just do it 🖤
The story revolves around a few idiots who got themselves stuck in a weird situation while they were checking out an apartment (which was a cheap one and also non functional). An ridiculous bank heist attempt, with the bank robber ending up with a real estate agent, an elderly lady, a lesbian couple - one of them is pregnant, another couple who is always arguing, a bunny guy (don't ask me how he fits in here), and two more bank characters. Two police officers trying to crack the identity of the bank robber. A most likely hostage situation. A most unlikely outcome. Lots of pizza love sharing. Too much love and support for the wrongdoer. But anyone can be the culprit. And yes, that's the plot.
I still cant believe that I read a book like this on in which I would cheer for the culprits, whole heartedly. And you'll understand why the characters in the book do as well. This is a heartwarming and, at times, heartbreaking read (as are all of his books!). I didn't cry as I read the book. But the final page broke my heart. And, yes, I shed five tears when the book ended.
The writing is full of dry humor, satire, and, at times, attempt. I used to get bored every now and then (yes, why?!). How is this possible?!). You might be feeling the same way. I assure you that it was written in this manner on purpose. And you'll be glad you didn't skip these sections.. Otherwise, don't tell me I didn't warn you, you might go back to these pages to get the best out of this read.
But yes, pay attention to the details. Just pay your attention to the frustrating, bothersome actions and dialogues of these certified idiots. You won't regret knowing them.
This book is so incredibly well written. It's partly suspenseful, partly investigation room drama, partly hostage scenario, partly dramatic, and partly narrations of each of these characters and how their biggest life issues are resolved in the end.
Not all stories are with answers, not all marriages are made in heaven, not all father-son relationship is that amazing, not all perfect stories are perfect. This piece accurately depicted our flaws, our differences, our flaws, and our imperfect adult lives. The characters accurately represent our flaws and strengths, our disappointments, and what we could do to become who we are. I really like how this story is focused on the characters. Several characters who work well together. Amazingly written, in my opinion.
Each character has been accurately depicted. There is character development as well as plot development. The ending is almost fairy tale-like. It's ideal.
Trigger warnings for suicidal ideation and behavior, anxiety, and infidelity.
Give this book to yourself as a gift! I adore the Atria and Penguin editions!!!
I had been anticipating this one with bated breath. AND, YES, THIS BOOK IS EXTREMELY WELL DONE!!!!
I am glad that I rated this book with 5 stars 🌟 very next day after reading it. And I'm delighted I didn't even write the review soon after I completed this.
Don't miss Netflix's version of Anxious People! My thoughts: the book is still far superior!
Good news: this fantastic story is set to be made into a Swedish television series. And, fingers crossed, Netflix should purchase this limited series so that we may enjoy it!
Reader insights
Be the first to share your insights about this piece.
Add your insights