wining and dining
but no dashing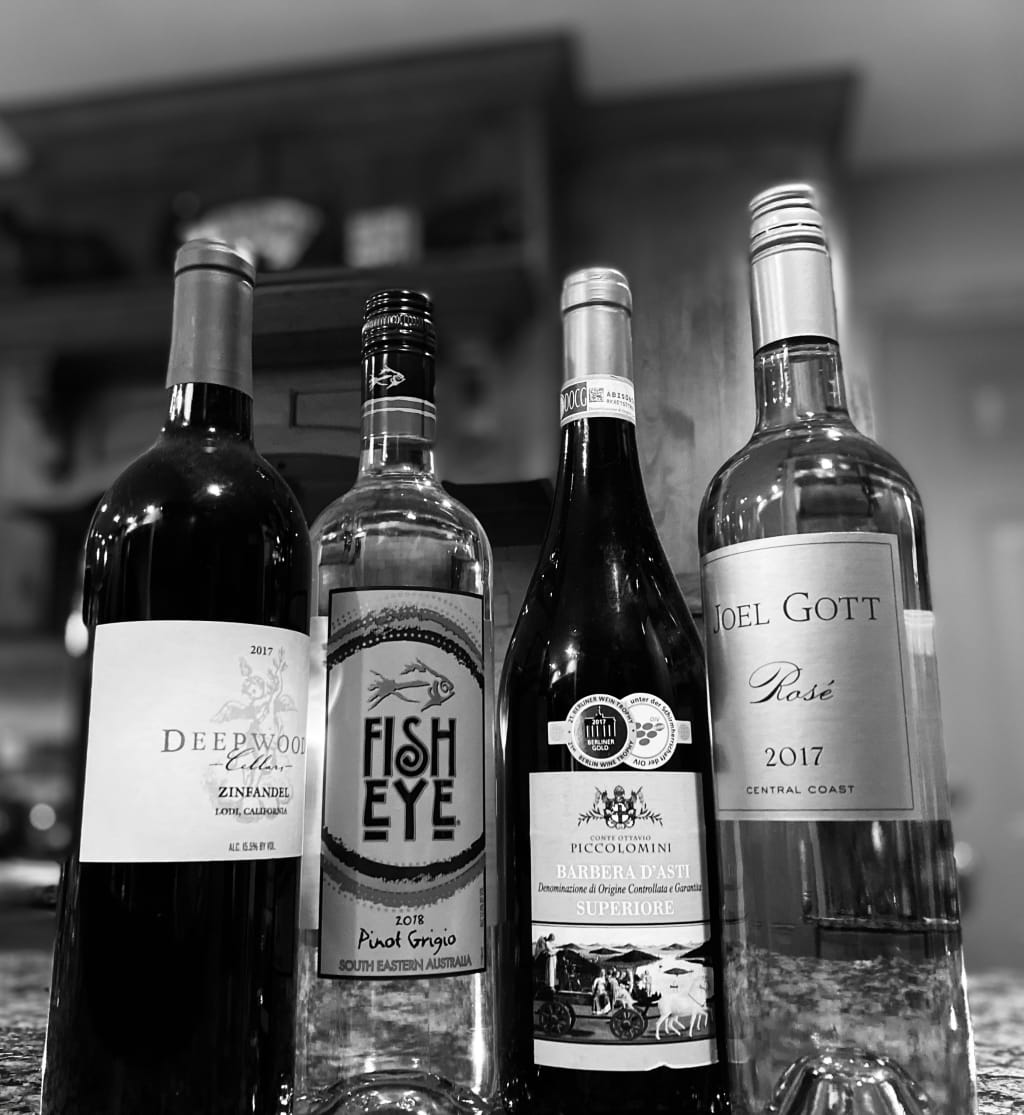 Fish eye is probably my absolute favorite. Give me a nice, sweet flavor and I'll be your best friend forever. I'd share it with whomever is brave enough to join me by the fire pit. What says you? What's your go to bottle when you want to enjoy a night in? And what about food? Cheese and wine or beer and nachos?
I asked a few friends what they prefer. Most usually say a bottle of Moscato wine and either cheese or a form of nut. I can't blame them. Those are really good, safe and classic combos. Me? Fish eye and pizza. Raspberry or strawberry Arbor Mist and carbs. Whether its pizza or poor boy nachos. The occasional burger. When I had moved into an old apartment of mine three or four years ago, a friend brought a couple bottles of Raspberry wine over and my sister decided to get fries from Wing Stop. Ever had those before? Best. Fries. Ever!! And that's how those became my favorite wine and dine combo. My preferred go to when I want comfort food and an excuse to not have to go out anymore for the night because oops. I've got alcohol in my system. Don't drink and drive, kids!
Sweet and salty anyone? Because this is exactly what I get! Don't like sweet wine? Totally cool, move to the left and grab your reds right over there and let me have my moment. Seriously though. Unless you're on a diet, you probably can't go wrong with it. Like seasoned fries? What about salty fries? Or the kind that aren't a hot, soggy mess? Your local Wing Stop can help with that! It is a go to for most people in the form of comfort food. What about classic comfort foods like mac and cheese? Eh. That's good, but we are talking about ME here in this sense. I like a good McDonald's fry. Who doesn't? But who would drink wine with McDonald's food though? Who drinks wine with fries anyway? That's a beer type food. I'm here to break your weeping hearts because I do. My bad. I want the comfort of fries but want that ever so sweet taste of wine to go with it. I absolutely detest beer. It's gross and tastes like sewer water. Sorry not sorry.
Both the fries and wine can be enjoyed around the fire pit without issue. Or those fancy fireplaces. The bottle can be shared and screw you if you dare to reach for my fries. I kid, I kid. You may have the itty bitty one over there. No need to grab the chocolate covered strawberries. Though, I wouldn't turn one down if offered one. At least I'm balancing out the grease with vitamins B12 and C, right? No? Oh well. I'll sleep better at night believing it.
Seriously though. My weird taste for these fries and sweet wine aren't going anywhere anytime soon. They're good anywhere. I would honestly kill for these fries right this second. Thinking about them is making my mouth water and I just ate a crap ton of Thanksgiving leftovers. Wing stop and wine date anyone? I've got the firewood by the pit right now for those brave enough to join me. And good conversations are the only required item you'd have to bring. Cheap entertainment at its finest folks. Bring your favorite fuzzy blanket and we can count the stars and moon if we are finding a random lull in the conversation. Unless you're me and you have a mind full of random, unimportant facts about random things.
I literally crave the company as much as I do the fries and wine. Food, wine and good company are the three things I look for when I'm wanting an enjoyable evening. Added bonus for a raging fire. Whether it's in the fire place or in the pit outside. God, I ALMOST sound like the poster child for "live, laugh, love". Either that or I'm still running off of the Thanksgiving high of being surrounded by family. Either way, what about you? What's your go to wine and food combo? Is it a weird one like mine? Or do you prefer the classic combos of cheese and wine? Are you, again, like me and prefer to sit with a couple of close friends around a fire pit while you enjoy your bottle of red? Or do you enjoy it by yourself while sitting in a hot bubble bath because you need the break from whatever? If I had a tub and alone, that's where I'd hide. I like a good fire pit session though.
wine
Just a nomad with two cats who refuses to live with most of societies rules. And who doesn't like to occasionally change up their views with rent free living?
Receive stories by the nomadic trio in

your feed
Top 7 Vodka Mixed drink Blenders I disdain blending my vodka in with different refreshments and water, however, it's ideal to leave a glass of taking shots at home when you go to a gathering. This rundown incorporates the most mainstream blenders that function admirably with vodka. It features mainstream drinks and presents new beverages that you can appreciate in a joint effort with others. Vodka is quite possibly the most broadly devoured spirit on the planet. You can blend it in with nearly anything. Be that as it may, everything has its own flavors and extents, which is the reason I have gathered a rundown of the 10 most mainstream vodka blenders. So with a rundown of the 10 most mainstream vodka blenders.

You may be surprised to know that full-time bartenders (unless you have an amazing owner/manager who provides a higher hourly base wage) make pretty much the entirety of their income based on the generosity of others, aka tips. That's right, our customers support our livelihood. It's not just "fun money" or extra money; it's our bills, our rent, our groceries, our medications, our doctor visits, our ability to help others - our basic necessities. For this reason alone, you should always tip your bartender.

Men only drink beer and women only drink wine. Right? Wrong. Arrow actor Stephen Amell and longtime friend Andrew Harding stand behind the ideology that dudes can still be dudes and drink wine. In 2012 they created Nocking Point Wines, a winery located in Walla Walla Valley, now home to the popular tri-monthly subscription box service The Wine Club.

Making drinks has always been a big hobby of mine. I was a barista for a few years, and had experience both teaching and attending numerous coffee seminars. I watched the World Barista Championship for fun, and I was practically a caffeine addict by the age of 14 (although that's another story) . Making artisan drinks was fun, and with the amount of time I spent exploring different concoctions, it came to no surprise that I would soon venture towards mixology as well. As an 18 year old from California I wasn't even sure I was legally allowed to attend a bartending school. But one morning I found myself calling a local bartending school for more information, and that same week I was enrolled.

Japanese sake has one of the longest, most storied histories of all alcoholic beverages, yet its tale remains largely unknown outside the country of its birth, or to anyone who isn't a dyed-in-the-wool aficionado. Let's take a fun look at some lesser-known facts surrounding an alcohol that's been called Japan's national beverage.

With all its many styles, variations and forms, the martini continues to be a mainstay among Americans. In fact, the wildly popular martini is the second best-selling cocktail nationwide, according to Nielsen.