The Basics of Margaritas
From Recipes to Fun Facts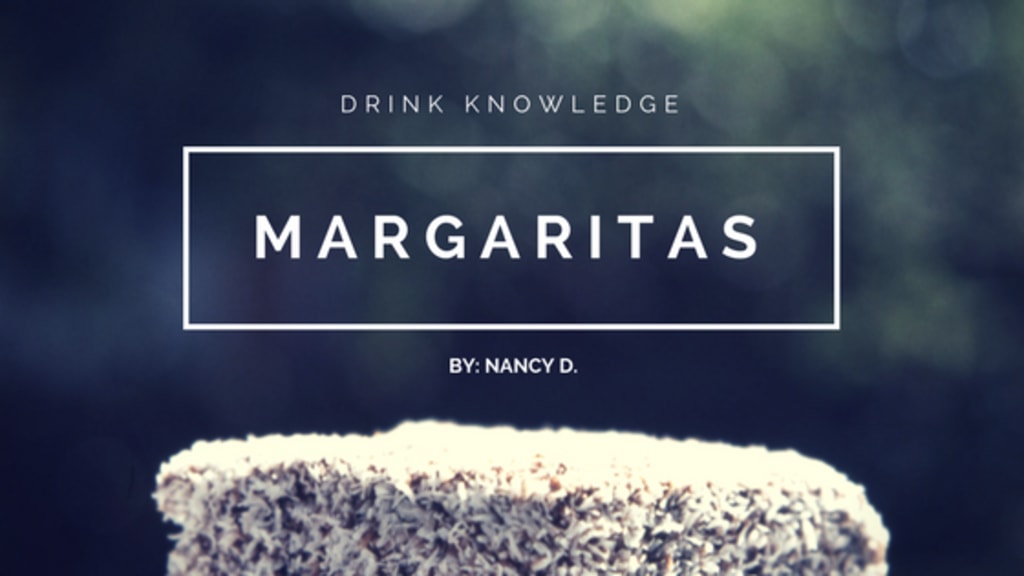 So you want to know more about margaritas? Well, you certainly came to the right place. If you're just looking to learn some new things about margaritas, check out some fun facts! If your looking to make some margaritas, go ahead and just skip below to check out the recipes. If you're a bartender learning how to make margaritas, here are the basics right here: Crushed ice, tequila, cointreau, fresh lime juice, salt rim on glass, margarita glass, and a lime wedge to garnish!
Fun Fact! Margarita means daisy in Spanish.
First things first: in order to learn about the big world of margaritas, we've got to start with the classic!
The Classic Margarita
To make just a regular margarita you will need:
1 ¼ fluid oz of tequila
¾ fluid oz of cointreau
1 ¼ fluid of fresh lime juice
Some crushed ice
A lime wedge to garnish!
It's super east to make! Pour the tequila, cointreau and lime juice ina Boston shaker. Add the crushed ice and shake vigorously for 10-15 seconds. Use a lime to make the rim of the glass wet and dip in salt. Pour the drink into the rimmed glass and add a lime wedge on the rim to garnish.
Fun Fact! It is believed that the original margarita was invented in 1948 in Aculpulco by socialite Margarita Sames.
The Salt Rim
The salt rim is traditional to the margarita and customers will notice if you forget to put it on. Is intended to bring out the contrasting sweet-sour flavours that come from the cointreau or triple-sec. Apparently, on a scientific level, the salt actually suppresses the bitterness of the drink. It also looks pretty damn cool!
A Sugar Rim?
It's true! There are different variations of the traditional margarita that are much sweeter and can allow you to indulge in a sugar rimmed margarita glass! I'm personally a much bigger fan of sugar rims than salt rims.
Other Variations of the Margarita
Passion Fruit, Strawberry Mint, Mango, Bananaberry, Raspberry.
Strawberry Margarita:
¼ cup of fresh sliced strawberries
1 ½ fluid oz of tequila
1 fluid oz of lime juice
½ fluid oz of triple sec
1 teaspoon of white sugar, or just enough to taste it
1 cup of crushed ice cubes
1 lime wedge to garnish!
Use a blender on high to blend the strawberries, tequila, lime juice, triple sec and 1 teaspoon of sugar. Blend for 10 seconds. Then add the ice cubes and blend on high for about 15 seconds.
Rub the lime wedge around the rim of the glass so that the sugar sticks to it. Dip the glass in the sugar and pour the margarita into the glass.
Enjoy!
Mango Margarita
1 ½ liquid oz of tequila
1 liquid oz of mango liqueur
1 cup od crushed ice
lime wheel to garnish
Use the Boston Shaker to shake well and strain into a chilled martini glass.
Passion Fruit Margarita
1 cup of tequila
1 cup of passion fruit nectar
¼ cup orange flavoured liqueur
2 teaspoons fine sugar
A pinch of salt in the Boston Shaker
Shake for 10 seconds then pour into 4 glasses filled with crushed ice. Rub the rims with a lime wedge for the sugar rim, then use the same lime wedge to garnish.
The Margarita Cocktail
¾ oz of fresh squeezed lime juice
1 oz cointreau, triple sec or another orange liqueur
1 ½ oz blanco tequila
Kosher salt on the rim of the glass; use a cocktail or rocks glass
Garnish with a lime wheel and enjoy! Or serve to a guest… that works too.
Fun Fact! The first frozen margarita machine was invented by a high school drop-out named Mariano Martinez in 1971.
Thank you for reading my blog on the basics of margaritas. I hope you liked it! For lots more blogs on bartending and drinks, please check out the rest of my blogs.