How to Make Vodka Gummy Bears
Learn up on how to make vodka gummy bears for the ultimate party snacks you have to try at least once.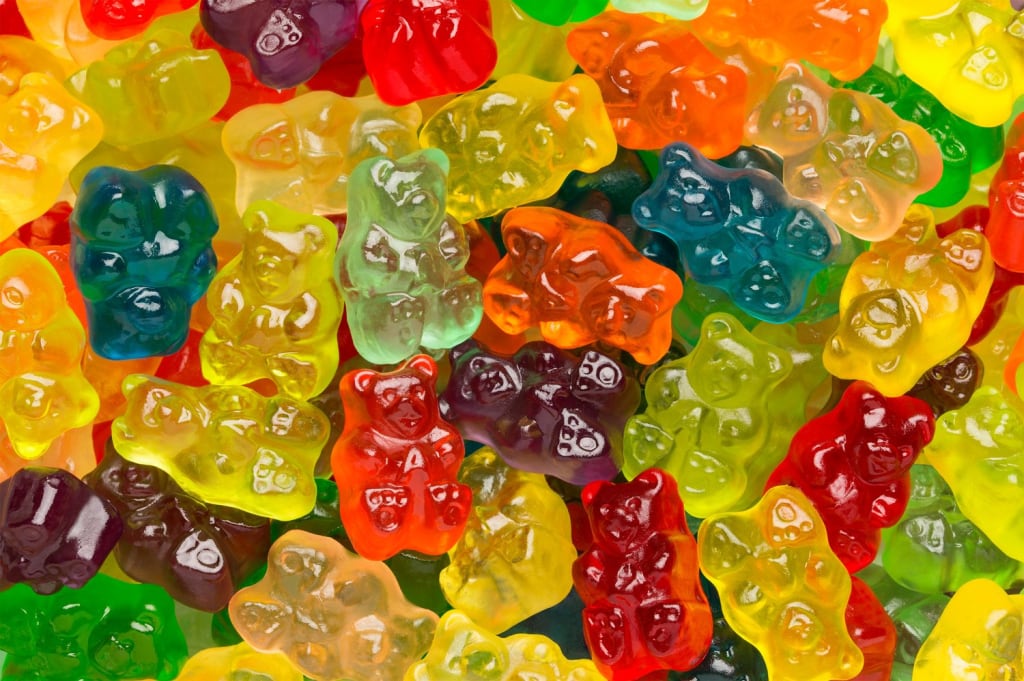 When it comes to simple, yet fun alcohol-centric ideas, vodka gummy bears take the cake. There are really only a few steps to make until the gummies do the rest of the work. And they look super fun to have out as a snack/alcohol option at a party. Or work as a great way to sneak some booze anywhere you need it.
You have to try them at least once, and be sure you're following the best recipe on how to make vodka gummy bears when you do. However, there are plenty of different ways to mix up this classic treat.
We're going to cover all of the classic ways, as well as some fun options, that we're sure you wouldn't think to do yourself.
How to Make Vodka Gummy Bears the Original Way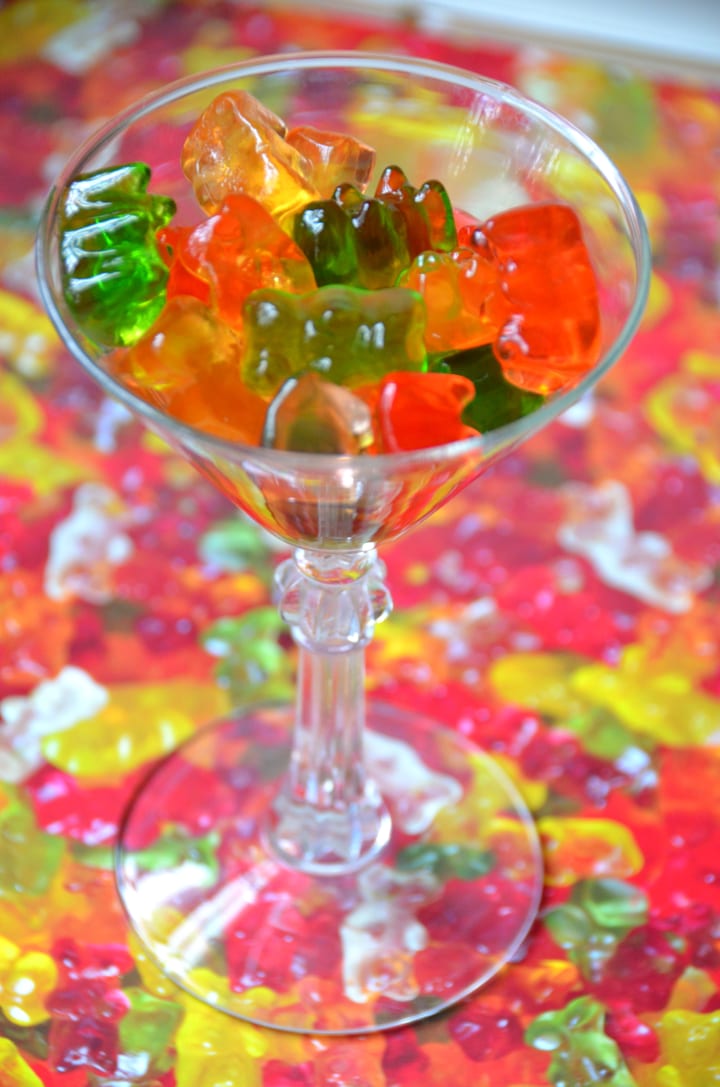 The only two ingredients you need for this recipe, as we're sure you can guess, are Vodka and gummy bears. Three pounds of gummy bears to be exact, and whichever your favorite bottle of vodka is will do.
Grab a glass bowl and dump the gummy bear inside. Cover the bears in vodka, but don't drown them, pour just enough to cover the candy. Then seal the glass with plastic wrap, and play the waiting game.
Wait for the drunken gummy bears to soak up every last drop of vodka, which can typically take up to two days, depending on the size of the gummy bears. You can always taste one of the bears to make sure it has the right flavor, before serving to guests.
If it's not up to par yet, simply allow them to soak for an additional day or just a few more hours. If there's any vodka left, take the shot!
How to Make Vodka Gummy Bears for Holiday Parties
There is always a fun way to take treats and give them a festive twist. This is seriously one of the easiest ways to take an alcohol-related snack and add some holiday flavor.
Since gummy bears come in all different colors and types, simply decipher which ones would work the best with your party theme. Say it's a Christmas party, separate the red and green gummies, or order a specialized pack of them. If it's a beach theme, load some whale gummies up with vodka. And if it's a gender reveal, grab some sour pink and blue gummy worms.
The Choice on How to Make Vodka Gummy Bears With Sweet or Sour
When it comes to classic vodka gummy bears, the recipe typically calls for sweet gummy bears, compared to sour. This shouldn't eliminate gummy worms from the mix. If you're looking for a seriously sour kick that is filled with your favorite liquor, this is a great option to mix things up.
They are made the same way that the classic recipe is, but they just might take a bit more time to soak because of the difference in taste. People also use these gummies to soak in jungle juice or to bring some sour flavoring to their unflavored vodka. However, once the gummies soak all the vodka up, there will be no more exterior sour crystals.
How to Make Vodka Gummy Bears Pops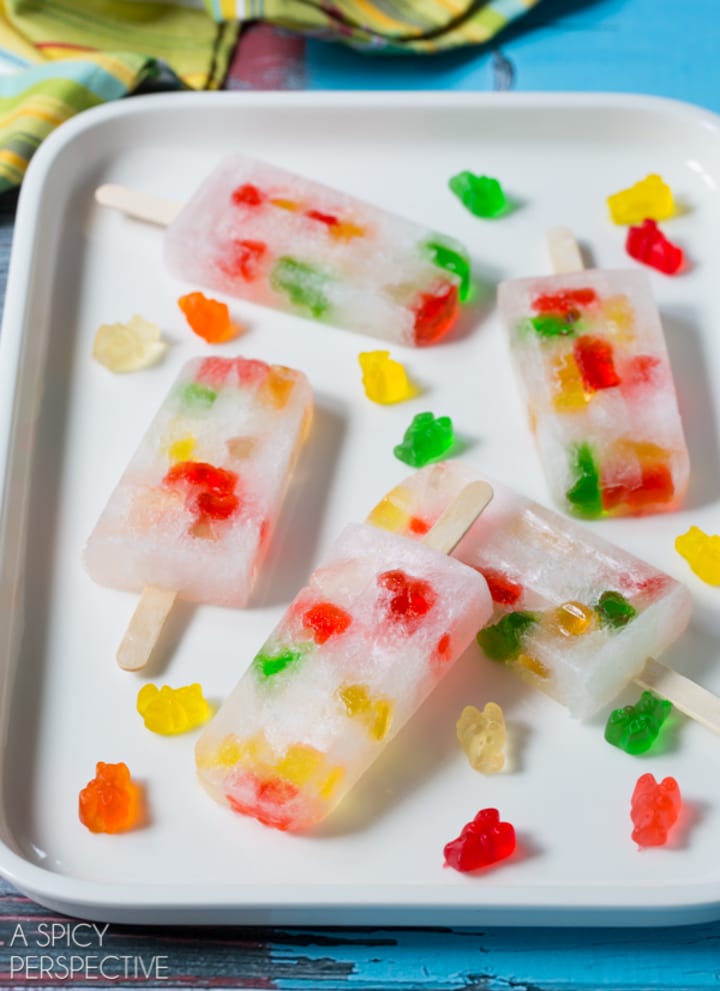 The recipe for these gummy bear pops come from ASpiceyPerspectice and give a fun new alternative to just popping a few gummies in your mouth. Instead, the recipe begins the same way as the original.
After they are done soaking, you must stir the bears and strain a third of them to be placed in popsicle molds. After this, Sprite is poured into the molds, just enough to cover the bears, and placed in the freezer.
You continue to repeat this process until the layers are filled with soda and candy. Each trip to the freezer should last an hour, and your treats should be ready in four.
How to Make Vodka Gummy Bears Hawaiian-Style
The question of which vodka should be used to make vodka gummies is a common one. And the answer is, it depends. If you have a favorite vodka of all time, this will be your best bet.
But if you're looking to switch things up a little, we have discovered a way to created Hawaiian bears, from SpoonUniversity. This recipe calls for Mango and Pineapple Svedka, but could really be remade with any vodka that falls under this taste category.
Because of its intense fruity taste, the vodka-soaked gummy bears combine with the vodka to create a Hawaiin tasting mixture that can be compared to Hawaiian punch.
How to Make Vodka Gummy Bears Sangria
We think that this is one of the coolest ways to incorporate vodka gummy bears into an awesome looking beverage. Created by MyNameisYeh.
Though it takes a few more ingredients than the simple recipe we gave above, it is well worth the trouble. Created with gummy bears (of course,) vodka, white wine, apple juice, fizzy water, apples, and lime.
Make the gummies separately and create the sangria mixture with the remaining ingredients, and you'll have an amazing combination that your guests will be raving about. Plus, it looks super fun.
How to Make Vodka Gummy Bears, Jumbo-Style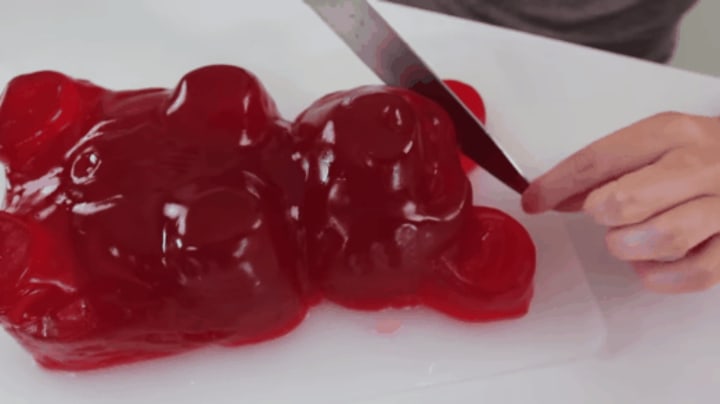 Ever seen one of those incredibly massive gummy bears? Well, Tipsy Bartender has made your alcohol-dreams come true, but infusing one with vodka.
Though it might not be as appealing to eat than a pack of small gummies, it is certainly a conversation started, and will be the talk of the party. The one that he and his assistant used was five pounds, and they soaked it in a tub of vodka.
Specifically, they added vodka, peach schnapps, and coconut rum, for some extra flavor. Dare to try it for yourself?
How to Make Vodka Gummy Bears With a Rum Alternative
Are you a rum fan, compared to a vodka one? There is great reason for this, as rum tends to be sweeter and smoother than vodka, for a few extra bucks. Rum has the ability to carry stronger flavor than vodka can and is a popular choice for cocktails.
So, why not try it with candy?SnapGuide has their own recipe for rummy bears, as they suggest using mango rum for the best flavor. Soak the gummies overnight, and you're ready to serve.
How to Make Vodka Gummy Bears With a Powdered Sugar Topping
A simple way to spice up the vodka gummy bear treat, but one that will separate your treats from the rest. A suggestion made by CarolineOnCrack, serves multiple purposed.
The sugar makes the gummy bears easier to separate, for simple serving, and eliminates that slimy texture that might not be the most appetizing. Plus, it makes the treats that much more sweet, taking away from the bitterness of the vodka.
How to Make Vodka Gummy Bears With Fruit Snacks, Sour Patch Kids, or Other Treats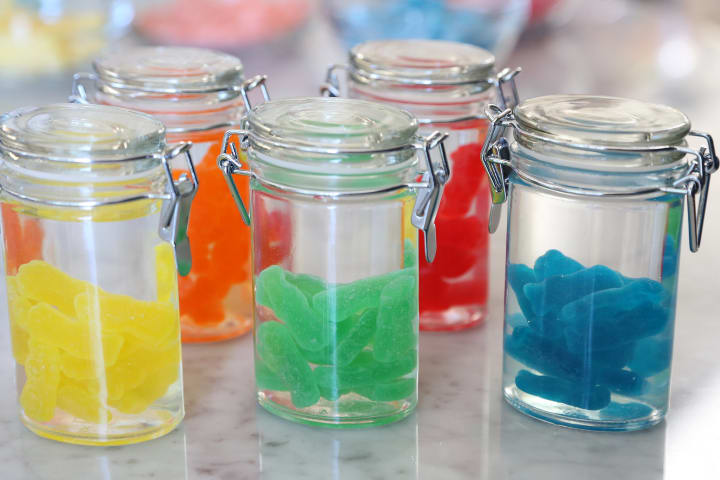 We have covered using gummy worms and sour gummies, but there are plenty of other candies that will work just as great as these do. Have some fun with the possibilities.
If gummy bears are a bit too sweet for your taste buds, try some fruit snacks. And if you want to amp up the sourness, Sour Patch Kids will work great. Other options include Dots, Peach Rings, Lifesaver Gummies, Swedish Fish, Trollis, or even Krabby Patty Gummies.
how to
About the author
Proud mom of three chinchillas, hard core Justin Bieber fan, watches Unsolved Murders religiously
Reader insights
Be the first to share your insights about this piece.
Add your insights