After 500 Years, Rum Makes A Comeback
Once the most popular spirit in America, rum is making an impressive comeback.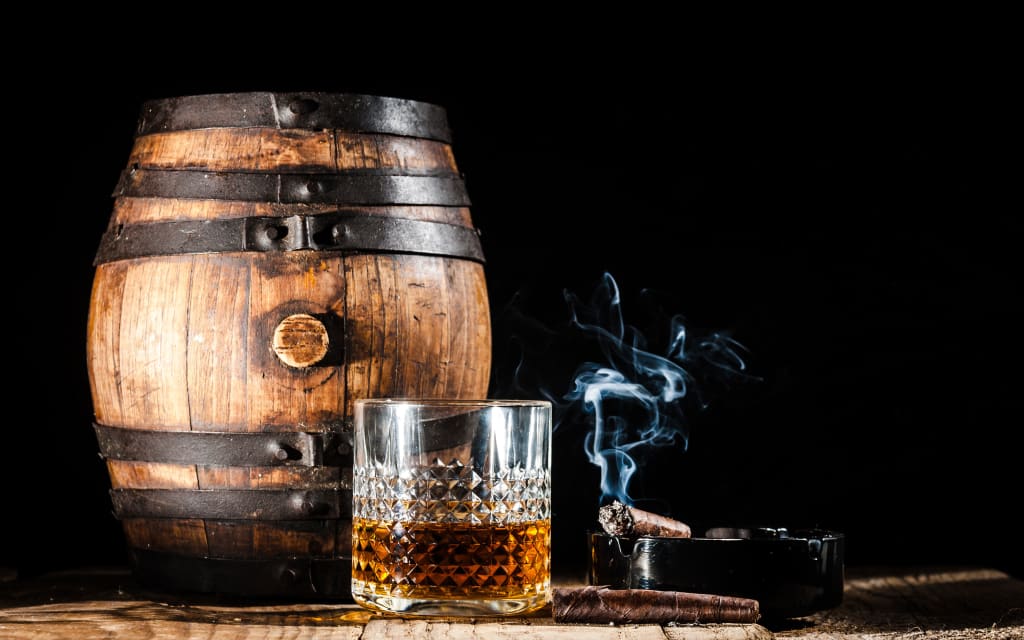 Rum's present popularity in America dates back to 1493, when Columbus returned to the new world with cuttings of sugarcane, which were planted in what are now Puerto Rico, Cuba, Jamaica, and Haiti. When the technique of distillation was introduced to the Caribbean islands in the 17th century, the thick, syrupy molasses that is the by-product of converting cane into crystallized sugar was fermented to produce alcohol, and the resulting mash was distilled into rum.
By the 1760s, rum was the most popular spirit in the American colonies, but in the late 19th century, whiskey—made from grain—supplanted rum as the favorite tipple. Rum began its comeback in the 1950s, and today Bacardi rum is the best selling spirit in America (with Smirnoff vodka in second place).
Puerto Rico produces nearly 80 percent of the rum consumed in the US. In addition to Bacardi, which accounts for nearly half of all the rum sold, other familiar brands include the popular Captain Morgan's Original Spiced Rum, Ron Castillo, Ronrico, Don O, and Boca Chica. Popular varieties of rum are also produced in Barbados (Mount Gay and Cockspur), Jamaica (Myers's, Appleton Estate, and C.J. Wray), the Bahamas (Gosling's Black Seal), Haiti (Barbancourt), Martinique (Rhum St. James), and the Virgin Islands (Cruzan and Old St. Croix). These rums range in flavor from light, refined distillates to rich, complex products that can be sipped in a snifter.
Most Popular Rums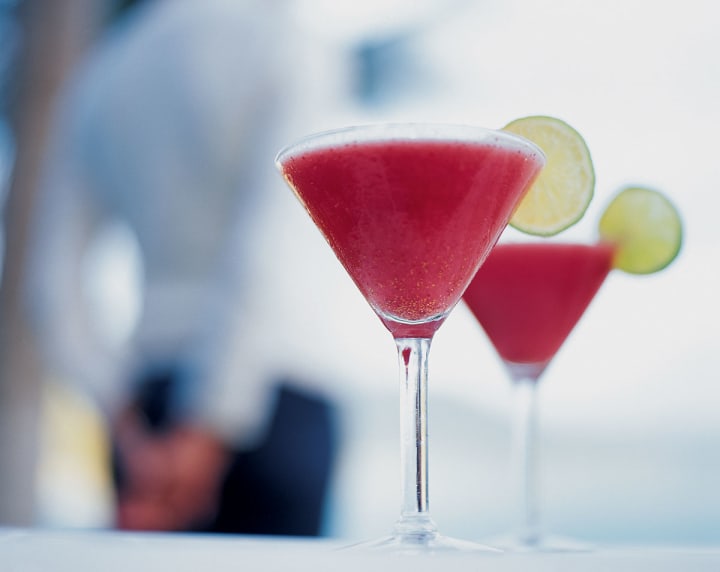 The most popular rums, labeled light, white, or silver (as contrasted to those labeled dark or gold) are ideal in mixed drinks, where they perform the same goes-with-anything function as vodka and tequila. Rum can be served on the rocks with tonic or club soda, and mixes easily with fruit juices—especially orange, pineapple, grapefruit, and cranberry.
The best known rum drink, created in 1896 by an American living in Cuba, is the Daiquiri—rum, lime juice, and sugar shaken together with ice.
To make a frozen Daiquiri, add crushed ice and mix all the ingredients in a blender. Bananas, strawberries, peaches, or mangos can be added to a Daiquiri to give it a particular flavor, as can a dash of apricot or peach brandy.
Vic Bergeron, of Trader Vic's fame, created the Mai Tai in the 1940s. Rum, lime juice, orange-flavored Curaçao, almond-flavored syrup, and rock-candy syrup are shaken together, and the drink is garnished with mint.
The Piña Colada, created in the 1950s, is a mixture of rum, pineapple juice, and coconut cream. The popular Planter's Punch is made with rum, orange juice, lemon or lime juice, sugar, and a dash of grenadine; other versions also include pineapple juice.
Planter's Punch is traditionally made with a dark rum, such as Myers, but some recipes call for a mix of light and dark rums. In fact, many bartenders believe that the secret of a good rum-based drink is to use more than one kind of rum, which adds an extra note of complexity. Captain Morgan's Original Spiced Rum, for example, adds a hint of vanilla to a Planter's Punch and to the classic mixture of rum and coca-cola (which used to be called Cuba Libre). Bacardi Limón, with its lemon-lime taste, also mixes well with cola, is useful in Daiquiris and other drinks that include lemon or lime juice, and can be substituted for citrus-flavored vodkas.
Several rums, including Bacardi Anejo, Myers, and Mount Gay, have enough body and character to be enjoyed on their own in a snifter, like brandy. Some interesting and distinctive wood-aged rums include two Appleton Estate bottlings—VX and the woodier, more complex 12-year-old extra—and the Haitian rums of Barbancourt, such as the spicy five star bottling and the richer, deeper 15-year-Old Estate Reserve.
There aren't many spirits that have been around longer than rum. Though drinks come and go according to popular fashion, rum has come back into the spotlight; sample one of these drinks and you'll soon see why.
About the Creator
Wannabe bartender and whiskey connoisseur. Enjoys exploring new food pairings for any type of drink. Sometimes I travel to different countries with my friends... :)
Reader insights
Be the first to share your insights about this piece.
Add your insights