Beginner Bartender
How To Make Smoked Cocktails and 5 Recipes to Try
Learning how to make smoked cocktails will open the door to endless opportunities for different techniques, recipes, and presentations.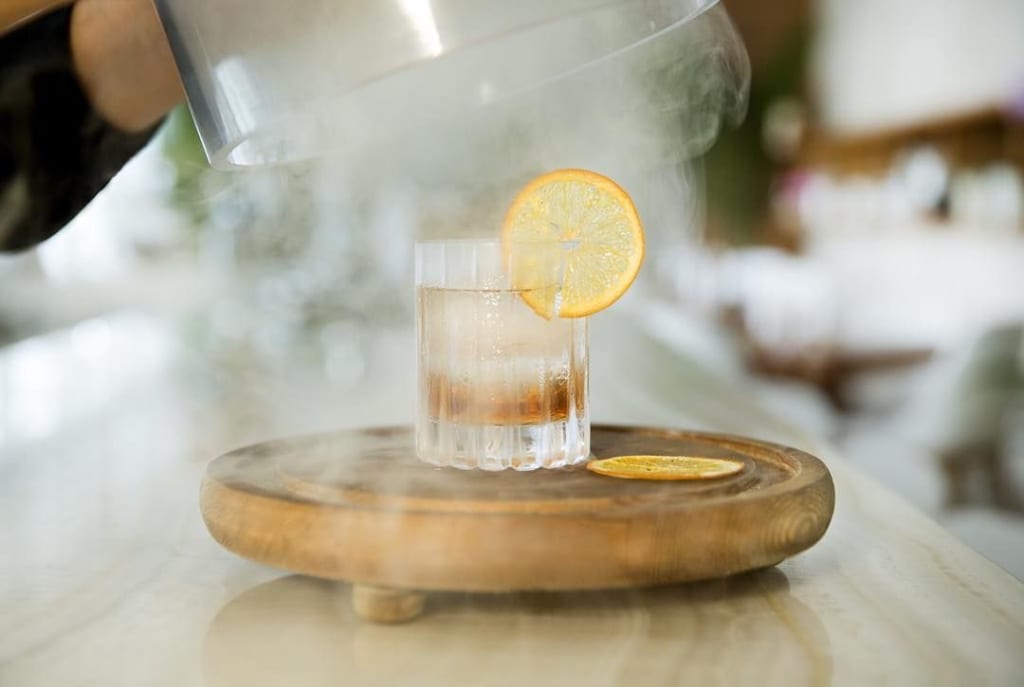 Smoking a cocktail isn't just for the professionals. The process is less complicated than you'd think, and with the right tools and some practice, you too can create a smoky cocktail right in the comfort of your kitchen. Let's learn how to make smoked cocktails, and then put your skills to the test with five tasty recipes to try.
There are five different ways to smoke a cocktail ranging from using smoked ice cubes to a directly infusing a cocktail — you've got options. No matter the process you choose, the results are aesthetically pleasing, easy to complete, and delicious.
Adding smoke directly to your cocktail requires a smoke gun, a tool that will amp up any bartender's game. The Breville Smoking Wood Gun Infuser is a tool used for cheeses, meats, dips, sauces, and of course, cocktails. With a smoke infuser like this, you will be able to directly add smoke to your cocktail in seconds.
To use, you will first fill your decanter or empty whiskey container with smoke, using the small end tip of your smoke infuser to fill the upside down glass with smoke. Then, remove the infuser, and seal it.
The next step when learning how to make smoked cocktails is to create your cocktail like you usually would; then, pour the cocktail into the smoked filled container, shake, and pour.
Coat the glass with smoke.
A more simple way to learn how to make smoked cocktails is to coat the inside of the glass with the smoky flavor. This technique only requires one glass; all you do is fill an inverted bar glass with smoke. Once filled, you quickly cover the glass with a coaster or paper.
Turn it rightside up and let it stand for a few minutes. Once the coaster is removed, immediately add the cocktail to your smoky glass. This will add a boost of flavor and ultimately transform your cocktail. Drink the cocktail immediately while the glass is still smoking.
Smoke your garnish.
Smoking garnishes, fruits, and herbs are all possibilities to add a bit of flavor to your cocktails without completely infusing your cocktail with smoke. Let's start with a way to smoke your garnish: you simply light your garnish on fire, and then blow the fire out after it has created a smoky and unique smell. You should do this just before you serve the drink.
Smoked fruit is generally more of a visual display for most bartenders to incorporate, but it will still add a bit of unique flavor as well. Affecting the taste and the appearance, your drink will simply need a piece or two of smoked fruit to effectively use this technique.
And finally, smoked herbs can be added to the plate your glass is placed on. A subtle yet effective technique, the smoked herb will affect the taste and smell of the drink, adding a homey campfire smell with staves or wood chips.
A smoking box is another great tool to use when learning how to make smoked cocktails. This smoking box comes complete with a handheld smoker by Crafthouse. Place an already-made drink inside of the glass box and use the smoking gun to infuse the box, and your drink, with smoky flavors. With this great tool to add depth and complexity to some of your favorite cocktails, it only takes a few steps to create that authentic wood smoke taste and smell.
Perfect for parties and even better for behind the bar, the view of the swirling smoke is entertaining on its own. You will have some fun preparing your drink and tasting the flavors added by these easy new steps.
Smoke your ice.
While it might sound a bit complicated at first, smoking your ice is our last simple technique for creating a smoky cocktail. Yes, the ice cubes will melt, but once you've let the smoke infuse the water, you will be able to re-freeze the water and have readymade smoked ice.
Placing your ice in a smoker for about 15 to 20 minutes will do the trick, and you've got yet another creative way to add flavor to your cocktails. This is perfect for people who want something on hand that will add flavor to their cocktails, as you can make your ice cubes ahead of time and have them ready to use for the weekend.
Smoked Manhattan
Because it's such a timeless cocktail, the Smoked Manhattan is, of course, the first of our recipes. When learning how to make smoked cocktails, we hope that you will resort to a classic like this for your first shot. You'll need two parts rye, one part sweet vermouth, and two dashes of cocktail bitters—all the components that make a Manhattan a Manhattan.
There are only three easy steps in this recipe by Be Spoke Post. First, pour the rye, sweet vermouth, and bitters into a mixing glass with ice. Stir the mixture and pour into a smoked-filled jar, prepared using our first technique. Agitate for about 30 seconds to a minute, and let the mixture sit for three minutes. Finally, pour into an Old Fashioned glass, and garnish with a cherry, if you please.
Smoked Bloody Mary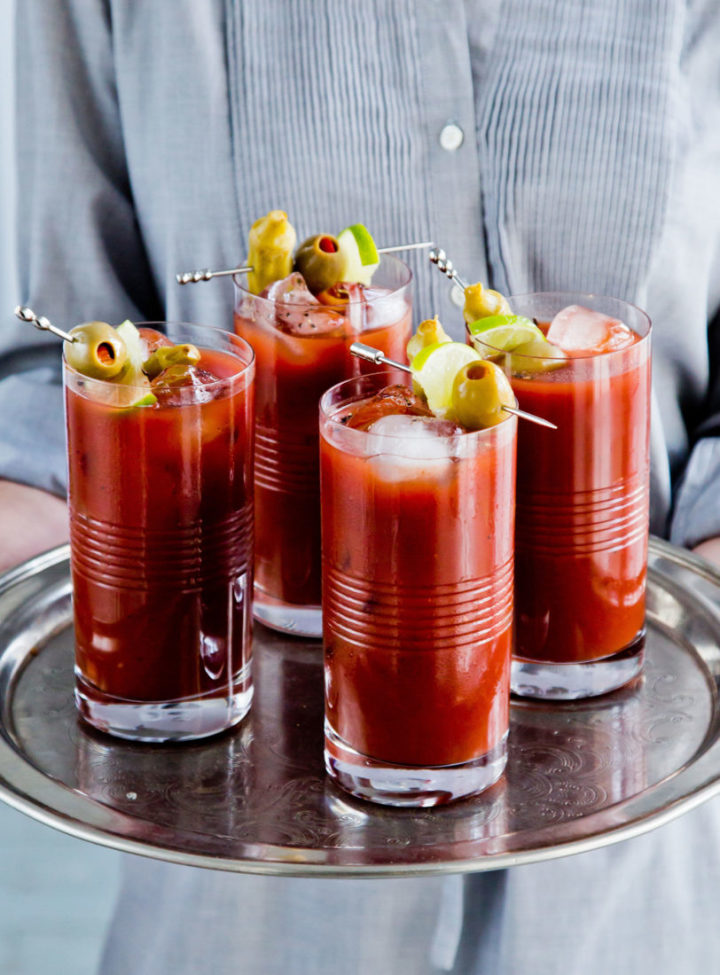 Another recipe by Be Spoke Post, a Smoked Bloody Mary is not everyone's cup of tea, but if you're a fan of the red drink, you'll have to try it smoked as well. With three parts vodka, six parts tomato juice, one part lemon juice, and a dash of Tabasco, salt and pepper, and Worcestershire sauce, the preparation is simple for a unique twist on one of the best brunch cocktails.
First, infuse a glass with smoke and add your Tabasco, Worcestershire, and salt and pepper into a separate desired mixing glass. Then, the tomato juice, lemon juice, and vodka should be stirred together thoroughly. Finally, pour the mixture into your smoke filled glass, and you're ready to enjoy.
Smoking Cinnamon Cocktail
A smoking cinnamon cocktail is one of the better drinks to learn how to make smoked cocktails for, especially if you love a unique taste. You'll need a stick of cinnamon, one ounce of aged rum, one ounce of pineapple juice, and 1/4 of Punt e Mes, Batavia Arrack, and rich simple syrup.
Combine all the ingredients aside from the cinnamon stick in a shaker with ice. Shake the mixture, and light a stick of cinnamon until it begins to smolder on one end. Place the stick on a plate and cover with a coupe glass. Strain the drink into your glass, and you're ready to serve. A great recipe by Imbibe Magazine, the cocktail is one worth trying for the presentation alone.
Dragon's Breath
Dragon's Breath just sounds fun, doesn't it? Another great smoked cocktail, we couldn't forget to add this to our list. If you have two ounces of bourbon and one teaspoon of St. Germain, simple syrup, and Cointreau, you're only three steps away from completing the recipe.
First, use your smoking gun to fill a glass with smoke, turning the glass over to trap the smoke with a coaster. Place ice cubes in a bar shaker, and begin your cocktail mixture. Add bourbon, St. Germain, Cointreau, and syrup to your shaker and stir rapidly. This step should last about 20 seconds. Finally, uncover the smoked glass and strain the cocktail into it to be served immediately. A great recipe by Barbecue Bible, this cocktail will certainly live up to its name each time.
Smoky Martini
To complete your class on how to make smoked cocktails, let's end with what I consider to be one of the best martini variations: a smoky martini. According to yet another recipe by Barbecue Bible, you'll need two ounces of your best gin, one ounce of dry white vermouth, one cup of ice cubes, and a strip of lemon zest.
Fortified with smoke, your martini will begin with a chilled martini glass. Combine your gin, vermouth, ice, and some smoke in a shaker glass. Stir and strain into a martini glass. Release the oils of the lemon zest into the martini, and finally, the best part: light a match and hold it under the zest, dropping it into the martini to be served immediately.
how to