Cocktails
'Have gone from Twee to too complicated in a decade.'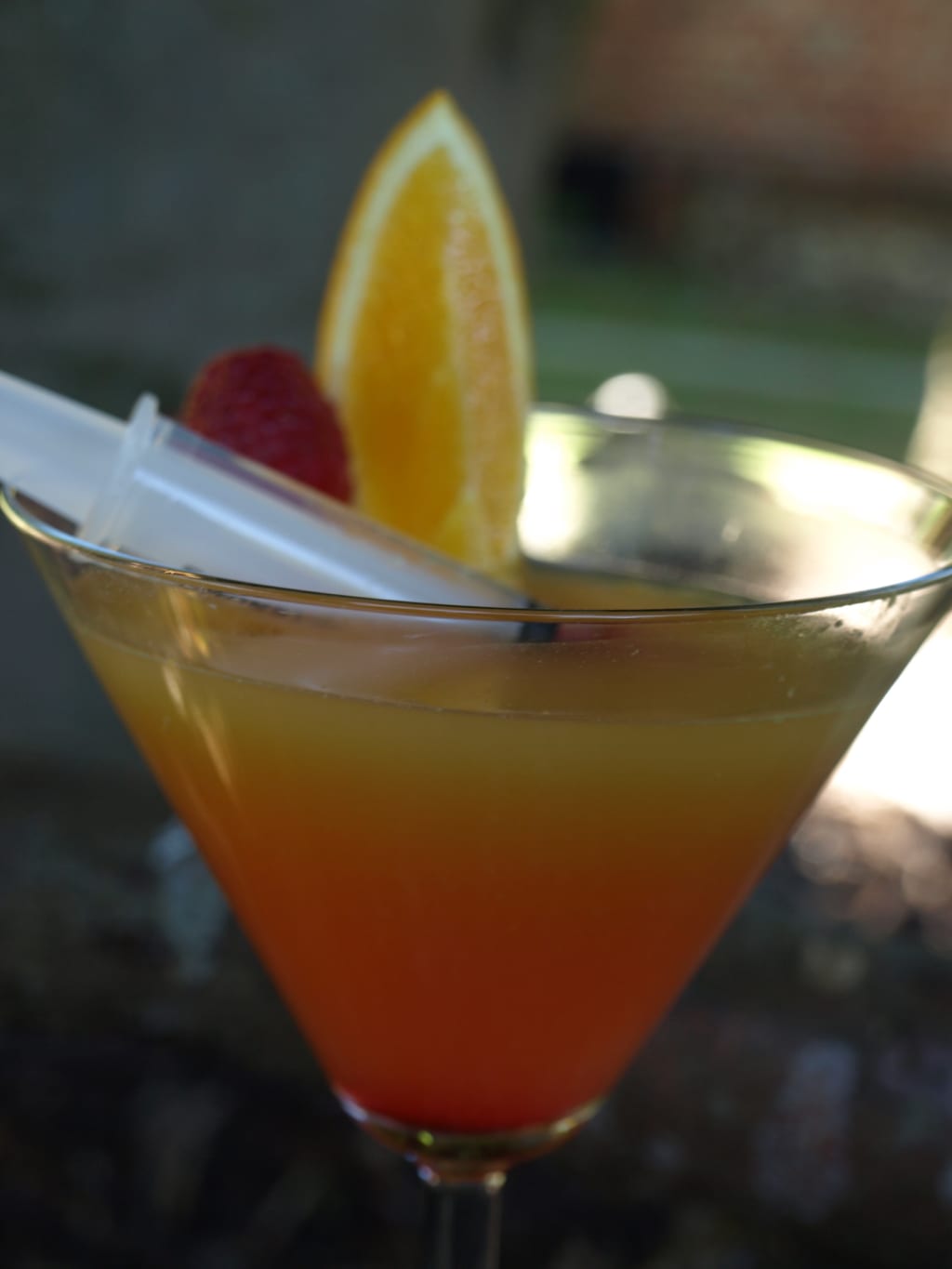 Ok - I made this up for Halloween
I'm proud of the fact that I've been drinking cocktails from teen to now—I never stopped when people took the mickey fin, I never gave up when I'd enter a bar and have to make my own up, I never gave up when people sniggered at my concoctions. I remember the days when cocktails only existed in the best-est of hotel bars.
My revival started when I became the resident chef on Cookery Club. It had its own cocktail section with all the classics and all my blends, too—all in alcohol sections like gin, brandy, and champagne, and a mocktail section too—100s of them. I then taught a mini cocktail lesson as part of my teacher training for Adult Education, and if I'd been drinking them before, I really drank them then. I had a party with a help yourself cocktail bar, with all my own recipe blends on the wall. Friends and family got to know and would ask for a special mix. "What do you fancy," I'd say.
"Something fruity, creamy or hard—over ice, shaken or stirred—with a garnish of twisted lemon or a good old fashioned umbrella!"
So imagine my joy when the cocktail made a comeback. Bars produced menus, Norwich had its cocktail week, house blends went on overdrive, and competitions were won. I could finally go out and drink (I don't drink anything except cocktails—alcoholic-wise, that is, so I tend not to drink).
But there I was on Valentine's night after a lovely Thai meal in Norwich, and we decided to go for a cocktail. I'd heard of a new cocktail bar and wanted to give it a try, so off we went. A nice place, you could hardly see anything because it was so dark, but cool, I suppose. We got the cocktail menu—15 or so made up blends and none of them tickled my fancy.
What's wrong, I thought, with the classics? What's wrong with Sex on the Beach, a screaming Orgasm, or a mojito? Why have cocktails gone all pretentious, all complicated and small? They've followed the food scene with their gastro smallness and complicated forms, making it more about the glass than the substance.
Plus, you get to pay top dollar for the mixology, with cocktails ranging from £6.50-£12 in Norwich. While a double with a mixer is between £3.50 - £7 and, let's face it, a double with a mixer is pretty much a cocktail blend.
So if your budget's not up to a cocktail, ask the bar-person for one of these.
A shot of vodka, a shot of peach schnapps, and top with lemonade. I call it a Cheap Collins.
A shot of gin, a shot of Cointreau, and top with cranberry. Call it a Sneaky Biscuit.
A shot of Malibu, a shot of Bacardi, and topped with pineapple juice. A cheaper Piña Colada by no other name.
Of course, you might not get an umbrella and a cherry, but you do get three for the price of two.
By Zena Leech-Calton
www.lovenorwichfood.co.uk