Best Rooftop Bars in NYC
When the weather is nice and you're feeling thirsty, hit up the best rooftop bars in NYC for some drinks and a view.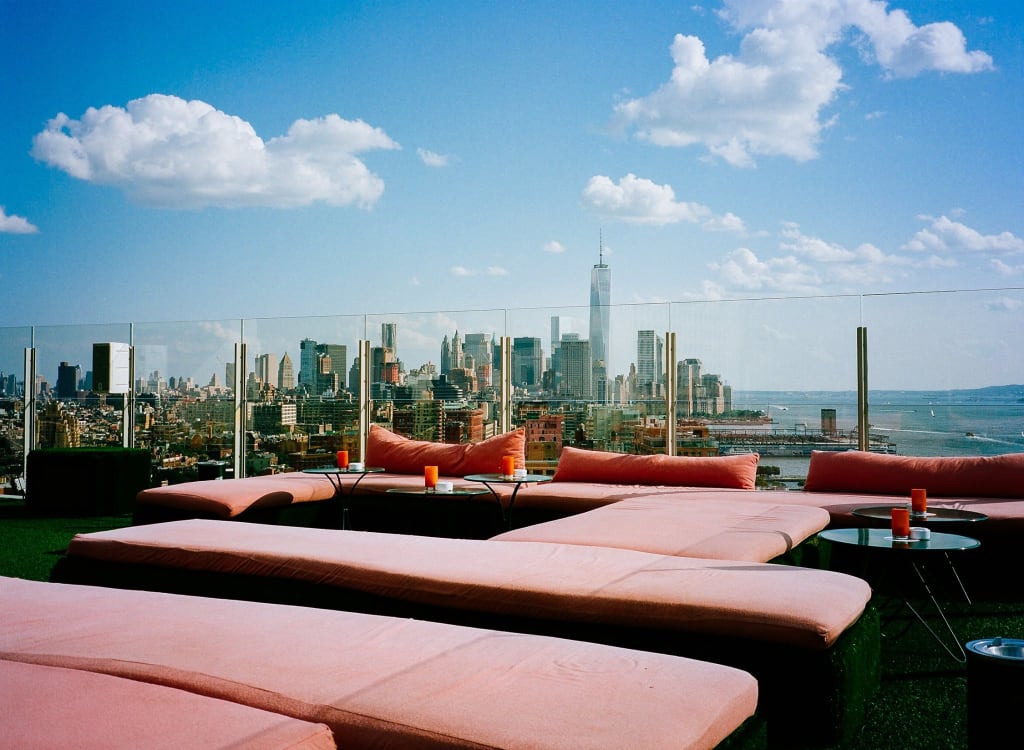 Prior to my current job, I used to be a food critic for a number of publications. During my tenure as a critic, I would go to restaurants almost daily to either practice my reviews and do submissions, or actually do an assigned review.
I loved my job, primarily because it almost always happened in Northern New Jersey and NYC. New York City, in particular, was a magical place to do this because there are so many incredible restaurants and bars to uncover.
That being said, the best rooftop bars in NYC are something that every true lover of a gorgeous skyline needs to experience at least once. They offer great drinks, mouthwatering bar bites, incredible views, and the opportunity to talk to some of the most interesting people you'll ever meet.
The Roof At Park South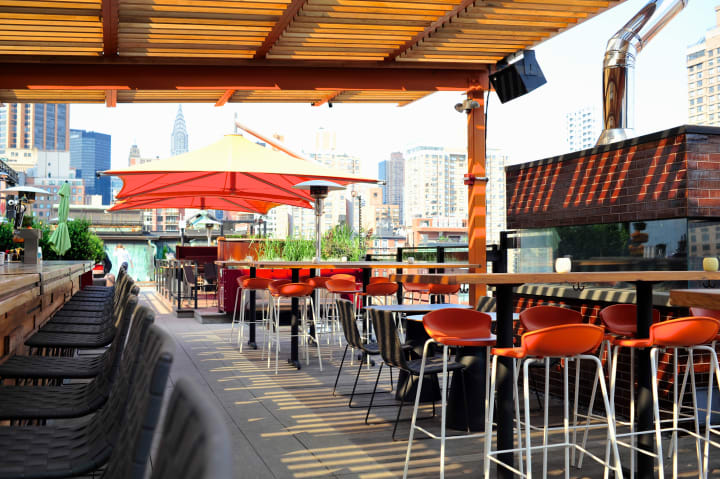 Cited by Time Out New Yorkas one of the best rooftop bars in NYC, the Roof at Park South sits atop Gramercy's Park South Hotel — a prestigious hotel known for bringing in the trendiest in town.
Among those in the know, The Roof at Park South has become a haven for both aesthetics and food.
In terms of aesthetics, this place has all the urbane glamor one would expect to see in a place as glitzy as Park South. Gorgeous brick walls mesh beautifully with the artsy, intimate lighting. A sleek outdoor fireplace, comfortable seating, and world class service make you feel at home.
Of course, all the beautiful scenery in the bar's surroundings don't hold a candle to the great views you'll find at this hotel rooftop bar. Unless you're sitting directly at the bar, you'll see a perfect view of New York City's glittering skyline — and possibly a great sunset, too.
For foodies, The Roof at Park South doesn't disappoint. World class cocktails, a respectable wine list, and excellent cocktail presentation are the norm here. Those of us in the NYC bar scene can tell you this isn't the norm for rooftop bars.
While most rooftop bars coast along thanks to their great views, this one would be equally popular without its NYC skyline, simply because the drinks are so good.
What really sets apart The Roof at Park South from others, though, are their bar bites. Though they do have staples like raw bar platters, the bar's top quality caviar, crudo, and Mediterranean platters would make most food critics proud.
Westlight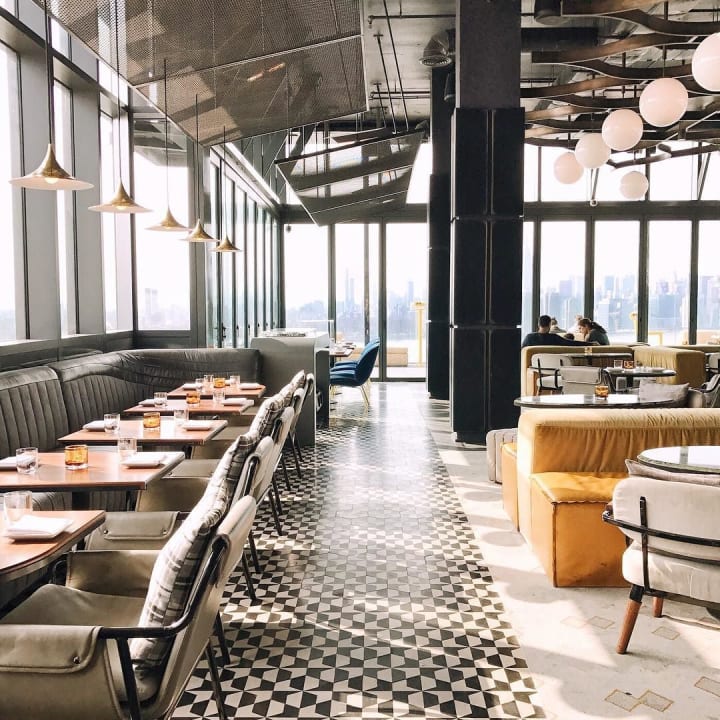 Though Manhattan may be the place where you'd expect to find all the best rooftop bars in NYC, Brooklyn's own Westlight proves that the BK can throw down in ways most Manhattanites wish they could.
This hyper-elegant hotel bar, which is actually part of the William Vale hotel, instantly set itself apart from the rest thanks to its insanely sleek architecture.
Thanks to its unique window settings, this year-round rooftop bar offers panoramic views of the New York City skyline without the possibility of a cold chill wrecking your comfort. Inside, tall ceilings and a spacious layout help cultivate great acoustics — all while the venue's lighting adds an intimate glow to everything.
In terms of food and drinks, Westlight makes a point of cultivating their own cocktail culture and providing a satisfying wine list at all times. Their bar bite offerings, which focus primarily on light, shareable finger foods, have a classically upscale, European twist to them.
The bar bites are primarily Asian-American-Mediterranean fusion cuisine. So, if you love the idea of Duck Carnitas Tacos, Tempura Bass Buns, and Fried Green Olives, you'll adore Westlight.
Westlight is the kind of rooftop bar that people bring people to when they are trying to impress them. Its architecture and layout are impeccable. The clientele are always stylish. And, it already has a solid reputation among the best rooftop bars in NYC.
What more can we say?
Pod 39 Rooftop Lounge and Bar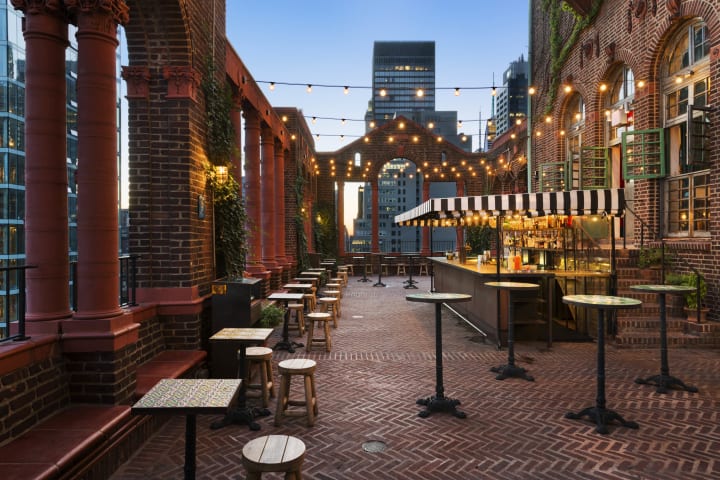 The Pod hotels raised a huge ruckus when they were first developed in New York City, but quickly became some of the hottest hotels in Midtown. Known for being the most futuristically-designed hotels catering to people who want luxury without a price tag in New York City, the Pod hotels are trendy as they get.
Needless to say, it's not surprising that Pod 39's Rooftop Lounge and Bar is one of the best rooftop bars in NYC — at least in terms of atmosphere. It's sleek, but despite the hotel's interior, remains beautifully retro, much like a hidden garden on a rooftop.
Its artistic flair somehow just meshes perfectly with the New York City bar scene, making this a lively, sexy, and incredibly active hotel bar in the heart of Manhattan.
It's fun and whimsical here, and it's a lounge that delivers a great happy hour experience. If you love bars that have a nice Latin twist, this will be a good one to try.
Pod 39 also has an incredible taco restaurant as a quasi-part of the bar. The guacamole is to die for, and you'll probably fall in love with the mouthwatering meat added to the tacos, too.
Though it is pricey, grabbing a pitcher and having friends join you quickly makes it an affordable (and date-ready) night out.
Sabbia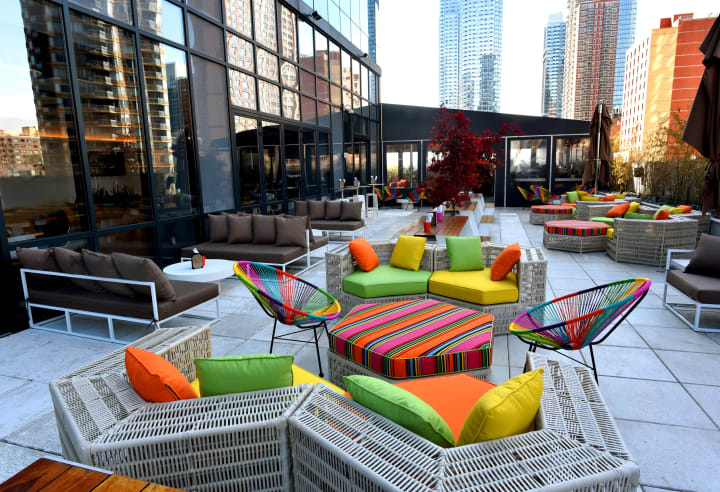 Some of the venues here really emphasize their hotel chain's personal style, but Sabbia doesn't do that. This is because Sabbia isn't a hotel bar — unlike most other bars you'll see on this list!
Rather, Sabbia is the rooftop bar that's associated with Eataly, one of the city's most famous Italian grocery stores. Due to its affiliation with Eataly, you might need to push through tourists to get there, but trust us, it's worth it.
This seasonal rooftop bar has become one of the best rooftop bars in NYC, Bar None, because of its excellent wine list, surroundings, and food.
For foodies, this place is a paradise. Incredibly fresh raw bar offerings, savory meat and cheese platters choices, and some of the very best authentic Italian food make this place a must-see if you love European fare.
The drinks are also great, especially when it comes to their extensive wine list and incredible beer list.
Beautiful greenery, romantic lighting, and old school Italian flair makes this a great date night venue. Of course, the regular events also makes Sabbia a great place to go to if you want to network with fellow foodies, hang out with friends, or even just enjoy some fresh air with the family.
Obviously, there's a reason this place is always packed. It's one of the best rooftop bars in NYC.
Kimoto Rooftop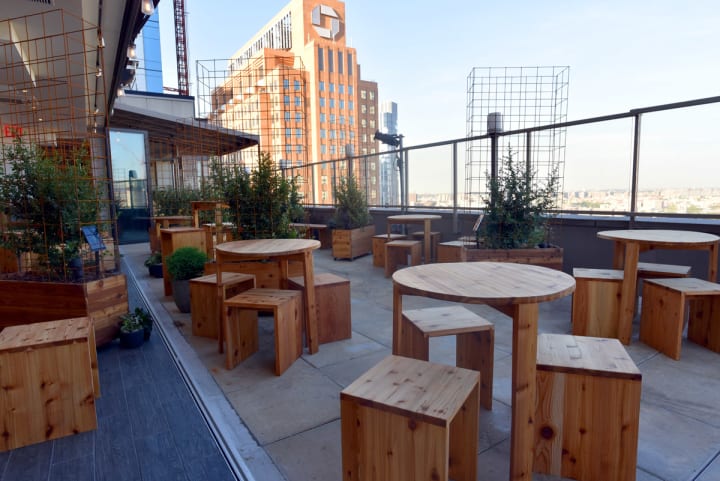 Arguably one of the most innovative rooftop bars in the Big Apple, Kimoto Rooftop regularly gets accolades for being one of the best rooftop bars in Brooklyn — especially in terms of food.
This Asian fusion beer garden sits atop a building in the heart of the BK, and provides excellent views of the NYC skyline. The views are so beautiful, so stunning, that many believe Kimoto Rooftop to be one of the best rooftop bars in NYC for that reason alone.
But, let's talk interior, too. The entire spread of Kimoto is done in elegant Asian-inspired architecture and furnishings, giving it a futuristic, stark, and wabi-sabi aesthetic that makes it perfect for both business meetings and dates.
When you pair that ambiance with its perfect acoustics, it's easy to see why this bar is always packed — and why events here are so popular.
Now, let's talk about their food, which is often considered to be the main attraction. Kimoto Rooftop serves Asian fusion gastropub fare, which means that each dish is meant to pair well with alcohol.
The food here involves super fresh ingredients, inventive twists on traditional pub fare, and also some of the best shareable platters in Brooklyn. Of particular note are their dynamite flatbreads and their roast duck sliders.
Best of all, their cocktails also match the Asian theme, and they taste incredible.
Brooklyn Crab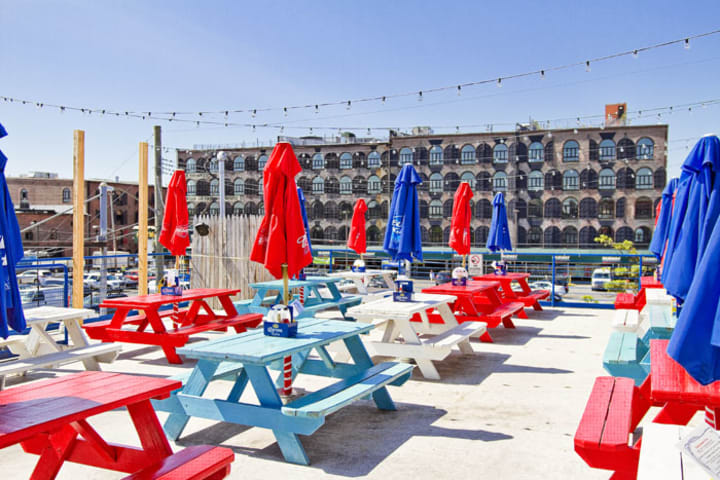 Most of the rooftop bars on this list cater to clientele that are well-dressed, well-known, and well off. They're elegant, sophisticated, and charming — and that's great. However, even the most sophisticated person out there will eventually want to kick their feet up, get into a pair of flip flops, and just enjoy a casual night out with friends.
That's why Brooklyn Crab is one of the best rooftop bars in NYC. It's casual, but it's not too casual.
Brooklyn Crab's rooftop bar is actually the top level of its three-story eatery, and it comes complete with a front and back yard. The entire vibe of the eatery and rooftop bar is that of a friend's backyard party.
Picnic benches line the floors, large "fishbowl" drinks are made to share, and of course, everyone is chowing down on seafood of all kinds. Best of all, the rooftop bar has a perfect view of the river.
As you can expect, everyone here tends to feel like they're at a friend's clambake or barbecue party. It's casual, family-friendly, and absolutely perfect for going out with friends.
In other words, while you do get to enjoy a great night out with friends here, it doesn't feel like the kind of bar that gives off creepy, gross, and grimy vibes. Sure, you might still have to wash off in order to get all the seafood smell off of you, but it's definitely a great time nonetheless.
The Hotel Chantelle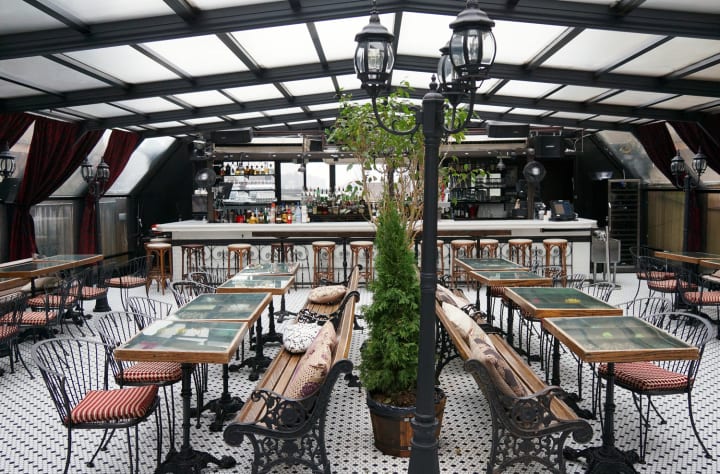 Most people who have gone to the Hotel Chantelle would swear that they just took a trip to a Parisian cafe. Between the classic Parisian decor, the subtle urban tile hints, and the "just out of reach" stencil graffiti, the Hotel Chantelle's ambiance would feel just as at home in the City of Lights as it would in New York City.
Gorgeous views of the Manhattan skyline, though, definitely give a reminder that we're nowhere near the Eiffel Tower. That being said, if you're looking for a romantic, European-style bar that will enchant your date, then the Hotel Chantelle is one of the best rooftop bars in NYC.
Along with elegant views that get you into that perfect French mindset, the Hotel Chantelle boasts one of the best food and drink menus you'll find in Manhattan.
Their house cocktails, many of which are named with French themes, are created by top tier mixologists and are a perfect way to kick off a night. Fans of wines will find their offerings to be more than awesome, and many spirits are also readily available.
Food-wise, this place is a gastronomic paradise.
Even their smaller platters are geared towards elegance, sophistication, and innovative uses of classically upscale ingredients. For example, their deviled egg tasting involves caviar, maple glazed bacon, and lobster as toppings — and all of them are delicious.
Of course, they also offer a number of classic French dishes as well. Classic French cuisine is not dead at Hotel Chantelle.
Best of all, this is one of the best rooftop bars in NYC that is active year-round. Their retractable roof makes this place a great venue, even in the winter.
Lovage Rooftop & Indoor Lounge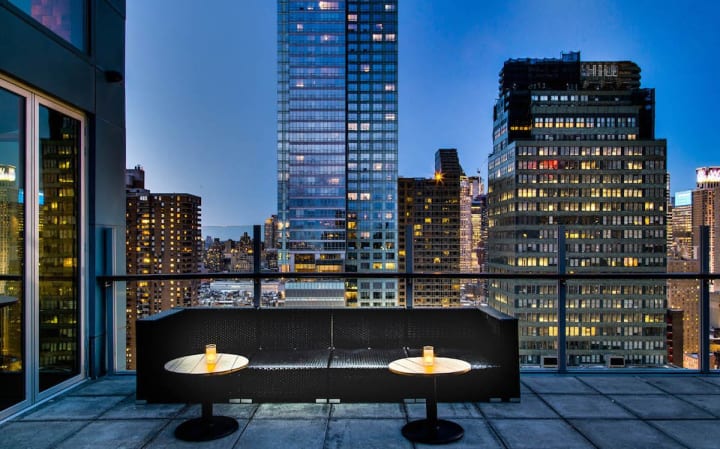 Lovage regularly gets listed as one of the best rooftop bars in New York by both food critics and architects. (Wait, what?) The reason why is because Lovage is one of the only rooftop bars in Manhattan to have a glass rooftop as well as panoramic views of the city's skyline.
When you combine the excellent stargazing opportunities with the exceptionally sleek, modern, and urbane interior design, you have a rooftop bar that was literally designed to rank among the best in the world.
Going here means that you get to sink into plush velvet seats, sip on perfectly mixed drinks, and also enjoy one of the closest looks at the Empire State Building money can buy. Between the great views and the mid-century modern decoration, it's hard not to fall in love with Lovage.
Menu-wise, this venue also manages to impress luxury-seekers with expertly crafted drinks. Their wine and champagne menus also happen to be noteworthy, even when compared to other major luxury venues nearby.
Overall, it's not that hard to figure out why this is one of the best rooftop bars in NYC. It's just awesome.