A Very Berry Christmas Vermouth Cocktail!
You have got to try this!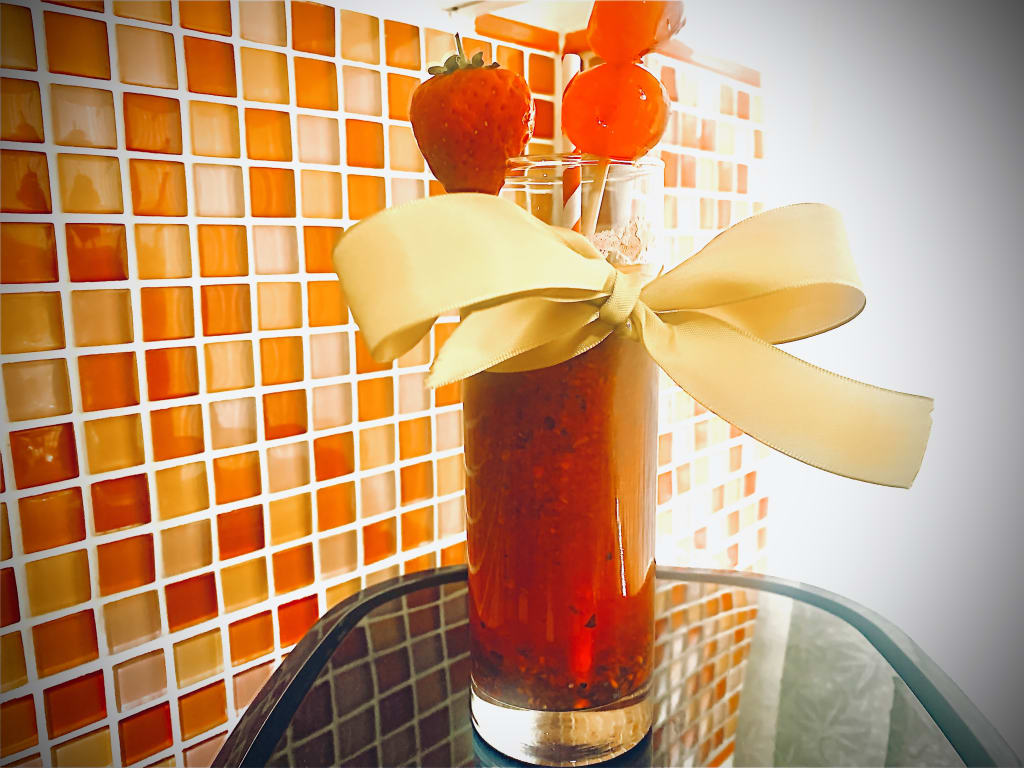 I am passionate about creating tasty Vermouth and Vodka cocktails, especially around the Christmas period. Vermouth makes me feel all warm, cosy and nice inside. It's the perfect drink to sip in the midday as you read one of your favourite books and relax with a piece of dark chocolate. Can't you just feel it all now? (sighs in relaxation).
I came up with the Very Berry Christmas Vermouth after looking far and wide for what to jazz up my common glass with. I have found a number of things, but so far, this one has been my favourite and now, I am going to share the recipe for it with you. You can make it in well under five minutes and it looks divine in a tall glass.
As you can tell, I even topped it off with a little bow in order to make it look like a nice Christmas gift!
The berry and spice and everything nice that goes into this is just one of my many cheesy jokes and also, one of my many great Vermouth recipes. Don't worry, I have been reading yours as well and if you have one coming out soon, chances are I'm going to read that as well. With Vermouth and Vodka being my go-to drinks, I love reading about your recipes for cocktails to make out of them and honestly I have given many of them a try and they taste great!
So as long as you have a tall glass, some ice cubes, berries, a lemon, some ground spices, a bottle of Vermouth and possibly a straw then you'll be able to make this at home in less than five minutes. Top it off with a ribbon and some decorative fruit and you have got yourself a fancy drink to serve to the Christmas guests before you get around to the main course.
I'll also give you some variations of the recipe that taste good.
This recipe serves 3-4 people depending on the size of the glasses and only one person if you're actually me.
Cocktail Recipe
120g Raspberries
60g Blackberries
20g Blueberries
20g Strawberries
10g Cherries
1 tbsp Cinnamon (ground)
1 Lemon Juiced
1 Bottle of Vermouth
How to Make It
Grab a blender
Put all the fruits in the blender whilst saving four strawberries aside
Blitz the fruits once
Add the lemon juice and ground cinnamon
Blitz them once more
Fill each glass halfway with the fruit mixture (do

not

sieve the mixture! The pulp adds some texture)
Fill the glasses another halfway with the vermouth and add ice cubes (I only add two per glass because I like it chilled but not too cold)
Stir the mixture slightly with a spoon or a straw
Put a slice in the strawberries and pop them atop of each glass
Tie a ribbon around each of your glasses and pop in a straw
When you serve them up, allow the ice to melt ever so slightly. You can serve these with some starter bites before the main meal. I recommend either a cheeseboard before or after the meal, depending on your personal choices. Berry cocktails and cheeseboards are to die for. Perhaps some grapes and nuts as well as this can add some savoury flavour through the nuts (I especially love honey roasted almonds).
Some variations on this drink could be:
Instead of adding lemon juice, you could use lime if it is still too sweet for you
Instead of having the raspberries as the main flavour, you can make the blackberries the main flavour by swapping around their values in the drink
Instead of cinnamon, you can add a little some mint. Mint tastes great in a cocktail, it makes it seem quite refreshing and can really add some niceness to the end of a meal. Instead of having an after-meal mint, you get an after-meal cocktail with a tiny bit of mint in it for a great flavour
Instead of the raspberries, you can make your theme cranberry by giving the cranberries a go on their own with the other fruits. A great Christmas flavour, cranberries are bound to go well with the main meal. If you want your drink with your main meal, then I would definitely say to try out the cranberries. The mixture may be a little bit sweeter and a little bit more runny but it tastes amazing with some chicken.
But my favourite will always be this recipe that I have provided you with. Alongside some almonds, some dark chocolate and a good old-time horror movie - this is great as the seasons and weathers get darker and darker. So do the flavours and so does the drinking.