Read This First (VENUS VALLEY Intro)
Queer Philosophers' Forum, pt 1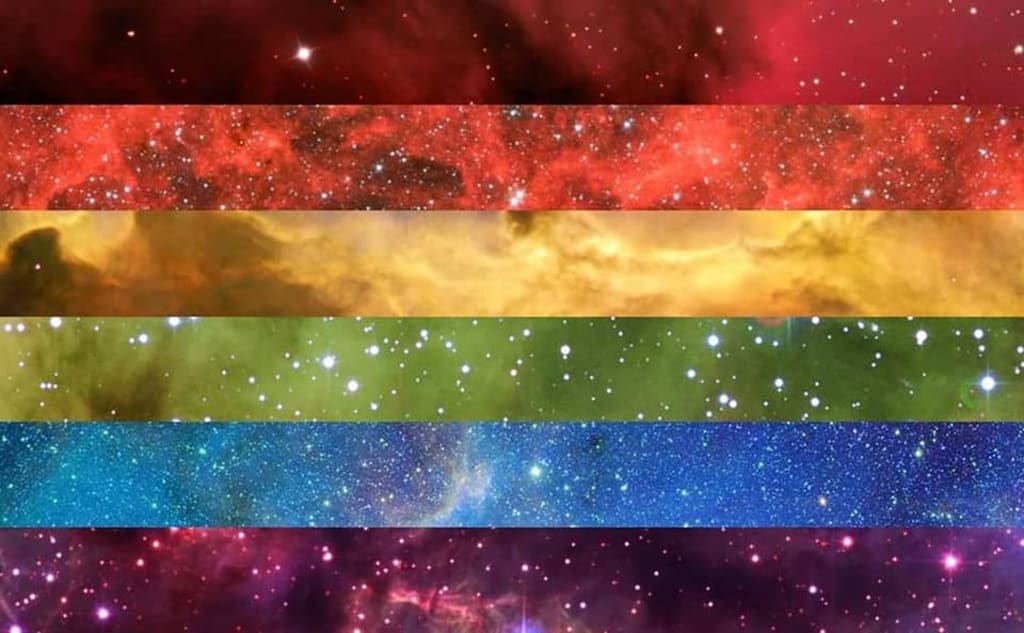 Welcome to my little experiment! I'm making my book-in-progress public, chapter by chapter, so you, queerly beloveds, can debate, discuss, question, contribute - and your inputs will be my edits, until the finished product is full of the voices of our awesome LGBTQIA+ community. Welcome, gentles & lady-men, to Venus Valley, the Queer Philosophers' Forum.
We're going to look from LGBTQIA+ perspectives at the famous philosophers and their philosophies - but, this isn't a book of "queer philosophy" or a book about "the queer experience", at least not exactly; it's just that there's so many kinds of queer experiences that are perfect examples of what the principles we're going to be talking about, look like in the real world. Ah, but what do I mean by "the real world"? There's one question we can talk about later!
There are already plenty of books, films and online content about sexual identity - and they say plenty about philosophy, whether they mean to or not, because when you talk about sexual identity you pretty much have to - in fact, quite a few of them are my source material for this book. So if you're coming to this fresh; if you'd like to have a try at thinking more deeply about sexual identity if you haven't before; or you'd like to look more closely at your own gender experience to introduce yourself to philosophy before you tackle a whole book about it; then here's a quick reading and watching list. These are where I'll be getting a lot of my info that will be in the book, and this list is a quick intro to the ideas I got from them that I'll be feeding into the book. Some of them you'll be expecting to find at the front of a book about philosophy, and some of them you definitely won't!
~*~
READ THESE FIRST!
~*~
CARL JUNG, one of the main founders of modern day psychoanalysis, taught his patients and students about the Anima & Animus: the unconscious feminine shadow in the male, and the unconscious masculine shadow within the female. (He also deeply studied alchemy & philosophy, so as prep for deep diving into his material I also read A History of Philosophy by C.C.J. WEBB and Alchemy & Psychoanalysis by Jung's predecessor HERBERT SILBERER).
STEPHAN HOELLER is a priest in the Ecclesia Gnostica, an alternative meditative "Cosmic Christ" tradition focused on the inner feminine spirit of wisdom Sophia balancing the outer patriarchal form of the church; he writes in detail about how Jung was influenced and inspired by the sacred manuscripts that were the source material for the Gnostic traditions.
DR. GEORGE WEINBERG, while we're talking of psychologists, coined the term "homophobic". Since homosexuality is part of a person's nature, but hatred of it is a learned behaviour, he said, then it's irrational to call the sexuality "unnatural" and the hatred "natural". He also wrote the book Will Power, explaining his self-help psychology with simple examples from...
WILLIAM SHAKESPEARE - Yes, you read that right. The "Upstart Crow" wrote more cross-dressing and gender confusion into his plays than any of his contemporaries, and over 100 love sonnets dedicated to a young man. His Complete Works are said to contain all the emotions of the human experience. One of the only conspiracy theories I find even remotely convincing, is that he was involved in a group of believers in diverse philosophies, from atheism to occultism, who met in secret at a time when laws about religious beliefs and behaviours were too strict to let them be open: the "School of Night". If you're not the kind of person who's into Shakespeare, remember there are plenty of movies that take his stories and move them into the modern day world - Forbidden Planet, West Side Story, My Own Private Idaho, She's The Man, 10 Things I Hate About You, The Lion King, Throne of Blood, Ran, The Bad Sleep Well, A Thousand Acres, Warm Bodies, Get Over It, O, Just One Of The Guys, Men Of Respect, Deliver Us From Eva, and Big Business, to name a few. Forbidden Planet was a big influence on Star Trek; and the Samurai and other traditional Japanese aspects of Akira Kurosawa's Throne of Blood, Ran, and The Bad Sleep Well, inspired the George Lucas' designs for the Jedi in Star Wars.
VIRGINIA WOOLF, the feminist novelist, had a long affair with a woman who dressed as, and publicly took on the identity of, a man; and wrote the novel Orlando for him/her. She also wrote the essay A Room Of One's Own, after being asked to write something on "women in fiction". Women characters in fiction, she says, were mostly creations of men, which meant those men had to express feminine thoughts and feelings in creating them; women writers of fiction, on the other hand, had to learn how to fit into that world of men to be able to function. On a side note, Who's Afraid of Virginia Woolf, written as a play by EDWARD ALBEE and a film by ERNEST LEHMANN, shows a stormy marriage fall apart as neither the husband nor the wife knows how to be "the man" or "the woman" of the relationship the way society expects.
CHARLOTTE PERKINS GILMAN, socialist philosopher, wrote in Women and Economics that men and women were so dependent on each other to keep society going, that seeing them as separate as if they were different races or different species, didn't make sense. Unfortunately she also wrote Herland, in which a future feminist utopia is achieved by eugenics - the restriction of reproduction based on having traits that were desired, or "deserved", to be passed on. Remember to take every philosopher's points of view as products of their time and place that deserve as much critique as praise!
Moving on to our time and place, two youtube channels deserve more than a passing mention here. JAMMIDODGER is run by transgender man JAMIE RAINES, who studied for a psychology PhD using insights from, and studying the science of, his own transition experience from female/feminine to male/masculine. PHILOSOPHYTUBE is run by transgender woman ABIGAIL THORN, who transitioned from male/masculine to female/feminine while studying for a philosophy PhD, and teaches philosophy drawing on her own journey for examples. A lot of her material on sex and gender comes from a writer called...
SIMONE DE BEAUVOIR, who wrote the book The Second Sex (among others), where she compared the histories of women ancient and modern with her own lived experience of being married to the famous French philosopher JEAN PAUL SARTRE. (We might well be looking closer at both of them later on down the line, if you stick with us!)
HEDWIG & THE ANGRY INCH is a musical and a movie about a rock star struggling with their identity after their "sex-change operation got botched" & they're left homeless after the Berlin Wall falls. The central reprising song in the story, The Origin of Love, is based on a passage from famous classic Greek philosopher PLATO's (he had to turn up pretty soon in a philosophy book, right?) Symposium, in which pairs of humans joined bodily together are separated by Zeus' lightning and spend their days searching for each other - the source of the idea of "soul mates" or "twin flames". Children of the Sun are paired men, Children of the Earth are paired women, and Children of the Moon are mixed pairs. We're going to have a long look at sex and gender in the spirituality and religion of ancient Greece when we get to that part of the book!
RENT is a musical and a movie by JONATHAN LARSON (whose own life story is the subject of his other musical "Tick Tick Boom", now a movie by LIN-MANUEL MIRANDA starring ANDREW GARFIELD) about a drag queen who brings hope and happiness to lost and lonely victims of the HIV/AIDS epidemic in 1980s Greenwich Village, New York. I came out of the closet when I was in the cast. Two cast alumni, ANTHONY RAPP and WILSON CRUZ, both of whom are openly gay, are now currently playing the first openly gay regular characters in the Star Trek franchise, as married couple Paul Stamets and Dr. Hugh Culber in Star Trek: Discovery. Another, TELLY LEUNG - also an openly gay man - is currently co-starring with another Star Trek star, the famously openly gay civil rights advocate GEORGE TAKEI, in Takei's play Allegiance. Anthony Rapp's own musical based on his experiences with Rent and beyond, Without You, is currently touring.
STONEWALL, in the same part of New York where Rent is set, is where the Pride movement started in USA, with a riot after a raid by local cops in 1969. Less able to openly stop black people after the successes of the civil rights movements headed by MALCOLM X & REV. DR. MARTIN LUTHER KING JR., American police continued to find excuses to target them by hitting the gay pubs and clubs they frequented. Drag Queens and Drag Kings of colour, including SYLVIA RIVERA and STORME DELARVERIE - later joined by MARSHA P. JOHNSON - fought back at the Stonewall Inn. The anniversary of that uprising was marked by a parade of rainbow flags, bodyguarded by patrons of the local kink and fetish clubs in their leather and chains - the very first Pride event. BAYARD RUSTIN, close confidant of Martin Luther King, advocated for gay men like himself, though they were still considered criminally mentally ill, to be "helped, not hated". In honour of its meaning in USA, Stonewall is also the name of the main LGBTQIA+ rights charity in UK, first formed to fight against homophobic laws "Section 28" in parliament in the 1980's. SIR IAN MCKELLEN - another famously openly gay civil rights advocate - was there for Stonewall's first encounter with British MPs; right-winger MICHAEL HOWARD tried to look good for the cameras by asking for McKellen's autograph, to which he proudly replied, live on camera, "Fuck off. I'm gay." The crossover of civil rights causes is known as inersectionality; in recognition of the black civil rights movements' fight for gay and trans gender Pride, the modern day Pride movement has stood in sympathy, support and solidarity with the infamous miners' strikes in the UK, the grass-roots socialist group Momentum, the CND, Black Lives Matter, the #MeToo movement, Antifa (which, side note, is the name of a book and the philosophy inside it, NOT the name of a group of people), and the school strikes of GRETA THUNBERG. As an expression of intersectionality, black and brown chevrons have been added to the original Pride rainbow stripes to create the Progress flag.
PAMELA "PIXIE" COLMAN SMITH will be a familiar name to anyone who's read my Tarot work (which you can find along with my other blogs on Vocal.Media); she designed and drew the now-traditional Tarot deck, based on the accompanying book by occultist A.E. WAITE, who was in turn working from the Qabalistic philosophy of ELIPHAS LEVI. French writer Levi designed the now-traditional occult image of Baphomet, half-animal & half human: the animal side half-bat, half-goat; the human side half-male, half-female, with erect phallus and lactating breasts. Levi in his turn was inspired by SIMON GANNEAU, who used the title Mapah (Mama+Papa) in the magical rituals of Evadaism (Eve+Adam). Ganneau himself was influenced by the Saint-Simonian school of political philosophy, taking its name from the proto-socialist, proto-feminist DUC ST. SIMON, who taught the need for a "female messiah" figure to balance the patriarchal political power the church had become. THE SATANIC TEMPLE are currently making Baphomet their chief symbol, as they fight for, among other things, LGBTQIA+ rights, freedoms and equality in the USA (The philosophy of the Temple might make a fascinating later chapter of this book, now that I think of it!). RACHEL POLLACK, a transgender woman, is today's leading authority on the Tarot; and also the creator, for DC Comics, of the first transgender superhero Coagula in Doom Patrol in 1993.
And last but not least - speaking of superheroes...
WONDER WOMAN! This even more famous character was created by a psychologist named WILLIAM MOULTON MARSTON, who believed women were the superior sex. He had a wife ELIZABETH HOLLOWAY MARSTON, and his wife had a girlfriend OLIVE BYRNE; both women were sexual dominants, and "shared" him as their submissive. Elizabeth was one of the first to suggest a connection between emotional reactions and the rise and fall of blood pressure - an idea that was instrumental in the creation of the polygraph lie-detector test. Marston combined their qualities into the world's most famous woman superhero, who, instead of putting the bad guys in jail, took them to her island of Amazon warrior women, to learn "the way of loving submission". CHRISTINE JORGENSEN, the first publicly and proudly transgender woman in USA, used a Wonder Woman costume in her stage act. Her life, the stage show she based on it, and the headlines it caused in the American press, inspired the movie Glen Or Glenda by infamously bad filmmaker ED WOOD, himself a cross-dresser. MAGNUS HIRSCHFELD, the early 20th century German Jewish doctor whose work on transvestite and intersex people created the surgical and hormonal treatments Jorgensen benefitted from, could be the subject of several books on his own - especially since the famous book-burning pictures from pre-war Germany were mostly material from his research institute! LYNDA CARTER, the actress who famously played Wonder Woman, has used her fame to promote LGBTQIA+ Pride activism for decades.
(Honourable mention could also go here to the DC character Green Lantern and the writer Gail Simone, but that's actually for the next book I'm writing after this one!)
~*~
Okay, that was a long one and I think my first edit will be to try and cut and condense it a little bit! But anyway, check out the emboldened names above to embolden your own knowledge of the philosophy, psychology and politics I'll be inviting you to debate, discuss, question and contribute to, as this book comes to life. And if you want to be part of the group on bookface where we do just that, click HERE.
~*~
In the next installment, we'll get into why this book is called Venus Valley!
~*~
About the Creator
Genderfluid
Socialist
Actor/actress
Tarot reader
Attracted to magic both practical & impractical
Writer of short stories and philosophical musings
Reader insights
Outstanding
Excellent work. Looking forward to reading more!
Top insights
Easy to read and follow

Well-structured & engaging content

Heartfelt and relatable

The story invoked strong personal emotions

Expert insights and opinions

Arguments were carefully researched and presented
On-point and relevant

Writing reflected the title & theme

Eye opening

Niche topic & fresh perspectives

Excellent storytelling

Original narrative & well developed characters

Compelling and original writing

Creative use of language & vocab

Masterful proofreading

Zero grammar & spelling mistakes
Add your insights