Queer Tarot: Wands
Minor Arcana, pt. 4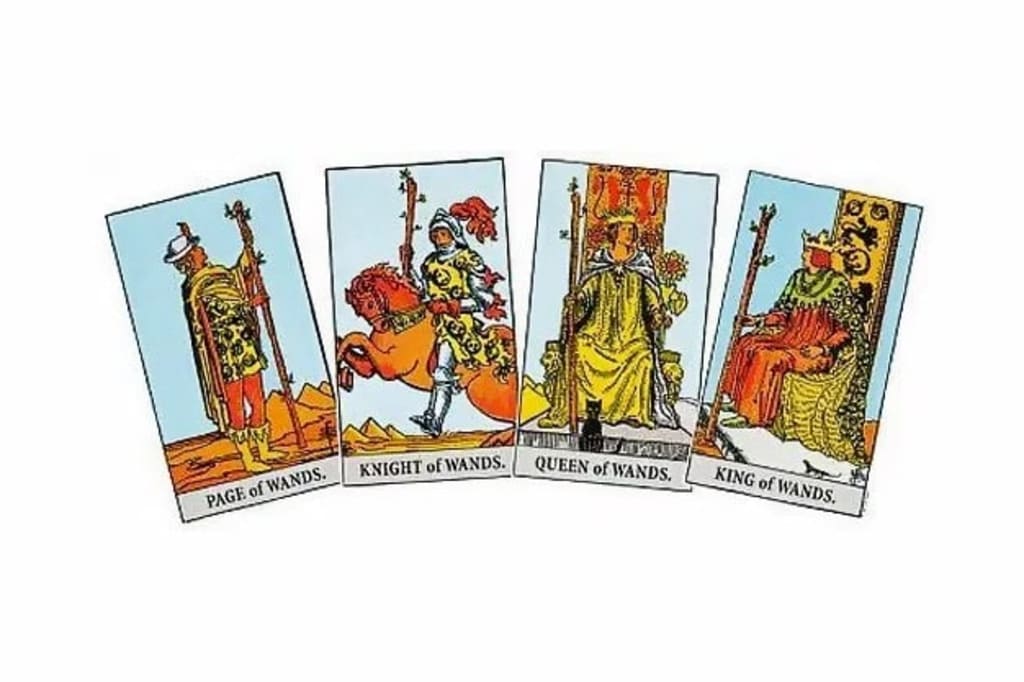 Hello there one more time, my queerly beloveds!
It should have taken a few weeks but instead it took many months, as having covid - and living in a world where covid happens - can take its toll on physical, mental, emotional and spiritual health...
But, gentles and ladymen, here's the final entry in my now-complete series, looking at the Tarot through a LGBTQIA+ lens.
The Tarot is a set of symbols added to playing cards depicting a quest, used for fortune telling and meditation. For a round-up of the first part, the Major Arcana, depicting "The Fool's Journey", click Here. And for the first 3 suits of the next part, the Minor Arcana - the part that has suits like regular playing cards - click on these links for a look at Pentacles, Swords, and Cups
The history of how the Tarot came to be, at least in the form it is now, is littered with queer influences and inspirations, and it influences and inspires queer readers and seekers today. I started seeking out what they had to say, and this series of blogs was born!
This is the fourth and final suit, Wands - of the four suits and their resonance with the four elements Earth, Air, Fire, Water, this is the Fire element suit; of the resonance with the four parts of self - Mind, Heart, Soul, Strength - this is the suit of the Soul. The symbol of the inner self that shines regardless of the outer form is a connection that will make sense for queer readers and seekers in a unique and priceless way, so let's have a look at it!
The Ace: A staff stands tall in a hand rising from a cloud, glowing.
Pamela Colman Smith, the artist who designed the modern Tarot, "never married or had children; after she died, left her estate to her female flatmate"; and was known to her friends as Pixie. I think we all know what that means. She let her inner fire shine and stood proud.
The 2: A figure looks out to the horizon leaning on 2 standing staves.
Pixie's designs were based on A E Waite's writings, an occultist who was balancing his tastes for mysticism and modernity, witchcraft and Christianity. Ever felt like defining ourselves as LGBTQIA+ leaves us as "wanderers between worlds" as an occultist might say?
The 3: In a triangle of 3 standing staves stands a figure holding a globe.
A E Waite's writings were influenced and inspired by Eliphas Levi, a Qabalistic philosopher - a path that believed in the "middle pillar" between the masculine and feminine elemental energies of nature was the key to the divine.
The 4: In a square of four standing staves, a couple dances.
Eliphas Levi gave us the image of Baphomet, which anyone into magic knows when they see it - a "devil/demon" half animal half human; the animal part, half bat half goat; the human part, half male/masculine half female/feminine, with erect phallus and lactating breasts. Within the physical world of "3 dimensions, 5 senses, 4 walls" as JRR Tolkien is supposed to have said, dance the energies we define as male/masculine and female/feminine, in tandem. Beyond whatever your physical self is made of and shaped by, lives an inner self where that dance happens.
The 5: a melee of 5 raised staves cross as their holders try and surround and compete with each other.
Old English folk dancers would fake-battle until their crossed sticks or blades would make a pentacle - a dancers' symbol, not a demonic/devilish one. How many of us LGBTQIA+ people have been told we're devilish or demonic when all we want to do is dance! Levi's Baphomet image - conservative christianity's idea of what devils and demons look like - is right now being used as a mascot by the Temple of Satan in the USA in their stand for LGBTQIA+ rights , equality and freedom against religious bigotry and prejudice.
The 6: A rider arrives raising his staff, surrounded by well-wishers raising theirs.
As A E Waite was influenced and inspired by Eliphas Levi, he in turn was influenced and inspired by Simon Ganneau, a proto-socialist, proto-feminist political thinker and magical practitioner. Whatever your politics about other things (money, the military, whatever) don't you think standing up and being ourselves - coming out of the closet with pride - would be easier in a feminist socialist world we could be living in, than the patriarchal capitalist one we've got now?
The 7: A figure raises their staff to face up to those raising staves around them.
The magic system that Simon Ganneau practised was Evadaism - a name made by joining Adam & Eve - and his title within it was Mapah - made by joining Mama & Papa; he dressed androgynously and hermaphroditically to express it, to express himself. Standing out is harder, but at the same time healthier and happier than staying inside yourself.
The 8: Staves race like comets and lightning bolts through the sky.
The proto-feminist, proto-socialist politics that Mapah followed was the St. Simonian school - which said that the more modern life was based around things that are changeable by nature - like machinery, or money - the more we have to be willing to flex and adapt our moral code to the new day. Spirit or soul is a flowing, running, moving energy; still water stagnates.
The 9: A fighter leans on his staff in front of 8 others staked into the ground.
The spiritual side of the St. Simonian school that attracted Mapah was the idea of the Female Messiah, whose coming was needed to balance the privileged patriarchal position of power the traditional church had become. Life as part of the LGBTQIA+ community can be a battle when we're surrounded by people who are fixed into the toxic masculine "alpha" mindset (which isn't a real thing in nature, by the way, whatever they claim), others who try and drive a wedge through the middle of our own community isolating LGB from TQIA+. But each and every one of us is still here because we survived it this far. and in a struggle that often costs lives, surviving and keeping on living our truth is a victory in itself.
The 10: A traveller carries the weight of a stack of staves up a hill to a distant destination.
A key source for today's readers and seekers, now that we're 100 years on from A E Waite's book that inspired Pixie's designs, is Seventy-Eight Degrees of Wisdom, by Rachel Pollack - a Jewish transgender woman, who clearly knows double what it's like to be looked at by disdainful eyes for who she is. But no matter how much they rage against your identity, they can't do what they think they can do - they can't change the fact that it is your identity.
The King, the Queen, the Knight, the Page
As each separate suit has its elemental energy, so each of the four Court Cards that complete each suit does too, showing the ways the essence of the suit can manifest to you. The Page, a fresh face brings it in anew, or you rediscover it with your inner child; The Knight, it flows within you and empowers you to act; The King or the Queen, it balances you by bringing it what was incomplete - of course, whether the missing energy you need for balance is the masculine or the feminine, depends completely on what your identity is. And everyone, whether gay, trans, nonbinary, asexual, or anyone else within the "+" of LGBTQIA+, has and needs, masculine and feminine, whether inside or outside.
Which brings us neatly, as the finale of this series, to the fact that Tarot readers and seekers have a card that we all feel is particularly, personally, your card, a card whose image and its meaning is uniquely you. Mine is the card we've ended on - the Queen of Wands. Simply because, as a femme-presenting assumed-male-at-birth... I'm a Queen, and I have a Wand.
So often, living with your unique LGBTQIA+ identity, the image in the mirror isn't a true reflection of your Self. Spend time with the deck, see if you see the image that feels like it's a reflection of the real you.
~*~
If you'd like a personal Tarot reading from me online, looking at things from these kinds of perspectives, you can reach me by clicking Here - and if you'd like to join my LGBTQIA+ Tarot group on bookface, you can do that by clicking Here.
About the Creator
Genderfluid
Socialist
Actor/actress
Tarot reader
Attracted to magic both practical & impractical
Writer of short stories and philosophical musings
Reader insights
Outstanding
Excellent work. Looking forward to reading more!
Top insights
Compelling and original writing

Creative use of language & vocab

Easy to read and follow

Well-structured & engaging content

Excellent storytelling

Original narrative & well developed characters
Expert insights and opinions

Arguments were carefully researched and presented

Eye opening

Niche topic & fresh perspectives

Heartfelt and relatable

The story invoked strong personal emotions

Masterful proofreading

Zero grammar & spelling mistakes

On-point and relevant

Writing reflected the title & theme
Add your insights