A Gender-neutral Graduation Includes Everyone!
It's past time for schools to do away with graduation gowns in different colors for BOYS and GIRLS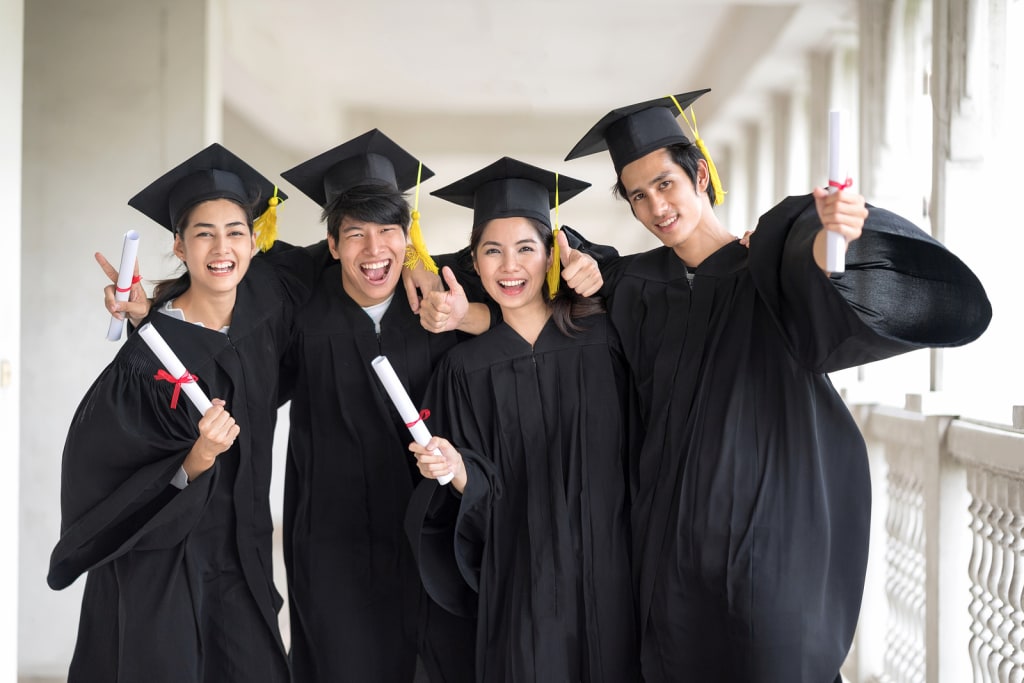 Classic black robes look nice!
I first spied him carrying chairs across the lawn to the area where the tables and food were being set up for the graduation party. He was dressed like a typical Midwestern teenage boy: jeans, t-shirt, Converse Chuck Taylor sneakers, a trucker cap atop his buzz cut, and a loose-fitting tee that didn't do much to hide the fact that his chest was tightly bound underneath. If I had to guess, I would bet that he was using a combination of ace bandage, plus a smaller, tighter tank beneath his clothing. I shuddered to myself, imagining the physical discomfort, especially on that particularly balmy June afternoon. Not to mention any emotional or psychological discomfort that they experienced as a trans teen in small town, USA. I thought all this to myself, as it was certainly none of my business. Still, I often find myself casually keeping an eye out for queer and BIPOC kids when I'm visiting areas that are traditionally conservative.
The next time I saw him, he was wearing a graduation gown. A white one. All the girls wore white, and the boys wore blue. Seeing him in that white cap and gown broke my heart a little bit. We still hadn't met, but I imagined what he must have been experiencing – was it fury or merely resignation? Were his parents pissed on his behalf, or were they also pressuring him play along and smile so they get some good pictures of him presenting as female?
I watched the students line up to receive their diplomas, feeling emotional as the first bars of "Pomp and Circumstances" played them in to the auditorium. Seeing the kids separated by binary sex, I wondered how many queer, trans, intersex, and questioning kids were misrepresented or misgendered on their "big day." How many kids didn't feel like they could be themselves on a day meant to celebrate them?
I watched as my loved one crossed the stage, and cheered embarrassingly loud when their name was read. Their young friend was several people back in the line, and I watched as they nodded politely and quickly grabbed their diploma after the principal called them to the stage: "ANGELA MARIE JACKSON." I applauded, but inside I groaned, thinking that if this wasn't already a dead name, that it soon would be.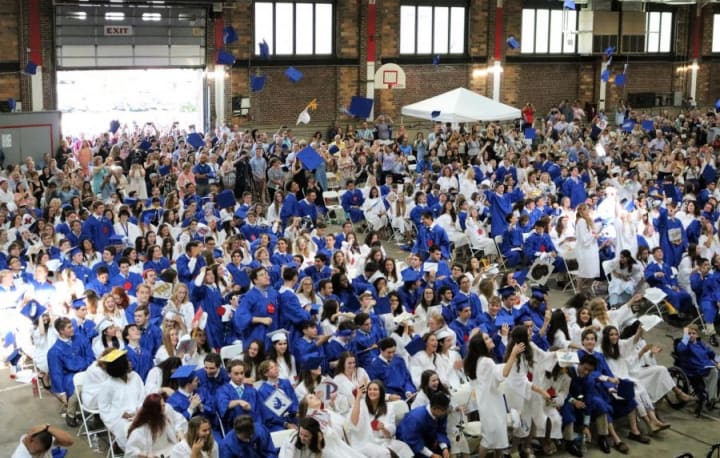 Many hugs and photos later, we rendezvoused back at the house, where tables and plates overflowed with potato salad, watermelon, and fried chicken. I was sitting alone at a long table, people-watching and enjoying a seat that wasn't a stadium bleacher. My middle-age was effectively serving as a cloak of invisibility, and I likely went unnoticed as some distant relative of one of the kids. The young man – whatever his name was – sat down, at my table, as did his girlfriend, whom I knew slightly. They were waiting for other friends to join, but at that moment, it was just the three of us. We exchanged a few pleasantries, then the girlfriend introduced me by name, carefully avoiding mentioning her boyfriend's name. I said the obligatory "pleased to meet ya" statements, expressed congratulations on their graduation, and shook hands. Following the handshake, I held their hand and their gaze and, looking them in the eye I said "I'm sorry, I missed your name. What is it?"
I saw the moment of panic cross his face.
Indecision.
Uncertainty.
Embarrassment.
Rather than answering, he flushed a bit, then his eyes cut to his girlfriend for a moment. She smiled, nodded, and said: "it's okay, go ahead."
"An..angel" he answered meekly.
"Oh yeah, I saw that in the graduation program. I wondered, is there another name that you prefer to go by?"
His held breath escaped in a woosh, and the hint of a smile crossed his lips.
Again, his eyes cut to his girlfriend. Was this a setup? A trap?
This time she gave him a little nudge.
Softly, shyly, he blushed again, then said: "Jack. I'm Jack."
"Nice to meet you properly, Jack. You can call me Alli. I use she/them pronouns. What do you prefer?"
"Wh…HIM!" he managed to stammer, still smiling.
"Good deal. Own that shit, Jack. It gets easier. So do you have any plans after graduation?"
Soon Jack's friends joined us at the table, and I once again faded from the scene, but I think about Jack and kids like him frequently.
It's been a number of years since that particular commencement, but the troublesome practice of dividing children into graduation robes based on the sex that they were assigned at birth continues, and it needs to stop.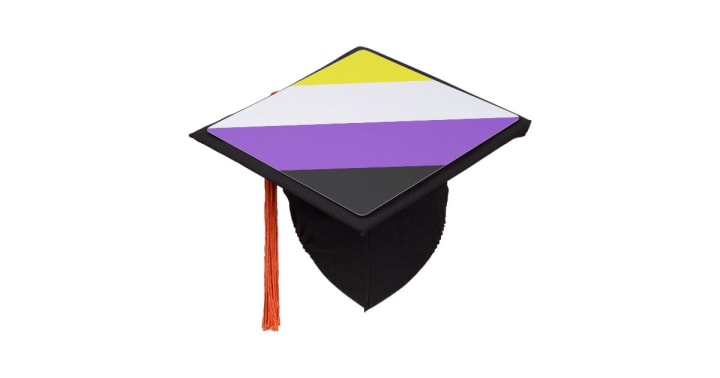 The Human Rights Campaign (HRC) states that there are more than two million people who identify as trans in the United States. Recent studies conducted by the Trevor Project and published in TIME magazine indicate that one in four kids who identify as LQBTQAI also identify as nonbinary, intersex, or gender fluid.
So on "their day" after years of hard work, these kids are forced to put on clothing that often misgenders them, then they are required to sit in front of their family, friends, and community and listen to speeches about being true to their authentic selves, living their dreams, and taking on the world. The irony is tragic.
How many of these kids are suffering?
In case all the rainbows didn't already give it away - it's June – the month for dads, grads, and PRIDE! I recently saw several photos shared on social media by a parent whose child I know to be nonbinary and questioning. Lots of pictures were posted of the graduate wearing a cap and gown intended for a gender that does not match their identity. Furthermore, there were lots of comments offering congratulations that included gender-specific terms. We hear them all the time, but do we think about how some words might sound to a kid that is struggling with gender identity?
"WAY TO GO, BRO!"
"THAT'S OUR GIRL!"
"To a fine young man at graduation…"
Isn't it about time that we did away with gender-specific, binary choices for graduation, Prom, and life in general? If you want to see your kid in a traditional cap and gown, then how about basic black for everyone? It's a very simple way to provide inclusion for all graduates on their big day.
Yes, it gets better, but we can actively work to do better in order to serve all youth.
Congratulations graduates!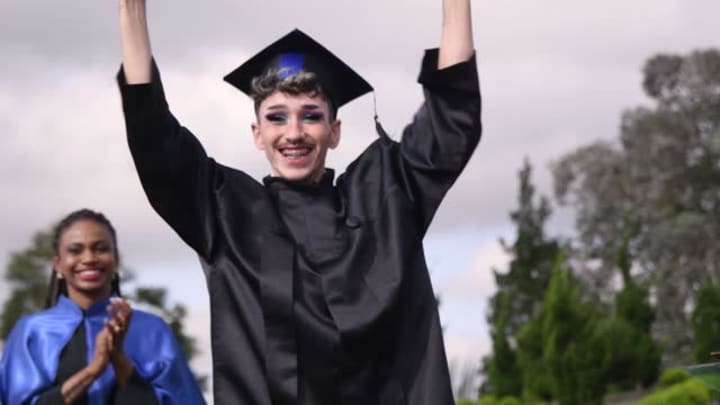 Names and locations have been changed to protect privacy.
For more information about nonbinary youth, or to talk to a counselor standing by, please visit the Trevor Project.
Identity
Reader insights
Outstanding
Excellent work. Looking forward to reading more!
Top insights
Compelling and original writing

Creative use of language & vocab

Easy to read and follow

Well-structured & engaging content

Eye opening

Niche topic & fresh perspectives
Heartfelt and relatable

The story invoked strong personal emotions

Masterful proofreading

Zero grammar & spelling mistakes

On-point and relevant

Writing reflected the title & theme
Add your insights