Tips to Follow Before Buying a Cannabis Product
How to Buy Cannabis Product With MMJ Card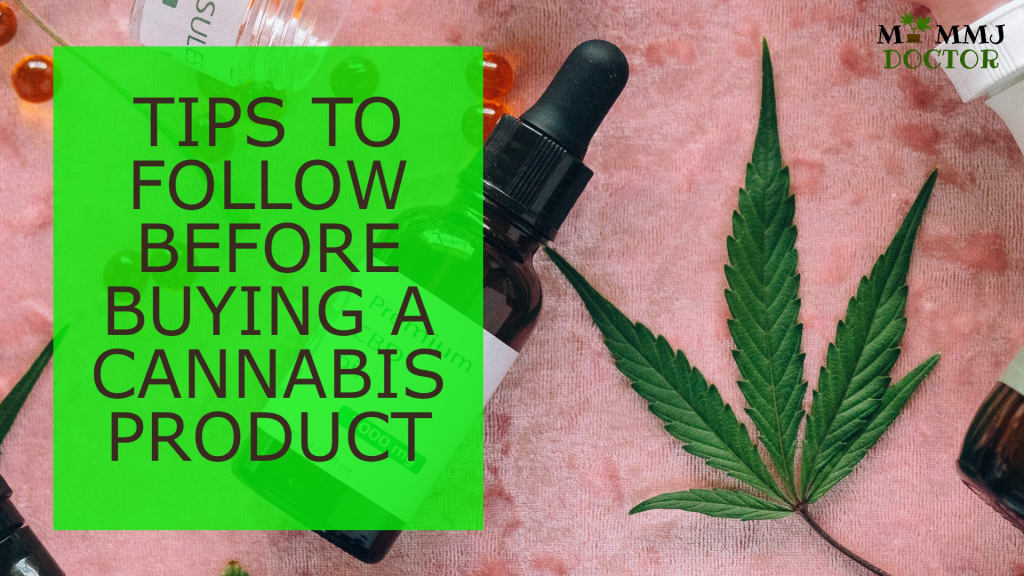 There is no denying that cannabis is the current buzz. You'll have a different cannabis experience if you buy a full pot bud with all of its terpenes and cannabinoids intact, a CBD isolate tincture, or recreational pain relieving balms and energy beverages. With so many products on the market, how do you know which one is right for you?
This is what you do.
Consider the Purpose of Purchasing Cannabis.
Consider the type of product you would want to use. Research the advantages and disadvantages of using cannabis.
Locate a Reliable Source and Look for Quality Evidence
Discover Dosing and the Best Dose for You
Consult a Doctor and Research Cannabis Interactions
Apply for an Online Medical Marijuana Card and Prefer to Purchase Cannabis from a Dispensary
Read more : What is Medical Marijuana Card
Consider the Purpose of Purchasing Cannabis.
Your reason for consuming marijuana will decide the sort of product you require, the strength that is ideal for you, and whether you should buy recreational or medicinal marijuana.
If you're seeking to treat a medical issue, a medically prescribed marijuana product will be more effective. With a doctor's recommendation, you may also obtain high-potency CBD products that would otherwise be unavailable. You cannot obtain anything with more over 0.3 percent THC as a recreational user (maybe you can, but definitely not legally).
If you want to get high quickly, blunts, spliffs, and joints, vapes, bongs, and e-cigs, sublingual tinctures, and topicals may be the best option. All smokables may begin to work within seconds, although sublingual and topical treatments may take many minutes.
If the goal of intake is to provide relief over a longer period of time, you may wish to invest in foods and liquids that must be digested before taking action. While it may take longer, sometimes even hours, for these products to take action, the advantages are long lasting.
Consider the type of product you would want to use.
Smokables are ideal for quick satisfaction. You will feel the benefits within seconds. However, we understand if you are not a fan of smoking or vaping flowers. While it's the quickest method to get high and almost never leads to overdosing, it may be harmful to your health. Especially if you are prone to lung infections or have respiratory problems.
Sublingual oils can be used in this situation. These work rapidly and do not put you at danger of developing lung infections.
Chocolates, nutrition bars, gummies, brownies, and other baked products are available for customers who like to ingest cannabis in the form of tasty treats.
Cannabis Research: The Advantages and Disadvantages
As a novice user, you should be knowledgeable about cannabis, its cannabinoids, and what varying potencies can do for you. Cannabis includes many additional components, and chances are, any product you buy will have some of these as well. Other cannabinoids, terpenes, or flavonoids that are specific to each strain might be included.
THC is one such component that you should be aware of. Tetrahydrocannabinol is the psychoactive cannabinoid that produces the 'high' associated with cannabis. While recreational CBD products have a legal THC restriction of 0.3 percent, dosages obtained with a medicinal marijuana certificate can have significantly higher percentages.
In other words, consuming too much THC may result in drunkenness.
Another source of worry is the FDA's lack of regulation. This implies you'll have to work harder to find a dependable source for your goods.
Locate a Reliable Source and Look for Quality Evidence
There are hundreds of cannabis merchants, CBD retail shops, and dispensaries, but not all of them are permitted to sell marijuana. And believe me, you don't want to get your marijuana from a sketchy merchant. In the best-case scenario, the flower is not as powerful as claimed, or they sell hemp oil instead of CBD oil. The worst-case scenario, on the other hand, may involve a tainted product that takes you to the emergency department.
When purchasing a product, look for the following in addition to the vendor's licence:
Detailed labelling including production and expiration dates, 
Hemp source, contents, and any required disclaimers
A certificate of analysis issued by a third-party laboratory
Discover Dosing and the Best Dose for You
As a new consumer, it is usually best to start with the least dose feasible. Especially if you're using a full spectrum supplement.
THC, which is included in full spectrum CBD, can be intoxicating even in tiny amounts for first-time users. Microdosing is desirable to guarantee that no negative effects occur.
Consuming the substance in modest dosages might help you gauge your tolerance and gradually increase it.
Consult a Doctor and Research Cannabis Interactions
Regardless of whatever cannabis product you choose to purchase, a visit with your physician may be beneficial. As a licenced specialist, they can inform you of any potential side effects or implications of using the product.
CBD, one of the most important cannabinoids, has been shown to interact with prescription pharmaceuticals and other substances. To prevent suffering from the adverse effects of such interactions, be open and honest with your doctor about your medical history, current medications, and any other drugs that may still be in your system.
Apply for a Medical Marijuana Card Online and Purchase Cannabis from a Dispensary
Check here : How to get a medical marijuana card
If you've decided to consume marijuana, what sort of product you want, and what potency is ideal for you, it's time to visit your local dispensary and get your hands on the correct product. But first, make sure you apply for a medical marijuana card. You can use an MMJ card to obtain any marijuana product available in your state.
Using an MMJ card,
You can be more confident in the product's quality.
Purchase CBD from a licenced dealer.
Get a broader selection of variations and potencies.
Your MMJ card also allows you to possess, consume, and even produce your own cannabis without breaking the law.
As a newcomer to this greenland, your first step should be to educate yourself on all elements of cannabis. You can then speak with an MMJ doctor, obtain a recommendation, and purchase your first dose from a reputable and trustworthy dispensary.
About the Creator
Hi, My Name is Voin Avdakov and i have graduate degree in the healthcare domain from UC Berkeley. Now i love to write about marijuana and the medical use of marijuana.
Reader insights
Be the first to share your insights about this piece.
Add your insights