Greatest Musicians Who Smoke Weed
The greatest musicians who smoke weed have advocated the benefits of the herb in and outside the music industry.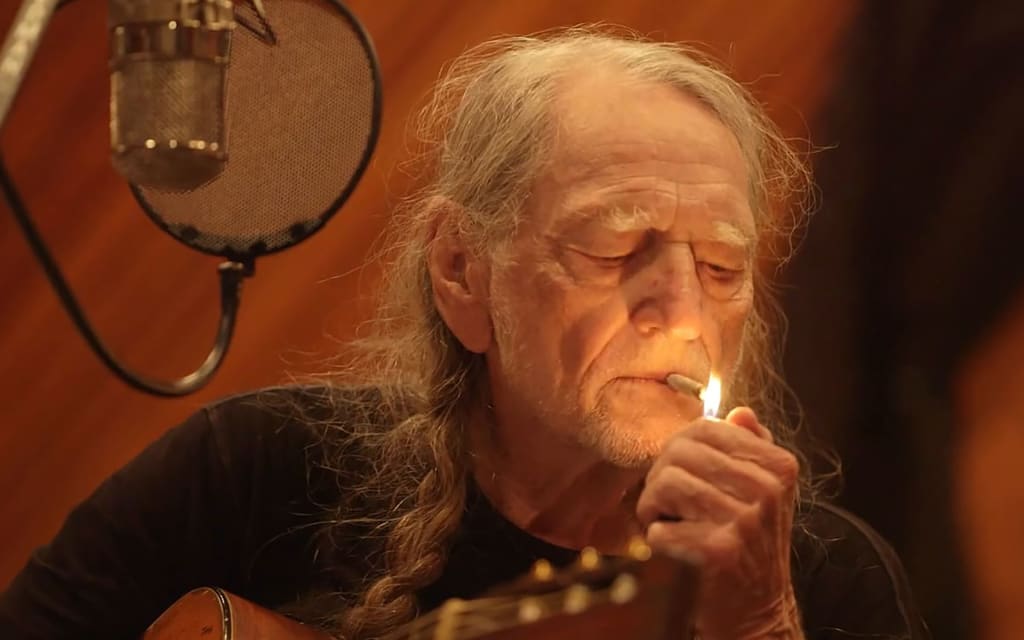 Music and drugs go hand in hand. Weed specifically, known for it's mind-opening qualities, allows creative musicians to tap into parts of their brains that otherwise may have laid dormant. Some of the greatest musicians of our time credit marijuana as their muse, and have openly advocated the use of the herb. Nothing is better than turning up your favorite song, smoking a joint, and reflecting on life. The greatest musicians who smoke weed have been helping us on this journey for decades.
Jerry Garcia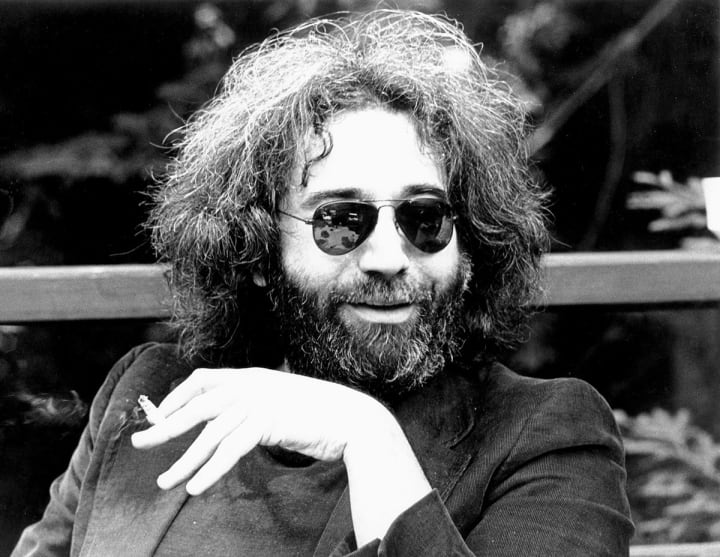 Musician, spiritual leader, and marijuana advocate Jerry Garcia was larger than life as the lead singer of one of the greatest jam bands of all time, The Grateful Dead. The Grateful Dead's following of stoners and flower children, also known as dead heads, were one of the greatest musicians who smoke weed "Uncle Jerry." Garcia shared his love of marijuana with his fans, encouraging them to light up during their concerts. Nothing was better than getting high while jamming out to a 45 minute long 'song' at a Dead concert. When Garcia passed in 1995, the cannabis community mourned as if they had lost a family member—and let's face it, they had.
Rihanna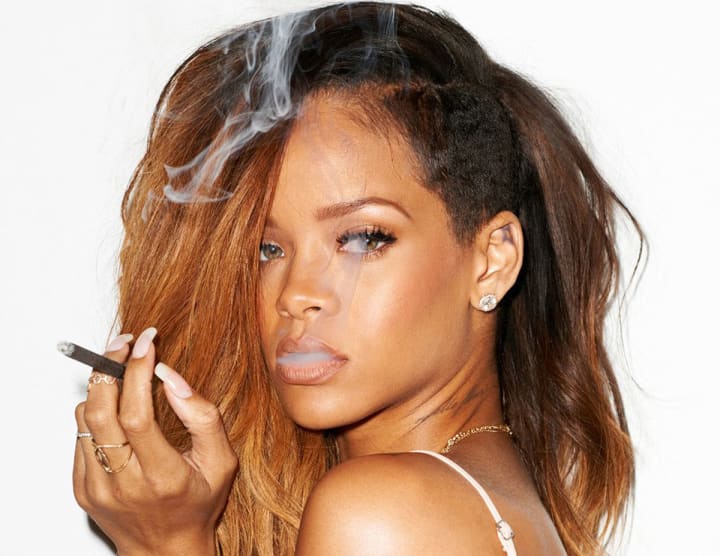 Island babe Rihanna has never shied away from her love of the green herb. Seriously, this chick loves to smoke weed. A few years ago paparazzi photos of RiRi smoking a blunt surfaced to the surprise of absolutely no one, since if you follow her on Instagram, you can see hundreds of pictures of her and her friends lighting up. This good girl gone bad is even rumored to be releasing her own weed brand, aptly named "MaRihanna".
Willie Nelson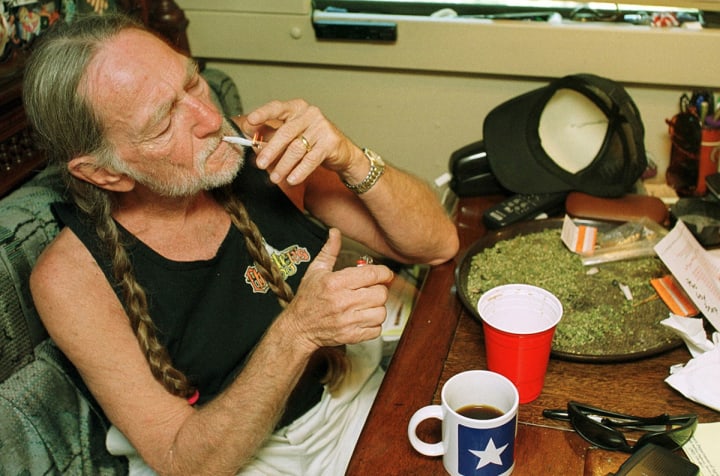 Country legend Willie Nelson is one of the most influential marijuana and hemp advocates in all of entertainment today. While he has contributed greatly to the world of country music, he has done just as much for the cannabis community. Nelson is a major liberal activist who co-chairs NORML, a non-profit organization aimed at legalizing marijuana for non-medical use. Willie also has a strain of marijuana named after him, a sativa that uplifts as much as his music. Nelson is also contributing to the marijuana movement with his own weed company, Willie's Reserve.
Snoop Dogg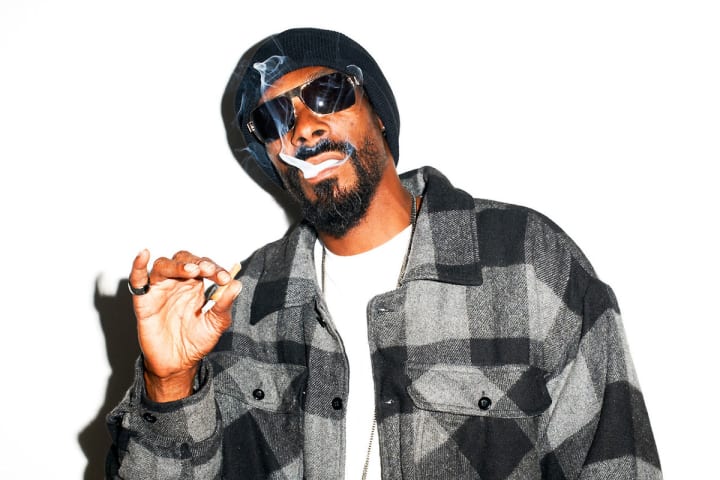 When Snoop Dogg tells you to "smoke weed everyday," you do it, damnit. Since Snoop Dogg first released music in 1992, fans everywhere have been lighting up to his beats. He's infamous for lighting up a blunt and smoking in almost every single video he is in. You couldn't have a list of musicians who smoke weed without this titan. Snoop loves weed so much, he's turned it into a revenue source. More than just a musician, Snoop Dogg has invested in all types weed-flavored media, including a website, a TV show, a book (made out of rolling papers no less) and even his own brand of the herb itself, Leafs By Snoop. As far as we're concerned Snoop can do no wrong—except for that whole "Snoop Lion" thing. Stick with what works, dude.
Madonna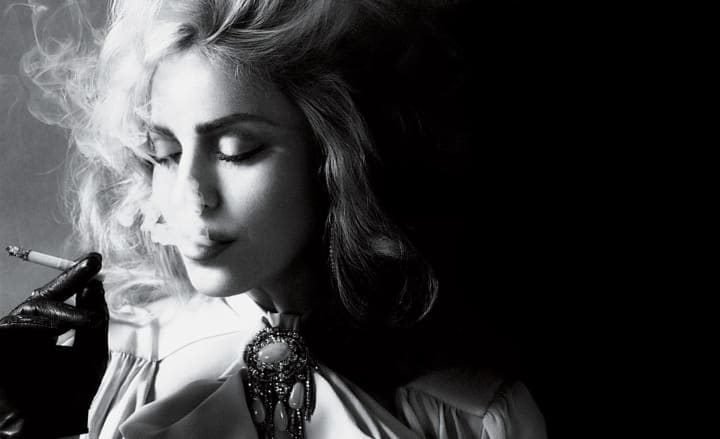 Madonna has been a pioneer for many movements, including the pro- cannabis. Her name may not be the first thing one think of when you think "musicians who smoke weed," but maybe it should be. She has openly admitted in many interviews that marijuana helps her creative process and she smokes it often. She even admitted to getting a penis shaped bong for a birthday present one year. I don't know what screams Madonna more than that. The outspoken entertainer has never been shy about embracing the counter-culture, and we imagine she won't be silenced any time soon.
Miley Cyrus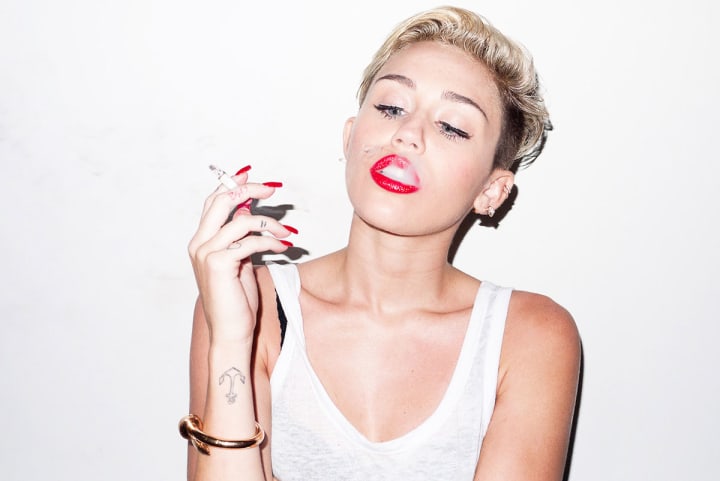 Sure, now it's no surprise to anyone that Miley Cyrus smokes weed. Not unlike Rihanna, this pop star posts more pictures of herself smoking on Instagram than almost any other celebrity out there. Bongs, blunts, bubblers, papers— Miley doesn't discriminate against any form of smoking herb. 5 years ago, who would have thought Hannah Montana would be as famous for smoking weed as she is for singing. Music producer Mike Will Made It recently proclaimed in an interview, "Miley smoked more weed in one week than most rappers I know." Dang, Hannah Montana is a G.
Louis Armstrong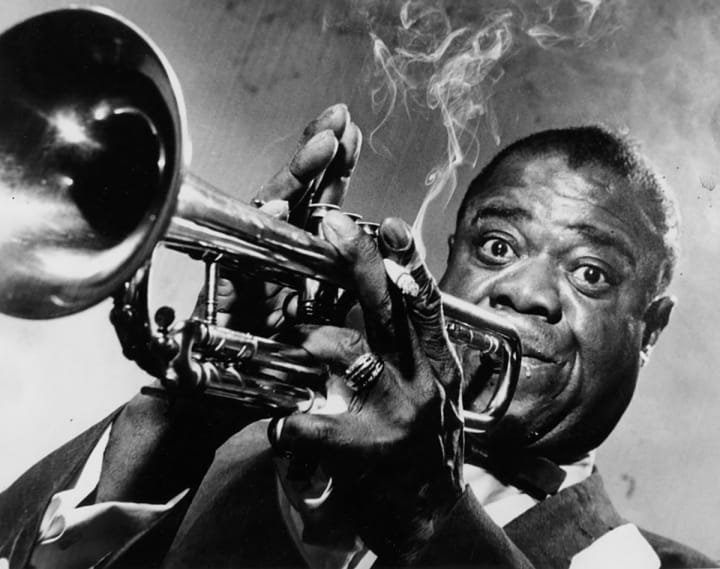 That's right folks, marijuana literally touches every genre of music out there, including jazz. Before marijuana was even in the running for legalization, trumpet genius Louis Armstrong was preaching the benefits of the plant. He even credited marijuana as the muse for his now-famous style of playing. "The first time that I smoked Marijuana (or) Gage as they so beautifully calls' it some time, was a couple of years after I had left Flecther Henderson's Orchestra…And I'm telling you, I had myself a ball…That's why it really puzzles me to see Marijuana connected with Narcotics--Dope and all that kind of crap…It is actually a shame." One of the greatest musicians of all time, Armstrong may not have made half the hits he did without the help of Mary Jane.
Wiz Khalifa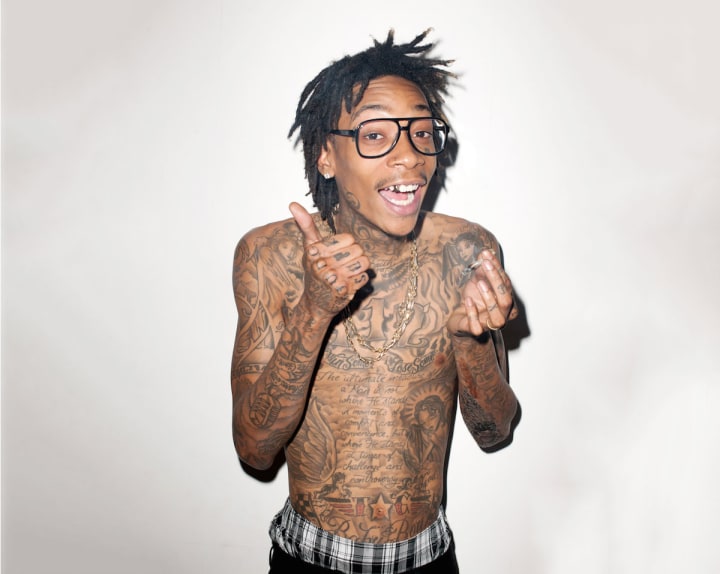 This skinny tattooed rapper busted onto the music scene in 2006 and has been majorly successful in making a name for himself as a musician who smokes weed. The 'Wiz' kid has never been shy about his marijuana use. Rather, it has contributed to his persona and career greatly. From the drop of his first mixtape Kush & Orange Juice, to his first major movie role in Mac & Devin Go to High School (with fellow weed loving rapper Snoop Dogg), all of Wiz's major business endeavors have been weed related. Weed has positively impacted the rapper's life, but he admits that it might not be for everyone, "I thought weed was bad for a minute," he added. "When I was younger, I thought it was bad, but I got to a point where it worked for me. It don't work for everybody else. People gotta stay free, people need jobs, people got parents that probably wouldn't be with it, so don't ruin your life trying to be like me. That's my advice."
Jimi Hendrix
Master guitarist Jimi Hendrix was synonymous with many drugs in the 60s and 70s, including weed. How do you know you've made an impact on cannabis culture? You get a strain named after you. Jimi Hendrix's strain is a majority sativa hybrid delivering focus and energy that feeds creativity—no surprise given who inspired it. Hendrix unfortunately dabbled in more harmful drugs, and succumbed to a death induced by barbiturate overdose. He will forever be remembered as a paragon for the counter-culture movement.
Lady Gaga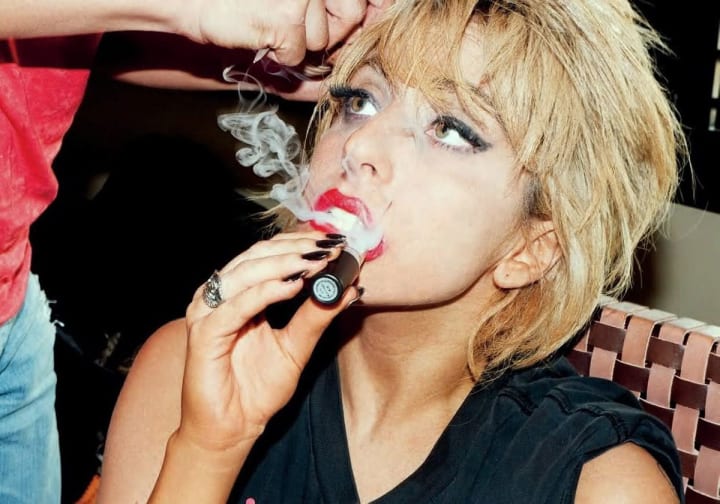 Lady Gaga is, without a doubt, a musical genius of our time. She is an entertainer to the fullest extent, tapping into the darkest corners of her mind to produce creative concepts that most of us would never dream of. How does she access these parts of her brain? Marijuana of course. "The thing that I fell in love with about it is that I completely forget that I'm famous. I totally forget about it all. I take a puff and I'm me when I was 17 again in my white go-go boots looking for a job and there's something quite creative and liberating about that."
Bob Marley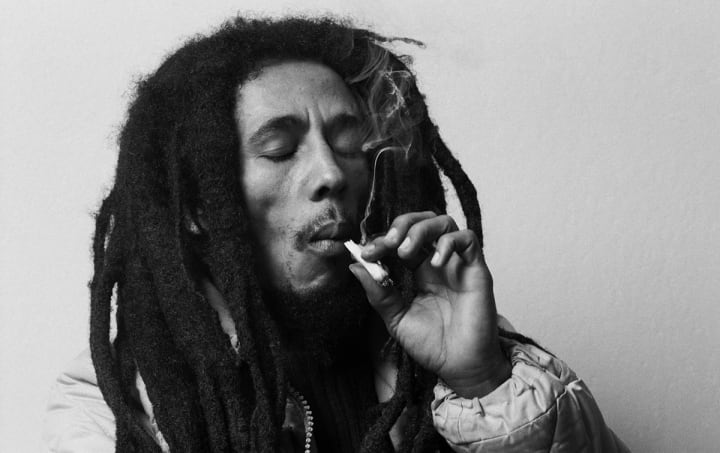 You can't talk about great musicians who smoke weed without mentioning the king himself. There is no musician with a closer connection to marijuana, in my opinion, than Bob Marley. For Bob Marley, smoking marijuana was a lifestyle. He practiced the Rastafarian religion, where the use of marijuana is a holy sacrament, and it showed in his music. The mantra of "Don't Worry, Be Happy" will live on forever as the icon's greatest advice. What better way to be happy than smoking some really good weed? We're pretty sure Bob would agree, there isn't one.
Reader insights
Be the first to share your insights about this piece.
Add your insights