Gelato Mint and the Tin It's In
An article about cannabis that is actually about packaging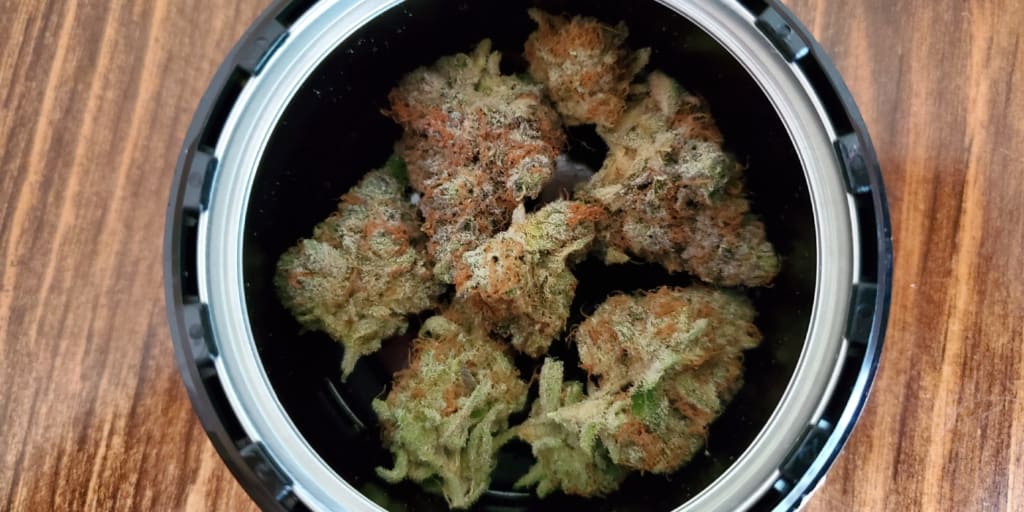 Photo shot poorly by the author
It has been far too long since the last time I actually wrote one of these reviews. Like, way too long. If you aren't familiar with who I am or why this article series deserves to exist, you can get the jist of that over here. Or you can just assume I'm worth listening to and we can talk about some really good weed with some really strange packaging.
Tribal is one of the three product lines own by Cannara, at least as of this writing. While there were certainly other brands that I wanted to do a deep dive into for my first "check out this brand/company" articles, I think Cannara will end up taking that spot instead. They just make really great weed at a really decent price, and their Gelato Mint is the embodiment of that. Tribal serves as Cannara's higher end, THC based cannabis brand, and even though they only have this and Cuban Linx available in SQDC's right now, those two strains more than make up for any lack of selection. (Woops! Looks like they just released Do-Si-Dos under the same brand TODAY. So...)
Their Gelato Mint boasts an average THC percentage range of twenty to twenty-eight percent, and for less than seven dollars per gram that is a phenomenal rate. Not only that, but the bud is beautiful. It's super sticky yet light and somehow crumbly. My own pictures of it are not of good quality, and I don't know that this professionally shot photo of it from CannabisSensei.com does either.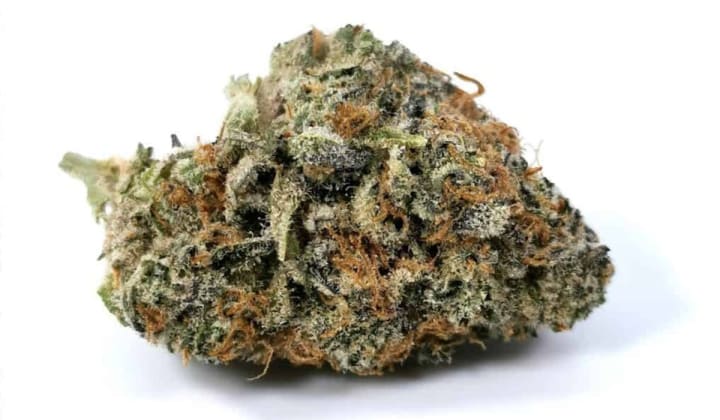 The buds themselves are of relatively small size, but they pack a serious punch. Carrying a pungent sweet and sour smell that permeates the air around it, these ultra sticky little nuggets of pure joy are shockingly easy enough to break up by hand despite their gooey consistency. The smoke from his herb is at first spicy, then sour, eventually settling into a range somewhere adjacent to a lemon grass or other herby citrus profile. This is the kind of bud that catches in the back of your throat while smoking it, lingering on the back of your palate in a way that some users may find uncomfortable. The herb doesn't ever burn particularly hot, which is a huge concern of mine as I find that to be a huge turn off when it comes to smokables. Not only is this particular Gelato Mint a hit in every category that matters, but it is from the only company (whose products are sold at SQDC as far as I have seen) that packages their cannabis in neat little tins. I can only assume that this keeps the bud within fresher for longer than a foil bag or plastic jar with a humidiccant packet inside of it would. In theory, I'm a huge fan of this move. In practice, I'm a big dumb nerd who cares about big dumb nerd shit and has way too many opinions regarding the packaging being used for this and the Orchid line of cannabis products.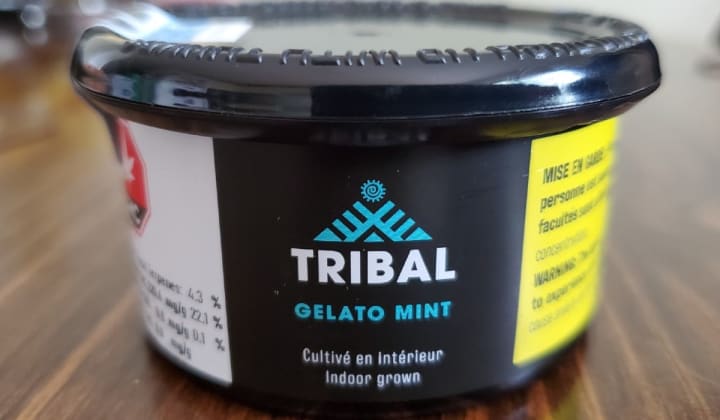 Let's check out this tin. This is the tin that all Tribal and Orchid brand cannabis comes in, save for their pre-rolled joints. The tin itself is of decent construction, with a child safety lid that must be spun until two arrows align before it can be popped off. It's an aspirin bottle lid, is what I'm saying. We all understand the concept and how it is supposed to be childproof. So let's talk about how this one really isn't, at all.
Popping the top reveals a typical tuna can style pop tab, which is fine. However, in the process of turning the lid to align with the arrow on the bottom plastic ring, I discovered that neither the lid nor the bottom ring are in a fixed position. It isn't super clear, but the arrow on the bottom ring is shifted slightly to the right of the pull tab itself, where it would be considered centered and/or set properly. This maybe isn't a big deal so much as a minor inconvenience, at least not until it is coupled with another key flaw.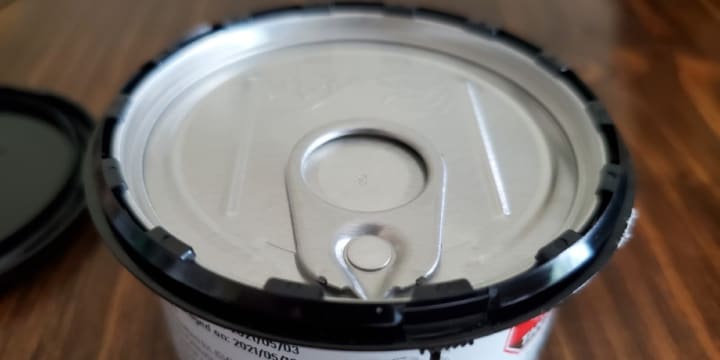 Now, this is much more difficult to see in the following photo, but the bottom ring of the can doesn't just have the one gate in it through which the lid can be removed. It has three, and two of them aren't marked whatsoever, though they are evenly spaced around the bottom ring. In the photograph below, the six o'clock position is where the marked gate is carved out, and one third of the way up the ring on either side lie two more identical gates.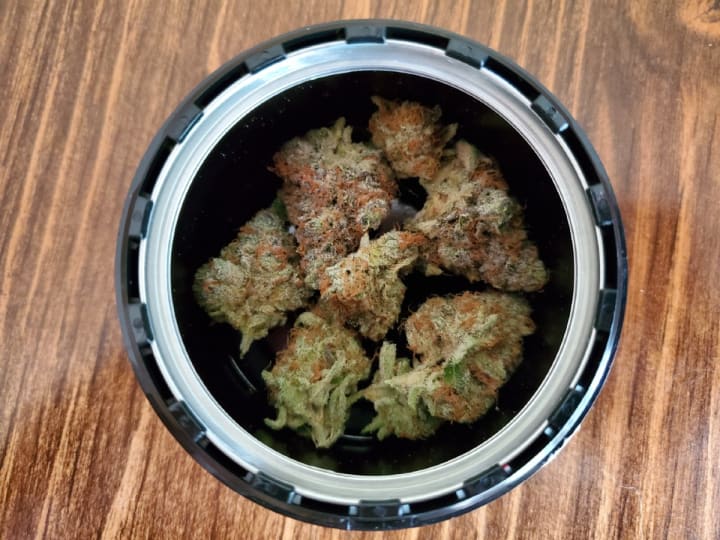 So what does this mean besides the fact that you just spent a bunch of time reading about a weed can? Simply put, it means that these cans aren't actually childproof. Now, I'm a parent of a toddler who keeps everything that she shouldn't have locked away and well out of reach. Sure, she gets ahold of random charging cords or whatever from time to time, but she had never found herself in possession of any of my cannabis. That said, products such as pot are childproofed for a reason, and this is maybe the most questionable example of it I've seen on a weed jar. Of course, this is still far better childproofing than any bud sold in foil bags, which do have a zipper that is unreasonably hard to open, but ultimately fall to any and every pair of scissors on the planet. If your kid can rip open a bag of chips, they can rip open a bag of weed. Jars are obviously better, but jars that can are accessible well beyond their associated labels are a cause for concern. Maybe "cause for concern" isn't the best phrasing. Let's say they have left me wondering how this happened. I can't imagine these flaws were intentional, so maybe someone copy/pasted something in the designs without adjusting it? Whatever the case may be, this is truly wonderful weed, and I can't recommend it enough. I just wish that whoever was in charge of developing the packaging had spent a little more time spinning it around in their hands like a child before calling it good enough.
John Dodge enjoys thinking way too hard about things that really aren't that deep, and he appreciates you reading those thoughts here on Vocal. You can find him thinking way too hard (or sometimes not at all) about comic books over on CBR.com. He also occasionally has opinions over on Facebook and Twitter. If you want to see what variant comics he threw money at you can follow him on Instagram. There's also a button down below this that let's you show him how much you liked this particular article by sending a little heart notification, and one next to that which sends money. One of these buttons is free for you to click, but nothing is stopping you from clicking both.