Best Pot Brownie Recipe
Turn that frown upside down with Mary Jean's Best Pot Brownie recipe.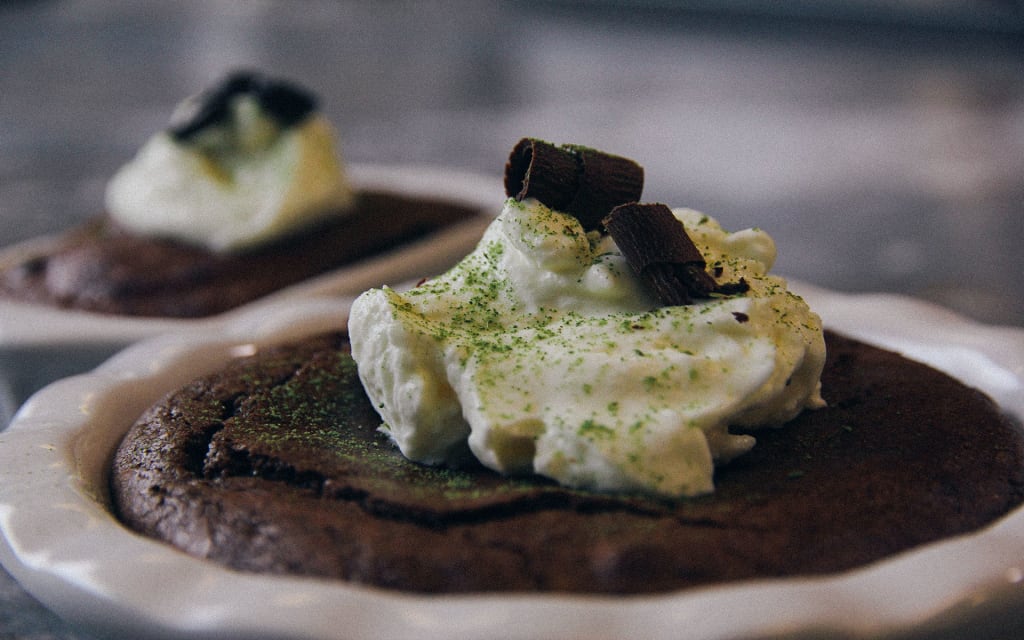 I'd question my friendship with anyone who doesn't love a nice batch of brownies. I mean come on: chocolate, chocolate, and more chocolate? Who could possibly say no to that? My first memories involve licking the batter off of mom's brownie bowl, with the fudgy goodness igniting my tastebuds. But what mom didn't include is an ingredient I learned to curate and perfect in the future: cannabis.
The best pot brownie recipe, aka the No Frownie Brownie, unifies chocolate and cannabis into an electrifying combination that is certain to turn any frown upside down. Coined the "Mother of All Cannabis Recipes," the pot brownie represents many cannabis users' first foray into the world of edibles. The No Frownie Brownie is the gooey, easy-to-make snack that we all love and know. It's time to get Baked!
A Brief History of the Pot Brownie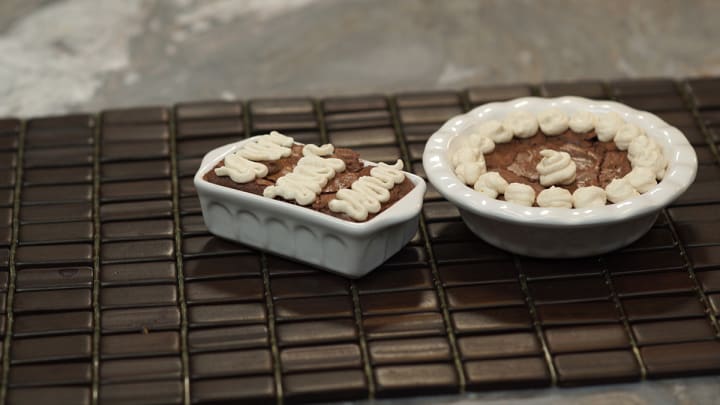 The rich denseness of the brownie is essential in masking the scent and flavor of the cannabis. For those who have a natural inclination to the scent, smell is no issue here; but for other, the inviting smell of chocolate may be more appealing (and more discreet) than the potent smell of cannabis.
Known as "America's Favorite Snack," brownies are ingrained into baking culture, as they are found at bake sales, stores, and cupboards. Even the youngest girl scouts are named "Brownies." Brownies have found their way into society; and the pot brownie only supports that growing and constant change.
The first pot brownie recipe appeared in Alice B. Toklas' 1946 Cookbook as the Haschisch Brownie. Since then, the recipe has been perfected, shared, and adored by the thousands of legal cannabis users baking it. We present to you, the No Frownie Brownie recipe.
Remember to choose clean cannabis for cooking. Phant Extracts is the clean, natural choice to include with your food. Some growers put pesticides and herbicides in their crop, and some don't even flush their crops properly. Please, know your source!
For the No Frownie Pot Brownie recipe, we recommend Rockstar by White Palm, a potent indica-dominant hybrid that delivers strong effects without debilitating sedation. Perfectly paired with ooey-gooey chocolate, Rockstar features aromatic notes of spice and grape, allowing you to add an unexpected yet highly welcoming taste of sweetness in your brownie.
Converting Cannabis for Brownies
You look at your watch. It's 4:19. You had a stressful day at work, your back pain is kicking in, and all you want to do is relax with a little help from your cannabis friends. We've all been there. At 4:20, it's time to make the best brownies you've ever created.
Before you whip on the oven mitts, you need to decarboxylate––aka convert––your cannabis. Buds cannot simply be placed into a recipe: they need to lose one carbon atom to achieve the desired psychedelic and healing effects. Normally, you wouldn't need to think about decarboxylation, because smoking and vaping does it for you through high temperatures. For a full tutorial on decarboxylation, head over to our how-to.
The lower the temperature you use in decarboxylation, the longer the process is going to take. This patient process is recommended because you lose fewer terpenes at a lower temperature. Simply…
Preheat the oven to 240º
Break up the shake into smaller pieces
Place the broken shake in a layer on top of a baking sheet
Bake for 30 to 40 minutes (stir every 5 minutes please!)
When the cannabis is a dark color (about medium to light brown) take it out, and allow the cannabis to cool
Grind the cannabis in a food processor (or with a fun mortar and pestle!)
Store in an airtight container
Once you have mastered the art of cannabis conversion, you can gain a lot of product out of a small amount of cannabis shake.
No Frownie Brownie Recipe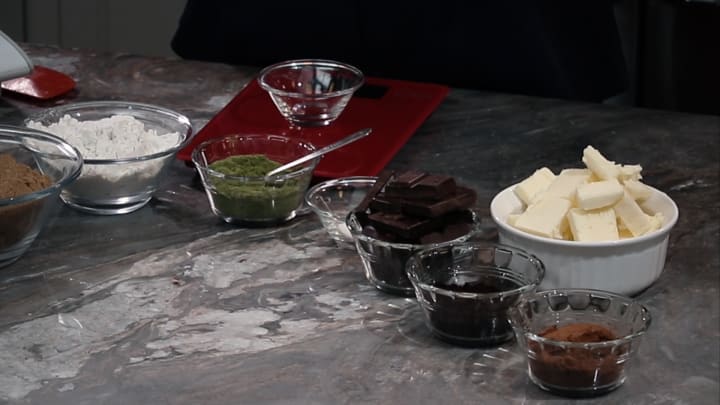 In order to prepare for your delicious brownies, preheat your oven to 320°. For this recipe, you'll need:
1 cup of butter (cut it up before so that it melts quickly)
¾ cup of dark chocolate
4 eggs
1 ¾ cup of brown sugar
1 cup of flour
¼ teaspoon of baking powder
¼ cup of dark coffee(Dark French Espresso is my favorite)
⅓ cup cocoa
Ramekins or 9x9 brownie tray
Shake flour (from the decarboxylation tutorial)
Convert and infuse the shake flour and butter on the stove. To do this, take the butter and put it in a sauce-pan on the stove on low heat. While it is sautéing get your scale ready, and weigh out ten grams of shake flour.
Then, add the shake flour to the one cup of butter in the pan. Mix it around a tiny bit, and you're going to let that sauté slowly on low for a while until it's melted. Then, we can add the dark chocolate.
While you're waiting for that to sauté, place the rest of the wet ingredients (minus the chocolate) into the mixing bowl. Place all four eggs into the mixing bowl and give them a quick mix. Then, dump the brown sugar in, the coco, the Dark French Espresso, and the ¼ teaspoon of baking powder. Put the lid on the mixing bowl and mix it thoroughly.
Once that's perfectly mixed, add the chocolate to the melted butter and shake flour in the pan. Mix the chocolate in a little bit, and then let it melt. You don't want to melt the chocolate too high––just keep an eye on it and make sure to know right when it's melted and when it's ready take it off the heat.
After the butter, cannabis, and chocolate are all melted together perfectly, dump the pan into the mixing bowl with the rest of the ingredients, and put the lid back on. Mix all of the ingredients together in the bowl, and you can pour the mix into some ramekins.
It's nice to have the ramekins to demonstrate portion control on serving size. The mix should be enough for about 10-12 ramekins. You can also put it in a 9 x 9 brownie tray if you wish, but know that there are 12 servings total in this recipe.
Before you put the mix into the ramekins, grease the ramekins a little so that the brownies pop out easily and don't stick once they're cooked. You then want to pour the mix into the ramekins––but definitely do not overfill them.
Depending on how much marijuana you can handle, you can have different size ramekins, equaling larger or smaller brownies. I always make myself the largest brownie... just know your limits. Place the ramekins into the oven which should be preheated to 320 degrees for approximately 15 minutes. Voila! No Frownie Pot Brownie.
Cooking and Cannabis: the greatest marriage since the discovery of food. From cocktails to hamburgers, desserts to eggs, Baked: A Marijuana Cookbook explores the vast and highly anticipated world of cooking with everyone's favorite green ingredient: weed. With easy to follow instructions, engaging photographs, and a fool-proof "you-can-read-this-even-if-you're-high" approach, Baked makes a great gift for first time chefs, stoners, food aficionados, and grandmothers. Presented by Potent, powered by pot, Baked makes any cooking occasion a smoking hot one.
About the Creator
Also known as Watermelon. A Vancouver personality, pin-up model, and cannabis expert. She is the star of Potent's series Baked: Cooking with Mary Jean.
Reader insights
Be the first to share your insights about this piece.
Add your insights