Best Gift Ideas for Your Stoner Friends
Stumped trying to find cool gift ideas for your stoner friends? Don't be. There are plenty of weed-related goods that will make shopping for your pothead friend a breeze.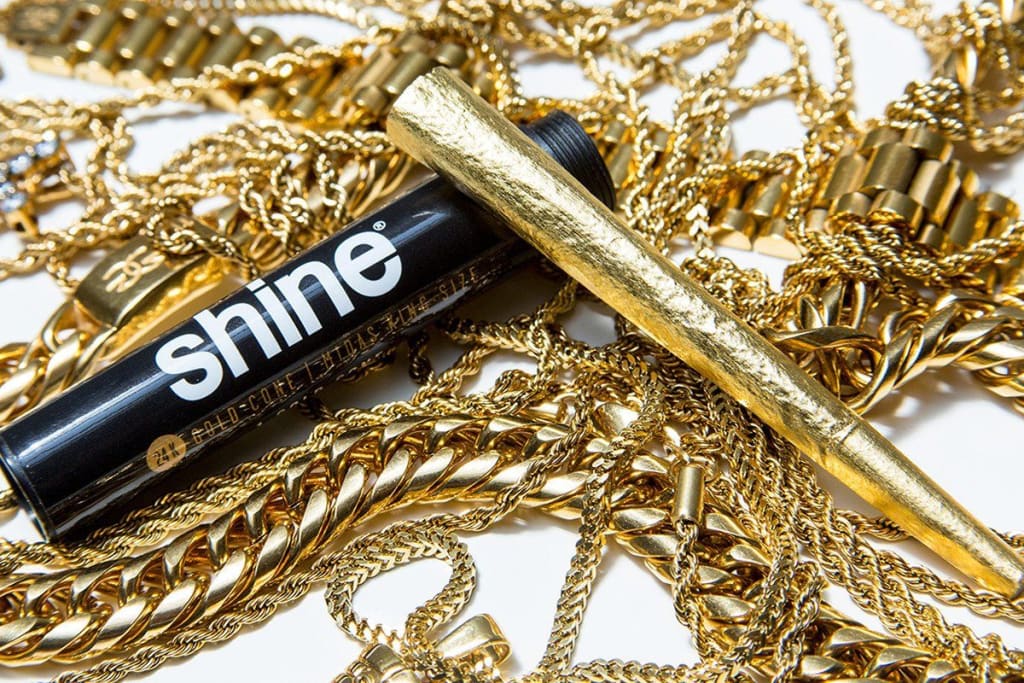 Shopping for a cannabis enthusiast is no longer about picking out which munchie food they might like the most. Sure, picking up a gram of the good stuff and smoking them down is always appreciated, but it doesn't always convey how much they mean to you, and it isn't a particularly creative gift. And if you don't smoke? What are you supposed to do? Drug deals aren't exactly comfortable experiences. Luckily, the marijuana industry has advanced significantly in a short amount of time, meaning that there are a ton of weed-related products for almost any gift category and person you can think of. From functional gifts like an ash tray to every day products like body wash, the best gift ideas for your stoner friends are as creative and funny as they are... after they light up of course.
As any cannabis connoisseur can tell you, it is likely appropriate, regardless of the occasion, to pick your stoner friends up a pack of classic, king size cones by RAW. Cones are a stoner's best friend, as they come in handy for quick smoke sessions, especially compared to all the prep work that comes with "water pipes." All that you have to do is pack your herb into the natural, pre-rolled paper cone and light up. Each cone is equipped with a paper filter and can hold up to about one gram of weed. This is an essential for all people who smoke weed, and is an ideal gift for your stoner friend.
This ashtray from Urban Outfitters is the perfect gift for someone who appreciates an artsy, vintage design. The ashtray is made from ceramic, and has the slogan, "This is not a Dream" printed onto its surface. This is a nice contrast to some of the other gifts on the list because it can serve as a pretty decoration, as well as have practical utility.
These 24k gold rolling papers by Shine will make your stoner friend stand out during a smoke break. The pack includes 12 papers, handcrafted from an edible gold and hemp blend that makes for an enjoyable, eloquent, and slow burning joint. Shine's gold rolling papers can be appreciated by all marijuana lovers, and is the perfect gift for a stoner friend.
The Knuckle Puffer handsfree smoking ring is one of the coolest smoking accessories that come to mind when scouring the internet gift ideas for your stoner friends. This ring, made from soft silicone, allows you to smoke a joint without sacrificing hand space, allowing your friend to sip on a drink and use their phone while puffing on a joint. Just be careful who you give this to, the ring bearer might end up hogging the joint during your next session while telling a super long story that no one cares about. Just kidding... they'll probably forget what they were talking about halfway through their tale. On a serious note though, with a lifetime guarantee and multiple color options, the Knuckle Puffer is the perfect gift for all cannabis enthusiasts.
The lady legs ash tray provides a stylish and fun touch to your smoking area. The ash tray is eloquently crafted from ceramic with a crisp glaze finish. Considering its affordable price, this ashtray can be a great stocking-stuffer, or can be bundled together with several gifts for your stoner friend.
At the ideal cannabis enthusiast's price of $4.20, you can see why this hemp plastic rolling machine makes a great gift for a stoner. No more stressing about ripping rolling papers and wasting weed on a bad roll. The machine uses 79mm rolling papers to mold the perfect joint. This is a really fun gift to operate, and is a cool gadget to add to your friend's smoking accessory repertoire.
Who wouldn't like to smoke with a little class? RAW's trident wooden cigarette holder provides a nice touch when smoking a joint. Aside from the design, a cigarette holder makes each puff more comfortable in your hand, and protects you from getting burned when the joint is tiny. This cigarette holder is handmade from brown Knotwood and will make your stoner friend feel like a king during his next smoke session, especially if he gets three joints going at once!
Another functional necessity for your stoner friend is this four piece, three chamber herb grinder by Golden Bell. Every stoner needs to possess an effective grinder, as it is very convenient when rolling a joint or packing a bowl to have ground up herb. Grinders make breaking up large quantities of weed simple and quick. With its sturdy, zinc alloy construction, this grinder can serve as your friend's every day grinder. The grinder also includes a chamber within it separated by a mesh filter that can be used to collect keef. This gift can be nicely complimented by a rolling tray or ashtray for the pot lover in your life.
Similar to the other ashtrays you can find out there, this ashtray by Urban Outfitters is an easy gift to purchase when shopping for your stoner friend. The ashtray includes dips on the sides to effectively burn incense, and it also has the words, "You light my fire," printed on its surface, which makes this ashtray a nice gift for a boyfriend or girlfriend. At a price of only six dollars, this can be a great addition to your friend's bundle of gifts.
Similar to the Knuckle Puffer, this metal ring cigarette holder can be a really cool gift for your stoner friend to open. With its gold or silver metal finish, this stylish gift for cannabis lovers will appeal to those who appreciate a little flair with their herb. With all the same benefits as the knuckle puffer, your friend can smoke and multitask with ease.
The Butterfly Ashtray from Urban Outfitters is a beautiful decoration on a table, as well as a quality ash catcher. Its gorgeous design can make for a perfect gift for your stoner girlfriend, or as one of the classier stoner gifts you can get any nature lover in your life.
Bee Wick's all natural and organic hemp wick is a creative gift idea for your stoner friend because it solves a substantial issue for smokers. You see, using a hemp wick to light your herb protects you from the harmful butane emitted by lighters. This hemp wick is made and waxed by hand in the USA, and will be well appreciated by a friend who is health conscious, but still enjoys a good session.
The Doobie Tube is a must have for wake and bakers on the go. One of the biggest burdens for a stoner is containing the smell of marijuana when traveling with it. Nobody wants to reek like marijuana after a five minute car ride with weed in the car, so it is a must to have an air tight, smell proof container in your possession. The Doobie Tube is comprised of a surgical steel structure, and is completely odor resistant. It can store regular and king sized joints safely and odorlessly, making it a great gift for your stoner friend.
Just like its brilliant name, Dope on a Rope Soap is a humorous gift that anybody can appreciate. This soap is made with hemp seed oil, as well as several essential oils that will moisturize and relax your skin. Hemp body products are becoming more and more popular because of their health and wellness benefits. As marijuana becomes less stigmatized on a national level and the myths and facts about cannabis are being examined more closely, its usefulness and benefits are being recognized across a wide range of industries. Give this to your stoner friend, and be sure to communicate to them, as the company states, "Don't smoke it, soak it!"
As you may deduce, there are many different gift ideas for your stoner friends that they will appreciate. Whether you decide to purchase gifts that will enhance your friend's smoking experience or a humorous pot-related gift, you can't go wrong with the items above. Shopping for a stoner should be as relaxing as being a stoner, so I hope this list does you well!