Into Purity
Memory of an Ocean's Wild Beauty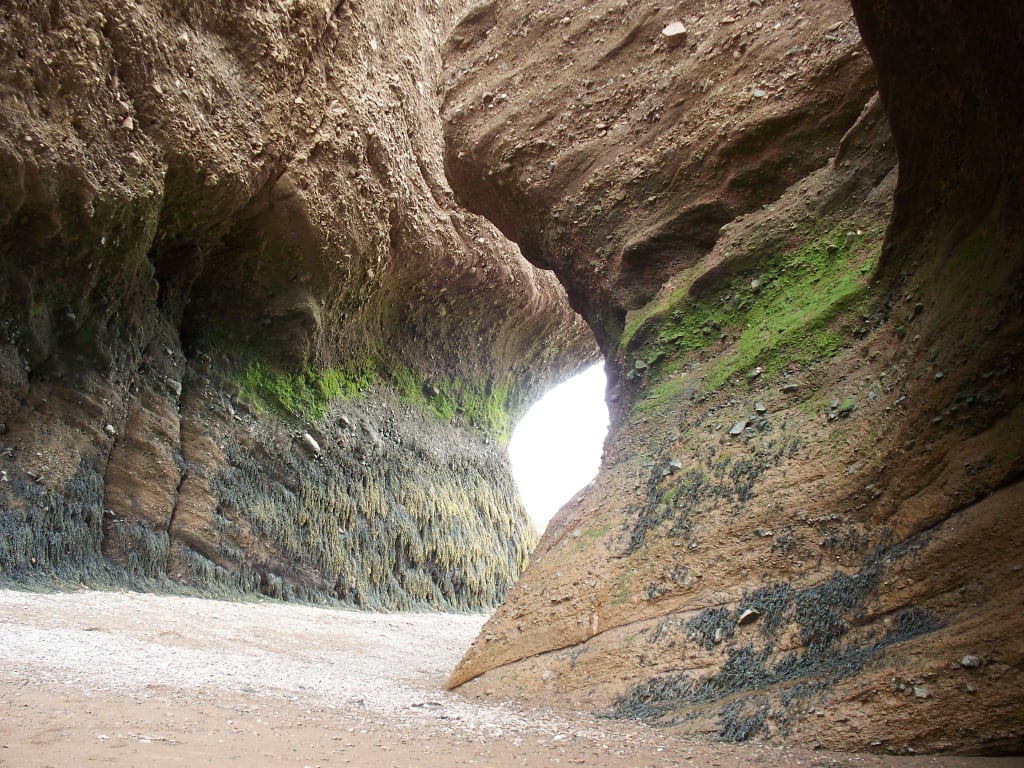 Hopewell Rocks, New Brunswick, Canada
Into Purity
Foot shod sinks in moist sand
This floor is ocean floor
Waves splash, girggle in playful retreat
God calls them away, calls me to newness
Tall rocks sculpted against a blue sky
Shaped like dancers, ever-praising their Maker
Silent celebration, such loud silence!
Inspired,
My arms reach as I poise
The rock dances more elegantly but welcomes my clumsy grace
Temporarily, I join the motionless dance
Soggy footing
Stumble
Smile
Thankful for this isolated nook
Breathe salty humidity
Gooseflesh arms
Froth upon the wave to pair
Comfort is how we match
My hand outstretches
Curiosity
The water weed
Slimy, surprisingly rough balloons of air
Underwater with the tide, they will lift as arms of praise
Listen, even these stones shout in the silence!
Waves begin to hiss and grumble
Warning me to leave their sanctuary
Where I have trod, they will cleanse again
Into purity
About this poem: Hopewell Rocks, NB, Canada, is in the bay where the tide moves the most on a given day. A few years ago, my sister and I went there. I was surprised at my breathless awe. It was an astonishing and fearful place to explore because the tide moves so quickly with such violence yet fanciful beauty. I cannot forget that chilly, soul-stirring early afternoon in the bay.
I tried to keep the poem minimalistic to match my fragment, inspired thoughts there. I remember being so overwhelmed and feeling so beloved at the same time. I understood the biology and the physics of this place, the rocks subdued to whimsical shapes, the weeds with air to better photosynthesize under the dark, swirling waters, and it revealed remarkable fingerprints of a Creator. I was awed a Creator would craft such functioning and potentially hostile beauty. That location and these emotions breathed life into this poem. I hope I was able to echo part of what I was given there.
nature poetry
About the author
Stability is good, but my life is ruled by changes. Recently moving from Alberta, Canada to Nontharburi, Thailand for near 3 years! I love traveling, reading manga, gardening and cooking. Ask me to tell you a story and I am in my element!
Reader insights
Be the first to share your insights about this piece.
Add your insights