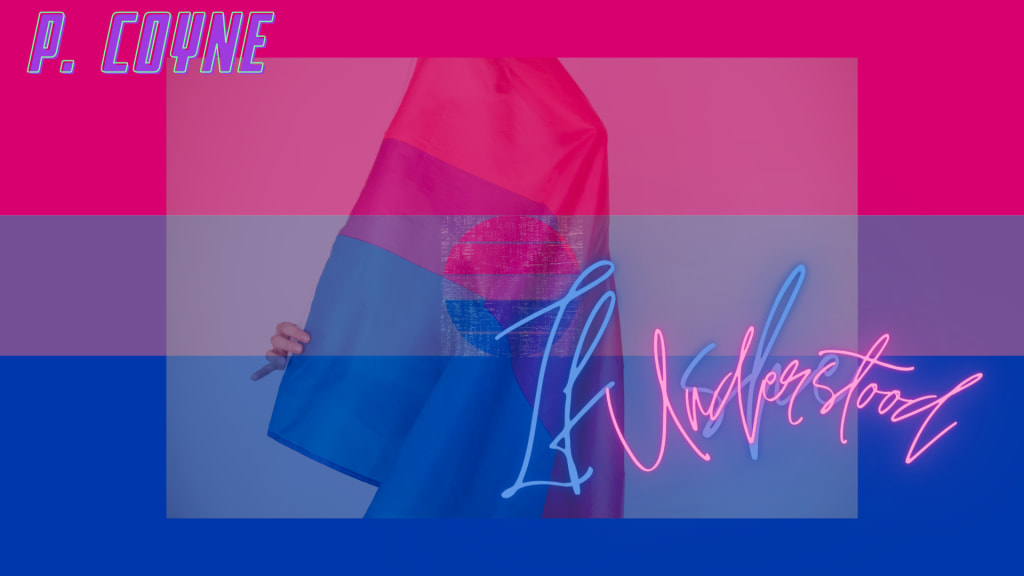 A big thanks to Canva.com for allowing me to make legal covers for my stories!
Before June is even over, the stores begin to plan for the next event. School supplies and notebooks fill the shelves.
Another money grab is all that they're after.
How much profit did they make off their rainbow-colored glasses and their cheap flags?
Do the corporations even understand what they're supporting?
I search through stores for the colors that represent me.
Blue, pink, purple... But all I find is the colorful spectrum.
I worry she'll recognize anything rainbow.
But I know she won't recognize the other.
There is nothing I find from the major corporations. Nothing I can do to stay subtle.
I represent myself silently and get judged for it constantly.
No one understands the story of the bisexual who's too scared to date a girl.
They only see a basic girl doing what she can for attention.
For a group of acceptance it feels unacceptable to date the opposite gender.
For girls who constantly claim to be bisexual just because they kiss their best friends or can't find a boyfriend.
For parents who still disagree with their children's sexuality.
It becomes so hard to be proud.
If only she understood, maybe life would be simpler.
Maybe if we could be proud all year long and not just in June.
When will I find my colors any time I'd like?
When will my true colors show?
Such a loneliness after the stores take down their product.
It's okay to be proud but not until next year.
Support your fellow people but only once a year.
Come find your rainbow flags on clearance this July.
About the Creator
I like to use writing as an outlet for feelings and creativity. I hope you enjoy what you find and find a reason to stay!!
Reader insights
Be the first to share your insights about this piece.
Add your insights