Top 5 drone photography in UAE
Best drone solution companies in the UAE.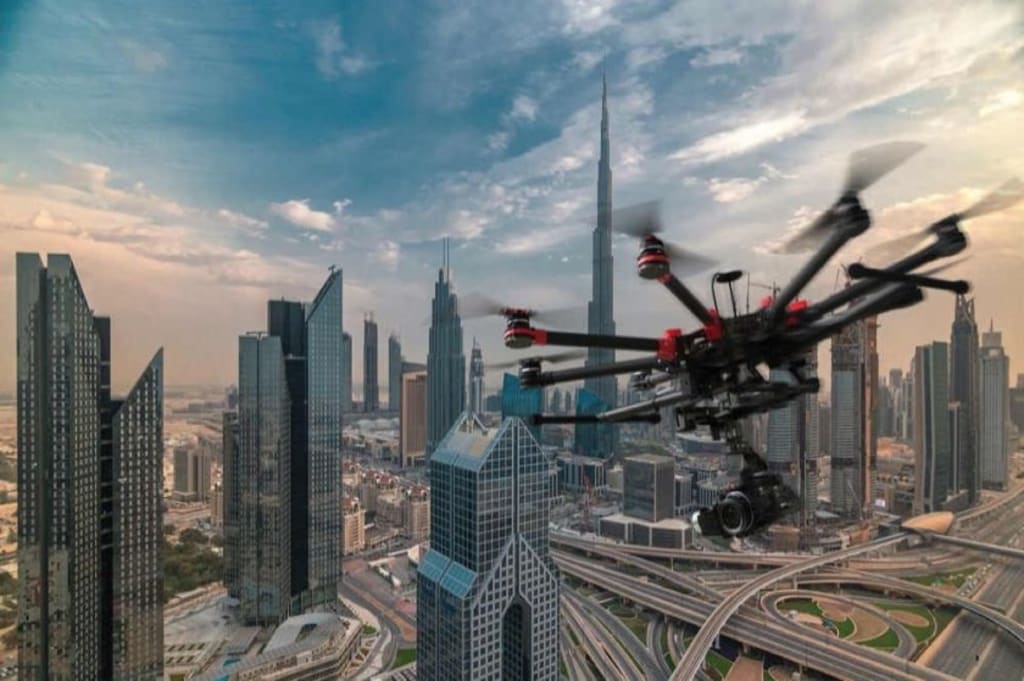 FAME MEDIA PRODUCTIONS is the gamut of aerial photographic service providers in UAE. The Abu Dhabi based photographic company's granting numerous types of services throughout the country. They grant the best on-shore off-shore drone photography and videography services with advanced technologies. The company's adopting unmanned Aerial Vehicles (UAVs), Miniature Pilotless Aircraft, flying mini robots to explore the excellence of drone photography and videography across the country. they offer all kind of drone solutions including corporate event management, aerial filming, corporate video making,infographics,2D&3D animations0, Ads making etc….
FEDS is a leading provider of drone based solutions for organizations in uae. The company offers a comprehensive package of solutions which combine industry-specific analytics software for aerial data processing as well as intuitive flight planning tools, drone inspections and progress monitoring. the Dubai based industrialists deliver long range fixed-wing UAV hardware with sophisticated analytics technology and operational services. They're well known for their fixed-wing drones, such as the UX11,miniature pilotless, mini robots,3D mapping etc. company provides point clouds, Orthomosaic map, counter map, RGB, Thermal & Multispectral etc.
AIRSCOPE INDUSTRIAL is a Dubai based drone filming company that maintains aerial drone solutions for all types of industries. Airscope is the first drone company to offer Civil Aviation authorized drone pilot training and certification in UAE & Middle East.
The company provides low cost Through technical innovation they offer the extraordinary time and cost saving benefits of drone survey and drone inspections to sectors such as Construction, Oil & Gas, Infrastructure & Civil Engineering, Utilities & Renewables, Mining and Agriculture. the company offers customizable drones can be used for events and product activations, attached LED lights, fireworks & even flying cartoon characters to our drones.
Choppershoot is one of the prominent drone manufacturers in the United Arab emirates. established in 2005, choppershoot is the first aerial drone filming company in UAE. Choppershoot is made specially for aerial filming, capturing, videography, and analyzing aerial imagery. They specialize in Aerial Filming with Helicopters and Drones alike.
They offers Drone Filming in both Dubai & Abu Dhabi with affordable price. choppershoot endows firms to analyze and tackle the value of endless perception data they capture every day. tourism projects, TV dramas, movies,and broadcasting companies are mostly associated with choppershoot to enhance their business into a distinctive level.in 2021, there could be over 30 million drones in the hands of hobbyists and commercial users all around the globe.
SKYSTANCE is an UAE based Aerial Drone Solutions company, which is under the HH Sheikh Mohammed Bin Rashid Establishment for the development of SME'S. They offer affordable prices on Aerial inspection services, Drone photography, Drone inspection services, Aerial surveying. Hire A Drone Pilot program which serve many industries ranging from Film Production, Aerial Filming, Ads & Marketing, Surveying, Energy & power resources, Agriculture, Inspections, Constructions and many more.
The company offers to Empower your business, improve decisions and maximize efficiency by utilizing our expert UAV pilots and our excellent drone services. it's a fact that Dubai is getting into the track of things for having drone service providers and the city has several plans for enlargement and its move towards becoming a smart city, Dubai has truly taken the necessary steps in providing the latest technology to its people. You can remember last year when the drone taxi services was tested as part of a 5-year development plan for the emirates. Doubtfulness Dubai is touching towards a community that encompass technology, not only for efficiency but also for productivity and welfare of their people.