Taking the Long Way Home
Photos from a Detour through Southeastern Idaho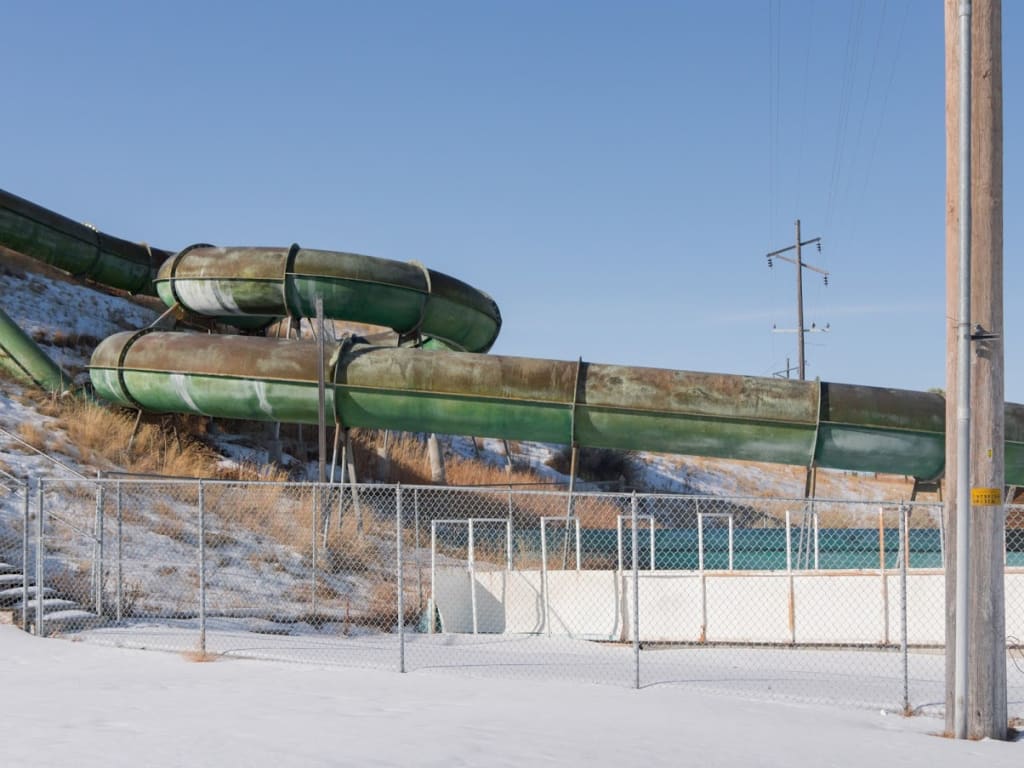 2021 started off with a photography road trip. Well... it was really just driving back to Utah from Idaho for a new semester of school after the holidays. But I decided to make a trip of it--turning a 6 hour drive into weekend-long adventure through new parts of Idaho.
The trip started by dropping off my younger brother for his first semester of school at BYUI in Rexburg, Idaho.
We got there just before dark and right as it started snowing. The roads had been cleared beforehand, but you could tell this wasn't the first snow Rexburg had seen in a while. I met up with my friend Lydia for tacos, and ended up stopping to take photos of a Wendy's in the snow. Unconventional as the subject matter was, I actually really loved how the photos turned out.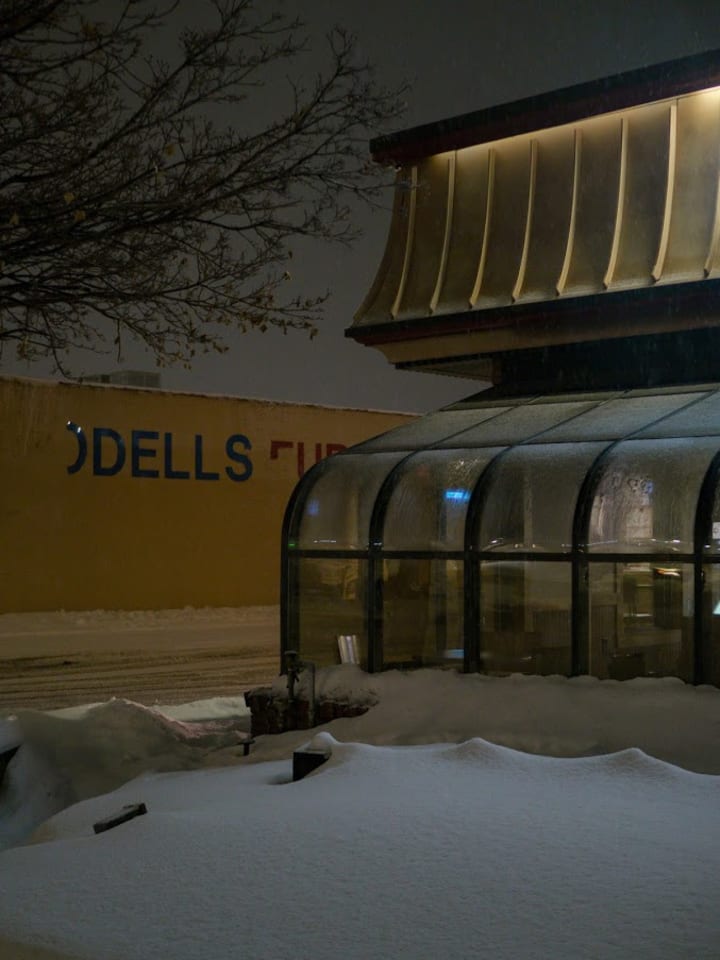 We drove through some of Rexburg's neighborhoods and stopped at a few places to take photos of cute houses with lights on inside and Christmas lights still on outside.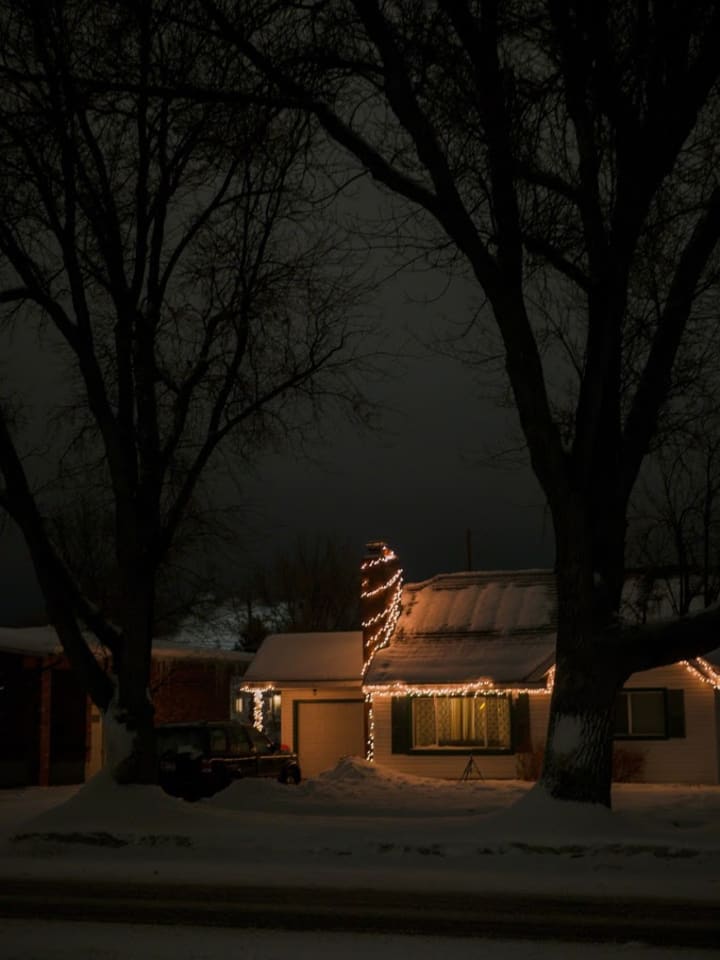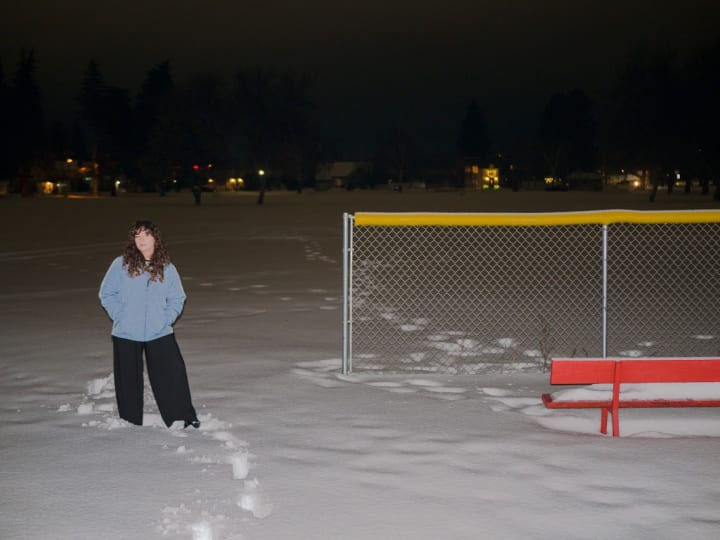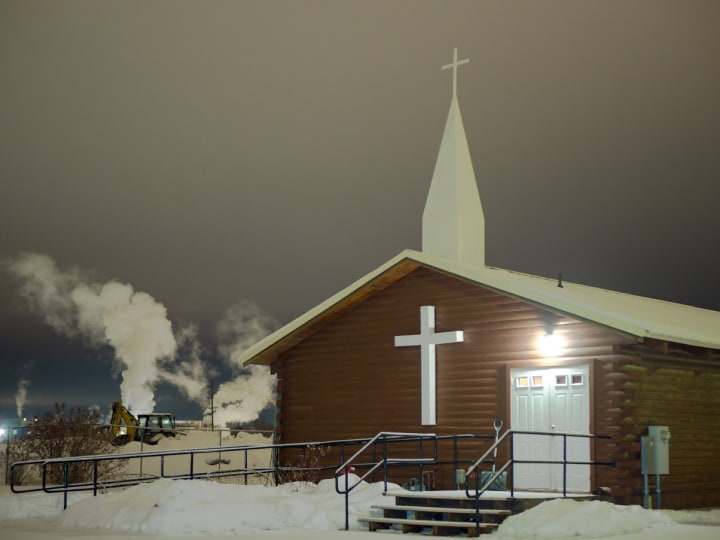 Thankfully, the snow stopped and we were able to get some fun night photos without endangering our cameras. The photo above of the chapel became one of my favorites. The pollution in the background seems to ascend towards heaven the way incense or prayers might, but what kind of message does that really convey?
The next day, we headed back west for a daytrip into Arco and Craters of the Moon National Monument. I wanted to make one more trip out there before wrapping up my photo book about that quirky town.
I hadn't seen Arco or Craters under snow before, so it helped me see these places in a new light. I ended up adding several of the photos I made that day to the final photo book. The book wouldn't be the same without them--and I think the snow added an extra element that helped round out the rest of the book.
(I do still have a few copies available of ARCO if you're wondering!)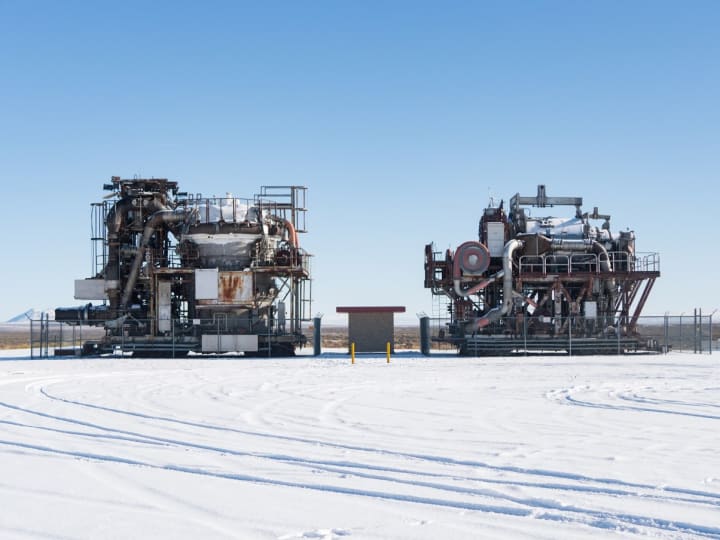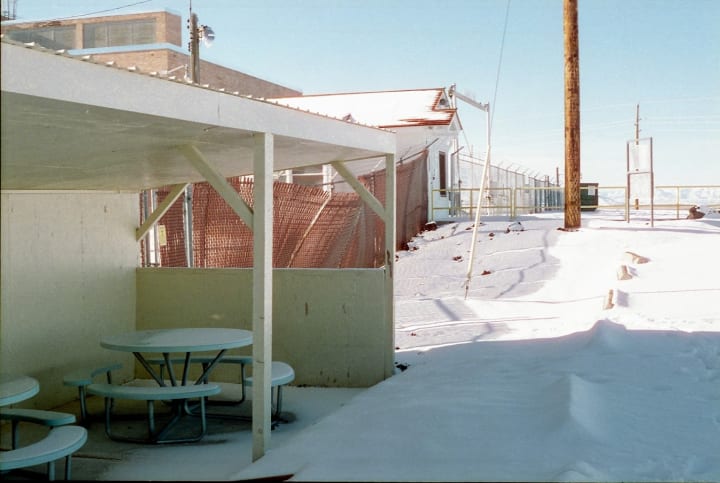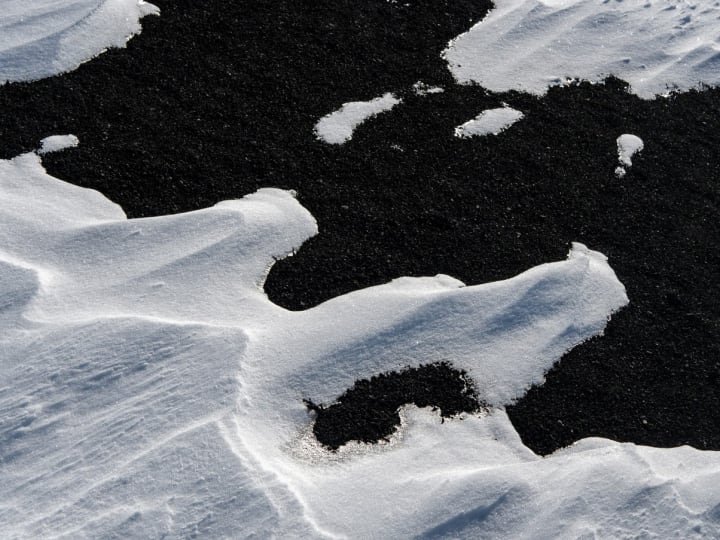 Night fell in Arco, and despite our freezing fingers, we stayed a little bit longer to take some night photos of the neon signs. These ended up being some of my favorite photos in the book.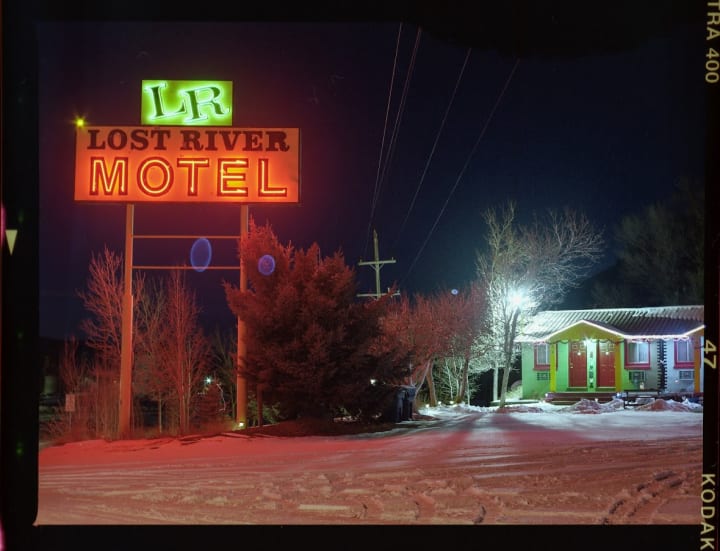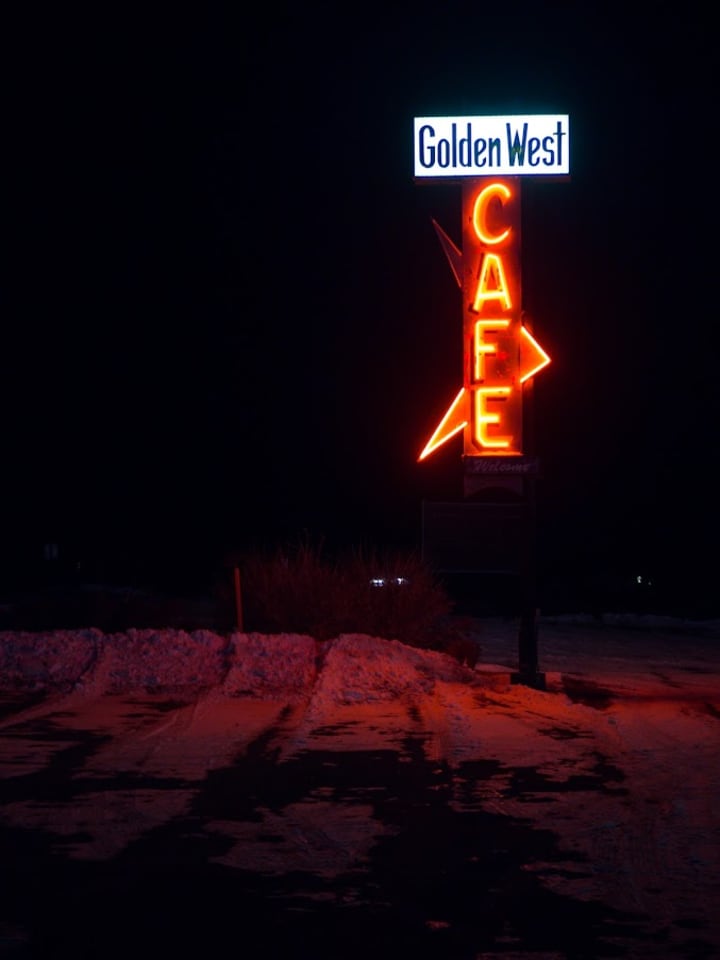 We made the hour drive back to Rexburg and then the next morning I headed back to Utah. I still had a few stops I wanted to make, so I postponed my return even longer and took another detour.
The first stop I made was Downata Hot Springs, a hot springs resort and campground out in the middle of nowhere near Downey, Idaho.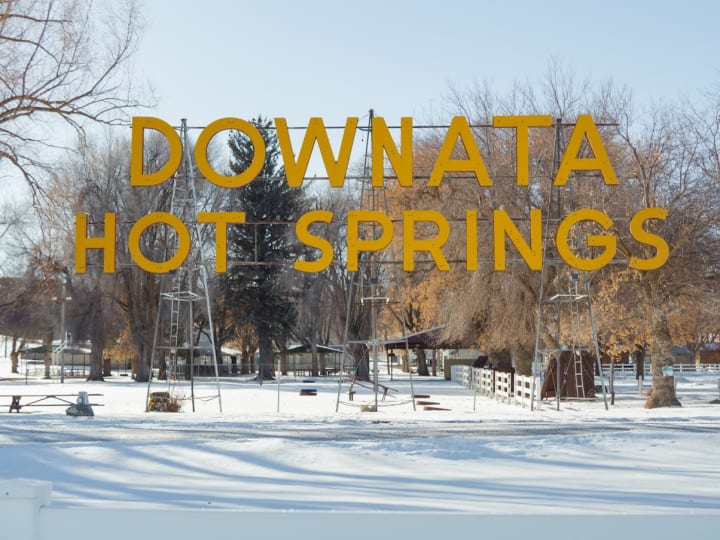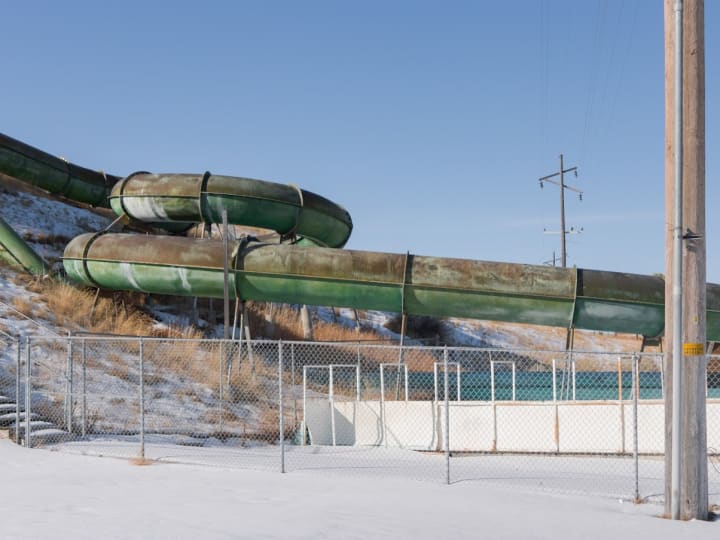 The hot springs pool itself was still open, but the slide and campground seemed closed for the season. (And I can't blame them... it was freezing.) I only stuck around for 20-30 minutes, and didn't run into another person the entire time. I thought it was so cold that the roll of film in my Petri rangefinder became so brittle it snapped when I wound to the next frame.
I got back in my car, turned the heat all the way up, and continued driving. I didn't have to drive much further before I arrived at my next destination: Red Rock Junction.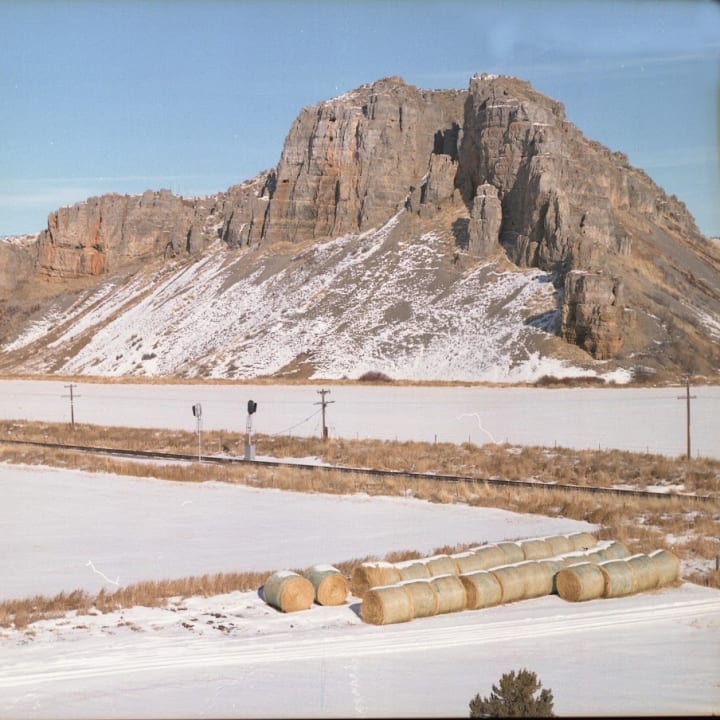 Idaho isn't known for its red rock landscapes the way Southern Utah is, so I wasn't really sure what to expect. There was a little pull-out off to the side of the road with a large hill and a staircase ascending to the top, where a monument and overlook sit overseeing the railroad tracks, hay bales, and dramatic rock landscape below.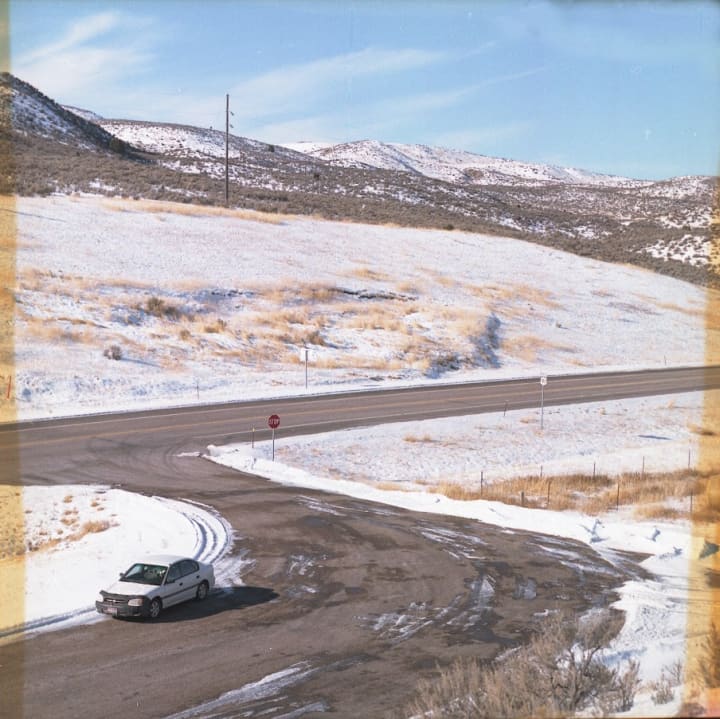 I wouldn't say that Red Rock Junction is a worthwhile destination the way the Southern Utah national parks are, but it was a pit stop I enjoyed even through the cold temperatures. Once again, the snow added a texture and feel to these photos that I really enjoy.
I got back on the road and made it as far as Logan, where I stopped for some Pad Thai.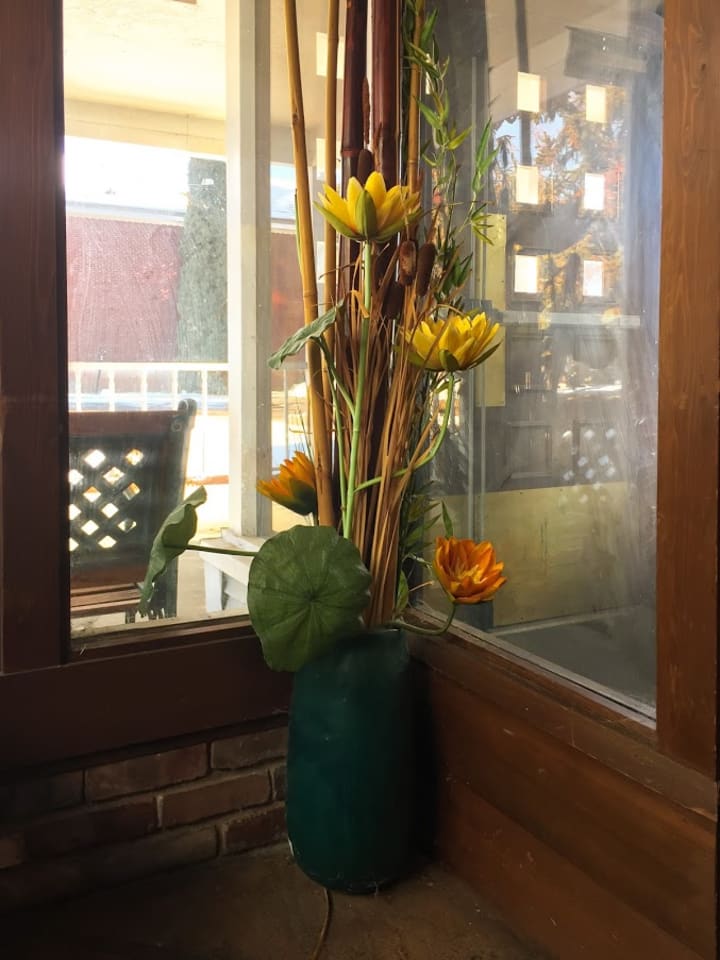 After my late lunch, I made the final leg of the drive back to Provo, Utah. Reflecting on the photos I'd made with a full stomach and stretches of road in front of me, I felt contented and fulfilled. In that time before my next semester, everything felt peaceful and I was optimistic about my life and the world.
That feeling, (and so many other times like it) have led me to believe more than ever that I am made for photography. "The dream" is to be able to do photography full-time--and that's a dream that I have to realize. I just can't imagine life any other way.
This weekend road trip/detour felt like a microcosm of what that dream life would like--sleeping on couches, being with friends, seeing new sights, and taking stellar photos. From night photos and documentary, project-based photos for my Arco book to Wes Anderson-esque portraits of an isolated hot springs in the Idaho tundra, I'd covered a lot of ground and taken a wide variety of photographs that transported me back to the cold, windy scenes I'd captured.
In the months after this trip, I published my photo book about Arco!
Now, I'm wrapping up on my next small-town photo book and planning out a few more for the future! This is a series of photo books that I want to continue for the rest of my life. I'm imaging some day filling an entire bookshelf with these photo books that depict a portrait of unique small towns across America--and the globe. If you know a town I should check out, let me know! :) It's amazing the scenes you'll see and the photos you can make in small towns people don't think twice about. That's a part of the beauty of taking the long way home.
Oliver Dahl
Instagram: @OliverWDahl
Website: www.oliverdahl.com
More photos from Oliver:
About the Creator
Oliver Dahl is a published author and photographer from Boise, Idaho.
He currently studies marketing at Brigham Young University.
Website: www.oliverdahl.com
Instagram: @OliverWDahl
Reader insights
Be the first to share your insights about this piece.
Add your insights