Functional Camera Bags for Women That Look Great Too
If you're a photographer, you need a camera bag. But who says they have to be boring? Check out this stylish camera bags for women.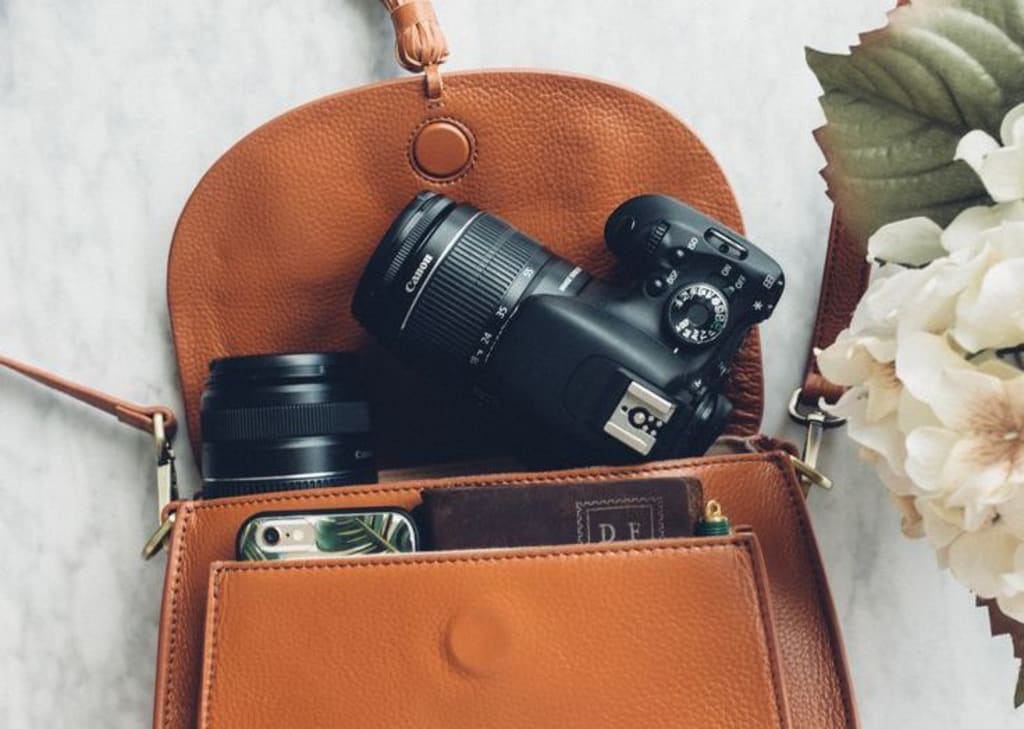 Consider your camera bag a fun accessory instead of just a necessary item. Carry your camera gear with you absolutely anywhere in style with some of the most stylish camera bags for women on the market. Goodbye nondescript black, hello color and design!
Cynthia Rowley is a premiere boutique lifestyle brand that focuses on everything from dresses to—you got it—camera bags. This lambskin bag with detachable shoulder strap is equal parts fashion and function. The designer accessory gives you enough space to carry your camera gear, with a few extra bells and whistles to make you look chic.
This Juliette Camera Bag by Jill-e Designs looks designer on the outside, but is exactly what you need out of fully functioning DSLR camera bags on the inside.
The compartments will look familiar to any experienced camera user. Separate compartments for your camera body, your lens, and the classic netting pouch can all be found inside this bag. It also features concealed exterior pockets where you can store your personal items, like your phone or your wallet, so you can whip them out in an instant or keep them safely tucked away. The best camera bags for women prove that looks can be deceiving.
When it comes to stylish camera bags, you can't ask for better than Kelly Moore Bag. This brand knows exactly what the professional photographer needs, and provides optimal storage with lovely, luxury taste. Not only can it hold your DSLR, but it gives you a place to store your tablet! This allows you to do more work on the go.
If we didn't tell you this was actually a camera bag, odds are you wouldn't be able to tell. The Sakroots bag has so much exterior detail and flair, which is exactly what we look for in camera bags for women.
This bag is on the smaller side compared to other stylish camera bags, so it will allow you to carry only the essentials. That doesn't mean it's not as useful, though! If you're going to be taking meetings during the day and shooting at night, then this discreet, easily portable camera bag is perfect for you.
Epiphanie is another brand that commands respect in the fashionable camera bag community. They have a wide range of style and color options, making the company one of the best for camera bags for women.
Aside from being a wonderful new addition to your wardrobe, this Clover Shoulder Bag can carry virtually anything you need to do your work. There is of course room for your DSLR, but there is also a side pouch that is capable of fitting not only a tablet, but a 15-inch laptop. Need we say more?
One word: CUTE! Go UK chic with this stunning Cheeky Lime Classic Shoulder bag. This particular item is red with a cream-colored trim, but the design comes in other bright, lovable colors.
The bag holds your camera body and three—count 'em, three—camera lenses. If you're the kind of photographer that loves shooting multiple styles, locations, and subjects, the Cheeky Lime bag is a must-have.
Kelly Moore Bag strikes again, but this time we're not looking at a handbag camera bag—we're looking at a backpack. When you think of a backpack, you likely remember those bulky, unattractive things you had to lug around in school. The Kelly Moore Bag brand turns a backpack into an object you'll want to show off. Plus, it's vegan and water resistant!
Because it is a bigger bag, it gives you more room to hold all of your camera gear and more. Use it to carry your DSLR, your lenses, your 13-inch laptop, your lipstick, your phone, and a snack. This is one of the best camera bags for women you can buy because it gives a girl what she really needs: endless pockets.
Jo Totes camera bags are simply adorable. This nautical design lets you show off your sense of style while it holds some of your most precious belongings.
The Georgia Satchel camera bag comes with a removable and adjustable strap, so you can hold it as you would a regular purse or a messenger bag. Like other camera bags on this list, it also has room for your tablet and personal items.
If you're looking for truly unique camera bags for women, check out Capturing Couture. This brand boasts some of the most artistic designs on the market. They're fun, beautiful, and even a little bit off-the-wall.
Don't be fooled by their looks, though! This baby can hold your DSLR, two lenses, plus whatever personal items you need to take with you to your shoot.
Have we mentioned how much we love Jo Totes? This camera bag is on the larger side but that just means extra cuteness. This mint-colored bag is soft and feminine, and is capably of carrying some heavy duty equipment.
The depth of the bag itself provides you with more than enough room to hold your camera gear, but the external pockets and pouches provide you with even more space. What's even more awesome is that, unlike other camera bags, you can alter the position of the storage compartments however you see fit. So the number of lenses you carry is up to you! How could we not include this in our list of best camera bags for women?
About the Creator
A travel photographer who never wants to stay still for too long. She prefers big cities to country landscapes and loves learning about all cultures and subcultures. She's truly a free spirit.
Reader insights
Be the first to share your insights about this piece.
Add your insights