Best DSLR Cameras for Beginners
You want to try your hand at photography but you know zilch about cameras. Never fear! Study up on some of the best DSLR cameras for beginners right here.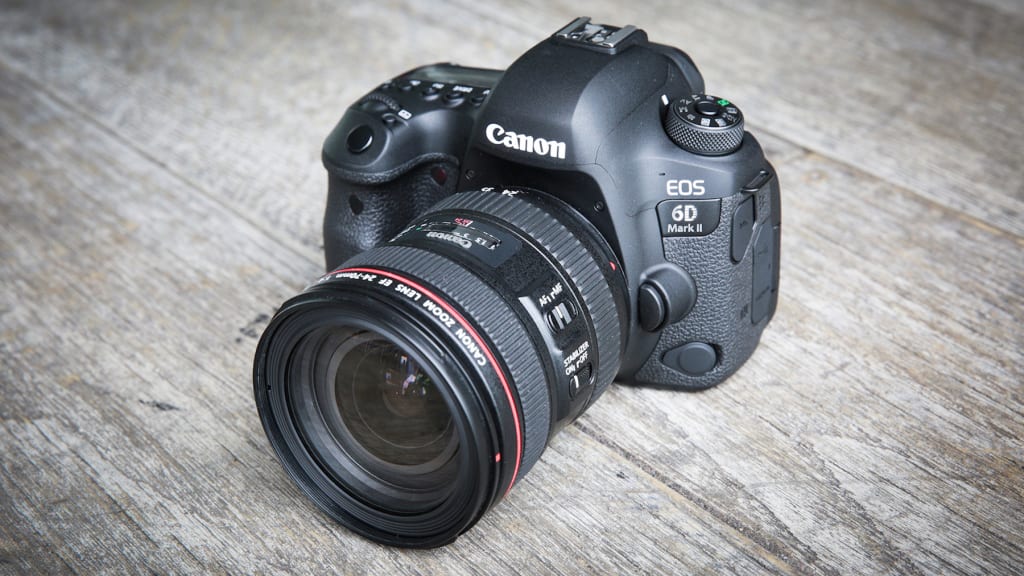 Let's begin with the basics: What are DSLR cameras? DSLR stands for Digital Single-Lens Reflex. In a nutshell, it's a description of the way this specific camera type is constructed and how the lens interprets an image.
Unless you live with a Hollywood producer, what you recognize as a professional camera is most likely a DSLR model. DSLRs aren't the most advanced professional cameras, but that's OK because we're focusing on the best DSLR cameras for beginners.
When it comes to the best beginner DSLRs, Canon essentially has the monopoly. This brand's EOS and Rebel lines are enviable, as they tend to have the best features with the greatest ease of use.
This particular model, the Canon EOS 6D Mark II, features wi-fi, bluetooth, GPS, and 1080p video capture. It's got most of the bells and whistles you would want from a top of the line camera, just scaled back a bit to lower the cost and create a more user-friendly experience for the novice.
Nikon is also one of the world's best-selling cameras, coming in second only to (surprise!) Canon. Nikon's D3400 DSLR has several positive attributes, such as a light-weight body and bluetooth. But the biggest reason to get a Nikon D3400 is its battery life.
No matter what level photographer you are, battery life is hugely important. This model practically doubles the battery life of the model before it, the D3300. With this camera, you won't have to worry nearly as much about your camera dying on you mid-photo shoot. That's what makes it one of the best DSLR cameras for beginners.
Pentax is a camera brand you may not have heard of before, but it is well-known in its industry for its incredibly sturdy nature and weather-proof design. That being said, Pentax cameras do weigh a little bit more than the average DSLR, so you would ultimately have to decide if that's something you care about or not.
As one might assume, this weather-proof camera does extremely well in outdoor areas, so you are not limited in terms of the subject matter of your photography. You could literally shoot video of a sandstorm and your camera would be perfectly intact.
Speaking of video, another stellar feature of the Pentax K-S2 is its ability to record in 4K. In layman's terms, that's basically the best video quality on the market. Maybe that extra weight is worth it after all, huh?
Nearly all of Canon's Rebel cameras are considered some of the best DSLR cameras for beginners. The Rebel T5i is a 2013 model, so it's not the most advanced Canon Rebel on the market, but for an entry level photographer this could actually be beneficial.
This model DSLR is relatively simple, which is a good thing if you have no clue what you're doing and are starting from square one. The most attractive part about the Rebel T5i is probably its built-in creative features. Once you take a photo, you have many image filters to choose from, which gives the novice photographer exposure to photo editing.
The Canon EOS Rebel T6 is lauded for its incredible ease of use for those who are just entering the DSLR world. Its nine-point autofocus is quick and reliable, helping novices take quick shots without having to adjust the lens manually or without sacrificing image quality.
While this model does have Bluetooth and the ability to transfer images directly to your phone, it does not have a touchscreen. It also lacks the ability to take panoramic shots or shoot video in slow-motion, but if you are new to the photography life, then this probably won't be much of an issue for you.
Canon's EOS Rebel T7i is the brand's most recent version of the Rebel model, which is why it appears on this list for best DSLR cameras for beginners. This DSLR can store an amazing 14x more information than its predecessor, the T6.
For the beginners that are raring to get out into the field, this camera is a wonderful option. It also delivers higher-performing ISO capture, meaning that the image you would get with this camera would have less noise, or visual clouding and distortion. The autofocus of this DSLR is also better compared to previous Rebel cameras.
However, for a 2017 DSLR, it is missing something that is at this point a default feature for most new cameras—the ability to shoot video in 4k.
Even if you have one of the beginner DSLRs such as the Canon EOS Rebel T6, you can't expect the camera to do all the work. As the photographer, you have to develop your own skills and understand how best to interact with not only your gear but your subject. This helpful video offers must-know tips for beginners, so make sure you take notes!
There is already a Nikon DSLR on this list, so what's the difference between that model and the Nikon D5600? This camera is a solid choice for the beginner who wants to ease themselves into a more intermediate level. The Nikon D5600 allows a photographer to create time-lapse videos and has a more advanced touchscreen than its predecessor, the D5500.
The end result is that it gives the photographer more creative control as opposed to doing the majority of the thinking for you. If you're looking to take the next step, this is one of the best DSLR cameras for beginners to choose.
Again, Pentax DSLRs are the cameras you want if you plan on taking photos or shooting video in all-weather conditions. That's why the Pentax K-70's increased stability features are so significant.
If you're a nature photographer and you're getting caught in wind, rain, or on rough terrain, you're going to want a camera that helps stable your hand and your images. So in this case, the best feature is not a technological one, but a material one: Added grip.
Unfortunately, one considerable drawback for this camera is its battery life. As a general rule, photographers should always have a second charged battery with them just in case, but this habit is more of a necessity for the Pentax K-70.
The Canon EOS 5D Mark III DSLR fast and exquisite. What makes it so special is that this is a camera that both professionals and beginners can use. It has uses frames per second than previous models in its line, and greatly improved autofocus. These features make for a more user-friendly experience. The body of the camera also has built-in headphone and microphone jacks, which makes for a more streamline video recording experience.
Reader insights
Be the first to share your insights about this piece.
Add your insights