Best Budget Recording Microphones
Whether it's for singing or narration purposes, these are the best budget recording microphones for your home studio.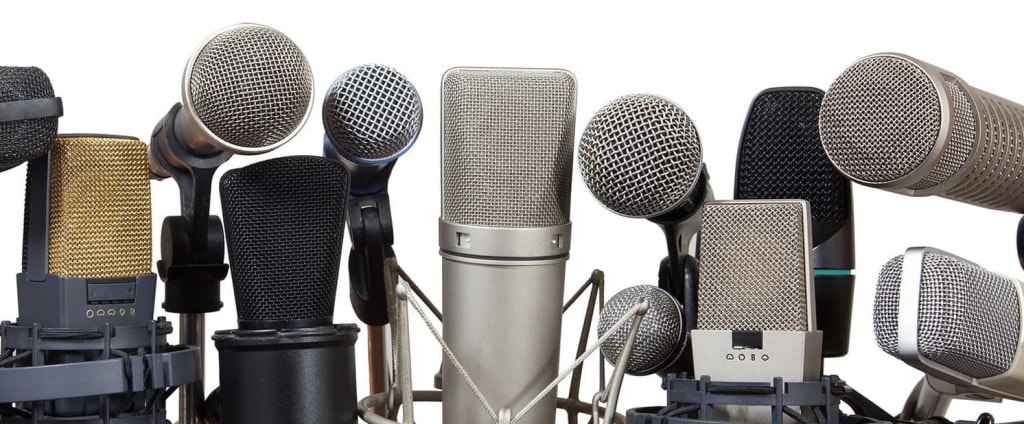 There isn't a singer alive who hasn't daydreamed about the moment they'd be able to enjoy the luxury of a home recording studio that costs more than the home they live in. Recording equipment is expensive—and even having your own home recording area is a pretty big thing in and of itself.
If you're looking to get your own kit together, a good starting point is looking at budget recording microphones. According to musicians and sound experts, these are the top picks to check out.
The Shure SM58 is somewhat of a legend among budget recording microphones. It's known for being a serious workhorse that's custom-tailored to help you get the clearest vocal recordings possible. Low feedback issues, amazing frequency response ranges, and an overall good build has made the SM58 one of the best budget recording microphones of all time.
Truth be told, many A-listers use this mic in their home studios because they know it'll get the job done without issue. It's even usable for live acts, too. If Bono from U2 fame prefers it, we can't argue with that.
Of course, vocals are only a small part of the sound recording spectrum. If you practice guitar frequently, just want to put the stuff from your guitar books to practice, or were able to re-enact a guitar solo done by Buckethead, you probably will want to catch that perfectly—which is why you should check out the Sennheiser e906.
This is a recording guitar amplifier that works as one of the best budget recording microphones for musical instruments. Crystal clear sound, three different modes, and an exceptionally fast response are what makes this a great choice, regardless of budget.
Did we mention it's capable of handling really loud jam sessions? Like, over 150 decibels, loud? That's why it's one of the best.
Speaking of instrument microphones, what are you going to use for your drum kits? The D112 MKII has long been a favorite among recording artists, and those who want to make money as a DJ that creates one-of-a-kind beat drops in their spare time.
This dynamic mic is known for working wonderfully with drums, bass guitars, and any other high-level bass instruments you may have. A flexible integrated mic mount, a low resonance frequency, and low distortion make this one piece worth writing home about.
Yes, it's hard to find bad mic reviews when you're talking about Shure. They've made some of the best budget recording microphones in history, and this is just another one of their top-rated picks. This mic has an excellent frequency response, and an impressively wide range of sounds you can capture.
The 15-decibel pad and ultra-thin diaphragm work spectacularly in this mic. This, in turn, gives you the most natural-sounding recordings possible, every time. No wonder it's used in both home and professional studios, right?
Is $50 too much for your price point? Do you just tend to assume that you can't buy any worthwhile, budget recording microphones? Well, you definitely shouldn't assume. Behringer has long been known for making dirt cheap microphones, perfectly capable of recording your voice in a pitch-perfect manner.
At around $20, this is one of the best microphones on the super-budget side of things. An ultra-wide range, and a very durable build, is what makes this one that's worth checking out.
Shockingly, it's true. You can get quality budget recording microphones, with a shock mount, under $100. The MXL 990 is a perfect example of this, and really does show that it's an excellent bargain buy for casuals and professionals alike.
Along with a top rated frequency range, this mic has an excellent gold-sputtered diaphragm that gives you professional-quality recordings in both analog and digital settings. What more can you can?
This bundle proves that you can get professional studio quality at home studio prices. And yes, you can get it from a company that's as highly regarded as Audio-Technica. A large diaphragm, a cardioid build, and a pop filter all are included in this nifty microphone—and that means that you will have smoother, better recordings, than ever before.
Need no extra noise involved? Don't worry; with an AT2035 bundle, you can rest assured that you'll have one of the best budget recording microphones for the job.
Once again, this is one of those rare budget recording microphones that has the crystal-clear sound of a high-end studio piece. (We suppose you could thank its beautiful cardioid build for that.)
This mic has a range of anywhere from 30Hz to 12KHz, and was specially designed for bass and percussion. So, if you're looking to get that drum solo recorded perfectly, this is the best option you'll find under $80.
The ES-57 has been quickly getting a lot of praise for being able to handle just about every kind of recording out there—all while costing less than $50. With its large diaphragm and extremely wide frequency response range, it's easy to see why this mike is gaining so many fans.
GLS Audio's ES-57 is the perfect choice for your first home studio, or for the recording artist that has to do a lot of different recordings, with a ton of different instruments. Versatility is key, after all—and that's something the ES-57 has in spades.
The last of our favorite budget recording microphones isn't really a home studio microphone, per se. It's actually meant for real recording studios, due to the professional sound quality it offers. And it's even called the Professional Unidirectional Dynamic Microphone.
This is one of those awesome pieces of equipment everyone can and should own—at least, if they're serious about recording good sounds. And, at under $50, there's really no excuse for skipping out. So, go ahead. Be a rock star; and enjoy the perks of being able to work with a good mic.
About the Creator
Music student and proud Chipotle fanatic. Playing local shows and writing his own music between classes and burritos.
Reader insights
Be the first to share your insights about this piece.
Add your insights