Casting dark shadows over cultural brilliance
A picture of vibrancy taken at a dark time in the city I love.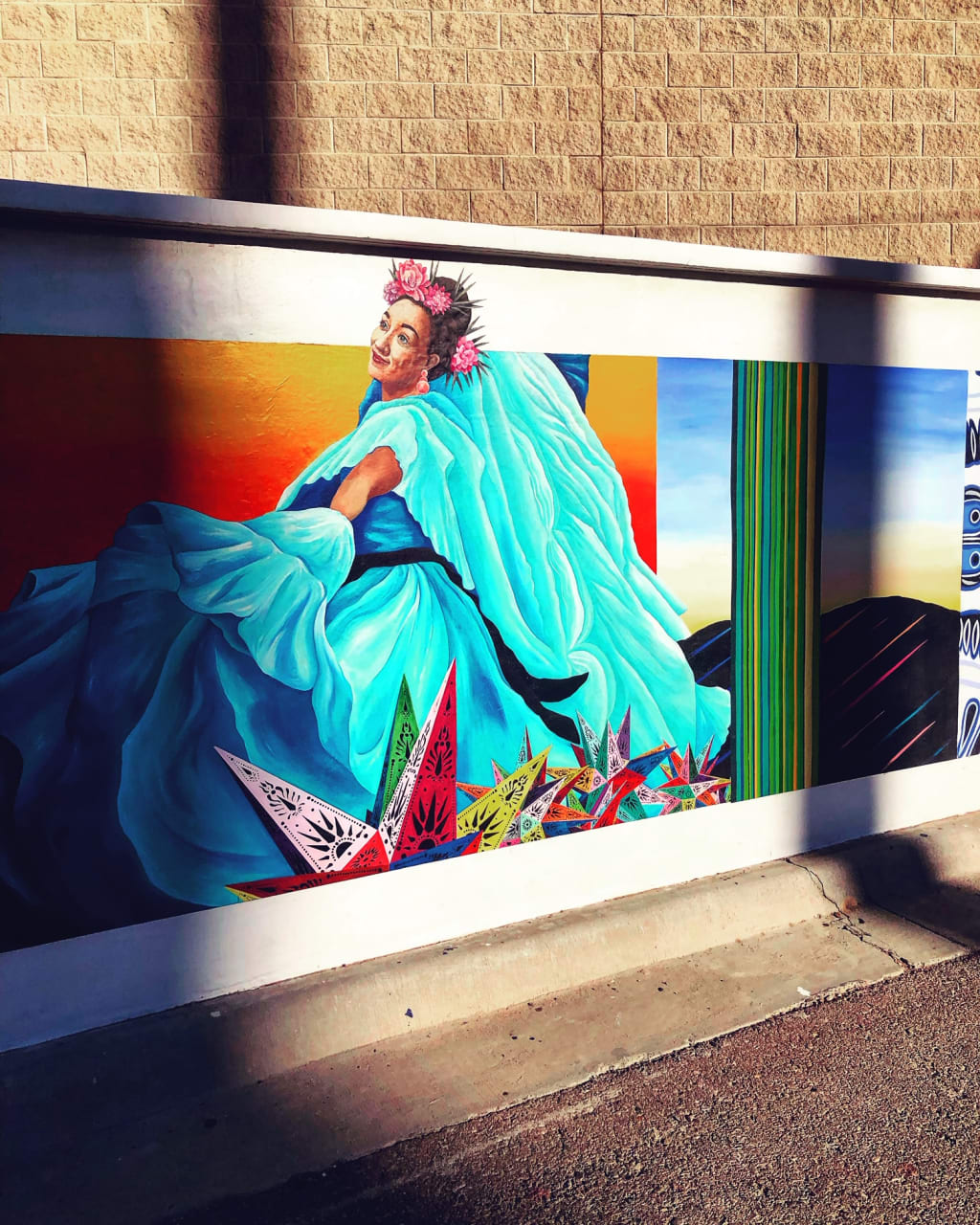 There are approximately nine to ten miles between the El Paso Museum of History, located in downtown El Paso, Texas, and Ciudad Juárez, Mexico. The two binational metropolitan cities, however, are strikingly intertwined. They are not only bound together geographically, historically, and culturally, but artistically as well. Their influence on each other is literally quite apparent, especially while gallivanting through the downtown streets of either side of the border.
There is a mural adorning a white cement wall behind the El Paso Museum of History, located at 510 N. Santa Fe St. The mural depicts the diversity, flamboyance, and unique beauty of the binational and bicultural border community. However, as an often commuter of the Downtown El Paso/Juárez area, it is remarkably easy to live amongst such great artwork and inadvertently dismiss it. This is true especially for the region's mural artwork. Fueled by both El Paso's and Ciudad Juárez's large working-class demographic, urbanity, and vibrant cultural representations, murals are virtually everywhere. For that reason, El Pasoans and Juarenses, me included, can visually become accustomed to their presence, forgetting to stop and admire their representation and exquisiteness every so often.
When the mass shooting in El Paso occurred, which took 22 individual lives and wounded 24 others, I was physically present in Dallas visiting my brother. Spiritually and emotionally, however, I was back in El Paso. As I watched the event unfold on multiple news and media outlets, I longed to be together with my community, to help them navigate through the emotional grief, but mostly to begin the healing process, to initiate the grieving process.
The shooting proceeded after the publishing of an extremist manifesto written by the shooter himself, a document which referred to Mexican immigrants as "invaders." There were many fallacies and xenophobic aspects to the manifesto, but that one word dug at my guts and sliced at my heart. In El Paso, Mexicans are not invaders. Despite of the political turmoil surrounding immigration, Mexicans are friendly neighbors and school teachers. They are children's mothers and fathers. They are business owners. They are church members. In El Paso, they are simply part of the family. Calling Mexicans "invaders," along with many other derogative terms within our current social discourse, is harmful rhetoric.
I returned to El Paso a few days after the shooting occurred. While there was already a makeshift memorial monument at the scene of the horrific crime, I wanted to re-embrace the city I love deeply through its cultural street art. I took a walk through Downtown El Paso and stopped to appreciate the mural behind the city's museum of history.
As I did, I noticed the casting of shadows dawning on a particular section of a mural depicting a dancing woman. She is wearing a China Poblana, a traditional dress worn during El Jarabe Tapatío, the national dance of Mexico. These dresses, along with their floral hair pieces, are exuberant in color. The woman in the mural is dancing amongst several pointed star piñatas, also traditionally vibrant in color. Much of the Mexican and Mexican-American aesthetic is vibrant in color, as are El Paso and Juárez, by proxy.
As my hometown mourned, the casting of the shadows against such a polychromatic backdrop was paradoxical. Here was a dark event trying to opaque the beauty of our city, our welcoming of both cultures, the exulting of our binational people, and the beauty that is the borderland. But the lively colors of El Paso's culture, heritage, and energy wouldn't let it. I loved the contrast between those two visual elements; the dark shadows being casted against a spirited backdrop, as in implying that the city would endure and prevail these dark shadows.
I quickly grabbed my iPhone 11 camera, set it to the Vivid filter and used the built-in flash, even though it was obviously still daylight time. In El Paso, as in many other metropolitan downtown areas, there is a specific timeframe where the setting sun and mountainous surroundings will cast beautiful shadows across the city. It was just within that timeframe that I had decided to go look at the art.
Later, I used the Lark filter on Instagram to help the bright color scheme seem a tad bit more vibrant than it already was, but only slightly. Through the editing platform, I like to darken the shadows by bringing down the brightness, but not even to darken the backdrop. To make the blue hues pop, I bring up the contrast as well as the picture's warmth.
To those who haven't visited El Paso, the picture might just be visually appealing. But to those who have and to those who live here, the picture has a profound context. It conveys our strength and brilliant energy as a city to continue embracing our Mexican and Mexican-American heritage despite of the dark implications others may have of us. The picture, as much as we do, represents us as both Americans and Mexicans.