10 Best Tripods for Traveling
You'll need the best tripods for traveling if you're planning on capturing your favorite moments while you explore the world.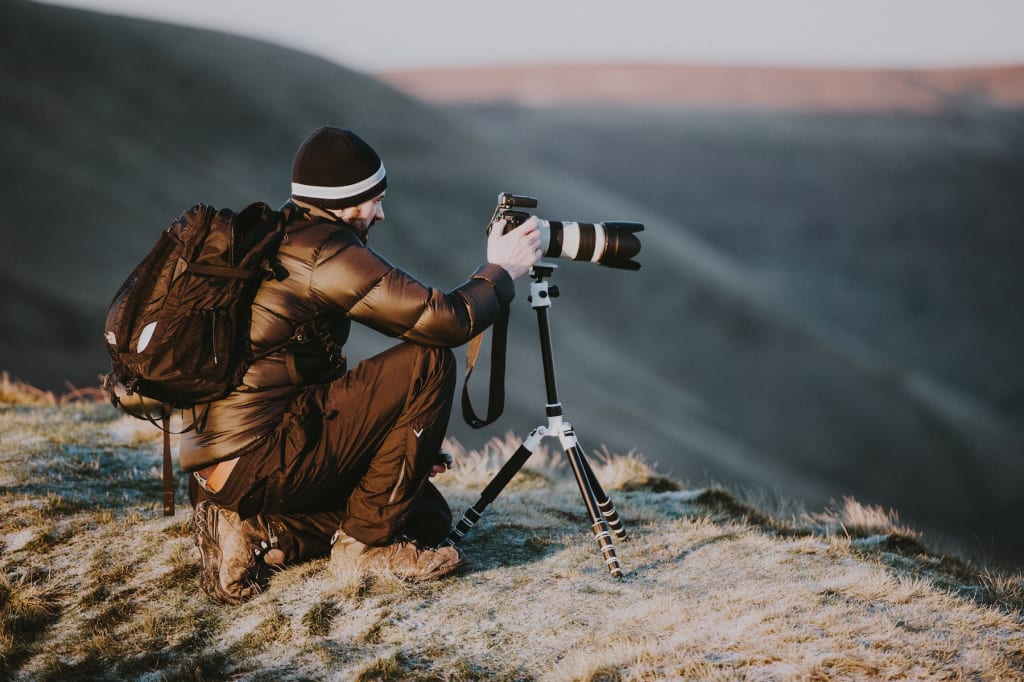 Unless you're an expert photographer with thousands of hours of experience and have several awards in your trophy room for the photos you've taken, your hands probably shake while taking pictures. Sadly, this applied to me when I visited my girlfriend in Italy. Seeing how it was my first trip to Europe, I was determined to capture every moment with my camera. The photos I took were less than ideal and some were just too blurry to even tell where I was.
One of the options available to improve your photos is iPhone X attachment lenses. However, I think if you really want high-quality pictures taken and moments captured, tripods are what you need. There are a number of reasons why tripods make your photos awesome and the newest ones are incredibly portable and offer a wide range of features. So if you're planning a big trip or vacation somewhere, check out the best tripods for traveling, and your pictures will never look better.
Coming in seven different colors and two styles, the tripod from MeFOTO is in the rare group of products that can be called an Amazon Choice. Amazon allows only products that are highly rated, well-priced, and available to ship immediately as choices, showcasing how well-received this model is. Made with aluminum or carbon fiber (your decision), this tripod offers 360-degree panning, making no angle difficult if you wish to take a panorama shot.
MeFOTO's inventive locking grips combined with anti-rotation legs allow for a fast and easy setup, which is crucial if you're venturing out into the world. There are unforeseen and unpredictable moments that happen everywhere, so you have to be prepared. The legs can be folded back 180 degrees, which makes it portable and one of the easiest tripods for traveling. If you're still worried about blurry photos, this tripod has a hook located in the bottom of the center-column for which you can hang things on. This leads to increased stability and perfect pictures.
The Vanguard VEO 235AB also has the distinct honor of being an Amazon Choice, ensuring it is one of the best tripods for traveling. It has a soft rubber handle that is easy to use, regardless of where you are. Made of the always sleek stainless steel, keeping it reliable and sturdy despite constant travel, the VEO 235AB is the cheapest of the VEO series from Vanguard.
Equipped for rapid column rotation, it is designed for compact transportation and instant set-up. The Vanguard can handle almost any camera, having a maximum capacity 13.2 pounds. This is possible because of the tripod's aluminum alloy legs, which house three different leg angle options and feet that are able to change from rubber to spiked. So if you find yourself racking up a lot of frequent flyer miles and need something that can you can rely on, this one is for you.
If you can't trust a company called 3 Legged Thing for the best tripods for traveling, who can you trust? Their Punks Corey model can be trusted, I can assure you. It has a loading capacity of 30(!) pounds, a maximum height of 58 inches, is 13.4 inches long while folded (for transportation purposes), and weighs about three and a half pounds.
The unsung hero of this tripod is the rubber-coated twist locks, keeping your hands protected by not having to grab hot or cold metal (depending on where you are) to make adjustments. So if you're in Hawaii or Antarctica, you'll be counting your lucky stars you won't have to touch metal. They are also much easier to use and allow you to make very slight changes with minimal effort.
Another series from Vanguard, the Alta Pro 263AB 100 is one of the options from the Alta Pro collection. Possessing an extended height of 68.125 inches, the 263AB 100 allows you to take pictures from every angle. If you put more emphasis on angles rather than portability, this is the tripod you need. It also has durability, containing a magnesium die-cast canopy and an anti-shock ring. The aluminum alloy legs can adjust to 25, 50, and 80-degree angles—this helps with low-angle photography. So if you're going to visit famous tourist attractions and beautiful statues and buildings, this tripod will be able to reach any angle and avoid all other photo-seeking individuals.
If you can get over the initial creepiness of the adjustable legs and realize how useful they are, instead of focusing on how it makes it appear like a robot spider, then this qualifies as one of the best tripods for traveling. Obviously, the legs are the most unique part of this of this tripod. They can wrap around almost anything, which is great for traveling as you won't always know where you'll end up or what will be around you. The legs were made with Japanese medical-grade ABS plastic and German TPE for secure joints, and it is the only tripod in its class to have either of these materials.
This tripod will suit sports-lovers and those with an active, outdoorsy lifestyle as it is designed to support action video cameras, POV cameras, and CSCs. So if you're planning on traveling to a sporting hotspot (surfing, skating, skiing, etc.), this can record your efforts from practically anywhere. However, it will work just as well for those who dig robot spiders or are not freaked out by the design.
With 85 percent of Amazon reviews being five stars, this model by Manfrotto is one of the best tripods for traveling on hearsay alone. With over 700 reviews, that's a lot of satisfied customers. It's worth noting that nine percent of the reviews are four stars, meaning 94 percent of all reviews are overwhelmingly positive.
It's easy to see why. The MTPIXI-B PIXI Mini is just that, mini. Easy to transport, low-priced, and looks cool, there just aren't many flaws with it, if any at all. The push button lock system makes adjusting simple and the tripod head can be paired with most devices, making quick photos in crowded tourist attractions easy. The size makes it easy to fit in luggage or a bag if you're traveling with it. The design is what draws my eye and would probably be the reason I would get this one though. It's just nice to look at and seems futuristic, doesn't it?
The smallest tripod you could imagine is made by Pedco and is super easy to use. It's lightweight, portable, compact, and comes with a removable D-ring VELCRO brand cinch strap. This strap can wrap around street posts, trees, railings, or object you encounter during your travels. Coupled with fold-out legs and non-slip vinyl feet that fit essentially any device, this may be the easiest to store and travel with.
One of the cheaper tripods for traveling is made from the trusted brand Kodak. It's Kodak, so you know it'll be good since it was featured in a song by the voice of our generation, Pitbull, after all. It has a three-way fluid pan head with bubble level indicator to ensure your pictures are even and sound. The aluminum stand has adjustable legs, weighs less than five pounds, and has non-slip rubber feet for unstable or slippery surfaces. That means that waterparks, waterfalls, or anywhere else with a lot of water will not move this tripod. All in all, it's a simple, cheap option for those who don't need a lot of features and add-ons.
I know what you're thinking, "Oh joy, another one with creepy legs, it will one day rule over me." Other than the fact that you watched one too many Transformers movies, you're potentially sacrificing a great deal for your own irrational fears. These legs are colorful, have rotating rubberized feet to keep your images stable, and can grip almost anything. The freely rotating, lockable ball head gives you the freedom to switch angles with ease. Hopefully, the colorful legs and unique will distract your children enough to get them to actually look at the camera (if they're still too young to not know what's happening). Get this before you watch the next Michael Bay installment to the series and thank me later.
This is the answer to every millennial's dream. This stand works as a tripod AND a selfie stick. MeFOTO returns with their seven color options, including purple, orange, light blue, and bright red. If you're going for style, this has it in spades. Using cutting-edge technology, and probably some witchcraft, MeFOTO was able to get the total weight down to a mere two pounds.
With the Bluetooth remote and smartphone adapter, you can take selfies wherever you are and whenever you want. This will help you avoid the millions of street vendors selling selfie sticks on the street. So easy to take with you, lightweight, and allows you to avoid 50 people asking if you want a selfie stick? Sign me up.
There you have it, those are the best tripods for traveling. All offer different features and provide various benefits, be sure to find the one that's right for you. Once you have your perfect tripod, grab your camera, find the best camera bag for traveling, and go off to explore the world. Who knows, maybe you'll become one of best photographers to follow online, become viral, and never have to work a day again.
About the Creator
Huge sports fan, primarily hockey and football. Also a big TV and movie fan. Recent Marist graduate writing about whatever interests me!
Reader insights
Be the first to share your insights about this piece.
Add your insights