The Cutest Dog & Cat Beds Your Pets Will Love
Which of the cutest dog and cat beds on the market is the perfect fit for your pet?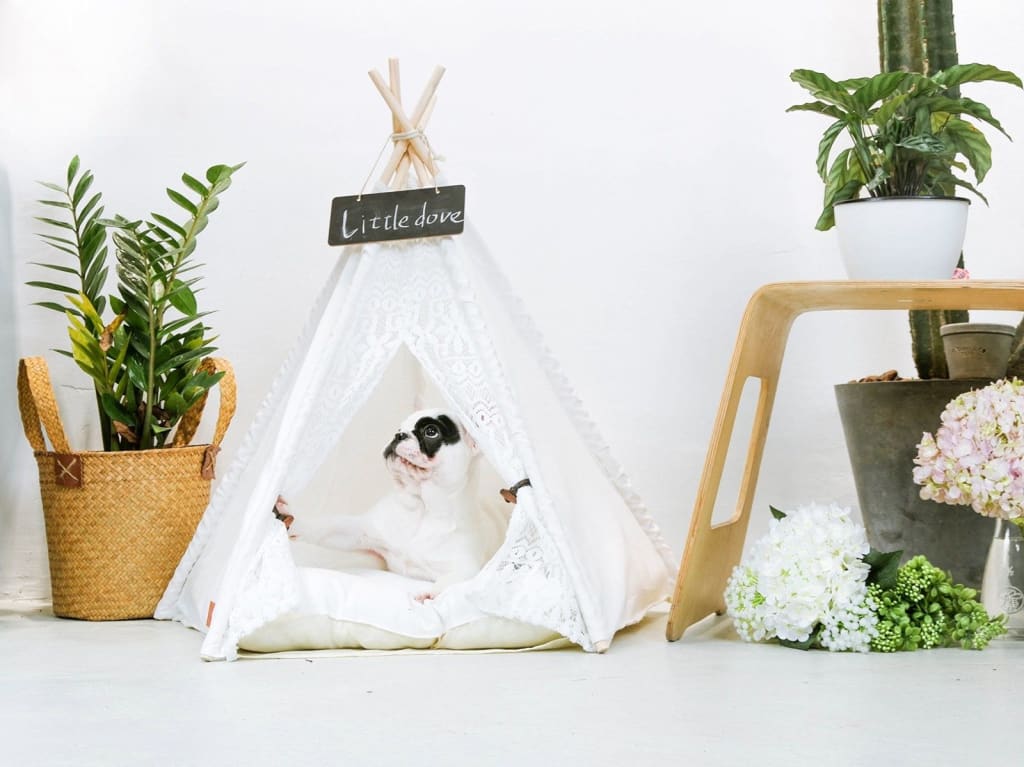 When purchasing a pet bed, or really anything for your pet, you want it to be cute, right? You could DIY a cute, easy cat house or purchase one of the coolest cat condos, but sometimes you just want to give your furry friend their own space without taking away from your own decor. So, instead of purchasing a boring old flat dog bed, we've laid out the cutest dog and cat beds on the market. With comfort, style, and adorability, each of these beds have character, just like your pet.
We have provided five cute dog beds and five cute cat beds. From a dog teepee to a kitty bed shaped like a lion head, we've got it all. Which bed fits your pet the best?
It doesn't get much cuter than a dog bed that looks like a human bed. To start off the cutest dog and cat beds, this is the perfect size for small to medium sized dogs. The mattress cover can be swapped out with the stuffing of your choice, so your dog's bed will constantly change its look.
As a comfortable and adorable place to sleep, you can even personalize the bone at the head of the bed with your dog's name. Below the mattress, there is even a small storage drawer, perfect for the best dog leashes, toys, and any other doggie accessories. Plus, there is a metal handle on each side of the bed, making it easy to move around the house.
This is not your typical dog bed, but among the cutest dog and cat beds, it hold its own. This cute little shark is a self-warming bed, so even in the winter, your pup will be snug and warm.
Perfect for small dogs, this bed is certainly a conversation starter, if you don't mind explaining to your guests why a shark has eaten your dog. The inside cushioning is removable and washable. Plus, the cotton lining is both durable and comfortable.
We think this might be the best pet bed we've ever seen. If your dog is a Tumblr girl who loves to create an aesthetic in her bedroom, this is the best fit for her. As an adorable teepee, this little house is perfect for any small dog or cat.
You can even transport this teepee outdoors for some fun in the sun. But Little Dove has one caution for pet owners who purchase this bed: they might not come out once the teepee is built!
A teepee and now a hammock? Your kitty is about to live its best life. Another one of the cutest dog and cat beds that can be used inside or outside, give your cat the option of swimming on a hammock to relax. This hammock is the perfect size for a medium to small sized cat or small dog. And don't worry, it's plenty sturdy to keep your pet balanced. It isn't called a luxury cat hammock for nothing; they can now swing the afternoon away like a queen.
We promise we're not suggesting your cat is a meal, but doesn't he look so cute all snug on that platter? Made of soft faux fur and a foam core, the platter features some fruit, a croissant, and a perfect place for your kitty. Fun fact, they say that fruit attracts the attention of pets, so this might be their next favorite bed.
This knitted pet bed is adorable, but the advertising photo might just take the cake among all of these options. Handmade with love, this chunky knit cave is perfect for any pet who loves to cuddle. The braid is made with a cotton tube filled with hollow fiber, and feels extremely gentle and soft to the skin. Plus, it's even hand or machine washable and can be easily cleaned. We can guarantee your cat will look adorable in this little bed, and it'll last you for years.
This pet bed is not just a bed, but an entire home for your little friend. Because it's durable, this bed is perfect for both indoor and outdoor use.
The home provides two places to sit, inside and outside, plus a little ladder to get to the roof area. Perfect for outdoor use, your dog can sunbathe the day away. Including side sets, a balcony, and latticework, this dog house is nicer than most human houses—and with a 20 minute assembly, you will have created it without a sweat.
This last dog bed is a grand one. Among the cutest dog and cat beds, this dog couch is fit for a king or queen. Fitting a pet up to 75 pounds, this is the perfect large pet sofa for the bigger pups.
It has a classic appearance that will fit right in with your own furniture. Designed with brass color nailhead accents, it looks just like any other sofa. With wooden feet, the bed is lifted off the floor, keeping your pet away from any draft.
Best Friends by Sheri has one of the cutest dog and cat beds mainly for its adorable name: a fur donut cuddler. The concept is simple; it has a round, donut-like shape, with a lowered spot perfect for a small dog, or even a cat. Offering orthopedic relief, the bed is self-warming and machine washable. Plus, it's water-resistant and super easy to clean.
We're sure you've heard of cat tunnels, but how about a cat tunnel bed? Combining comfort and fun into one, this cat bed is the perfect addition to your cat's accessories. The bed lies inside the tube, for some extra privacy. Plus, the bedding area is plush and super comfortable.
With a unique yet chic design, the bed features solid woof feat that will fit into any living room decor. Just be warned you might not be able to drag them out of the cozy tunnel, even for a treat.
Who wouldn't want to see their cat curled up in a banana? This banana features a semi-open lid, perfect for a cuddly kitty. The bed is stuffed full for ultimate comfort while the design itself is just adorable since it's shaped like a really large banana. This product is a definite conversation starter. The bed is perfect for any pet under 10 pounds, and as one of the cutest dog and cat beds, you'll want to curl up inside one of your own.
This is one of the cutest dog and cat beds because of the shape. Who wouldn't want to watch their kitty curl up underneath a slipper-shaped bed?
This bed is so adorable and cushiony, you're going to wish you had one of your own. The lining is waterproof, made for easy cleaning. Plus, you can even remove the cover from its zippered opening. Provide your kitty with some protection in their bed with the added extra pouch.
If your pup feels left out after discovering your kitty in a slumber bag, you can get one for him, too! This "Snuggery Burrow Pet Bed" is the perfect addition to your pet beds at home. Allow them to bundle up like a human for once with this easy to easy and easy to clean dog bed. Big enough for medium dogs, it even comes in pink, green, and blue. Plus, it's velvety soft, so you might not see them for a while after they discover its comfortable texture.
Okay, we promise this is the last sleeping bag-style cat bed, but we had to mention this due to its adorable burrito shape. The bed features a faux-fur lining and trim, plus a combination of foam padding and fleece. And, the outer shell is made of microfiber. How soft can you get? As one of the cutest dog and cat beds, this one rounds our sleeping bags off with a bang.
If your dog is a total prissy pants, this is the perfect bed for them. Allow them to lounge around on their velvety chaise lounge with this dog sofa. Just be sure you dress them up a bit and maybe add a pair of sunglasses to fit the scene. And of course take a picture. This couch fits pets up to 30 pounds, and is made with a strong wooden frame and microfiber suede cushioning. It's fit for a king, or queen.
This is one of the most unique cat beds we've ever seen. You mount this bed on the wall, and it holds pets up to 30 pounds. Featuring sturdy braces that support your cat, the Kitty Sill is a must for every cat who loves to lounge.
The sill is easy to install and will fit into your home's decor. On top of the sill, the sleeping area features orthopedic foam, fit for the queen of the house. With an oval design, the kitty bed is simple, yet innovative.
Created with a modern design, this cutest dog and cat bed is especially warm and cozy.
Plus, it can also double as a piece of home decor. The perfect spot to nap or relax the day away, your kitty will love this hideout. This cocoon is spacious enough for cats of all sizes, and will provide a comfortable home for your cat to sleep. And best of all, the bed is made with merino wool, which is soft, flexible, and repels dirt, stains, and odor.
We all know that cats love to bury themselves into small spaces, so why not purchase a cat bed that does just that? This burger bed is shaped like a shell, allowing your cat to have a personal hideout. Holding any cat up to 12 pounds, the shell is anti-skid, waterproof, and moisture-proof at the bottom. Plus, it preserves a cozy warmth within its thick and comfortable material.
Kleeger's canopy dog bed is more of an entire dog house, but it still makes our list of the cutest dog beds. Perfect for small dogs, or even cats, this outdoor shelter is perfect for curious dogs rooming the backyard. Created with breathable mesh and lightweight material, it is easy to clean, and even easier to please your pup with. They will happily jump inside to receive some shade.
Have you ever heard of a cat sleeping bag? Well, now you have. What's more adorable than a cat bed with cat ears? This sleeping bag allows your kitty to bundle up. It is appealing to cats who love tunnels, because it features crinkle paper on the inside.
However, it won't stay open like it does in the picture, and will come to a close once they have claimed their spot in their new throne. Featuring layered velvet fabric, the material is easy to clean and will be fur-free after a simple cleaning. Your kitty will become addicted to curling up inside this adorable sleeping bag. Plus, it even comes in pink, beige, grey, or brown.
Made of 100 percent merino wool, this is called a "Cat Cave," and if that doesn't sound cool, we don't know what does. You can either use this bed as a hideout, a cat house, or just a chill relax station for your cat.
Made with a unique and fun design, it's sure to match your cat's character. Lightweight and durable for even the roughest kitties, this is sure to last you a while.
To conclude to cutest dog and cat beds, we had to offer up a wild card. This cat bed is a lion head, and features an adorable little lion that provides a cozy home in its mouth for your kitty.
Perfect for a small kitty or even a small pup, this lion head is certainly filled with character and personality, great for cats with an equal amount of spunk. However, it does come a little smaller than you think, so if you've got a big kitty, they might fit a little snug inside the lion.