Best No Bake Dog Treat Recipes
Your fur babies deserve some homemade treats every now and then. Eliminating the need for any skills in the kitchen, these no bake dog treat recipes make rewarding your pup fun and easy.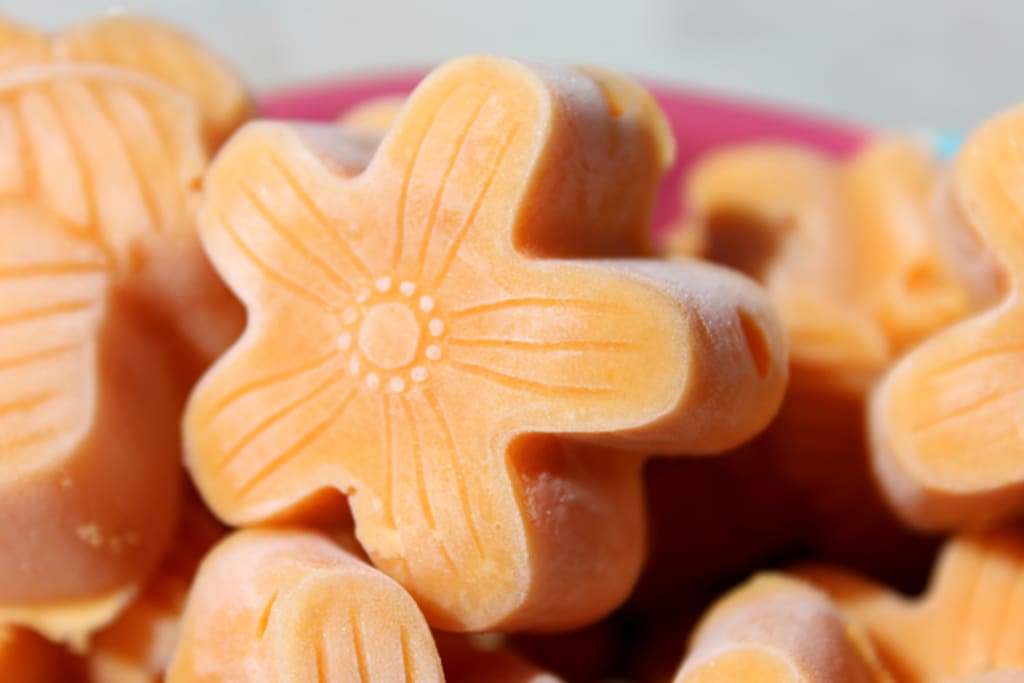 With peanut butter and bacon, these no bake dog treats are sure to satisfy any puppy. These homemade no bake dog treat recipes are simple to make, and super healthy for your dog. You might even want to steal a few bites for yourself!
Plus, these treats are perfect for a dog who might have allergies or medical conditions that limit their nutritional options. Or they can simply provide an easy way to spice up your dog's meals from time to time.
Featuring fruity frozen snacks, doggie popsicles, and even puppy froyo, find new ways to tell your dog "I love you" with these treats. Best of all, you don't have to be a whiz in the kitchen to do so. Our personal favorite is the frozen pumpkin treats, which is perfect for fall time. Has your dog been a good boy all week? Then you better head off to the kitchen, pronto.
Peanut Butter Dog Treat
When thinking of the best no bake dog treat recipes, peanut butter first comes to mind. As one of the simplest treats to make, you can never go wrong with peanut butter. This recipe comes from Wide Open Pets. Requiring one cup of pumpkin puree, 1/4 cup of peanut butter, 1/4 cup of milk, and three cups of old-fashioned rolled oats, the only tool you'll need is an electric mixer.
Fitted with a paddle attachment, your mixer will combine the pumpkin puree, milk, and peanut butter on the medium-high mode for two minutes. Next, you will switch the speed to low, and gradually add about 2 1/2 cups of your oats. Scoop and roll the mixture into 1 1/2 in balls, and cover them with the remaining oats to form a coating. Place them in the fridge for an hour, and then you're ready to treat your pup!
Carrot Balls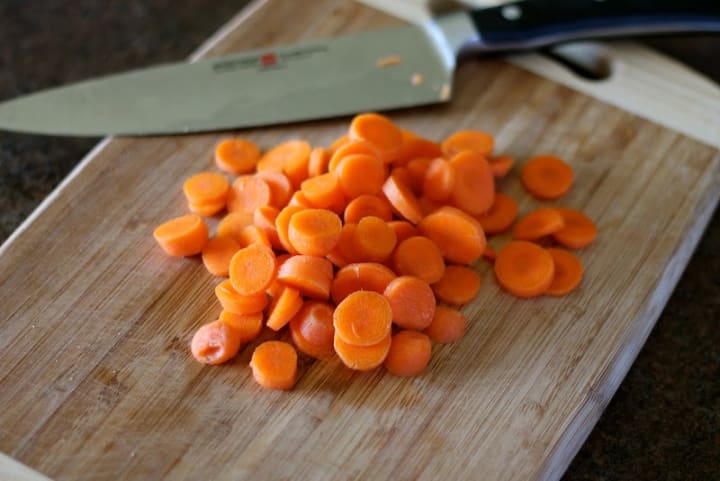 While they might not be so appealing to people, carrot balls are the puppy version of popcorn balls. Needing two peeled carrots, greek yogurt, and applesauce, this recipe is fun to make and loved by all pups. As one of the best no bake dog treats recipes by iHeart Dogs, you will first chop your carrots into large pieces.
After your chopping is complete, you will mix two tablespoons of nonfat organic Greek yogurt and two tablespoons of organic applesauce. Once your mixture is complete, place your carrots on top of the mixture, and mold the combination into balls. Once you're all out of carrots, freeze the balls. As a healthy and simple treat for your pup, these carrot balls will be a hit.
Frozen Apple Treat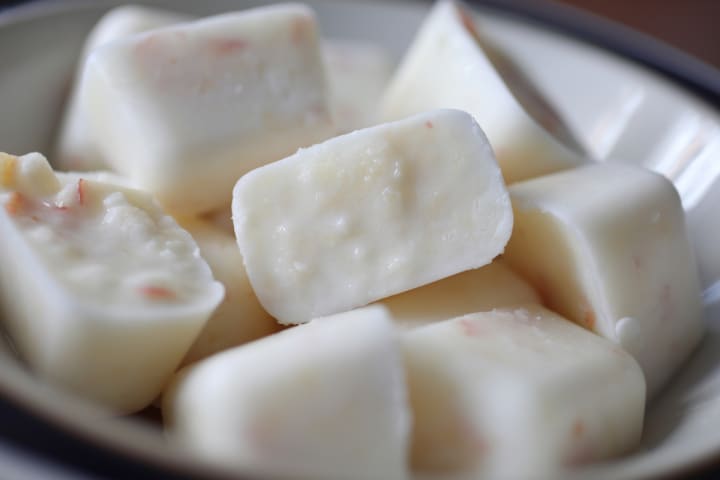 Frozen apple treats only require a few ingredients: two apples, one cup of Greek, nonfat, plain yogurt, and water! As a perfect treat for the summer by Wide Open Pets, these ingredients might already be in your refrigerator. To begin, you will slice your apples into small pieces, removing the core and seeds.
Then, grab your handy NutriBellet or blender, and mix the slices of apple with the rest of your ingredients. Pour this new mixture into an ice cube tray and freeze for a couple of hours, or until they become hard. Once frozen, you can reward your pup at any time with this tasty treat.
Doggie Froyo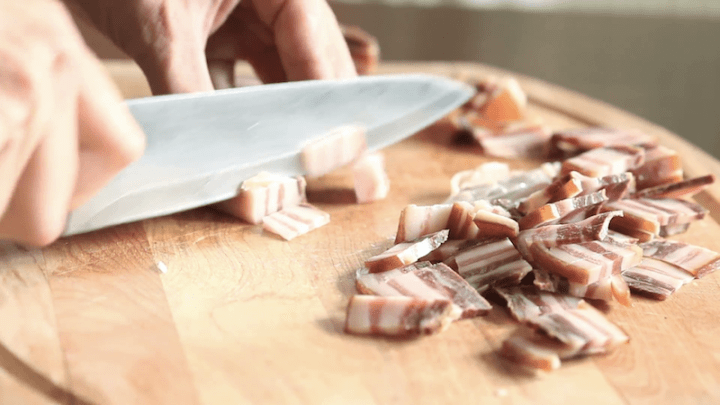 Pups can enjoy a nice bowl of frozen yogurt on a summer day, just like we do. Using nonfat organic Greek yogurt once again, all you'll need is two tablespoons of this and half a piece of all-natural bacon. Chop up the bacon, and add it to your yogurt. The last step is to add your bacon yogurt into a Dixie cup, add a bully stick, and freeze!
Another way to make froyo is with frozen applesauce. With another two tablespoons of organic nonfat Greek yogurt and one tablespoon of organic applesauce with no sugar, you will freeze this mixture with some mint or blueberries to complete. Both of these recipes come from iHeart Dogs, and you pooch will surely devour them in seconds. Just be sure he do his best trick first.
Frozen Pumpkin Treats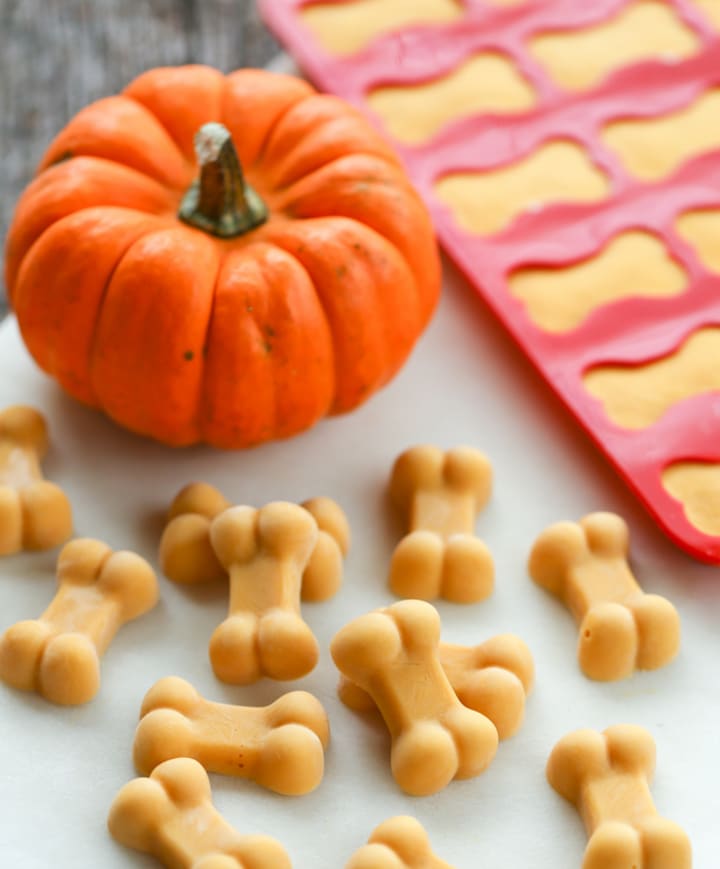 As a great fall time treat to celebrate the season change with your best friend, frozen pumpkin dog treats are easy to make. The best part of all is that these treats only require three ingredients: pumpkin puree, plain yogurt, and peanut butter.
Taking about 15 minutes to create, including clean up time, you'll need a single can of 100 percent pumpkin puree, one cup of plain organic yogurt, and half a cup of peanut butter. Combine these ingredients, and all that's left is to wait. Freeze them overnight, and in the morning you'll have a delicious treat for your dogs, all thanks to Puppy Leaks.
Pumpkin, Blueberry, and Bacon Pupsicles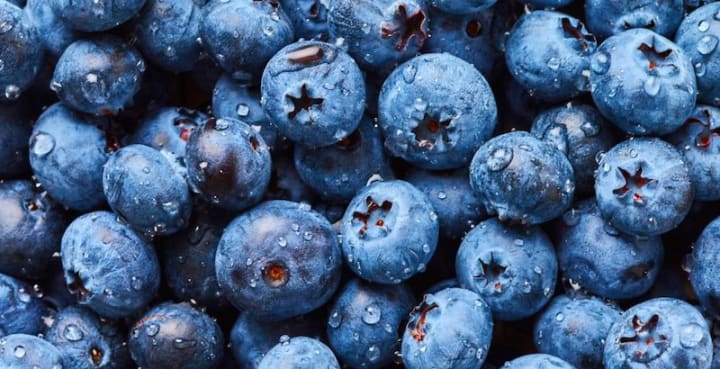 Have you ever made your pup a pupsicle? If you haven't, today's the day to start. Using three of the best ingredients to please your dog (bacon, blueberries, and pumpkin), this might not be the most appealing treat for humans, but pups will eat them up.
As a great treat for nutrition and a loaded taste, all you'll need to freeze these popsicles are some added water and a few hours in the freezer. For a handle, add a package of rawhide sticks to your pops for easy handling. As one of the best no bake dogs treats recipes, Daisy the French Bulldog's recipe is unlike any other.
Coconut Treats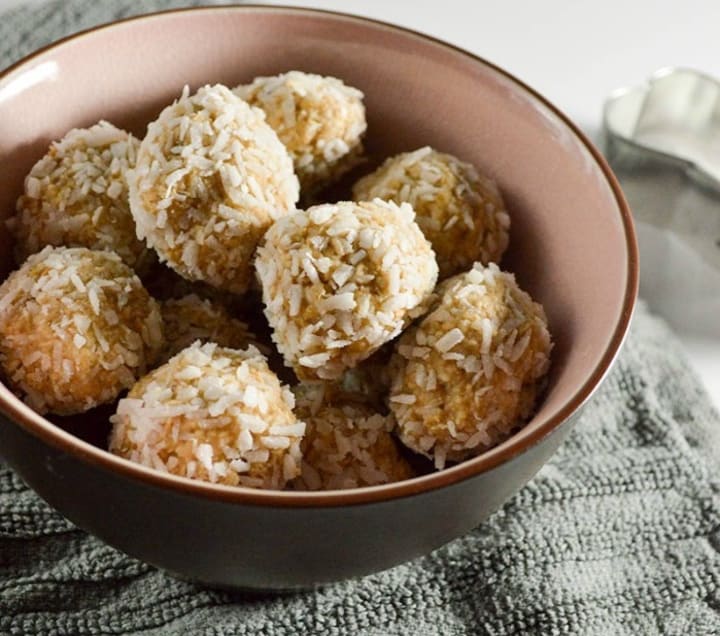 Believe it or not, there are a bunch of coconut oil dog treat recipes to try. Humans aren't the only ones that can enjoy the nutritional properties of coconut oil. As a great recipe that is also hypoallergenic, these coconut drop treats come from Dog Vills. You'll need 1/3 cup of coconut oil, two to three tablespoons of peanut butter, 2 1/2 cups of rolled oats, and 1/3 cup of finely shredded coconut.
Simply add the oats, PB, and coconut oil to your food processor to be mixed well. Then, scoop out bite-sized pieces depending on your dog's size, and roll into balls. Roll the balls gently in the finely shredded coconut until each is coated. Finally, refrigerate for 30 minutes on a flat tray lined with baking paper.
Watermelon, Honey, and Coconut Milk Treats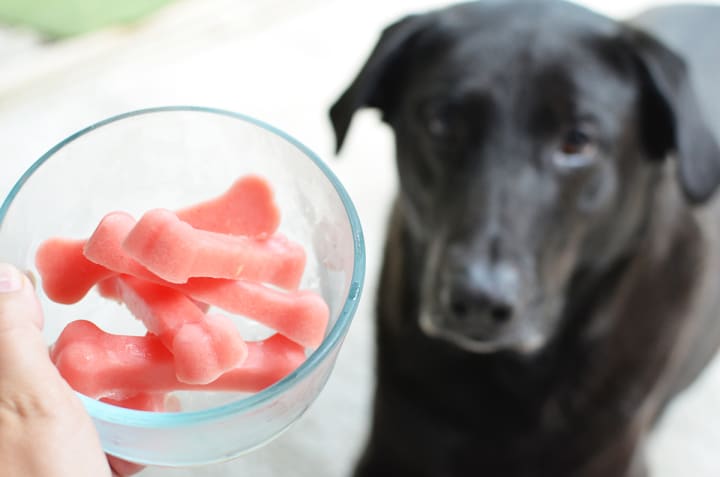 Did you know that watermelon is a great treat to give your dog? They love it, and it's nutritional. As one of the best no bake dog treat recipes, watermelon is the main ingredient of this treat. Created by Gone to the Snow Dogs, you will only need two cups of watermelon, one cup of coconut milk or water, and 1/4 cup of honey. However, the honey is always optional if you don't have any around the house.
Take the ingredients and pour them into a blender to puree. Once it turns into a juice-like texture, pour the liquid into ice cubes to freeze. When they're frozen, they're complete. And best of all, you can try one as well!
Fruity Hearts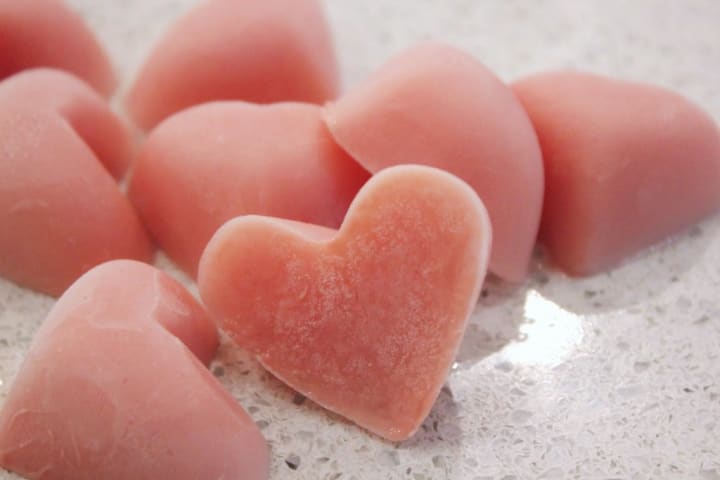 Another treat with fruit as the main ingredient, these fruity hearts are adorable, easy to make, and tasty for both pups and humans. In this recipe by Talent Hounds, they released these instructions to celebrate spring weather. Some of the safe fruits you can create this treat with are bananas, raspberries, apples, strawberries, melons, pears, pineapples, oranges, and watermelon. Just be sure to wash, peel, and seed the fruits as necessary.
To create, you will add peeled chunks of watermelon, yogurt, and a handful of raspberries in a bowl. Blend them with a fork, use your hands, or use a blender. Using a plastic try of heart molds, you will add your mixture, and cover with plastic wrap to freeze. Freeze for a few hours, and your pup will be waiting by the freezer to devour.
Smoothie Snacks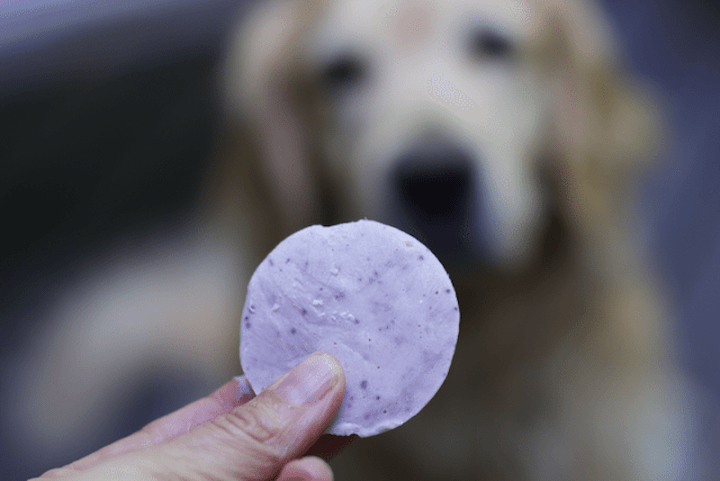 We had to mention this treat that might be as appealing to the owner as it is for pup. As a great treat for both dogs and kids from Staying Close to Home, this recipe calls for honey, nonfat plain yogurt, a banana, and some peanut butter.
First, place the banana into your blender, and add about 32 ounces of the yogurt. Next comes two tablespoons of peanut butter and honey. Mix these ingredients well, and add the mixture into small plastic containers or an ice cube tray for a mold. Your mold should mimic a hockey puck shape. Lastly, just freeze them! Once they're done, you can enjoy one alongside your pup. You just might have to ask them to play dead first.