11 DIY Cat Houses You Can Easily Make
We all want a place for our kitty to call their own, but they can be expensive to buy. Why not try making one of these DIY cat houses?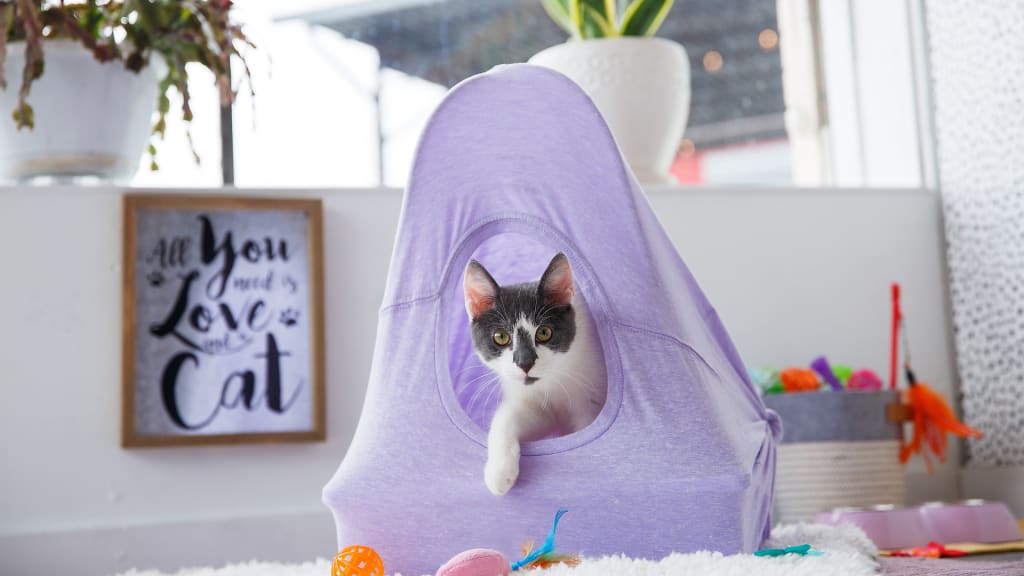 We all know that feeling—we spend a ton of money on buying our cat the most beautiful, soft, expensive cat house we can find, only to see her more interested in an empty cardboard box than the $100 cat house you were convinced she would love. Now you've wasted money and your cat still doesn't have a nice place to call her own. Sure, that empty cardboard box is cool, but if your cat is anything like mine, she'll get excited about it and play with it for a day, then never touch it again. It's just one of those weird things your cat might do. Your kitty wants a warm place to snuggle, but if your lap is occupied, what can she do? Rather than keep spending money to find out which house may strike her fancy, make one of these DIY cat houses all your own! If she doesn't like it, it's not a big deal, since it took very little time and effort to make. And if she does, well, it's a win-win!
We're starting off the list with not a house, but a bus! I love the look of the classic VW bus, and this DIY vintage cardboard bus cat house by Zen Mode On is totally genius. It's a more creative way to use a cardboard box than just making a regular house, especially if you love that vintage aesthetic. All you need here is (obviously) a cardboard box, spare cardboard, a box cutter, ruler, craft paint and paintbrush, painter's tape, and a hot glue gun. Follow along with the video above and soon your kitty will be ready to drive to the beach and catch some waves! It's one of the cutest ways to spoil your cat.
Crochet Cat House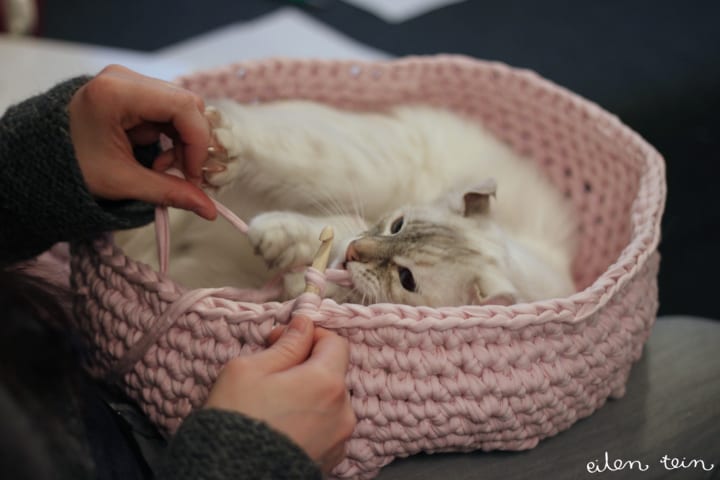 If you're skilled in the art of crocheting, why not put that skill to use for your kitty and make him a house? This adorable house by Eilen Tein has a pretty easy stitch if you know what you're doing, and you only need the yarn! No glue, paint, or nails needed here. You can put some wire around the entrance to give it some support if needed, but otherwise, out of all the DIY cat houses, this one requires the least amount of materials. Her cat loved it, and yours will too.
Suitcase Bed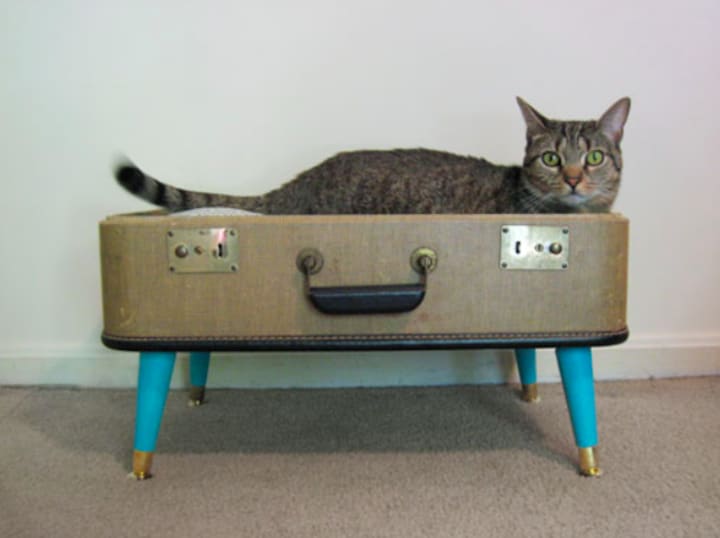 This is less of a house than it is a bed, but I still think it works! From Fancy Seeing You Here comes this DIY vintage suitcase pet bed that doesn't require too many materials or too much work. You only need your suitcase of choice, table legs, angle top plates, some craft glue, and paint for decorating. In terms of tools, you'll need what you probably already have: a screwdriver, hammer, and paintbrush. Remove the cover of the suitcase by either cutting it or unscrewing it, depending on what kind of suitcase you're using. Attach the angle top plates to the bottom of the suitcase (one in each corner) and then screw the legs right in. Paint the legs a fun color, add in some kind of bedding into the suitcase, and now your kitty looks ready for travel.
Blocks House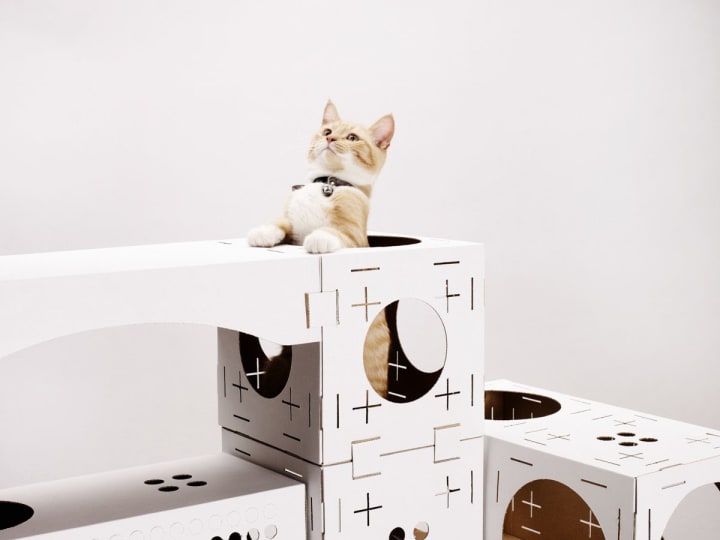 Is all this cutting, painting, and taping too much for you? Then you should check out this playful DIY cardboard house from fubiz. The project, which was funded on Kickstarter, is called BLOCKS and is one of the easiest DIY cat houses you can make by yourself. All of the cardboard is already cut out and painted for you; you just have to put it all together! The great thing about the blocks is that they can be arranged in almost any way, so your creative side can come out when making this house for your cat. It even comes with an adorable little bridge! How could you resist that?
Cat Tipi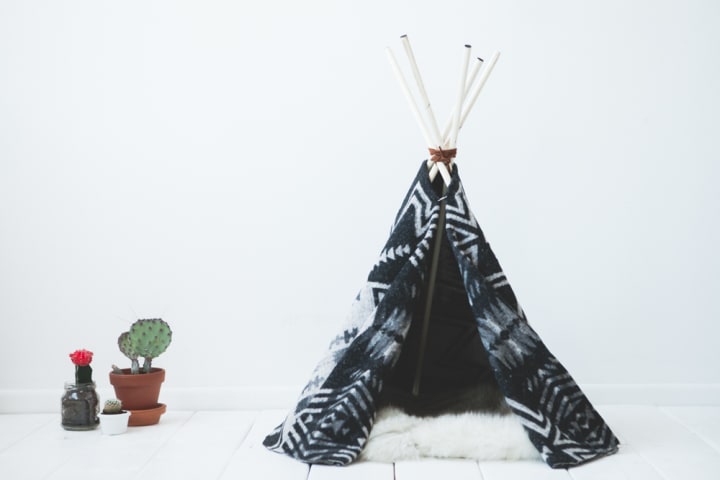 I love the look of this DIY cat tipi from Boat People. Even if I didn't have a cat I might make this to store stuff in because it's just so cute! To make this little tipi, you'll need a yard of fabric, five sticks, two feet of leather cord, one safety pin, and one cushion. Follow along with the video below, being sure to measure the length of your structure from the ground to the leather cord, since this is the length you'll need to cut your fabric. If you don't have a length of fabric, you can also use a cool shawl that you might have hanging around; just make sure you don't want to wear it again!
Palm Springs Cat Scratch House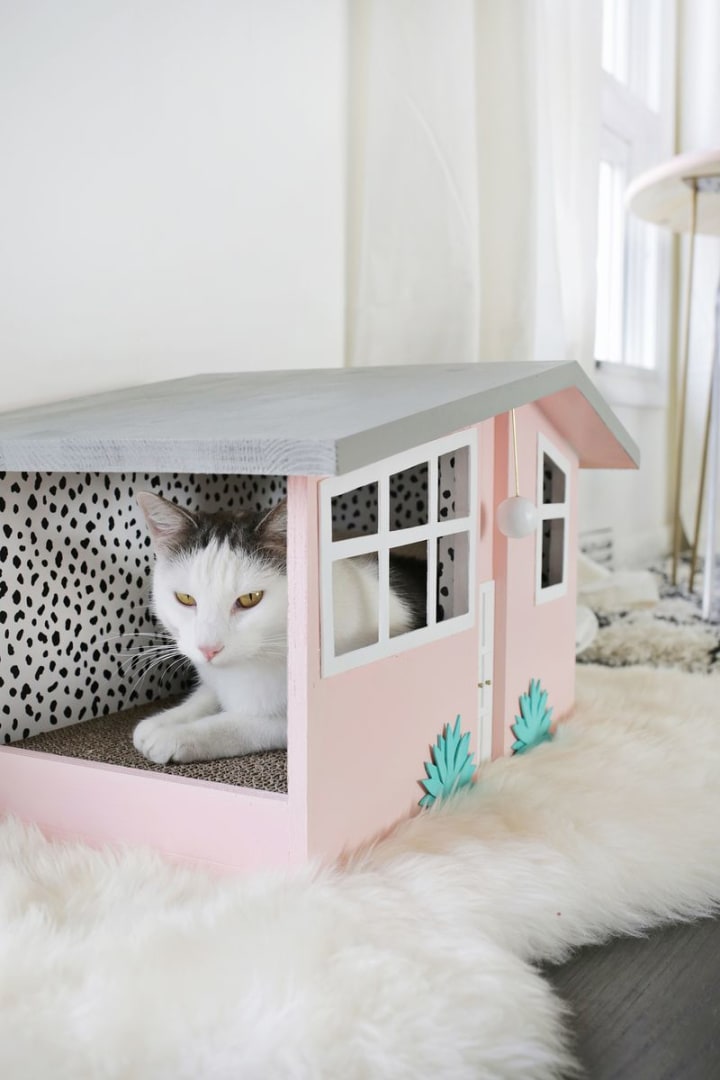 Your kitty loves that cardboard scratch pad we put on the floor for him, but it's not the most aesthetically pleasing thing to look at. Fix that problem by making a little house to go around it! This Palm Springs kitty scratch house by A Beautiful Mess is the perfect solution and is just adorable! This one requires a bit of knowledge of woodworking, but will probably one of the more stable DIY cat houses on this list because of its material. You'll need thick plywood sheets, craft paper, a jigsaw, ruler, clamps, wood glue, nails, hammer, materials for decorating, and of course, the scratch pad. A Beautiful Mess provides dimensions and thorough instructions along with plenty of pictures to help follow along. It's a lot of work but totally worth it. The cuteness level is over 9000!
iMac House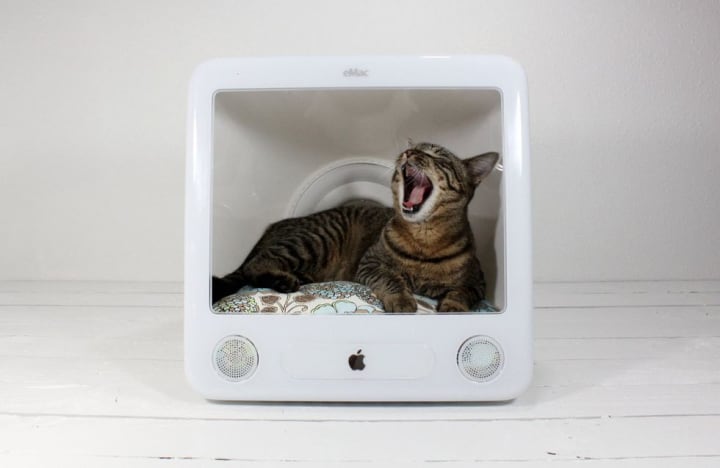 You remember these computers sitting in every room of your elementary and middle school, right? They're colorful, plastic, and now completely out of date. But instead of throwing them away, why not make one into a DIY iMac cat bed? The one made by And Possibly Dinosaurs is super easy; you literally just have to unscrew most of the computer, take the insides out, and screw the shell back together. Put in a little pillow for your kitty to sit on and you're done! Now there's an unlimited amount of cat videos right in your computer...
An Actual Cardboard House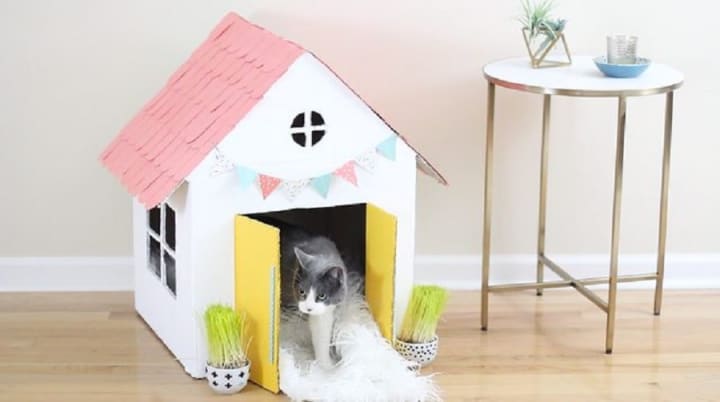 We'll never run out of ways to use cardboard to make DIY cat houses, and you can turn old boxes into an adorable cat house thanks to Trisha Sprouse. You only need two cardboard boxes, a box cutter, hot glue, a utility knife, tape, and embellishments for decorating. Simply remove the two longer flaps of cardboard, cut the two shorter ones into triangles, make and attach the roof, cut a door and windows out, and decorate it! It's a really easy project you can do in less than an hour (or maybe a little more if you go crazy on the decorating). You can customize the look of this house any way you like. It can be cute and girly and adorable, or you could paint it black and make it look like a haunted house for your angsty cat. No matter what you do, it will be one of the coolest cat condos for your feline friend.
Blanket Cat Teepee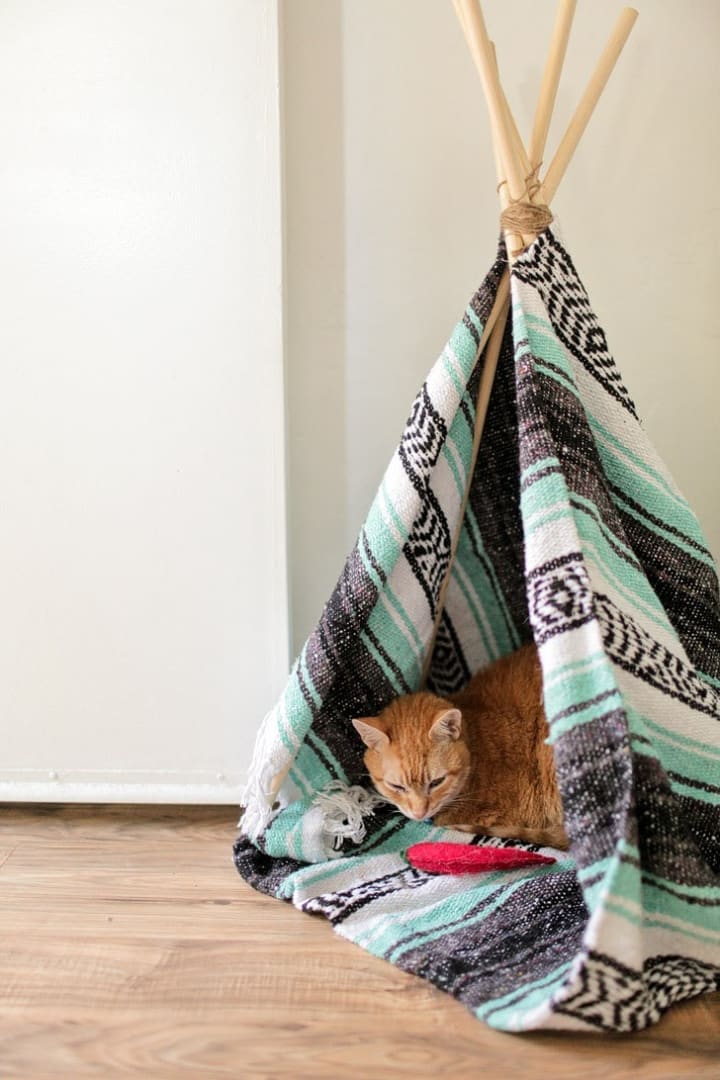 If you want a teepee that is made out of a few more "around the house" objects than the other one we mentioned, the tutorial for this DIY cat teepee by Local Adventurer is a bit easier but still looks just as cute. To make this project, you only need a blanket, safety pins, twine, and five dowels. Tie the dowels together with the twine using a figure 8 knot, fold the blanket in half, wrap it around the structure, then fold the other half underneath to serve as the "floor." Then, secure the blanket with safety pins. That's it! Put it in a place where your kitty can lay in it, but still see everything that's going on. Plus, it's way cooler than the house you tried to make out of a Styrofoam cooler for him last year.
Suitcase Bunk Bed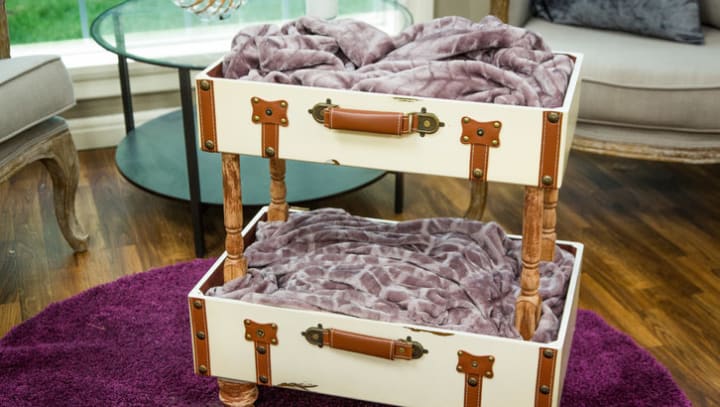 Remember that suitcase bed I mentioned earlier? Well, it was adorable, but what if you have two cats? They could try sharing the bed, but we all know that doesn't always go well. The easy solution is to make these DIY cat suitcase bunk beds, created by the one and only Hallmark Channel. You'll need a few more materials for this one, but if you're crafty, it's easy to make. They recommend using wooden suitcases for most stability, but if you simply must use fabric suitcases, they recommend using nuts and bolts instead of screws when putting this together to keep it secure. Once you're all done, it's like a bed and a cat tree all in one!
Cat Tent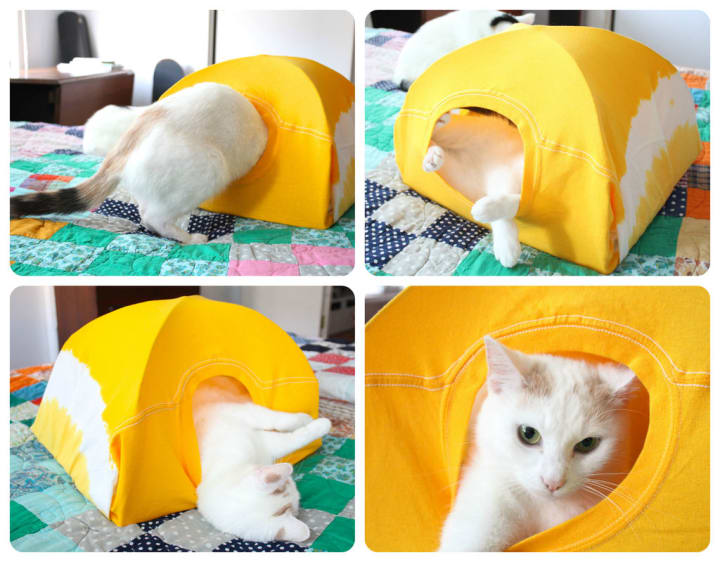 I saved one of my favorite DIY cat houses for last. Presenting: the cat tent! Not only is this actually one of the most adorable things I've ever seen, it's so cheap and easy to make that I'm already planning on making it later today for my cat Maya. The cat tent by jessyratfink requires only four ingredients: a shirt, a piece of cardboard, and two wire hangers. You'll need some tape to hold everything together, but really, this tent is just so easy. Simply cut the hangers and stretch them out so they form two arches and poke a hole in the edges of the cardboard. Then criss-cross the hanger arches and tape them together so they don't come apart. Put the ends of the arches in the cardboard holes and tape them underneath. Finally, pull the shirt over the tent frame and tuck everything underneath the cardboard. That's it. You have an adorable tent that took you what, 10 minutes to make? Your cat will probably love it because the shirt might smell a bit like you, and the material is stretchy enough that they won't feel cramped. It's one of the most accessible projects that you can make, so what are you waiting for? Give your furry friend her very own tent!
diy
Just trying to take down the patriarchy while playing video games and eating too much pasta.
Receive stories by Katie Marchbank in

your feed