My Exotic Family
Rescuing the Heartbroken and Lost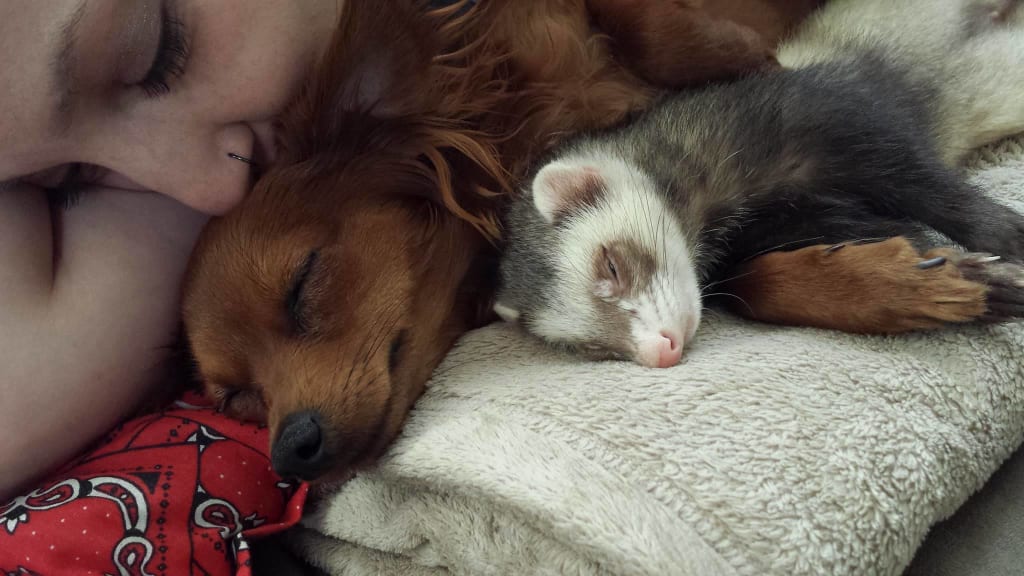 I have had a passion for animals since I was a small child. My earliest memories consist of catching bugs from a nearby pond. Frogs and grasshoppers were my favorite.
At the age of 5, I got my first pet, and it came from my great grandfather's farm in Oregon. She was a rare kitten breed called Abyssinian with such a beautiful pattern. Dad was a hunter, and all his buddies that met my cat compared her to deer fur. She was always disappearing, so I decided to name her Houdini. This single cat would be the only pet I knew until my late teenage years.
The older I got, the more I thought about going to school to become a vet. I realized with failing grades that would not happen. But my love for animals would not fade.
When I was 17, I randomly wanted to adopt a ferret. As strange as it sounds, I didn't really know why I wanted one. My mother was not pleased with the idea because she only heard negative things about ferrets. They stink, they're mean, and bite, etc. Despite her concerns, I began my search.
I rescued a five-month ferret a couple weeks later. Her name was Molly. I had her for eight years. We did everything together; I taught her various tricks, and we literally went jogging every day. I even took her on several road trips across Washington State.
I have been passionately studying ferrets for years now. I've been rescuing them for about 13. I have saved so many. It has been one of the most rewarding things in my life.
My last ferret rescue was two years ago from a neighbor. When I got him he could barely lift his own head. I didn't think he would make it through the night. I fed him liquid food and water, the best I could. He had fallen off a two-story deck, and it was a miracle he could walk the next day.
I basically rehabilitated him back to life, teaching him to walk again. When he started having a hard time getting around, I ordered him a custom-made wheelchair.
His name was Tonto. He was a blind ferret, who surprisingly escaped every cage I ever put him in. Unfortunately, a year and a half later his age caught up with him, and the inevitable happened. Heartbroken, I said goodbye to him this past May.
After Tonto passed, I had decided to adopt a dog. I met a woman a couple towns over who was fostering animals. I expressed interest, and a week later I met Xochi. She's a long-haired Chihuahua and Dachshund mix, weighing only six pounds!
Coming from many abused homes, this makes me her seventh and last owner. She will be two years old the day before Thanksgiving. I am thankful to be sharing the holidays with a new member of the family. I have already ordered her a pink birthday dress for this special occasion.
Since I also own two other ferrets, introducing Xochi was going to be interesting for us all! Xochi was timid under first impressions. Naturally, the ferrets were full of curiosity. It took a month before Xochi and the ferrets started to establish a ranking order and a daily routine.
It's so funny to see Xochi choosing "favorites" when it comes to the ferrets. She has become quite fond of my male ferret Bandit. Bandit and she are best friends. When they're not cuddling, they are usually chasing each other. On the other hand, my female ferret Spanky. She gets slightly bullied by Xochi, but they stay civil towards one another.
Spanky has a horribly bad habit of biting at my rugs and carpet. I am constantly scolding her for it. Xochi decided to start monitoring Spanky and her bad habits. With just a simple command, Xochi will gently nudge Spanky away from any rugs. It's quite entertaining, to say the least.
Football season is here, and I get really into it every year. I've learned clapping is a trigger for Xochi because of her abused past. So I have come up with an alternative solution for us both to enjoy the game. Technically, I can't take credit as it was my mother's idea.
Whenever we score a touchdown everyone in the room yells, "That's how we do it, whoop whoop!" Xochi is trained to howl back with us during the "whoop whoop" part. It's adorable and fun for everyone. Xochi even has a pink jersey just for game days!
Having a dog has really been a different experience so far. I can't wait for all the adventures I am going to have with her throughout the years to come. At 29, I finally have my own dog!
(Fun fact, since I started rescuing ferrets 13 years ago, I have also rescued a few other exotic pets. I own a Spotted Leopard Gecko as well as a Hedgehog. Technically, Xochi is the first non-exotic pet I own. See pictures of all my pets below.)
Jinx (Spotted Leopard Gecko)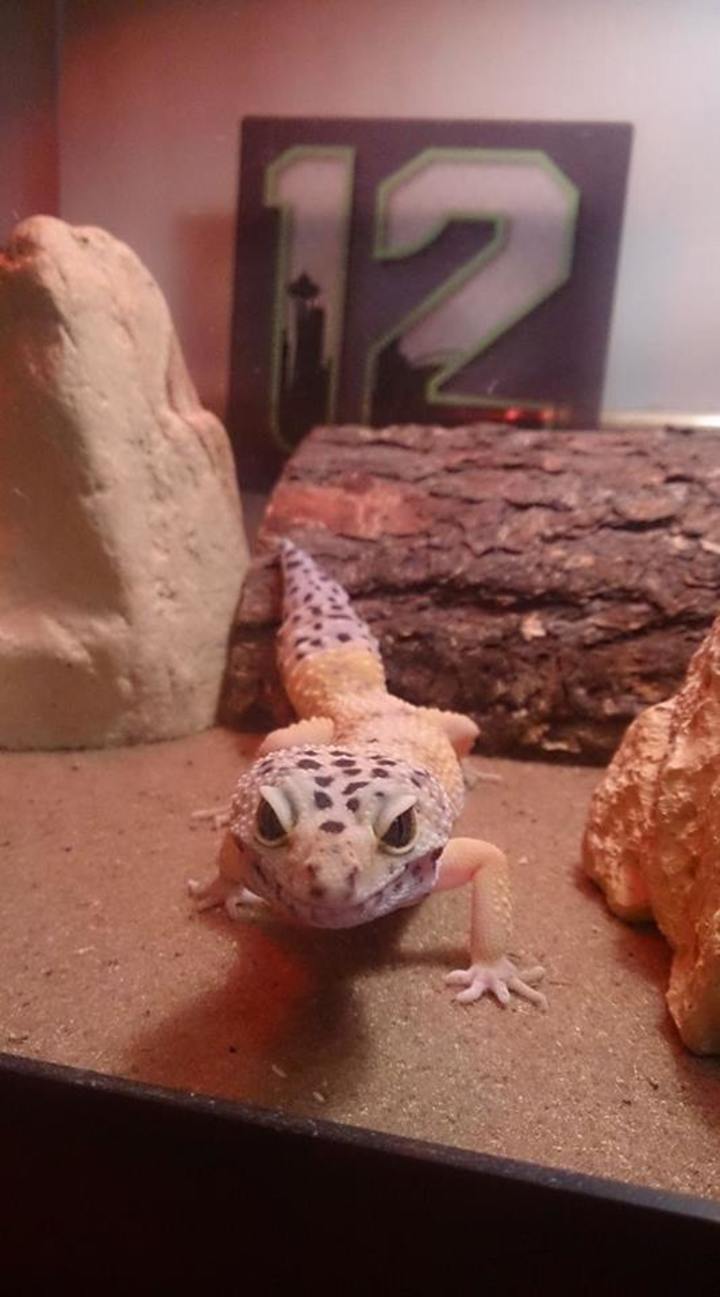 Such Pretty Colors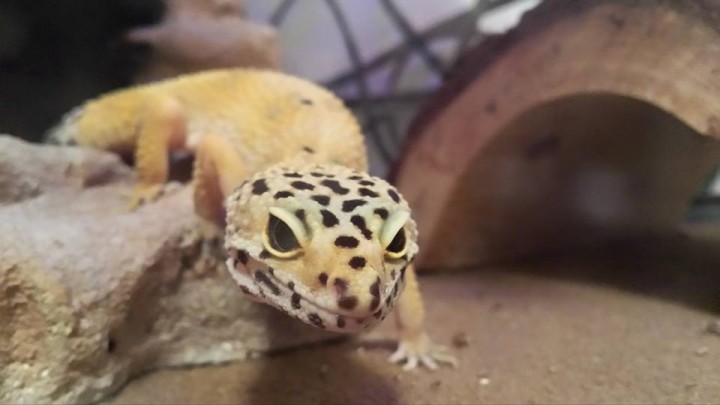 Stella (My Hedgehog)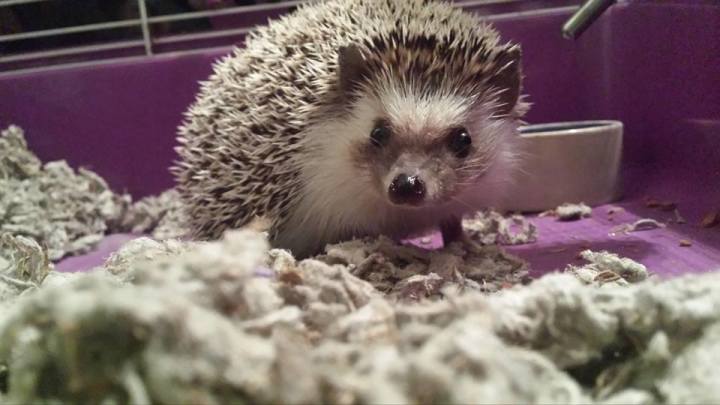 Acting Shy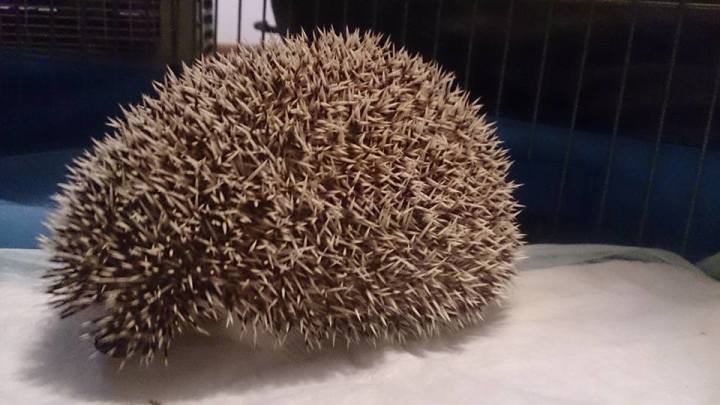 Bandit (Male Ferret)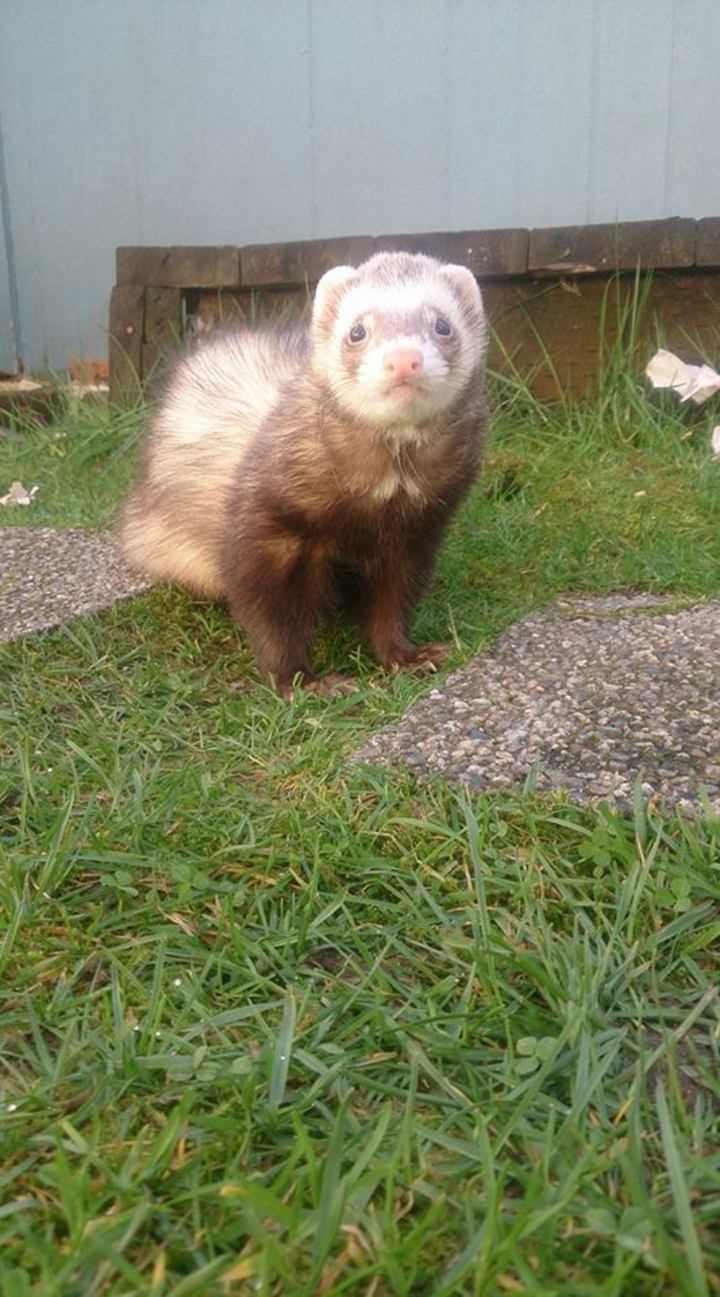 Spanky (Female Ferret)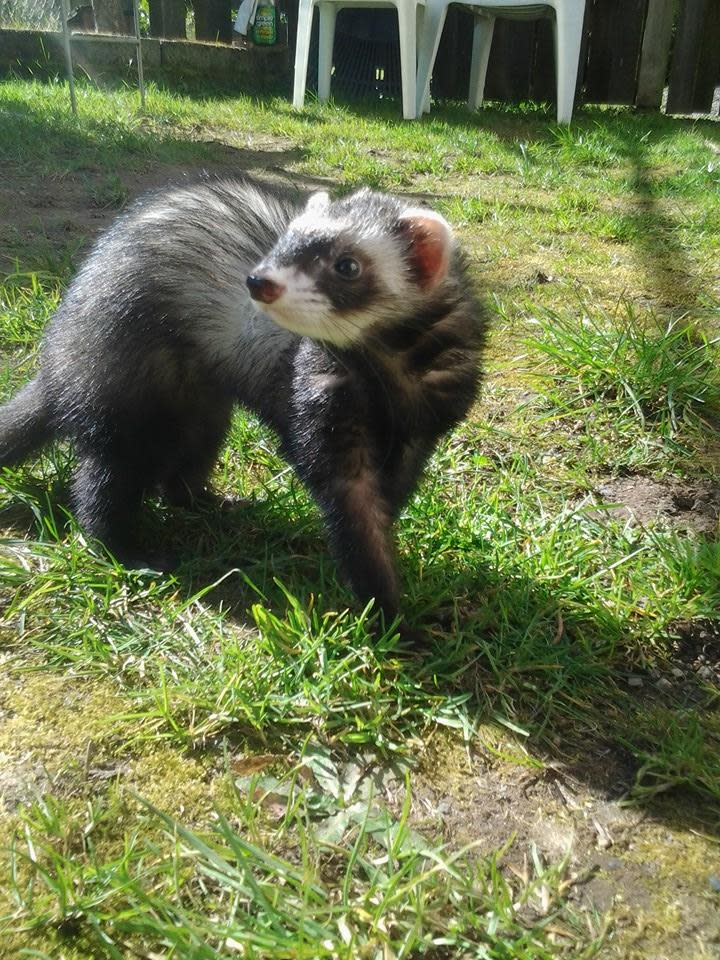 Xochi (Rocking Her Football Jersey)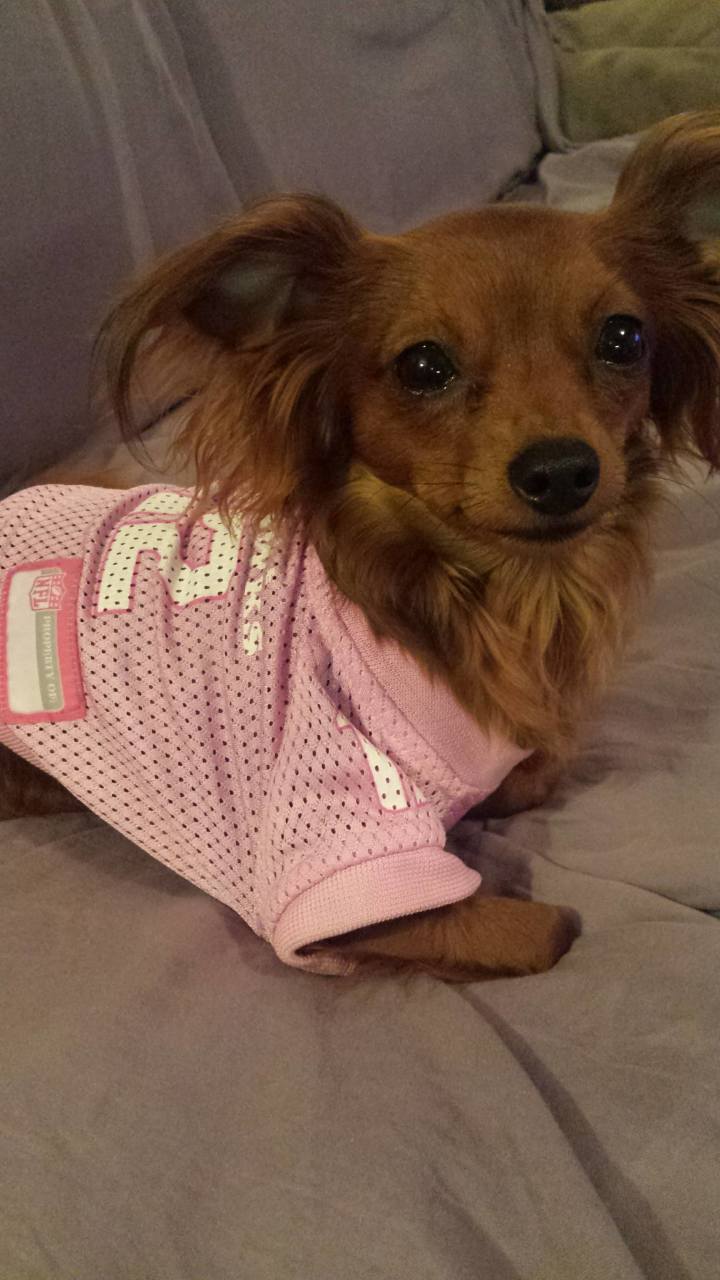 Chilling After a Winning Game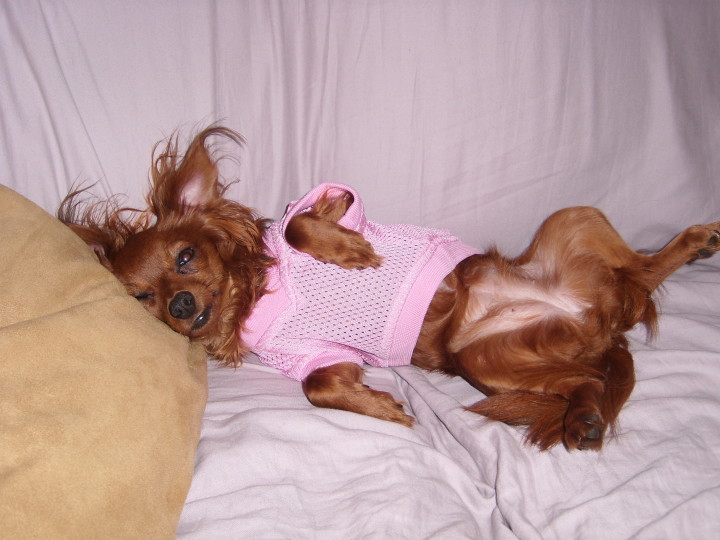 Red Eyes to Match Red Fur and Sweater, LOL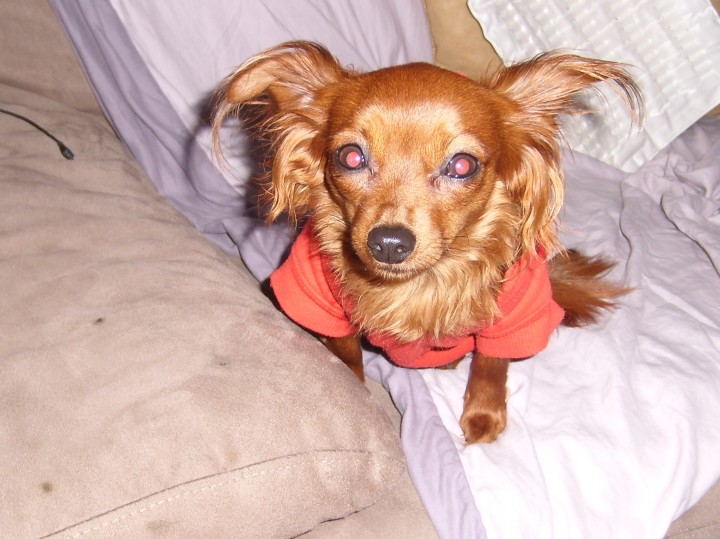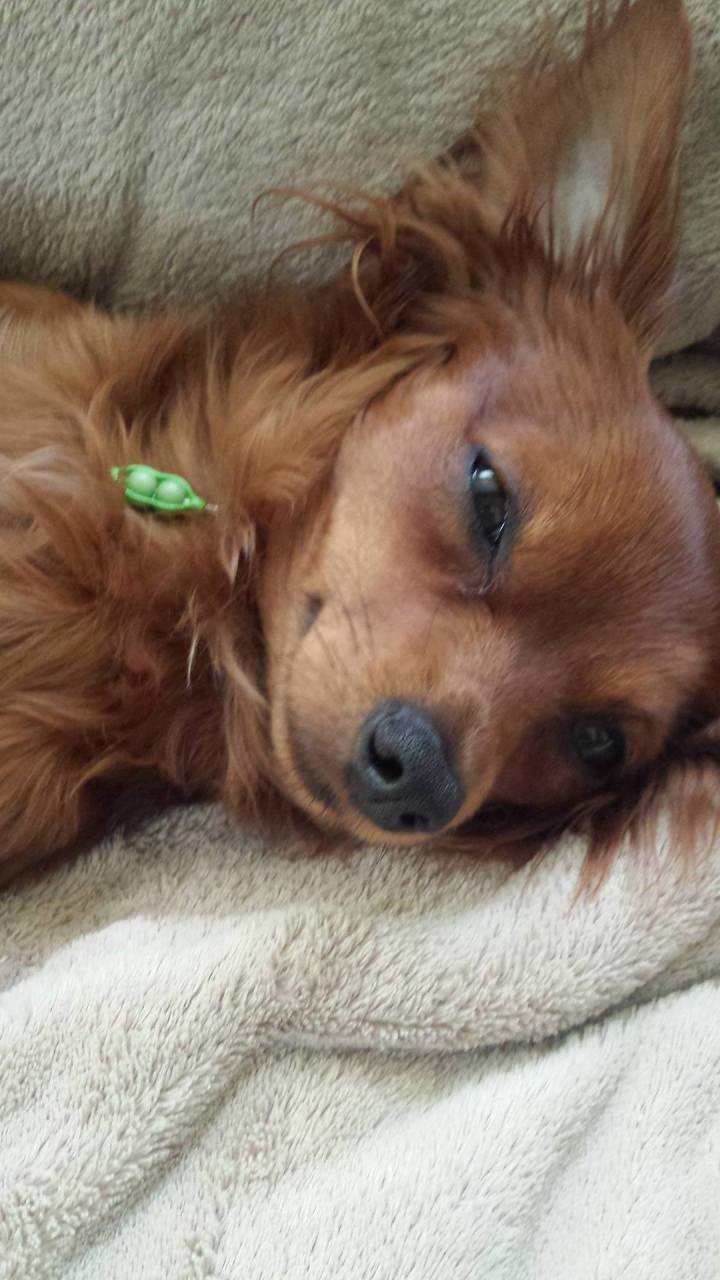 She has the prettiest red fur.