We were given time to stand and stare
Of 'Leisure' by William Henry Davies. Afterthoughts.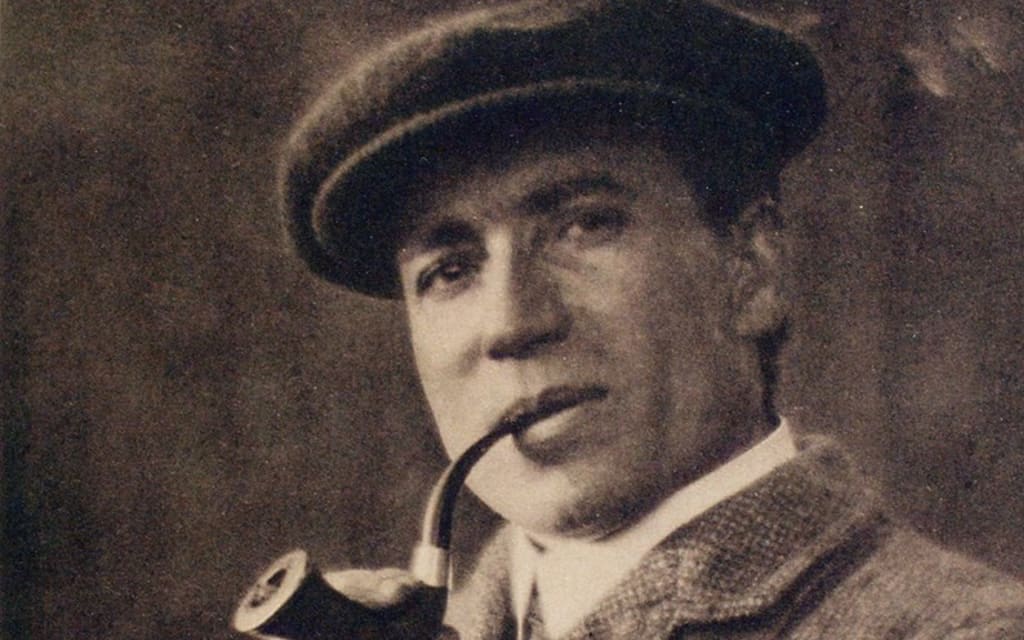 Image of W.H. Davies from Wikimedia.org
Recently I 'stumbled over' a poem by the Welch poet William Henry Davies, who lived from 1871 to 1940. Reading more about the author, I became aware of him being very famous in the 1970's schools – students have been reading his poetry, and parents read this poem in particular to their children.
Being Danish, I read other authors and different poetry. Brilliant ones, amazing stories. And I missed out on this one.
But I'm the kind of person who believes that everything happens for a reason, so in this case, I'm pretty sure, that if I'd come across 'Leisure' earlier in my life, it wouldn't have gotten the attention, it well deserves. I wouldn't have been ready to really process it and learn from it – not because it is a hard poem to understand. Not that it takes hours of analyzing – on the contrary. It is actually pretty straightforward (of course, you can always read more into the written word, than what's 'right there', but you can also just take the words as they are – and in this case, the words are about being too busy to stop and enjoy what's right in front of us.
Allow me to recite it before I go any further. The poem was first published in 1911.
'Leisure' by William Henry Davies

What is this life if, full of care,

We have no time to stand and stare.

No time to stand beneath the boughs

And stare as long as sheep or cows.

No time to see, when woods we pass,

Where squirrels hide their nuts in grass.

No time to see, in broad daylight,

Streams full of stars, like skies at night.

No time to turn at Beauty's glance,

And watch her feet, how they can dance.

No time to wait till her mouth can

Enrich that smile her eyes began.

A poor life, this, if, full of care,

We have no time to stand and stare.
June 2022 was apparently the right time for me to notice Mr. Davies and this famous (for good reason) poem of his, because June 2022 was the time I saw a picture online with a text on it, which I was curious to know more about. My googling led me to 'Leisure' which had nothing to do with neither the image mentioned before nor the text I googled. And so, the world works in mysterious ways leading us to find what we need to see because there are lessons to be learned.
I really believe this with all my heart.
When a book has been sitting on my shelf for a year and a half, waiting for me to read it, and I suddenly notice it and feel like, I MUST pick it up, it's without a doubt (in my mind) time to read the book. The time is NOW.
A good reason for re-reading books is, that sometimes you read a book at a time, where you don't get the most of the message the book comes with. Reading it again after a while (maybe when the book tells you to read it 😉) you'll get the best of it – in my opinion.
I know that some of you (if anybody's even reading this) will think that it's 'hocus pocus' to believe that a book will tell you when to read it, and I don't blame you. I'm not trying to make you believe, what I believe – I'm simply sharing with you – please don't judge me for that.
Believing in the signs of the Universe
Living my life as I do now, believing that the Universe lets us know when, how, and where we have lessons to learn (we just need to get better at looking for the signs) is something of a new journey for me.
I'm 51 and after many years of teaching and quitting my job in 2020, I'm reinventing myself – trying to figure out, who I am when I'm no longer a teacher.
I've spent my savings on education, and I've worked on learning to truly understand myself through self-sabotage coaching and hypnosis – really KNOWING myself, striving to be my most authentic self in the future. And now, even though there's no money left, I've never felt better, because I know the best life is yet to come.
We were given time to stand and stare
This journey started for me during the time when we all (except, sadly, our health workers) had time to stare.
There's nothing new to say about the Pandemic. Everything anyone can ever say about Covid is already said. BUT I believe, W. H. Davies would say, that at least ONE good thing has come from this: We had time to stand and stare. Oh my, did we have time. Time to really see, to really notice, to really feel.
Not just a turn of the head, passing by something that may be worth stopping for.
Time to stare and REALLY be present was what I needed to finally make the decision to quit my job after 13 years at the same school.
Time to stare has helped sooo many people worldwide to make better choices for themselves.
Now life is, more or less, back to 'normal' and after a while, we forget what was. It is more important now than ever before that we make time to stop and stare. While we can still recall what it felt like to have time, to be present, to just BE.
These were just some of many thoughts after reading 'Leisure', and I thank Mr. Davies for finding his way to me and inspiring me to write a piece of my mind.
Seeking inspiration? Take a look at Indigo's Read for Read Club where writers support, connect and engage with each other.
Previously posted on Medium
success
self help
happiness
goals
advice
About the author
All Things Curious | INFJ | Mother & Wife | Selfsabotage coach | Hypnotherapist | Teacher | Lover of interesting conversation, music, film, reading, writing, teaching, learning, fermenting, walking, coffee, and cats | Must laugh every day🌸
Reader insights
Be the first to share your insights about this piece.
Add your insights