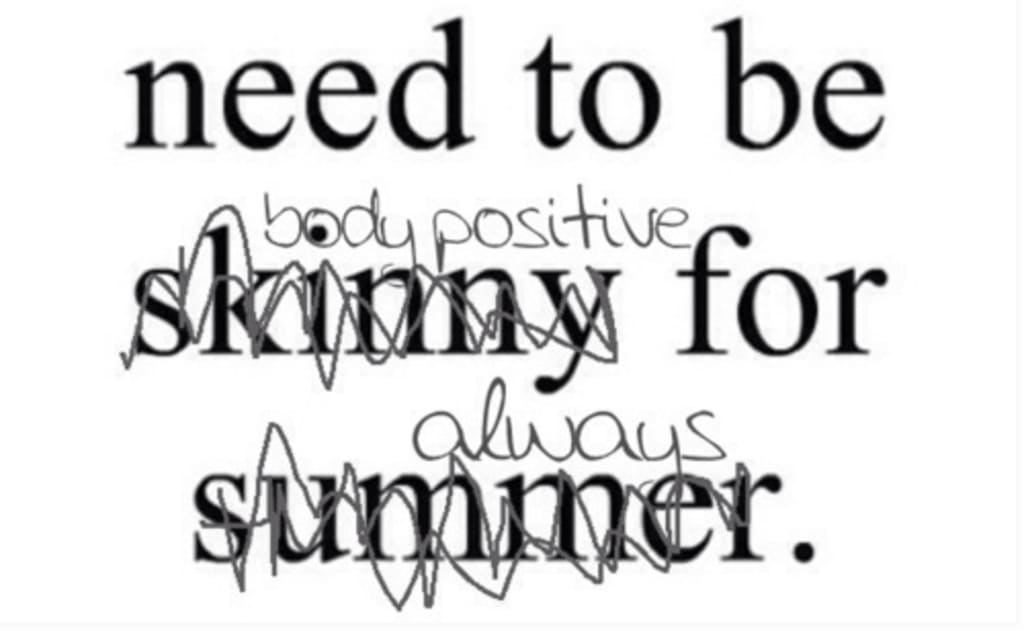 « I'm not enough, » « I'm not pretty enough, » « I'm too fat » …
We all have, one day, looked at the mirror and thought that we weren't good enough to go out and enjoy the world around us. Instead, we put on leggings, comfy socks, wide t-shirt, and we stay at home.
You know this feeling, don't you ? Well, I do too. Yet, this isn't your fault, it's the society in which we live that makes us feel that way, and social medias don't help !
Most people are obsessed with their look without being aware of it. We claim to be natural but we can't leave the house without makeup. You do? Well done then, except to go to get some bread at the closest bakery, I don't!
We live in a society promoting an ideal body shape, and everyday we are surrounded by ads and social media promoting diets or selling clothes in which 90 percent of the population won't fit.
I had myself spent a few years not feeling well with my own body. Today, I feel much better, and here are a few ideas to help you.
Surround yourself with uplifting people.
Friends, partner, virtual friends, coworkers…they all influence our vision of life.
Don't let people tell you what you can do or not. Follow your instinct and ignore these kinds of people.
Talk and spend time with people who will embrace your qualities, help you when you need, and make you smile ! Avoid gossips, avoid conflicts. Look for truth and joy, and only accept people who will make you feel good in your life.
When it comes to social media, unfollow and block without any remorse if you see that the person isn't a good influence or posts negative content. If people are mean or comment negatively on your selfies or other pictures, they are not worth your time or energy, and certainly not your friendship. Click that button, I can promise you will feel better!
Go out.
Nothing is more depressing than staying at home and alone.
Whenever you can, go for a walk or a run, have a piece of your favourite cake at your favourite coffee shop, or simply go and buy a book. Do something that makes you feel better.
Stop comparing yourself to others!
Number one advice. Stop it, and NOW!
For so long, I tried to imitate girls I could see online or from school. I looked up to them, I wanted to be like them because I believed it was the only way I should be and look like.
I was wrong. So wrong. From the day I decided to stop comparing myself to others, I felt much better. It's the worst thing you can do to yourself.
Look at yourself in the mirror.
I know you hate it, the same way I hate it myself, but it is one of the best cures. Look at yourself and focus on what you actually like in your body. I hate my belly, but I love my eyes. I hate my thighs, but I like my hair. Believe me, you actually love yourself more than you know, you just need to focus on what you like. Look at you in the mirror, and confront yourself with your own body. Your body isn't your enemy, but your best friend.
Reach out.
If you surround yourself with uplifting people, they will be more than happy to help you if you don't love yourself. It's OK to need help and it's OK to reach for it. It doesn't make you less strong. Actually, it shows that you are brave and strong enough to accept you need help. Don't feel bad or shy to talk with people around you about what you feel. We can all do with a little push from a friend to reach what we want.
There will always be people to criticize your pictures—both selfies or bikini-beach photos, both without makeup or with makeup, both fully dressed with jeans or a dress—and unfortunately, we can't avoid it.
Yet we can avoid falling as low as them, giving them credit, taking in account what they say and letting it make us feel bad. It's our duty to tell them off; it's out duty to make sure they don't affect and harm us or people around us.
Let's be proud of who we are, ladies and gents.
Let's spread the word loud and clear that each and every one of us is amazing.
Let's accept all sizes, all shapes, and let's stop promoting what society already does—skinniness.
It's time to promote healthy living.
And most of all, it's time to make people feel good. Compliment people instead of criticizing them. Way too many people try to find on internet answers to their insecurities. They try to get attention and sometimes all they get is negative attention that can end up quite dramatically.
Don't listen to the fat mirror.
Let's change this. Today.