Oh, Camp NaNoWriMo
Will I Meet My Writing Goal This July?
Today, the 28th of June, I realized that July's Camp NaNoWriMo is almost here. Am I woefully unprepared? Yep! Am I still entering the challenge? Yep!
NaNoWriMo itself happens in November, where those attempting the challenge can work towards writing a 50,000-word novel during that month. Click here if you'd like to check out more about NaNoWriMo, especially since there is a fair bit of planning time if necessary between now and November.
I wish I could say that I've successfully tackled NaNoWriMo, but I haven't. Not for November. Between school and work and holidays, I generally haven't written much for myself during November since I found out about NaNo in high school.
There is also an iteration of Camp NaNoWriMo in April, but I always forget it exists.
July, on the other hand, I've had better luck with.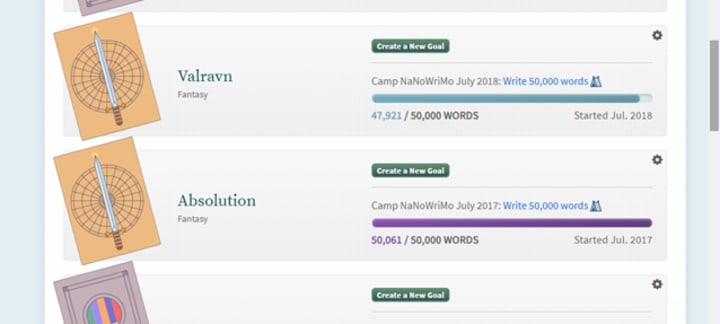 And I'm actually pretty excited for Camp NaNoWriMo this July. For one, Vocal has been a great help to me in writing with more frequency than I've done outside of school and college probably since I was in middle or high school filling my notebooks with the beginnings of stories I never planned out or finished. Secondly, I want to keep writing. And for me, word-count goals work well. For Camp NaNo, I tend to stick with the 50,000-word goal, but you can change that word count goal to less or more.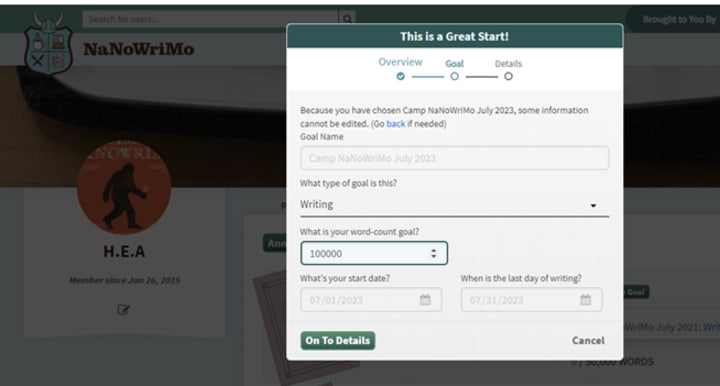 While I've kept with the novel format (and once a novel-in-stories attempt), I've decided that I want to work on short stories this year. There is an option for poetry projects (as well as other genres of writing), which, I have to admit, is sort of tempting to try. What would 50,000 words of poetry look like over the course of thirty-one days?
Actually, now that I'm thinking about it, what if I select the 'Other' option and split my 50,000 words down the middle: 25,000 words for short stories and 25,000 words for poetry? Or maybe 30,000-20,000? 40,ooo-10,000?
Hmmm. That'll be a future-Hannah decision to consider.
Regardless, I've discovered that I currently prefer writing shorter pieces. My poetry tends to not be long (which I may challenge myself to write a 1,000-word poem depending on what I decide for Camp NaNo), but short stories and flash fiction pieces are more appealing to me right now.
For my MFA program, I wrote a thesis novel that came in at over 67,000 words. That was a struggle. I get very paranoid with school assignments and grades. I'd worry about writing and submitting each piece of the thesis novel more than actually writing it.
Camp NaNoWriMo, however, has never really given me that anxiety. No one has to read the pieces created for this challenge, and certainly not on a level where a grade is attached (thank goodness). Sure, a word-count-checker scans the submission for verification purposes (there are prizes and discounts involved), but getting the words down is not the hardest part of writing for me. It's finding those words to be sufficient to meet standards including my own and those of others.
I've gone completely stream-of-consciousness style on some of my Camp NaNo projects before from several characters' perspectives as a sort of summarization technique getting them from one phase or arc of the novel to another. It's fun. It eats up words. Would it make sense to a reader other than myself? Well...
But I want to take this Camp NaNoWriMo a bit more seriously. I don't want to just meet my goal of 50,000 words. I want solid pieces that I'll want to share.
So, can I write 1,613 a day (the projected daily word count I can meet to reach my 50,000-word goal by the 31st of July)? And, if I don't write 1,613 words a day, can I make them up by the deadline? Me, with atrocious time-management skills?
Practically-speaking: a solid maybe.
Hopefully-speaking: yep!
And if you would like to participate in Camp NaNo, here is a link for some good general information about it!
Also, out of curiosity, what sort of writing goals work best for you? Do you enjoy long-form writing, short-form writing, both?
About the Creator
Hello! I'm mostly a writer of fiction and poetry that tend to involve nature, family, and the idea of growth at the moment. Otherwise, I'm a reader, crafter, and full-time procrastinator!
Reader insights
Outstanding
Excellent work. Looking forward to reading more!
Add your insights